The eternal paradox of Chicago rapper Serengeti is that his success is more akin to that of a show like Breaking Bad, and totally anomalous in music. That is, as the MC born David Cohn gets more famous, his records get deeper — as in esoteric, because they are storyline-based, and most of them follow the ongoing, eight-years-deep saga of his flagship character, Kenny Dennis, a hapless, white, mustachioed fortysomething played by a "noticeably negro" (Cohn's phrase, not ours) thirtysomething. If you started with 2006's Dennehy, or its even better redux, 2008's Dennehy (Lights, Camera, Action!), you know Dennis as a loving, O'Douls-swilling husband who never turns down a chance to extol his favorite teams ("Bears! Hawks! Sox! Bulls!") or to "watch a film about counterespionage" with his favorite actor (Brian Dennehy, hence the title).
But despite belated press for both records, which were released on the obscure Bonafyde and Audio 8 labels respectively), it's Cohn's 2010s output on alt-rap sanctuary Anticon that's been widely (and favorably) reviewed: Family & Friends, C.A.R., and, yes, a few records as Kenny Dennis, which broadened the character's backstory as a rapper who beefed with Shaq in his Jive days, and introduced a new foil, Ders, who looks at Kenny as a father figure and — could this artist get any more random — is played by Workaholics' Anders Holm.
//www.youtube.com/embed/RG5w4CwBEzA
The new Kenny Dennis III, out this week on Joyful Noise, doesn't make it any easier to review this guy without two paragraphs of preamble, and this is his second 2014 album after the excellent, self-titled Sisyphus collaboration with Son Lux and Sufjan Stevens. The crucial addition of Holm makes III the most cinematic KDz record yet, with more spoken highlights than rapped ones, as the central narrative turns into a buddy comedy where Kenny pitches a C+C Music Factory/Technotronic-style dance-rap group to Ders, a unit called Perfecto (Ders: "That's pretty funny!" Kenny: "What you mean, funny?" Ders: "I mean, it was funny how I was thinking the same thing!").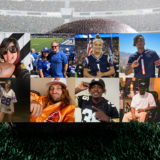 Perfecto somehow ends up packing rec centers and malls anyway, but Dennis takes an ego trip ("I'm more famous than you, Mr. Famous!") and Ders is offered a big break elsewhere and tells him off once and for all: "I'm sick of wearing neon biker shorts onstage, man!" Of course, he doesn't get the audition, Perfecto breaks up, and the character dimensions over the course of this strained friendship far exceed that of most TV shows, much less albums. Odd Nodsam's production is some of Geti's richest ever ("Off/On" most closely resembles Kanye's "Gorgeous"), and the plot is so detailed that only superfans won't zone out from the most subtle Kenny Dennis record yet. But it's one of the best installments in a series that deserves better Nielsen ratings, and the proceedings are so engaging that you hardly notice there's nearly as much talking as rapping.
SPIN also spoke to Serengeti over IM from a stint in Europe, to find out his plans for the future of KDz, and what it's like to portray rap's most realistic alter ego ever.
//www.youtube.com/embed/1rWR8493lUQ
So this is the most subdued record you've made as Kenny so far, no? It requires closer listening to follow than the others.
Serengeti: Indeed man, wanted to take some places and tie up some loose ends.
So where does his story go on this one?
Mid-life crisis. Back on the Benny's, off the O'Douls. New buddy Joji in the picture, much to the chagrin of his people. Tale of his and Ders' group Perfecto.
You named this one Kenny Dennis III. Does that mean the Kenny Dennis EP is I and Dennehy is the prequel? Or do the numbers refer to this specific storyline?
There is a collection of Kenny songs that make up II, random songs of sorts.
How did Workaholics' Anders Holm get involved with the Kenny records?
I believe it was from that "Dennehy" song, man.
He reached out because he was a fan?
Maybe he wrote something and we began to correspond, I don't recall exactly.
//www.youtube.com/embed/oqrtoFWglMY
Is Kenny something you want to keep returning to as a regular character, or do you view it as a saga that has to be put to bed at some point?
No, I have a plan in my head to what happens. Could be the last one or not, and I could keep it to myself, but I definitely know where it goes.
Did you know immediately it would become a whole series, or did his popularity inspire you to write more as Kenny?
It was mad fun to think like what would KDz do, and really having fun with it. Once that was made and some people reacted, it was good and nice because the world was right before me.
Do you find it hard to go back to writing as yourself after a long period of writing for the Kenny character? Or do you save stuff up?
I just have an idea with Kenny and just riff off it. You know, just get into a mode. I need to do more stuff in general, get a job and write more in general.
//www.youtube.com/embed/dVVvgFWn14c
You're super prolific — you made two albums this year. What was the last job you had?
I worked for a school.
Do you like working with kids?
It was an adult school/college. I put up lights and painted and picked shit up. No kids allowed.
//www.youtube.com/embed/C2LwvVL-BiY
How did the Sisyphus album come together? Did you all write together or did you add parts to the others' tracks?
Got together in Indiana a few days or five maybe, then about seven days in New York City or so. Mad quick. It was a time, man, I had a blast doing that with those fellas.
Does Sufjan listen to a lot of rap?
Not sure.
Have you received any offers to turn Kenny into a movie or animated series or anything like that? Action figure?
I wanted to do Mego-style dolls of the whole crew, for kicks. I wrote Kenny pilots with some friends before, Justin Scro and Billy Federigi. I shot one piece with this fella Wes Tank, it's on YouTube, called "Kenny Dennis Sizzle," that's as far as it got.