Best Coast's Bethany Cosentino and Snacks the Cat Cuddle Up for PETA Ad
The sunny singer says of her feline friend: "He really is my son at this point"
By now, we know Best Coast's Bethany Cosentino loves her cat Snacks, seeing that she's featured her feline friend in her music and on her album artwork, and she also runs a Twitter account in his name. Basically, ever since she adopted him, they've been best friends.
With such a winning relationship, it's no wonder PETA has picked the two as the new faces of its adoption campaign. Check it out here: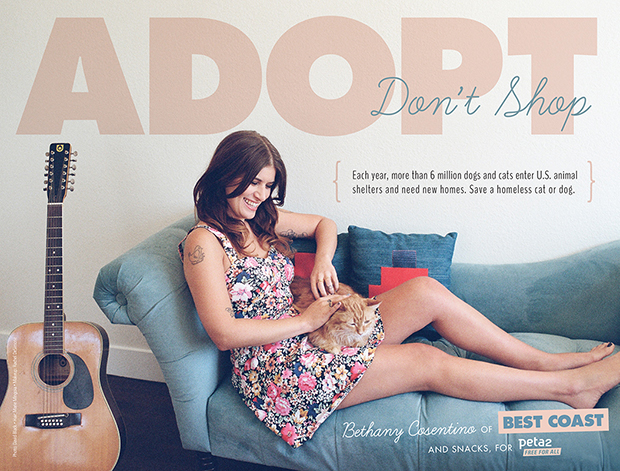 In a behind-the-scenes video of the shoot (above), the former SPIN cover star explains hers and Snacks' relationship. She says, "He's just important to me because I live by myself so sometimes if I'm scared because I heard a noise, or lonely or whatever, there's literally a living breathing being next to me. I know that he cares and that he knows this is a person who feeds me and takes care of me and makes sure that I'm happy and healthy, and I think it's super important to develop that bond with animals."
It seems like Cosentino's love for Snacks is contagious, explaining she's met people who have adopted a cat or dog because of her, sometimes even naming them after Snacks.
"It's really cool to just feel like this thing that you love so much — and that you're kind of nerdy about loving sometimes — that it's affecting people in a way that's making them go out and save an animal or making them be more involved with the animal that they already have," she says. "He really is my son at this point."