Last night, Miley Cyrus had a homeless runaway accept her VMA for Best Music Video. He'd introduced himself as Jesse, but as of earlier this morning, the only biographical details we knew were that he delivered a prepared speech about the plight of homeless youth, he was originally from Oregon, and Katy Perry almost accidentally got him drunk. But now, because the internet employs an army of curious monsters (hi!), we can collectively confirm the identity of Miley Cyrus' date. His name is Jesse Helt and he is a 22-year-old aspiring model from Salem, Oregon. He once sold "really sharp" knives as a job, loves those who love themselves, and hates lazy fat people.
Early today, the Oregonian verified Jesse's identity with the young man's mother:
"He called me last night at about one o' clock," Linda Helt said this afternoon. According to his mother, Jesse said that Cyrus has given him some money, which he was using to fly home to Salem to visit his family.
Helt's mother also confirmed that her son had been homeless: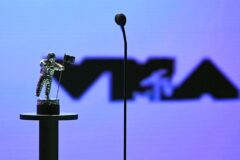 At one point, Linda Helt recalls, Jesse moved out of a living situation he didn't want to be in because it was a bad situation. "He called me and he said, 'Mom, I'm living in a bush."
Jesse also has a Facebook page with low-security settings. From this, we learn that he dropped out of Chemeketa Community College, worked as a cashier at the Oregon State Fair, and once appraised the Los Angeles Public Library as "smells like shit."
Also, his "About" section insists that he's really super nice:
i'm really super nice.and i get along with most people.i hate haters and lazy fat people.and fake-chistians.i only love those who love themselves.
An aspiring model, he also registered a Model Mayhem profile: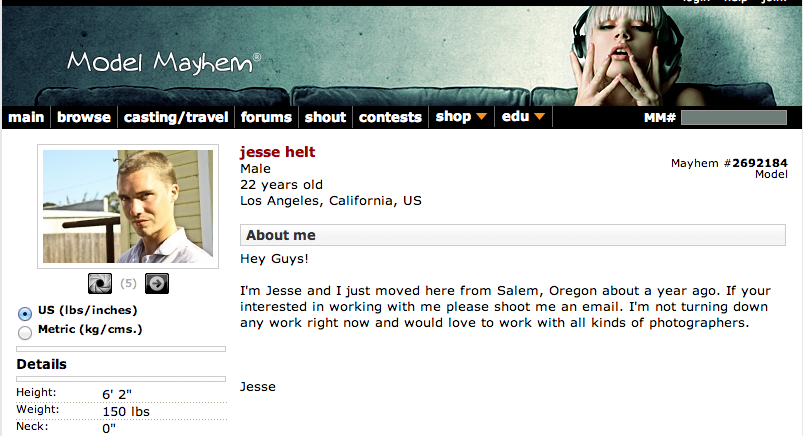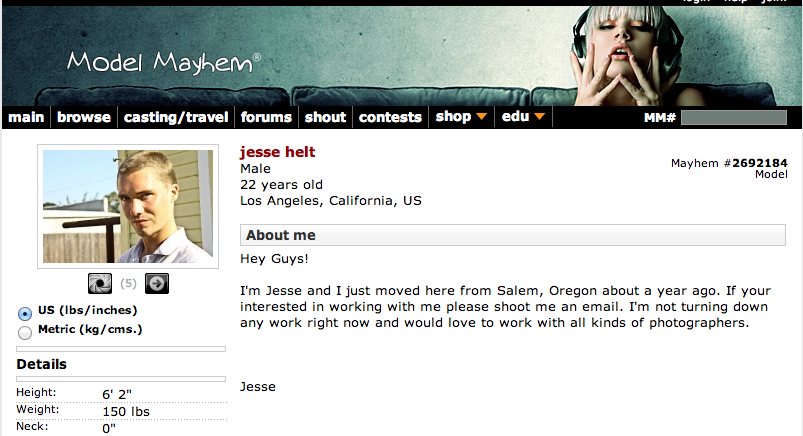 Here, America, meet your new formerly homeless best friend, Jesse Helt: