Foo Fighters have shared the details on their upcoming (multi-)studio album. It will share its name with Dave Grohl's forthcoming HBO series: Sonic Highways. A new press release promises, however, that this is "not a soundtrack album by any stretch." As previously reported, the eight songs set to feature on the album correspond with the eight cities visited by the Foos in the process of making their show, which highlights iconic U.S. studios and historic music scenes.
Sonic Highways, the album, will see a worldwide release on Monday, November 10, and is available for pre-order in CD and vinyl form now. The wax version will arrive on 180-gram vinyl and feature eight alternate covers themed for the different cities — Austin, Chicago, Los Angeles, Nashville, New Orleans, New York, Seattle, and Washington, D.C. — which can be chosen during the pre-order (you'll have to buy nine copies if you want 'em all). There's a puzzle too.
The standard cover, which amalgamates icons from the aforementioned locales — and track list can be seen below. Meanwhile, above you can hear a brief snippet of music from the album, which adds a little grind to the scream we heard last week. Also, you can see Grohl getting a tattoo. Sonic Highways is co-produced by Butch Vig and Foo Fighters and the run-time is 44 minutes. Sonic Highways, the show, premieres Friday, October 17 at 11 p.m. on HBO.
"This album is instantly recognizable as a Foo Fighters record," said Grohl via statement, "but there's something deeper and more musical to it. I think that these cities and these people influenced us to stretch out and explore new territory, without losing our 'sound'."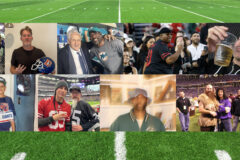 Here's a bit more on the Sonic Highways concept, from the press release:
For the album and series, Grohl, Taylor Hawkins, Nate Mendel, Chris Shiflett and Pat Smear wrote and recorded one song in each of these eight cities, delving into the local musical currents: how each region shaped these musicians in their formative years, and in turn the impact those people had on the cultural fabric of their hometowns. All songs feature local legends sitting in, with every lyric written in an unprecedented experimental style: Dave held off on putting down words until the last day of each session, so as to be inspired by the experiences, interviews for the HBO series, and other local personalities who became part of the process.
Sonic Highways track list:
1. "Something From Nothing"
2. "The Feast and the Famine"
3. "Congregation"
4. "What Did I Do?/God as My Witness"
5. "Outside"
6. "In the Clear"
7. "Subterranean"
8. "I Am a River"