You can see it driving south on Interstate 17, a cluster of buildings sticking up like a mirage out of the crags and canyons of the Arizona desert: Arcosanti. It's an Urban Laboratory, or, as the official sign that greets you in the parking lot would have it, "An Urban Laboratory?" Per Wikipedia, it's an "Experimental Town." Per those of us who traveled there this past Memorial Day — from Austin, Boulder, San Francisco, New York, Orlando — Arcosanti is a peculiar, remote, but ultimately magical place to stage an album-release show.
It's the vision of an Italian-American architect named Paolo Soleri, who in the 1970s developed the concept of Arcology — Architecture + Ecology, man living in harmony with his environment — and decided to build Arcosanti to put his theories into practice. Some 67 miles due north of Phoenix, it's a pile of concrete rectangles and domes built into the side of a canyon, all of it variously scalable: You can stand on top of the site's highest point, side-by-side domes nicknamed "The Vault," and watch the sun set over the Western hills, turning the structure's slate gray walls purple-pink. There's an endless number of pathways, some leading to the pool (there's a pool), others snaking down the winding canyon (which is gorgeous), still others that take you to the foundry where the residents of Arcosanti (people live there) cast molten bronze into one-of-a-kind bells (for sale in the gift shop, $35-$500).
When I told friends I was going to Arizona for the weekend, they asked me what for, and I found my answer changed each time: It was a music festival, but there were no tickets and only eight bands were playing. It was some kind of desert rave thing, although most of the acts played instruments and sang. It was an art project, some grand utopian experiment. It was a camping trip, it was a vision quest. Truth is, by the time I arrived at the site on Friday afternoon, I still had no idea what I was getting myself into.
I knew this, though: I was there because of the band Hundred Waters. They'd organized this three-day happening, which they dubbed "Form," as a celebration of their sophomore album, The Moon Rang Like a Bell, which would be released the day after Form concluded (to considerable acclaim, as it turns out). Hundred Waters are four friends originally from Gainesville, Florida, whose music requires a mouthful of adjectives to sum up: electro-jazz-ambient-noise-dance-alt. Their engrossing 2011 self-titled debut was a modest success, enough to win them a record deal, albeit on the surface a strange one: with Skrillex's OWSLA imprint, home to dance-floor decimators like Porter Robinson and Zedd. Hundred Waters, their debut, was a beautiful record — mellifluous and dense, its mix of vocals and instruments, from dulcet pianos to gnarly synths, performed as if suspended in amniotic fluid — but it was far from OWSLA's typically bombastic fare. Similarly intriguing, what the hell was a band from Gainesville doing hosting a free three-day show in middle-of-nowhere Arizona, alongside OWSLA DJs and a sonically far-flung lineup that included How to Dress Well, Majical Cloudz, and Julie Byrne? I had no idea, but I wanted to find out, and the only way to do so was to go to Arizona and see for myself.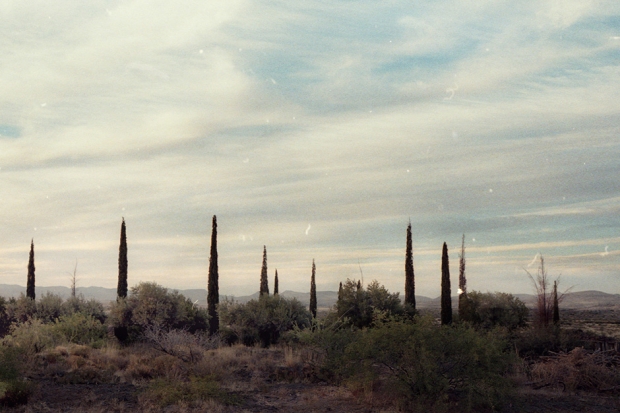 Friday, 5:04 p.m. I exit the highway, drive about two miles along a dirt road, and arrive at Arcosanti with butterflies in my stomach, like a kid on his first day at camp. I have no idea where I'll be sleeping, no idea what I'll be eating. The parking lot is empty, and just beyond it, on the other side of the fence, are heaps of junk and/or art projects in various states of completion—rusted out cars, piles of scrap metal, etc.—a very post-apocalyptic assemblage that underscores the sci-fi wasteland vibe of the site. To my surprise and relief, there's cell phone reception. I text a loved one: "I think I might have made a mistake."
Friday, 5:06 p.m. I find my way to the Vault, which is sort of like Arcosanti's town square. There's not a lot going on. A handful of folks are milling about, setting up the makeshift bar and the DJ area, posting signs to welcome strangers. No one seems to notice me, and the ones who do regard me with what I believe to be suspicion. That's when I decide to call Wolfbelly.
Two days earlier I'd received a phone call. It went like this:
"Is this Garrett?"
"Yes."
"Cool, this is Wolfbelly."
"I'm sorry?"
"My name's Rob but everyone calls me Wolfbelly."
As Wolfbelly explained on our call, he would be in charge of receiving me when I arrived at the site. In fact, Wolfbelly was in charge of a lot of things, having served as Hundred Waters' tour manager/concierge/good-luck charm for years. As I would come to understand in the next 72 hours, when anyone needed anything (seriously: anything), he or she could call Wolfbelly. I call Wolfbelly.
"I'm on an airport run," Wolfbelly explains. "Find Zach [Tetreault], the drummer for Hundred Waters."
I catch sight of Nicole Miglis, the band's singer. She's standing at the edge of a cliff that looks down into a canyon, peeling an orange. I introduce myself, extending my hand, but hers is covered in pith.
"I'm looking for Zach," I explain.
"He's around here somewhere," Nicole says, then scampers off like a fawn.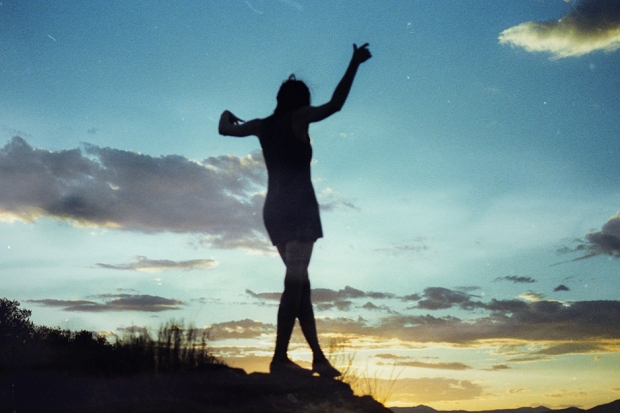 Friday, 5:45 p.m. Zach appears at the Vault. While the rest of the band has a cautiously guarded air, Zach is the outgoing one, the guy doing his best to make sure everyone's having a good time. Zach gets me a beer and shows me to my tent. My tent is the one Zach slept in the night before. It is staked next to a picturesque canyon and outfitted with a bed of thick, warm blankets that Zach and his girlfriend had prepared for me, all but leaving a mint on a pillow. Journalistic decorum requires that I disclose my having received these accommodations free of charge, although to be fair I'm not sure I could have paid for any of this if I'd tried.
Friday, 8:30 p.m. Friday night, Zach had told me, was to be more of a warm-up, a chance to get acquainted with the space and the crowd and the vibe. Said crowd is a curious group: fashionable L.A. types in the OWSLA orbit mixed with sandal-wearing music-fest camper-pros mixed with hula-hoop wielding raver folks, the types who gravitate to free parties involving DJs. Plus Zach's mom, plus the residents of Arcosanti (some hippie-shaman vibes there), plus a handful of folks who know Hundred Waters from way back in their Gainesville days — no more than 300 of us total, including the bands, who mingle throughout the weekend alongside the bar staff, the event producers, and one of the more charmingly feckless security details I've ever encountered.
Nothing especially noteworthy happens on Friday night, unless you consider hot-boxing a tent noteworthy, which I don't. On that note, this seems like as good a time as any to mention that I ingested no psychotropic substances over the course of this weekend, save for a few tokes of good old fashioned medical marijuana. I mention this so that when my language turns the color of ripe eggplant below, you understand that it's not because I was on acid.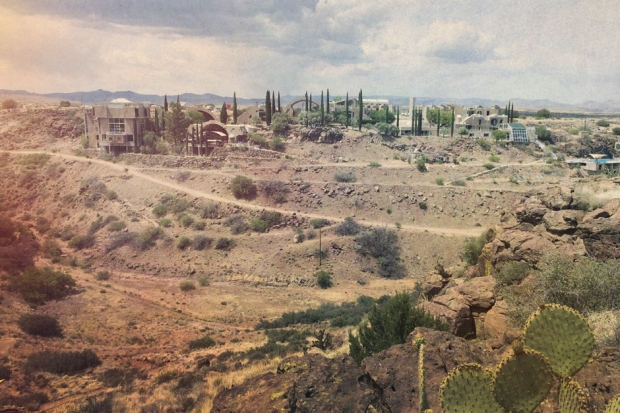 Saturday, 7:03 a.m. It's impossible to sleep much later than 7 a.m. here because once the sun comes up it starts cooking your tent like an egg. When I emerge from mine, I'm greeted by the sight of my neighbors, five friends who know Hundred Waters from back when they all lived in Gainesville. For as hospitable as Zach and his band are, probably the last thing that occurred to them to be concerned about was sticking the writer next to these guys. Lucky for me they did, however, because it was from Erik, Blake, Devin, Trevor, and Ryan that I learned about the part of Hundred Waters' backstory that made sense of the entire weekend. Indeed, it was from these fine gentlemen, with whom I became basically inseparable for the rest of the weekend, that I first heard the term "Bro Island."
Sunday, 6 p.m. "It was Bro Island for one year," clarifies Trayer Tryon, a.k.a. Tray, who with Paul Giese comprises Hundred Waters' guitar/bass/programming section. Bear with me as we flash forward to Sunday evening.
"Year one it was six guys living there," says drummer Zach. "Then year two, four guys, two girls."
"Then it was Doe Island," adds Nicole.
In the event it's not already clear, the name Bro Island was ironic: It wasn't an island, it was nominally inhabited by bros. Rather, it was a repurposed former grocery store located on a sprawling lot in the student housing district of the University of Florida, in Gainesville, an industrial plot the band adopted as its home and show-space. Prior to being a grocery store it was a karate dojo, where, in an added bit of serendipity, Nicole's parents had first met as aspiring martial artists, although they didn't tell her that until after they'd visited.
"I think they were just like overwhelmed," she says. "They were just overwhelmed with a lot of things that were there."
"We had a pygmy goat that lived in our yard," explains Zach (the goat's name was "Bootsie"). "And we had like a course for her. So that was kind of a spectacle. We'd let her out during shows."
The band and I are lounging in the "Sky Suite," which sounds fancier than it is. Basically a dorm room with insane canyon views, it's where the band has been camping out these past few days. The floor is covered in wet towels and rumpled clothes; there's a bottle of booze within arm's reach. Grimes had slept in the living room the previous night, or more accurately occupied it till the sun came up. Everyone's slumped like a Dali painting. Tray is shirtless, having just woken up from a nap. Nicole had recently woken up herself, having gone to sleep at 7 a.m. that morning after performing one of her original compositions at sunrise on a grand piano covered in flowers, captured by the video site Yours Truly (nice going, guys).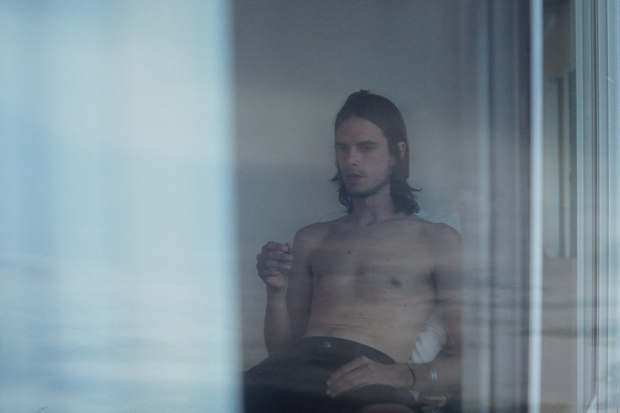 "Everyone hated the name," says Tray of Bro Island. "We gave it to ourselves. It was self-lacerating."
Fine, sure, but a rose by any other name yadda yadda: By all accounts Bro Island was a magical place, a nexus of Gainesville's DIY scene that was so special folks like my new buddy Erik spoke of it with reverence.
"We could be as loud as we wanted," says Tray. "We could have as many people as we wanted. We had cars parked all over the place, we could have hundreds of people. So a lot of [the magic] stemmed as a result of just finding the right place, which is what's going on here too."
Just as this pilgrimage to Arcosanti was an extension of Bro Island, so Bro Island was an extension of what the band had been doing since its earliest days playing together. Band members Zach, Tray and Paul have been a musical unit since middle school in Orlando, Florida, where they'd stage field trips to forests with instruments in tow. Initially, they'd had a pop-punk band called Awesome. When they all convened in Gainesville to attend UF, the three musicians billed themselves as Milq, in addition to serving as the backing band for David Levesque, a.k.a. Levek.
In the autumn of 2009, Miglis entered the picture. She and Zach were in the same conservatory class in the music program of UF. Each week a student would perform a composition they'd been working on to the whole class. Nicole's performance on piano blew Zach away.
"I went up to her and said 'Hi' afterward," explains Zach, "and was like, 'That was really gooooood.'"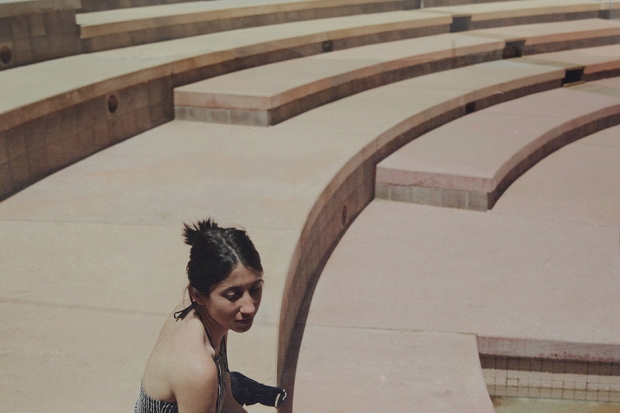 Nicole began contributing to a nascent Hundred Waters shortly thereafter, eventually moving into Bro Island during her senior year. The band's sound started to coalesce. In between preparing to graduate and throwing shows, they pulled together the songs that would comprise their self-titled debut. In 2011, Zach, who was working in the ad-trafficking department at music streaming service Grooveshark, handed the record off to Mike Feinberg, a Grooveshark consultant at the time.
"I have like ten people working for me on the artist team [at Grooveshark]," Feinberg told me, "but the best thing I've seen in like maybe the last decade is coming to me out of the ad trafficking department, of all places."
Feinberg signed on as Hundred Waters' manager — a fortuitous relationship, as he was formerly Vice President of Dim Mak records, an upstart punk and electronic label founded by EDM kingpin Steve Aoki. It was through Dim Mak that Feinberg, who's based in L.A., originally met a young Sonny Moore.
"Sonny was always at our parties and stuff," remembers Feinberg. "So he and I were just friends before the whole Skrillex thing happened. … As things developed with [OWSLA], I just had a great comfort introducing them to [Hundred Waters], and it ultimately turned into a really great partnership."
Throughout much of the ink that's been devoted to Hundred Waters (this piece included), OWSLA is a focus, a conundrum even: What's an ethereal indie rock band doing amidst Skrillex's band of merry EDM pranksters? The answer's pretty simple.
"I always say Hundred Waters is the most punk-rock band I know," says Feinberg.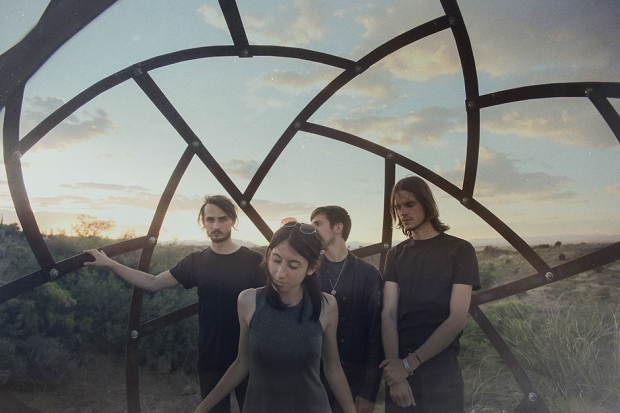 Over the course of the weekend, this rang increasingly true. Here was a band that spent its formative years playing pop-punk and staging shows in Orlando forests, who came together under the roof a DIY space, who threw multi-day parties for local and touring bands alike and was a focal point for Gainesville's music scene for years before eventually graduating from it. And Sonny Moore, who'd cut his teeth as the singer for emocore band From First to Last, had ties to a similar scene. While it's undoubtedly a centerpiece of the EDM explosion, OWSLA is still essentially a DIY enterprise led by an emocore expat who's attempting to scale the adventurousness and scene-fostering spirit of a small, independent label. This is all extremely complementary to what Hundred Waters were doing with Arcosanti: staging Bro Island at scale.
"There's very much a shared ethos between our families," says Feinberg, comparing OWSLA and Hundred Waters. "I think we're all cut from a cloth that's really not part of the Hollywood shuffle. We've kind of, like, come up in ways that aren't really part of that system, so there's definitely a shared ethos between everybody involved."
"Did you ever listen to Drive-Thru Records?" Tray asks, referring to the Southern California emo-punk label that built a devout community of fans releasing music from upstart acts like New Found Glory, Finch and RX Bandits. "I kind of see like OWSLA as like a not-lame version of Drive-Thru Records."
Saturday, 1:30 p.m. (Back to Saturday, got it?) Navigating the corridors of Arcosanti in search of access to one of the hiking trails, I encounter a resident named Lance, a middle-aged man who looks like a history teacher out of Central Casting. Lance has a few pointers on desert camping: Keep your eyes peeled for rattlesnakes, and be sure to always keep your tent zipped up to avoid unwanted entry by tarantulas, who like to nuzzle at the foot of sleeping bags — thanks, Lance!
I ask Lance what he thinks about having his residence overtaken by Form-goers this weekend, and he exhibits a kind of bemused tolerance, which is generous, given that the previous night, according to Lance, a soused handful of them attempted to enter Lance's dwelling in search of somewhere to pass out. From what I could tell, such incidents of drunken revelry were rare but existent over the course of the weekend, with the mood from residents toward revelers slowly devolving from cheery to exasperated. While the organizers had obtained the blessing of the space's governing council before throwing Form, I'm guessing the residents didn't have all-night techno sets in mind when they signed on, and maybe more than a few of them were fantasizing about wayward tarantulas as they laid sleepless in their beds at 3 a.m. that night.
Saturday, 7:12 p.m. The weekend's music program begins in earnest with Julie Byrne, who sits solo on the amphitheatre stage, clutching an electric guitar and performing songs from her haunting debut, The Room Had Walls & Windows. Byrne's voice is so delicate it sounds like she's harmonizing with a breeze, her songs so transfixing — the sun is setting, and the magic-hour light is warm and enveloping — that those of us who've gathered to watch her are sitting slack-jawed.
"I feel like I'm trying to save all my energy for just being present, because this is so magical," explains Byrne in between songs. Indeed: The amphitheatre at Arcosanti is a series of concrete steps descending in a half-circle around a large stage. The edge of the stage is outlined by a small moat, and the ceiling, well, there is no ceiling: There are nothing but stars overhead, stars you can see because we're 60 miles away from the closest city. I mean we can literally see the Milky Way. The fucking Milky Way.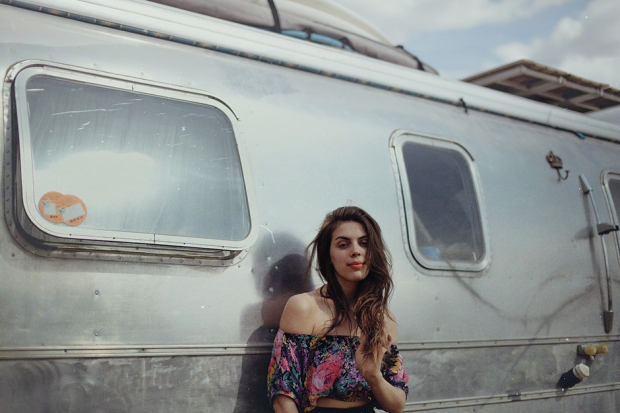 Saturday, 10:40 p.m. No festival bats a thousand, not even this one, so the less said about solo electro crooner Suno Deko the better (he seems like a very nice man). How to Dress Well, on the other hand, are fantastic. Singer/band-leader Tom Krell is tall and lanky and wears glasses when he's not performing or taking publicity photos. He's kind of awkward, in other words (though watch out for his cannonball if you go swimming with him), so when you see him channeling D'Angelo for his deeply earnest noise-wash quiet-storm hybrid, it's gut-punch captivating. Dude's new record is What Is This Heart? and I suggest you obtain it. He plays songs from it, as well as jams like "Set it Right" and the moving "Suicide Dream 1." Toward the end of his set he performs new song "Childhood Faith in Love."
"This is a pop-punk song," Krell says, introducing the track. "This one goes out to Hundred Waters."
Sunday, 1:30 p.m. Pool party!
Sunday, 5:20 p.m. I pull Mike Feinberg aside to discuss some of the logistics behind this thing called "Form." For example: If admission is free and booze is free, who the hell is paying for this? As Form's veteran event producer Shane Berry had put it to me earlier, "I'm swimming in grey area," meaning Form did not resemble any concert he'd ever worked on. "There's no ROI [Return on Investment] here. It's all outflow."
"Well, I mean there's a huge ROI," says Feinberg when I mention his longtime associate's comment. "It's not metered on the fiduciary scale. But I think there's a huge ROI in a lot of other areas that are valuable to us."
Feinberg characterizes the expense of putting together the quasi-festival as essentially a write-down, even with the handful of sponsors involved.
"We made a capital contribution to this project," he says, referring to his management company, which he prefers not to characterize as a management company.
"I see us as part shepherd, part incubator, part ecosystem."
Um, OK.
"We've been fortunate to have some sponsors involved that are providing product to help the good times flow," he explains. "But there's no cash component to that relationship, you know, they just kind of took some cash off the table for us. So we were able to apply that money to bring more bands in and bring friends and stuff in."
Oh right, I should mention: All the bands played for free. The aforementioned sponsors included a trendy beer company, a trendy booze company, and a tech brand, none of which had any ostentatious signage or, like, lame photo booths set up or mascots chasing you around or whatever we've all come to expect from festival sponsors. I have this thing about not mentioning brands in articles like this, which I'm sure is a bummer to the brands, so to the trendy booze brand in particular, here's some advice by way of consolation: That blackberry stuff was icky. Stick to the high-octane, super-proof clear stuff. That stuff was like really tasty paint-thinner. Mmmm, paint-thinner.
Sunday, 8:00 p.m. We adjourn to the foundry to watch a live demonstration of molten bronze being poured into molds to form Arcosanti's signature bronze bells. For the purposes of the demonstration, all of the lights are turned off and everyone is to remain absolutely silent, to allow the bellfounders to communicate as they pour one hundred pounds of liquid metal into the molds. This is as awesome as it sounds.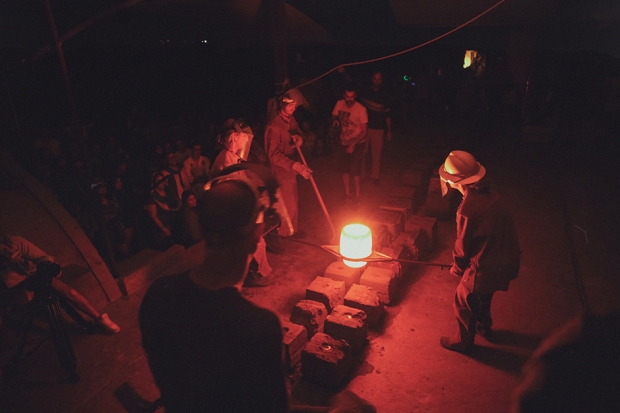 Sunday, 9:32 p.m. Majical Cloudz are a trip. They're two guys. Matthew Otto works the electronics while Devon Welsh stands stiff as a board and sings with stentorian intensity about such sunny subjects as existential dread and lost innocence, plus love. "You would laugh / But I'm on stage for your / I sing for you," sings a transfixingly self-conscious Welsh. Their set borders on performance art, especially because Welsh's between-song dialogue is awkward and self-deprecating and scans slightly like an Andy Kaufman bit. Lorde just tapped these guys to open for her on tour, which is going to lead to some extremely perplexed looks from the Kiwi singer's mainstream pop audience.
Sunday, 10:30 p.m. The main event. After 48 hours of dancing and pool partying and drinking free beer, of Wolfbelly being seemingly always within arm's reach to provide whatever needed to be provided, of this one hula-hoop lady literally never stopping swinging her hula-hoop, of hikes through the desert trails and sunsets watched from the top of domes and god knows what else folks were doing in the wee hours in the innumerable nooks and crannies of Arcosanti, it had all been building to this: The debut performance of The Moon Rang Like a Bell.
If Form had been nothing more than all those things I just mentioned, it would have been a perfectly enjoyable and worthwhile experience. Likewise, the notion of its being the grand extension of a vision that has its humble roots in a small scene in Florida would have been a perfectly convenient fact to hang this whole story on, even if the band had sucked. Oh, but they did not suck. I warned you earlier about the purple prose, so try not to hold it against me: Their performance was a consecration.
You notice things, watching Hundred Waters live. You notice that Zach still plays with the stiff posture of a punk drummer, his elbow kinked at 90 degrees as he swats his high-hat, grinding out the mixed meters of the songs. You notice Tray on bass and how he's keyed to Zach's every move, and you realize that this band are total nerds when it comes to rhythm, which is why some have pointed to the jazz influences in their sound. Like a jazz band, the three guys look at one another constantly. It's important to stress that theirs is not easy music to play. It shifts time signatures abruptly, requires exacting precision to pull off. It's no coincidence that Hundred Waters diehards have already given themselves a jam-band-y nickname: "We're all Walters," is what new buddy Erik had told me.
The band is enamored of tense builds and cathartic crescendos. Listen to "Cavity." Turn it up. There's that high-pitched wail in the beginning and then it disappears, leaving you underwater amidst pinging drums and murky synth textures. But then Nicole sings, "You make these feelings, go away," and the wail comes back and it's joined by this huge swell of strings and the song practically knocks you over, and if you feel that way when you hear it on the album then imagine it live, then imagine it live in an amphitheatre, under the fucking Milky Way.
The band plays "Out Alee." The song traipses across mixed rhythms, flitting this way and that, its synth melodies zipping like fireflies against a backdrop of peripatetic drumming and aquatic whir. The song has the feel of a dream that refuses to abide by the normal rules of time, is rather a haphazard tableau of portentous moments. "Innocent" has more of a tidal chug, has more of a classic song structure of verse-chorus-verse, albeit one that's smudged by static and Nicole's wandering vocal lines.
At one point Nicole sidles over to the big grand piano toward the back of the stage. At one point she plays the flute. She's dressed in a white dress with white fringe. Her voice cuts through whatever sonic swirl the band builds around it, her piano lines do the same. One of the great tricks this band pulls is not just mixing up electric and acoustic instruments, analog and digital, but doing so in such a way that you can't tell the difference. The first few times I listened to Moon I had no idea Zach was pounding out all these complicated rhythms—I assumed they were drum machines—but then you watch him live and sure enough he's channeling Neil Peart. Did I mention you should turn up "Cavity"? Do that. Turn it up all the way.
The three song-suite that is "Down form the Rafters," "[Animal]," and "Seven White Horses" is one of the better recorded-music experiences you're likely to have this year, and it's even better live. Nicole busts out her flute for "Down from the Rafters," a tune that throbs sensually in a mid-tempo range, aching to break into a trot but resisting. It's the ultimate foreplay for "[Animal]," the band's one real firecracker of a song, which kicks off with tribal drumming and eventually explodes in a flurry of rave-worthy synth stabs (Skrillex would be proud) and Nicole incanting "Animal, animal, animal." It'd be a worthy climax on most records, but that honor belongs to "Seven White Horses," which starts out like the intro to a fairy tale but slowly ascends a glacial peak before leaping right off of it, soaring above an ice world on a plume of furious drumming and Miglis' ardent cries. The band closes its set out with this track, stretching it well beyond its recorded length. "We're all Walters," I think, the notes dissipating into the night sky.
One thing Hundred Waters aren't especially forthcoming about is lyrics. Their name, after all, is a play on the name of Austrian painter Friedensreich Hundertwasser, who encouraged his acolytes to find their own meanings in his work. To me, then, Moon is a record about being present — in love and in life (Tray and Nicole are a couple). A song like "Out Alee" is a celebration of nature, but also a recoiling from it: "Innocence is, in a sense, oh so frightening," sings Nicole. Elsewhere, however, she prescribes opening oneself up to fear and doubt, as on "Cavity": "So come then, come over and sit by me / follow the arrow following me / nothing to fill in, nothing to free / nothing here, love, but a cavity." Songs like "Innocent" and "Animal" speak of immobility (of broken legs and lost boats), of struggling to reclaim something — a feeling, an opportunity. In spite of the struggles, you get the sense that Nicole has found a way, at least in fleeting moments, to accept life's unremitting churn, to relish/bask in it: "I wish you could see what I see," she sings on "Murmurs." Given all of this, it stands to reason that The Moon Rang Like a Bell opens with a prayer, which Nicole sings in harmony with herself on the record, but alone and a cappella on stage to open the performance on Sunday night:
Don't let me think weakly
Though I know I can break
Keep me away from apathy
While I am still awake
And don't let me think too long
About the one I'm bound to face
Show me love
Show me love
Show me love
Coda. Arcosanti, the space, is special to the band for a lot of obvious reasons: Paul was an architecture student who'd originally read about it and had always wanted to visit; the site's creative energy practically drips down the canyons that surround it; and you don't have to be on LSD to appreciate the scenery (though apparently that didn't hurt). But there was one event in particular that made the band feel like they simply had to stage their release show here.
"Two months ago we were here, coming back from South by Southwest," says Tray in the Sky Suite, describing the night at Arcosanti when the band finally decided that, after years of work, The Moon Rang Like a Bell was finished. "The album was finished that day. I sent it out from here [to be manufactured] and it was done. We had no idea that we would play our album release show here."
"We had made deadlines and, like, said 'Fuck off,' like, over and over again for so long," Tray remembers. After the release of Hundred Waters, the band cut ties with Gainesville and spent the next three years on the road. When tours would wrap, they'd find somewhere to hole up: a cabin here, a ranch there. Throughout it all, they worked on new music.
"It's not like we went into a studio and, like, three weeks later we had an album," says Zach. "We wrote over the course of years and in a bunch of new, crazy situations."
"We've never really been a studio band," adds Nicole. "You have a bunch of little pieces constantly and then, like, when you have a week off at your friend's ranch or whatever, you have to make all these little pieces fit together, which is insanely difficult."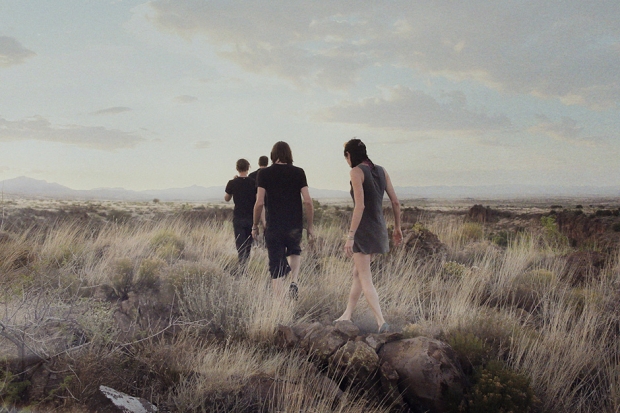 After years of living like this, it was at Arcosanti that they finally let it all go. "That night was incredibly emotionally powerful," says Tray. "It's hard to walk away from something, and that's what we did here. And it was a super — you know, it was a moment. It was like being at the top of some hill or mountain, and everything on the other side is totally new. We'd been working on this album for a long time."
Toward the end of our interview in the Sky Suite, I mention that the culmination of all of this — years of recording the album, months of planning this show; hell, three of these guys have been playing together since their early teens — will take place in just days, that 48 hours from now Moon will finally be released, exiting one world and entering another.
"It kind of doesn't feel like it's really happening," says Zach. "It doesn't make sense because we've felt like it's happening for two years, but it's happening in two days and we're just talking to our friends about other stuff."
Zach is nervous, because there's much to be done before the band takes the stage. He checks his watch, then addresses his friends.
"We should eat," he says, "because we're not going to get a chance to eat later."