Barcelona's Primavera Sound 2014 will forever be remembered as the double-rainbow edition, thanks to the immaculate and frankly miraculous pair of rainbows that materialized above the Mediterranean following an all-consuming thunderstorm that had sent attendees scurrying for cover earlier in the day. Once the sun came out and those arcs went soaring above the horizon, it wasn't just nice to, you know, have some music again; it was, possibly, the world's greatest selfie opportunity, as evidenced by the scads of giddy hipsters lining up to pose in their disposable ponchos. It was a moment.
Primavera Sound, now in its 14th year, was not short on moments. From heavy-hitting headliners (Nine Inch Nails, Queens of the Stone Age) and bona fide breakout stars (Arcade Fire, Disclosure) all the way to left-field noise-makers (Body/Head, Prurient, Haxan Cloak) and local heroes (John Talabot and his Hivern Discs label-mates), Primavera offered as wide-reaching a portrait of contemporary music as you're likely to find at any festival with a 50,000-person capacity. Here are 10 of SPIN's favorite moments.
(Check out a gallery of SPIN's Best Live Photos from the festival, while you're at it.)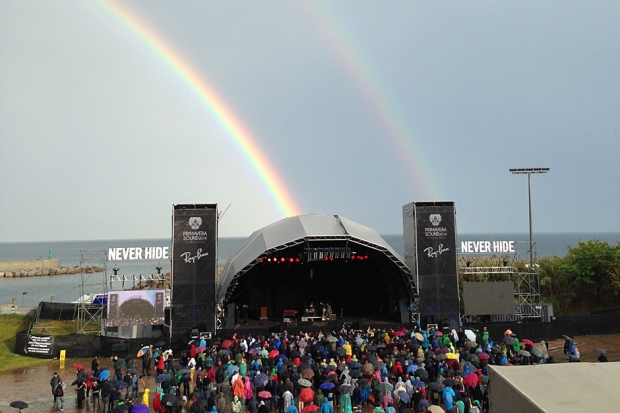 Future Islands
"This is a song about looking at this beautiful sea," said singer Samuel T. Herring before launching into "A Dream of You and Me," a literal stone's throw away from the Mediterranean. Running through his well-documented moves (the squat-and-twist dance, the point-at-the-moon thrust) he looked less odd than he had on Letterman — less performance artist than good ol' rock'n'roller. (As to the latter, it helped, perhaps, that he peppered his stage banter with plenty of tough-guy swears. "Fuck yeah!") How much does it take to elevate a competent act to something transcendent? How much did their televisual breakthrough have to do with how this international crowd received them? Who knows, but the crowd swelled well beyond the limits of the stage, pressing out towards the Mediterranean; cheers were lusty, and there was at least one misty pair of eyes in the crowd when Herring's voice went all growly in "Seasons (Waiting on You)."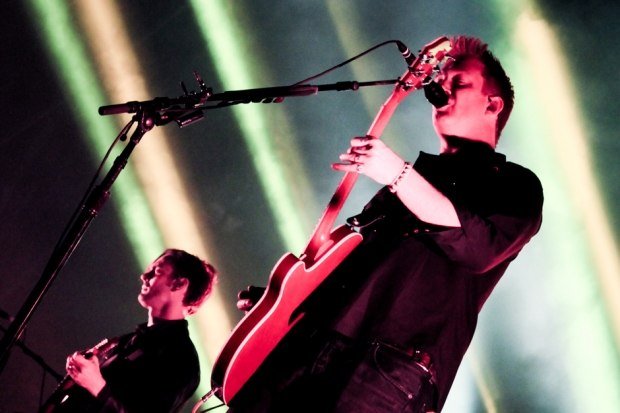 Queens of the Stone Age
Judging from the response to "Feel Good Hit of the Summer," some lyrics are damn near universal in any language. Primavera's is actually one of the best behaved festival crowds you can imagine, but it duly chanted along: "Nicotine, Valium, Vicodin, marijuana, ecstasy, and alcohol / C-c-c-c-c-cocaine!" Josh Homme had introduced the song by drawling, "It's time to go fuckin' loco, motherfuckers," but the funny thing about Queens of the Stone Age is that no matter how loud or intense they get, they never get loco; they're way too freakishly controlled for that. Watching Homme's hands on his guitar, up on the Jumbotron-sized screens flanking the stage, they looked almost delicate. Is there any band at once so hard and so graceful?
The War on Drugs
Who knows what the holdup was, but from the expressions on the bandmembers' faces, it was bad, and from the stagehands' movements as they laid down new cable, it was complicated. (It almost certainly had something to do with that apocalypse-grade thunderstorm and deluge that had all but cleared out the open spaces of the festival grounds just an hour before.) But then, after 30 minutes of fretful looks, shrugged shoulders, and a weird mix of half-audible soundchecking and totally incongruous dance beats piped in over the PA — if you had planned to get extraordinarily high on Barcelona's recently decriminalized pot-club weed, this turned out to be a really confusing time and place to do it — Adam Granduciel stepped to the mic, the volume came up on the still-soundchecking instruments, and boom, we were into it. With six people on stage, including a baritone sax that gave the low end extra wallop, the sound was every bit as lush as on the recent Lost in the Dream, just a little more ragged and a lot more urgent. The echoes of Springsteen, Straits, and Petty were still everywhere, but with the drums pushed high in the mix, they doubled as a highly danceable Krautrock band, something like a modern-rock Stereolab. "Under the pressure," wheezed Granduciel in his best Dylan drawl. He certainly had a right to feel that way, but the funny thing was, despite all the setbacks, he didn't look like he'd even broken a sweat.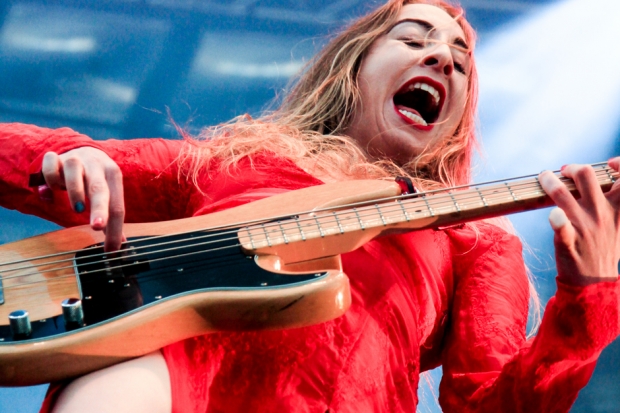 Haim
Los Angeles' Haim sisters got lucky: Their 8:30 p.m. appearance on the Heineken stage, one of the two main stages in the sprawling, half-kilometer wide festival grounds, took place not long after the Biblical-grade deluge and subsequent double rainbow, meaning that spirits were already high by the time they marched out and launched into the kind of set they've been training all their lives for. They rocked way harder than they do on record, whether knocking out taut riffs or walloping on floor toms to theatrical (almost Stomp-like) effect. They weren't afraid to be cornballs, either — another mark of the born entertainer. Este, in particular, looked like she had studied her moves from Spinal Tap's Derek Smalls, leering and grimacing and mean-mugging in a way that would have looked like parody if she hadn't sold it so well. (It helped that she was wearing a floor-length red gown with twin slits up to here, like some totally badass cross between, I dunno, Carrie and Dune.) If ever there were a testament to being really fucking good at what you do, this was it.
Julia Holter
Of all the acts to perform inside the indoor auditorium space — Body/Head, Mick Harvey performing Serge Gainsbourg, Colin Stetson, A Winged Victory for the Sullen — Julia Holter may have made the most sense, simply because the bizarre, reflective panels on the walls and ceiling gelled so well with the watery qualities of her own music. If David Lynch were ever to rework Eraserhead's "Radiator Song" scene for the inside of a gigantic puddle, this would have been the venue and the soundtrack for it. Accompanied by violin, cello, saxophone, and drums, Holter gave her Loud City Song repertoire (plus a song or two from earlier albums) a boisterous makeover, complete with whistling, syrupy bowed triads, creamy saxophone, and occasional squalls of dissonant turmoil. It was enrapturing from beginning to end.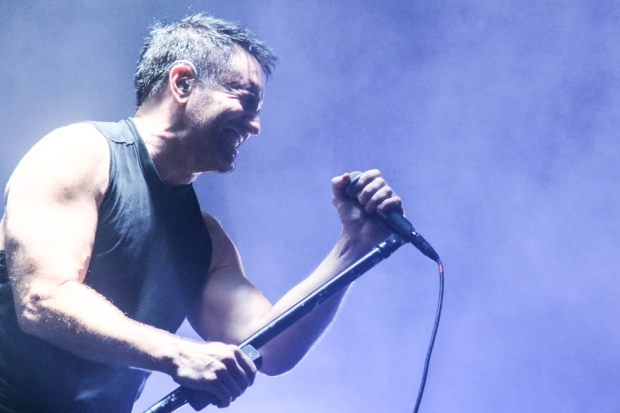 Nine Inch Nails
Beneath Rubik's Cube disco lights, an ultra-buff Trent Reznor gripped his mic stand with arms that looked like Spanish hams and offered a muscular pantomime of angst set to an overwhelming techno-rock throb. For long stretches, the drummer and keyboardist remained hidden in darkness, as though obscuring the means of production were essential to the performance. The green lighting and the steroidal proportions of it all lent the feel of being trapped inside a can of energy drink, which seemed appropriate. This was a vision of industrial music as designed by Disney or the NSA, a hyper-efficient delivery system for pathos, or at least the appearance of it: technology masquerading as feeling, and vice versa. Shock-and-awe made sensual.
Angel Molina
Anyone who walked into the Bowers & Wilkins / Boiler Room tent expecting Angel Molina to seamlessly pick up the disco baton from Pional had another think coming. The first 10, maybe 15 minutes of his set was nothing but beatless ambient rumble and great cascading sheets of drone — a bold choice for 10 p.m. on a Friday night, but it's that kind of adventurousness that makes Molina one of Barcelona's finest DJs. It was gratifying to find a local talent with little international profile given a time slot like this, and it was even better to hear him using the opportunity to take us all to the outer limits.
//www.youtube.com/embed/SGDAggIPupg John Talabot
John Talabot is a local hero, and rightly so. In the electronic music scene, no other Barcelona native has a more illustrious international profile right now. Ironically, he wasn't embraced by his hometown until after he had already broken abroad, but the days of local neglect are clearly long past, as was evident from the mass of fans running for the Bowers & Wilkins / Boiler Room tent once the gates outside were opened, at 9 p.m. sharp. Upon approaching one of the entryways to the vinyl-covered geodesic dome, you could feel the temperature rising 10 degrees in the span of a few feet, and the humidity immediately shot up to something approaching 100%. Inside, Talabot cut loose with a mixture of Italo disco, chunky house, and who knows what else. The bulk of it was un-Shazamable, but that didn't stop people from trying; even that momentary attention paid to smartphones, though, didn't seem to have any appreciable effect on the crowd's energy level.
Marc Piñol
As with his label-mate Talabot, it was anyone's guess what Barcelona's Marc Piñol was playing. House and techno formed the basis for his set — minimalist, mechanical, full of melodies with a sour, metallic taste, and slowly shifting phrases. Voices darted through the mix, and once, maybe, something that might have been an elephant? By the time he took to the decks, there was more room to move on the dance floor, and although it was still relatively early, the energy in the room had gotten good and weird — a lot of loose limbs and slack jaws. After the fact, Piñol mentioned that he played this song; it pretty much sums up the vibe.
Barberos
The few people strolling through the merch tents at midnight on Thursday night were treated to the unlikely, and vaguely disconcerting, spectacle of three men clad head-to-toe in Lycra suits and masks. Two of these lithe, insect-like figures faced each other and bashed away on drum kits, while the third twiddled knobs on a synthesizer or three. Who were these post-Lightning Bolt figures with their contrapuntal rhythms and squealing oscillators? "We are Barbados!" one of them shouted, or at least I thought they did, although Googling "Barbados Primavera Sound," "Barbados two drummers," and "Barbados Lightning Bolt" proved fruitless. The following day, someone at the merch tents knew the band's actual name. They hail from Liverpool, their music is available for purchase on Bandcamp, and should you ever be unable to remember what they're called, fear not: Just Google "Lycra band from Liverpool" and you'll be all set. At a festival with no shortage of fairly agonizing choices to be made — that'll happen when there are a dozen stages all running at once — to just stumble upon something like these guys felt all the more special.
//www.youtube.com/embed/C4gfJ-JLk8w