Just yesterday, former R.E.M. bassist was Mike Mills was telling Billboard that the band wasn't quite ready to dump out "the vaults" of unreleased material, so instead they've repackaged a bunch of stuff that was already technically available.
After the recent release of their full MTV Unplugged sets and the issuing of a digital collection of B-sides from their I.R.S. years, R.E.M. have now shared, as Slicing Up Eyeballs points out, a surprise compilation of 131 rarities from their time on Warner Bros. records.
The band has also remastered and re-released their whole digital archive to iTunes, including the previously hard to come by Chronic Town EP. If you've got a few spare gigabytes on your iPod, it's a good day to be an R.E.M. fan. You can check out the sprawling tracklist below.
Complete Rarities: Warner Bros. 1988-2011 track list: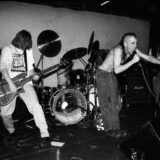 1. "Funtime (Live) (Iggy Pop Cover)"
2. "Ghost Rider (Suicide Cover)"
3. "Dark Globe (Syd Barrett Cover)"
4. "Pop Song 89 (Acoustic Version)"
5. "Memphis Train Blues (Non-Album Track)"
6. "Skin Tight (Live Orlando, FL April 30, 1989) (Ohio Players cover)"
7. "Losing My Religion (Acoustic) (Live At KFOG)"
8. "Losing My Religion (Live In Dublin 2005)"
9. "Rotary Eleven (Non-Album Track)"
10. "You Are The Everything (Live – Greensboro Coliseum, NC 11/10/1989)"
11. "Love Is All Around (Live)"
12. "Shiny Happy People (Dance To The Music Mix)"
13. "Shiny Happy People (Pop Mix)"
14. "Shiny Happy People (Hip Mix)"
15. "It's a Free World Baby (Non-Album Track)"
16. "Winged Mammal Theme (Non-Album Track)"
17. "First We Take Manhattan (Leonard Cohen Cover)"
18. "Everybody Hurts (Album Fade)"
19. "Mandolin Strum (Non-Album Track)"
20. "Orange Crush (Live Version)"
21. "Man On The Moon (Album Edit)"
22. "Arms Of Love (Non-Album Track)"
23. "World Leader Pretend (Live) (Charleston WV 4/28/91)"
24. "Belong (Live) (Charleston WV 4/28/91)"
25. "Low (Live) (Charleston WV 4/28/91)"
26. "The Lion Sleeps Tonight (Non-Album Track)"
27. "Fretless (Non-Album Track)"
28. "Everybody Hurts (Live) (9/2/93-Los Angeles for the MTV Video Awards)"
29. "Orange Crush (Instrumental)"
30. "Fall On Me (Live)"
31. "Me In Honey (Live)"
32. "Finest Worksong (Live)"
33. "Drive (Live) (1992)"
34. "Funtime (Live) (1992)"
35. "Radio Free Europe (Live) (1992)"
36. "What's The Frequency, Kenneth? (Live at SNL-11/12/94)"
37. "Bang And Blame (Live at SNL-11/12/94)"
38. "I Don't Sleep, I Dream (Live at SNL-11/12/94)"
39. "What's The Frequency, Kenneth? (Radio Version)"
40. "Monty Got A Raw Deal (Live) (Athens, GA '92)"
41. "Everybody Hurts (Live) (Athens, GA '92)"
42. "Man On The Moon (Live) (Athens, GA '92)"
43. "Bang And Blame (Album Version w/o Between Track Noise)"
44. "Losing My Religion (Live) (Athens 1992) (Applause Faded)"
45. "Country Feedback (Live) (Athens 1992) (Applause Faded)"
46. "Begin The Begin (Live) (Athens 1992)"
47. "Undertow (Live)"
48. "Wichita Lineman (Live) (Non-Album Track)"
49. "New Test Leper (Live Acoustic)"
50. "Tricycle (Instrumental) (Non-Album Track)"
51. "Departure (Live) (Rome Soundcheck)"
52. "Wall Of Death (From "Beat The Retreat"-Richard Thompson Tribute Album)"
53. "The Wake Up Bomb (Live Version) (Atlanta)"
54. "Binky The Doormat (Live Version) (Atlanta)"
55. "King Of Comedy (808 State Remix)"
56. "Be Mine (Mike On Bus Version)"
57. "Love is All Around (The Troggs Cover)"
58. "Sponge (Vic Chesnutt Cover)"
59. "Emphysema (Non-Album Track)"
60. "Sad Professor (Live In Studio Version)"
61. "Why Not Smile (Oxford American Version)"
62. "Surfing The Ganges (LP Version)"
63. "Suspicion (Live In Studio Version)"
64. "Lotus (Weird Mix)"
65. "Electrolite (Live From Jools Holland)"
66. "Man On The Moon (Live From Jools Holland)"
67. "Suspicion (Live At Ealing Studios)"
68. "At My Most Beautiful (Radio Remix)"
69. "Passenger (Recorded From "Later" With Jools Holland)"
70. "Country Feedback (Recorded From "Later" With Jools Holland)"
71. "So. Central Rain (Live From "Later")"
72. "The Great Beyond (Non-Album Track)"
73. "The One I Love (Live From Glastonbury Festival)"
74. "Everybody Hurts (Live From Glastonbury Festival)"
75. "Man On The Moon (Live From Glastonbury Festival)"
76. "Yellow River (Non-Album Track)"
77. "165 Hillcrest (Non-Album Track)"
78. "Imitation Of Life (Live From Trafalgar Square)"
79. "Summer Turns To High (32 Chord Song Demo)"
80. "I've Been High (Live Video Version) (Channel V, Sydney)"
81. "The Lifting (Original Version)"
82. "Beat A Drum (Dalkey Demo)"
83. "2JN (Non-Album Track)"
84. "Favorite Writer (Non-Album Track)"
85. "Out in the Country (Non-Album Track)"
86. "Adagio (Unused Tune)"
87. "Turn You Inside-Out (Live Version)"
88. "Chance (Dub)"
89. "Drive (Live Version) (1994)"
90. "Star Me Kitten (Featuring W.S. Burroughs)"
91. "Revolution (Non-Album Track)"
92. "Leave (Alternate Version)"
93. "The Lifting (Demo)"
94. "The One I Love (Live Version) (MMM Sydney)"
95. "Maps & Legends (Live Rehearsal Version)"
96. "Tongue (Live Rehearsal Version)"
97. "Little America (Live Rehearsal Version)"
98. "South Central Rain (Live Rehearsal Version)"
99. "Imitation Of Life (Live Rehearsal Version)"
100. "So Fast, So Numb (Live) (Athens Rehearsal Sessions, 2004)"
101. "All The Right Friends (Live) (Athens Rehearsal Sessions, 2004)"
102. "Animal (New Mix)"
103. "Pretty Persuasion (Live) (NYC 2003)"
104. "Welcome To The Occupation (Live) (NYC 2003)"
105. "You Are The Everything (Live) (Raleigh, NC-Oct. 10, 2003)"
106. "These Days (Live) (Toronto-Sept. 30, 2003)"
107. "(Don't Go Back To) Rockville (Live) (Oslo NRK P1 National Radio-Oct. 25, 2003)"
108. "Wanderlust (Live-Santa Barbara, CA 2004)"
109. "Sweetness Follows (Live) (Recorded in Cincinnati-Oct. 27, 2004)"
110. "Horse To Water (Live In Vancouver)"
111. "Indian Summer (Non-Album Track)"
112. "Living Well Is The Best Revenge(Live In London)"
113. "Auctioneer(Live In London)"
114. "Hollow Man(Live In London)"
115. "Supernatural Superserious (Live In London)"
116. "Fall On Me (Live In London)"
117. "West Of The Fields (Live In London)"
118. "Horse To Water (Live In London)"
119. "Man-Sized Wreath (Live In London)"
120. "Man On The Moon (Live In London)"
121. "Mr. Richards (Vancouver)"
122. "Living Well Jesus Dog (Non-Album Track)"
123. "Airliner (Non-Album Track)"
124. "Redhead Walking (Non-Album Track)"
125. "Houston (iTunes Live From London)"
126. "Harborcoat (Live At The Olympia)"
127. "Letter Never Sent (Live At The Olympia)"
128. "Second Guessing (Live At The Olympia)"
129. "Pretty Persuasion" (Live At The Olympia)
130. "NOLA-4/26/10 (Non-Album Track)"
131. "That Someone Is You (Live In The Studio)"