For the Growlers, putting a record together in anything but a rush sounds like a nightmare.
It's a winning formula for the SoCal surf punks, says singer Brooks Nielsen. Since 2008, the group has released four LPs, five EPs, a couple of 7″ singles, a collection of demos, and soon — having recently finished what Nielsen calls their best record yet — the confident Chinese Fountain, out this fall on Everloving Records. Writing and recording at a relentless pace, "It works well that way," he says simply. "I don't know how the fuck we do it but Matt [Taylor, lead guitarist] and I just buckle down and put the songs together… Otherwise, we're too nitpicky and we'll sit there and nitpick the shit out of everything."
Chinese Fountain was created over two weeks of demoing at Taylor's remote home in scenic Topanga, a week at their manager's house in Claremont learning and assembling the tracks, and a week-and-a-half at Sea Horse Sound Studio in Downtown Los Angeles, a former handbag factory converted to a fully-stocked brick-and-wood warehouse. "That's snap, snap, snap, snap," Nielsen says. "There's no time between things."
Nielsen says that after years of the band playing nostalgists — recording rambling beach rock to analog tape at a home studio and various other spaces — working on Chinese Fountain was their first time using "nice equipment" in a modern studio. He quickly corrects himself, remembering the Growlers' ill-fated 2012 recording sessions with the Black Keys' Dan Auerbach, which they wound up scrapping due to lack of direction and a too-clean sounding product.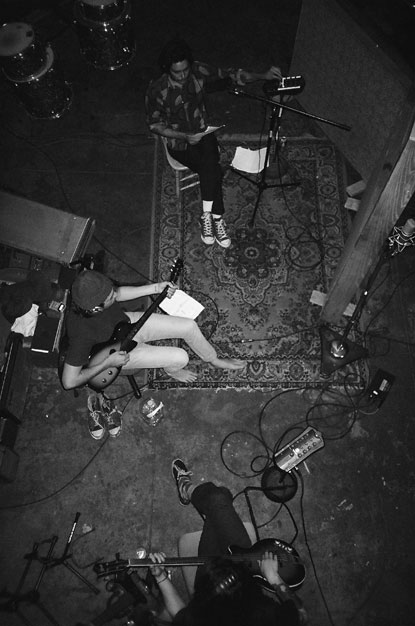 On this most recent effort, the Growlers find a new clarity without ditching their jangly charm, as the recordings shine with crisp tones and the band's tightest playing yet. Manager JP Plunier produced the album, a fitting arrangement seeing as he's familiar with the quintet's propensity to either lose concentration or over-scrutinize details into insignificance. "He showed up and was like, 'How the hell do you get anything done?'" says Nielsen. "It's so hard to get anyone to fucking focus. It was nice to have someone outside of us being there saying, 'You guys are fucking ridiculous. Get over it. Stop talking about it, play the song.'"
The band's evolution from friends in the garage grooving on ramshackle chanteys to adept recording musicians shines through on Chinese Fountain's 11 tracks. Genre influences range fluidly from disco to funk to '80s new wave pop to punk and reggae dub — and all the while Nielsen's slacker-cowboy swagger laces the collection together. As the outfit's leading writers, he and Taylor were initially looking to conjure the Clash and other British heroes of the late '70s when reggae hit England and mixed with the punk scene. "But that fell out right away," says Nielsen. "It was kind of in the back of our heads but it never could push through."
"Whenever we try to do that it falls apart," he continues. "We can't really ever pick a direction, it ends up just being the Growlers making songs. It's just an amount now where — at this point — if the shit goes funky and sounds like funk, I want to own it and it's the Growlers doing funk… It's a thing that we were never really good musicians, you know? We just learned as we went and kind of relied on getting drunk a lot, like, 'Whatever, it's vibe, you know? Just having a good time.' But the band has gotten a hell of a lot better. Just hearing the recordings of this, it's really amazing how good the band sounds. It trips me out."