HOLLYWOOD — "Tonight, it's going to be a party — a non-stop party." So stated legendary old-school rapper Doug E. Fresh while serving as hype man during Prince's semi-secret two-night stint at Hollywood's storied Palladium. Fresh's claims as he warmed up the crowd definitely proved to be truth in advertising: On many levels, Prince's second Palladium show on Saturday became something of an endurance test.
The show was set to begin at 8 p.m., but it would be over two hours before Prince actually hit the stage; during that time, a DJ played a snippet of seemingly every vintage hip-hop track ever released: Sugarhill Gang, Biggie, Tupac, Young MC – even "Jump Around" by House of Pain, a song few would expect to groove to at a Prince show. And after Prince finally did make his entrance at around 10:20, he would go on to play for nearly four hours – in addition to an initial twelve-or-so song set, he would return for five encores, making for what some said is his lengthiest live performance ever. Certainly, after Prince's third return to the stage, you stopped believing him when he'd ask the crowd, "Is it okay with y'all if we play one more jam?"
Of course, the Prince aficionados in attendance knew not to take such statements at face value. In the last decade or so, such covert Prince concerts have become an urban legend, with their own rituals and quirks. Essentially, Prince will blow into a major city and play a series of unadvertised shows, with word creeping out via unofficial and surreptitiously official channels. These events will often occur in venues far more intimate than you'd expect to see a global superstar with the one-name recognition and endless catalog of smashes Prince enjoys — like the show at New York's City Winery on VMA night last year — and on a schedule as eccentric and unexpected as the man himself.
Furthermore, you never know which Prince will actually show up. Sometimes he'll do a short set, sometimes long; at times, he'll only play noodling, jazzy instrumental jams, while at others he'll wheel out the expected hits (albeit often radically reimagined) alongside more deep tracks and covers. Typically, these shows reflect Prince's current musical obsessions, manifested in his choice of collaborators. At times, there appeared to be close to 20 people on stage: on Saturday, those included his current all-female backing band, 3RDEYEGIRL, and cameos from the likes of Janelle Monae and Lianne La Havas. Prince's particular passion of late, though, appears to be horns, as evoked by the dozen-person strong New Power Generation horn section. This choice caused the proceedings to clearly exceed the recommended daily intake of saxophone solos. Even the iconic guitar solo in "Purple Rain" was rendered not by Prince via six strings, but by a sax-blowing sideman.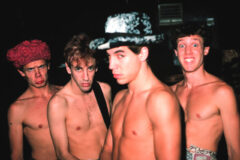 Often these surprise Prince appearances highlight a split in his persona. On one hand, there's "song Prince," where he wheels out familiar album cuts and singles; there there's "bandleader Prince," where he becomes a sort of James Brown/Duke Ellington hybrid, leading his players into complex, syncopated instrumentals and funk workouts that feature him and his band focusing on repetitive, JBs-style minimalist grooves. At times, Saturday's concert was frequently centered around the latter.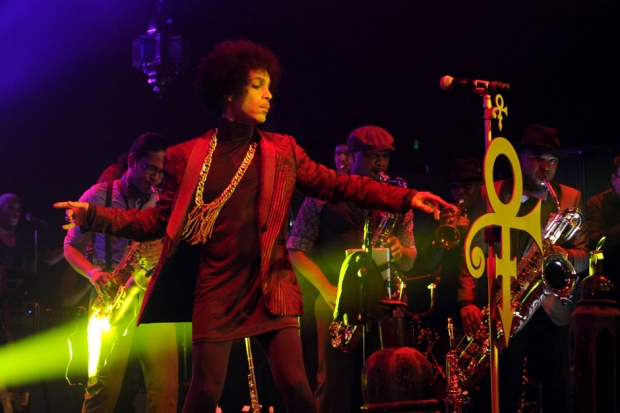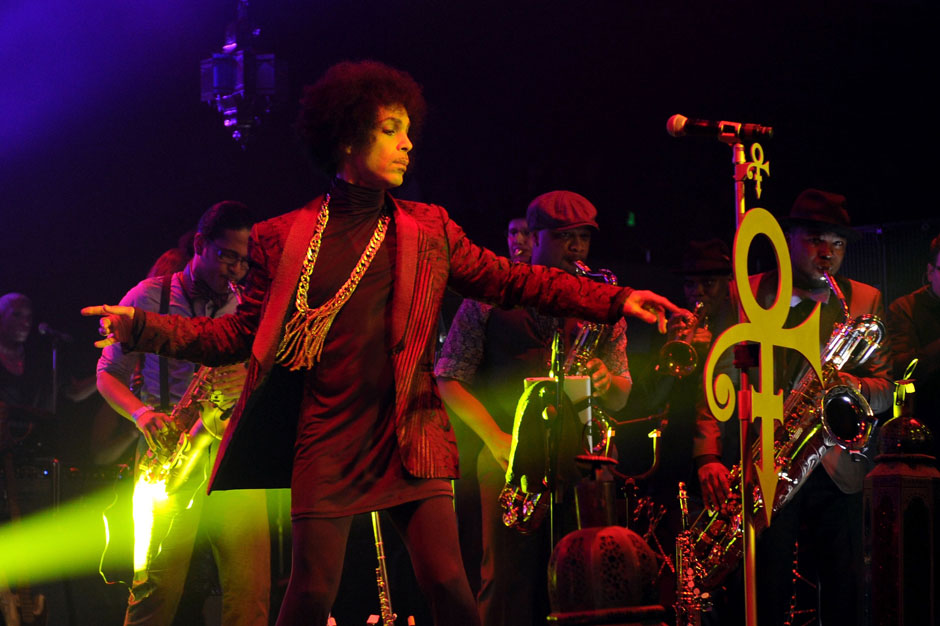 Prince entered the stage rocking a purple velvet suit with a swinging gold necklace and his now-familiar puffy Afro, working a look similar to the one featured during his "takeover" of Arsenio Hall's show last week. Setting up behind a podium emblazoned with the famed gold-glyph Prince symbol, he led the big band behind him into a blazing syncopated vamp; for the second song, however, he pulled out one of his biggest hits, "1999" — a track that immediately electrified the small crowd of approximately 1,000, representing little more than a quarter of the Palladium's 3,700 capacity.
Throughout his performance, Prince would pivot fascinatingly between those two poles. He initially seemed in full bandleader mode — most indicated by his avoidance of guitar. This allowed him to run around the stage and conduct individual musicians through long, expansive instrumental passages, or join in group-choreographed dance moves; as such, he only strapped on a guitar for the final encore — his recent heavy-metal retrofit of "Let's Go Crazy," which sounded more like Jimi Hendrix sitting in with Them Crooked Vultures than anything Prince has committed to wax.
However, for every extended jazzbo moment, Prince would explore some of his most beloved material, alternating deep album cuts like "Let's Work," "If I Was Your Girlfriend," and "Something in the Water (Does Not Compute)" with more expected hits like "Raspberry Beret," "Housequake," "Pop Life," and "When Doves Cry." Typically, Prince's poppiest material was given a new, edgier reworking: "U Got the Look," his superficial greed-decade smash with Sheena Easton, became much more soulful and personal; meanwhile, Prince revamped the melody of "Nothing Compares 2 U," transforming it into a stirring call-and-response duet full of gospel testifying.
Over the course of this epic set, Prince effortlessly demonstrated the range of his songwriting and performing talents. He explored not just songs released under his name, but also hits written for The Time and Sheila E, as well as covers of Chaka Khan's "Ain't Nobody" and Starguard's '70s funk chestnut, "Which Way Is Up?"; intriguingly, he also covered two songs by his rival for '80s pop-culture supremacy, Michael Jackson: "Don't Stop 'Til You Get Enough" and The Jackson's "Dancing Machine." Best of all, Prince was in full command of his powers — dancing and singing, alternating between raw, carnal screaming and a birdsong falsetto with great fluidity. A medley of songs mostly accompanied solely by solo piano — "How Come U Don't Call Me Anymore?," "The Beautiful Ones," "Diamonds and Pearls," "Sometimes it Snows in April" — proved absolutely stunning, a clear expression of his charisma and talent. At the same time, Prince seemed comfortable, if not eager, to cede the spotlight to others': often he'd appear solely as a silhouette in the background, letting singer Shelby J.'s bravura singing or Doug E. Fresh's rapping take center stage as he tinkled out virtuoso piano lines.
The relentless spectacle of Prince's talent initially proved a lot to take in. The onslaught of relentless virtuosity grew a bit numbing, with the thrilling passages alternating with the night's more enervating, indulgent moments; there was also a reactionary, quasi-Luddite feel to the proceedings, with Prince praising "real live music" throughout, and having security eject anyone who might deign to take a picture with their iPhone. But in the end, his lows proved wonderfully unpredictable and idiosyncratic, and the heights were sublime. As such, last night Prince gave his faithful followers a fully committed performance that rendered a complete portrait of one of the most individual, distinctive figures in popular music. For better and worse, there's no one else like him.