In 1991, in the midst of his run on Sandman — now considered one of the most innovative comic-book series of all time — Neil Gaiman got a phone call from Bob Pfeifer, an executive at Epic Records in Los Angeles. "We have an artist who wants to make a concept record," Pfeiffer said. "And the artist was wondering if you had a concept."
The artist: Alice Cooper. Which piqued Gaiman's interest because, as he now recalls, "Alice Cooper was a comics character. When I was a kid 15 years earlier than that, I had read Marvel Premiere #50, Alice Cooper: Tales From the Inside, and I also loved [1975 album] Welcome to My Nightmare. My cousins were the Alice Cooper fans; I was the David Bowie, Lou Reed fan. But they had made me watch "Teenage Lament '74" on Top of the Pops."
Gaiman let Epic book him a flight out to Phoenix, and a room at the Arizona Biltmore Hotel; Cooper showed up, and the two quickly started tossing around ideas for what became The Last Temptation, Cooper's 1994 album. "We talked about Ray Bradbury, Dario Argento, zombie movies, how to make a thing," Gaiman remembers; the comics superstar found himself in the unusual position of ghostwriting lyrics and punching up some of Cooper's songs, including the album's lead single, "Lost in America," a heavily sarcastic take on "Summertime Blues" — ain't got no job, ain't got no girl, ain't got no gun. The two kept in touch, and in 1993, when the project was nearing completion, Cooper's people started asking Gaiman if he would turn the album into a comic, a request he initially denied: "For me, the fun of it was creating a concept for a concept album. And then Marvel Music came to us."
Marvel Music, officially launched in 1994 and shuttered the following year, stands out in history as the point where comics and pop music finally attempted to merge on a massive, mainstream scale. Of course, comics about musicians dated back to the '60s: In 1961, you could read the thrilling tale of Ricky Nelson in The Hong Kong Adventure, and by the end of the decade, master alt-comix misanthrope R. Crumb was handling the cover of the Big Brother and the Holding Company classic Cheap Thrills. But that alliance soon faded away, kept alive only by particularly entrepreneurial rockers like Kiss, who appeared in Marvel's Howard the Duck.
Gaiman's Sandman, of course, was a DC Comics enterprise. Known collectively as the Big Two, DC and Marvel have been engaged in an eternal battle for mainstream comic dominance since the '30s; combined, they accounted for more than 65 percent of the 2013 market. They've also poached each other for decades: In 1970, DC lured Marvel legend Jack Kirby away by promising him the creative freedom to create a line of comics that would come to be known as Fourth World, and decades later, Marvel Music would attempt a similar move by offering Gaiman a place to work out his Alice Cooper fantasies.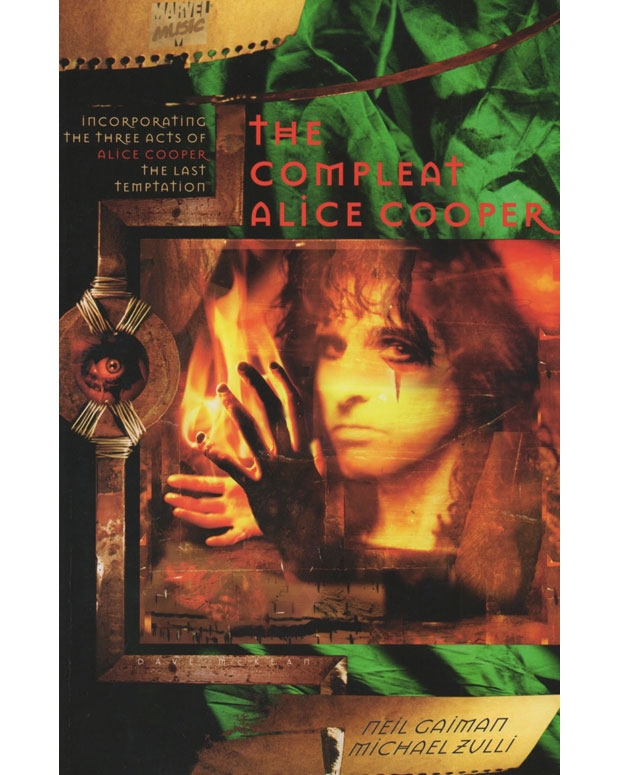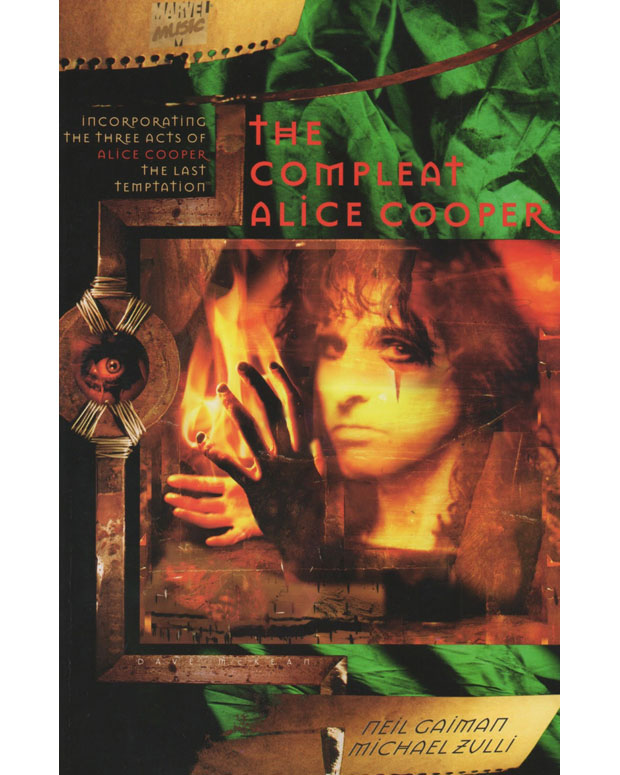 The Marvel Music imprint aimed to not only revive the forgotten rock-comics genre, but elevate it to new heights, both artistically and commercially. The books would open the company up to new markets and give musicians another piece of merch to sell. Not that the comics business wasn't already booming: In 1991, just as the Gaiman/Cooper friendship was heating up, the Marvel Entertainment Group IPO resulted in a $40 million payday for owner Ron Perleman.
According to Sean Howe, author of last year's Marvel Comics: The Untold Story, the newfound profits created a "ludicrously luxurious" environment, foreshadowing the dot-com craze by a few years. "Everyone had expense accounts," editor Tom Brevoort told Maxim Australia. "Christmas parties became decadent affairs — the hotel in Grand Central Station, big ice sculptures of Spider-Man, crazy DJs in a control room like Professor X. It was an insane spectacle of excess." Those fortunes would "whiplash every month," Howe writes, creating a boom/bust atmosphere that helped drive away high-profile artists like Todd MacFarlane, who left in 1992.
Overseeing this whole circus was Marvel President Terry Stewart, who "for better or for worse," he says now, takes credit for the whole Marvel Music idea. Stewart, who would later also become the president of the Rock and Roll Hall of Fame, envisioned something "elevated slightly above" the work of Revolutionary Comics, whose unauthorized-biography Rock 'n' Roll Comics series had gotten them sued by New Kids on the Block. (As a preemptive measure against Mötley Crüe's promised legal actions, Revolutionary burned 15,000 copies of its 1989 tribute to the band.) Revolutionary wasn't looking to make friends with musicians, but it did move units: In 1991, Comics Value Monthly declared them "'the hottest book in recent years that is not a super-hero/science fiction or comedy title."
This was music to Stewart's ears, as he was looking for something, anything, to break Marvel out of the superhero rut. "Bible comics, kids comics, comics geared towards girls" — everything was on table, he recalls. Why not rock stars?
And so, after successful Marvel test runs in 1990 with Cheap Trick: Busted and Boo-Yaa T.R.I.B.E: Coming to Yaa, Stewart approached Mort Todd, editor of Cracked magazine, about helming a dedicated music series. Todd's career had run a fine line between punk rock and comics: After growing up as "one of the three punk rockers in Maine," he had designed logos for a post-Dead Boys Stiv Bavors and given Dan Clowes his earliest published work in Cracked. When Marvel came calling, Stewart gave him one directive: that Marvel Music would navigate the "river of music," exploring genres far beyond "skinny white boys in black jeans."
Gaiman recalls that Todd had "his own personal fiefdom" at Marvel Music, a place where budgets didn't seem to exist. Seeking as wide an audience as he could get, the new boss flew to Jamaica to meet with Bob Marley's estate, hit L.A to meet with Suge Knight ("A teddy bear!" as Todd describes him now, albeit a teddy bear with a Punisher tattoo), and dropped by Seattle to hang out with Mudhoney. (Okay, there would be a few skinny white boys.) This resulted in some criticism, as when Larry Reid — the director of marketing at Fantagraphics, the Seattle-based indie-comics publisher — dissed Todd in the Seattle Times, cracking that "He ran up a few bar tabs, but nothing ever came of it, because there's a big difference between the Incredible Hulk and Mudhoney. And a lot of these bands are smarter than most people give them credit for."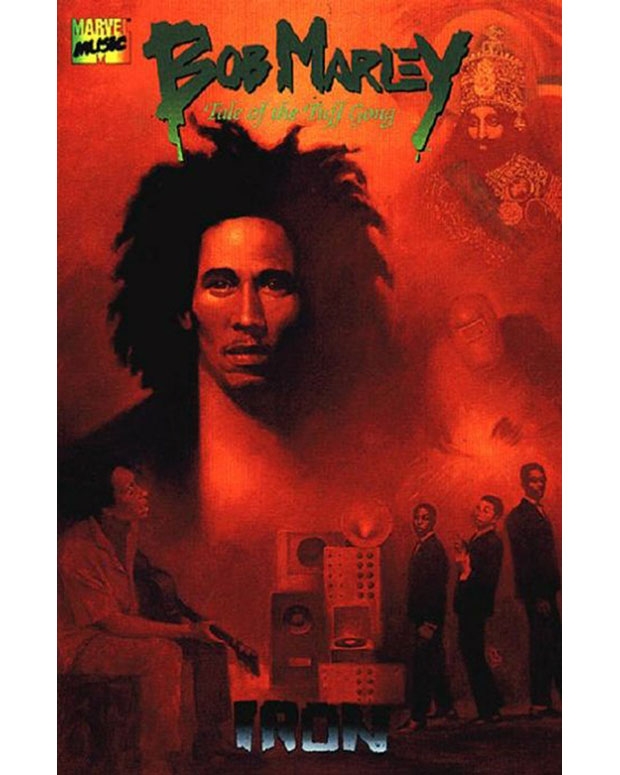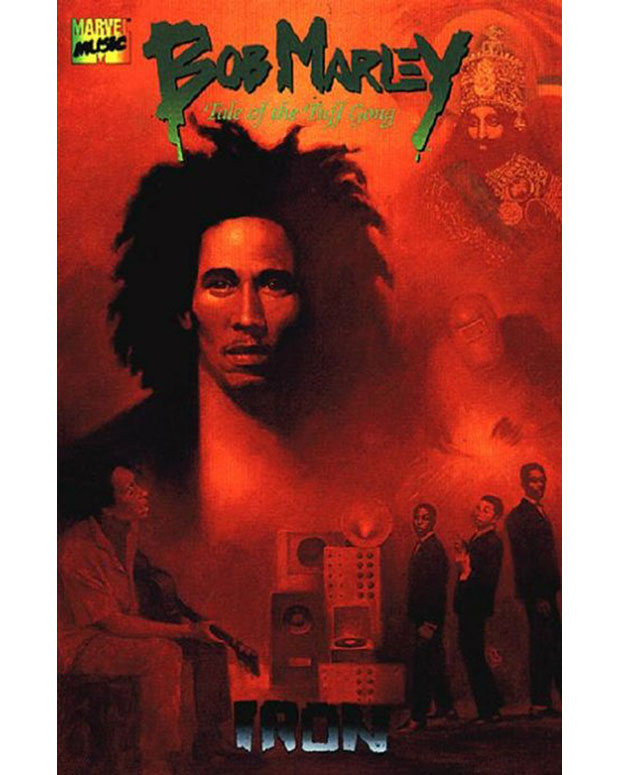 The project met with resistance internally as well. Todd's assistant editor, Karl Bollers, remembers that when the "superhero heads in the office heard that we were doing rock comics, there was a feeling of, 'Oh my god, this is terrible!'" Widely associated with either '70s kitsch or Revolutionary's low-budget (and illegal) antics, Marvel writers were hesitant to jump into the genre. Consequently, Stewart and Todd knew they couldn't hedge their bets, and offered full artistic and financial control to the musicians they approached.
That was enough more than enough for Onyx frontman Sticky Fingaz, back when the Queens rap crew was still riding high from "Slam," 1993's ubiquitous aggro-rap smash. "This was fucking Marvel Comics!" he tells me. "Some people like DC, but for me, Marvel Comics was the top-tier." Todd, who still speaks with a born salesman's excitable charm, was counting on that sort of thing: "There was always one guy in the band who was a comic-book nerd." (Notably, Marvel Music assumed that music-comic nerds were exclusively male, as none of its published books featured women as protagonists.) Bollers, a fan of Onyx's debut album, Bacdafucup, was assigned to meet with the group, who were themselves seeking a promotional tie-in for their follow-up record, All We Got Iz Us. Onyx, in fact, immediately took advantage of their promised creative freedom, rejecting all of Bollers' suggestions for authors, and asking to work directly with him instead.
The resulting work, 1995's Onyx: Fight! — written by Bollers, drawn by Larry Lee, and based on an idea by Onyx — starts off in a post-apocalyptic wasteland known as New York City in "One thousand, nine hundred and ninety-nine." The group is playing a show in the bombed-out remains of the New York Public Library when their girlfriends, a competing rap trio, are suddenly kidnapped and taken to a nearby desert. Onyx follow in hot pursuit, but just as they swoop to the rescue, alien No-Madz show up, sapping the world of its creative energies through haphazard remixes. So Onyx form an underground rebellion (called Bal Hedz, and located under 125th Street, to be exact), using the controlled anger of their music to eventually destroy the No Madz. As they emerge out of the 125th Street subway stop, Onyx observe that "life just wuzn't all that. But yo, kid… it wuz a'ight." Great drama, this is not, but full of tanks, machine guns, lasers, and even a little romance, the nonetheless entertain result plays like a fleshed-out precursor to 2Pac's "California Love" video.
Gaiman's own Marvel Music contribution, 1994's three-part series Alice Cooper: The Last Temptation, also ties itself up in its musical source. Michael Zulli, who'd collaborated with Gaiman on Sandman, came to the project without any previous knowledge of Cooper, so he got "15 or 16 CDs and immersed" himself in the rocker's universe. Given "carte blanche" by Mort Todd, Zulli and Gaiman wrote a book in the tradition of The Twilight Zone, where a young boy named Steven gets shown around "the Grandest Guignol" by a Cooper doppelganger referred to only as The Showman.
Soon, Zulli and Cooper were bonding over their respective battles with alcoholism; Gaiman got his own taste of the surreal rock star life when Cooper toured England and appeared on Top of the Pops. "They took a double spread of Michael Zulli's art, and blew it up so it was 20 feet high, and made it the backdrop," Gaiman recalls. "And there's Alice up there, singing 'Lost in America,' and I'm going, 'That's my lyric. Stupid lyric, but I wrote that! And it's on Top of the Pops! That's so cool!'"
As per Terry Stewart's dreams of diversity, Marvel Music cast a wide net in terms of genre, if not gender: Indeed, Mort Todd went to Jamaica to research Bob Marley: Tuff Gong, and is now seeking a new publisher to re-print it. KRS-One, working under the name Big Joe Krash, released Break the Chain, an anti-drug story that came with a free cassette of the title track. (Marvel also helped animate the video.) The imprint also tried to incorporate technology into Dave McKean's Rolling Stones: Voodoo Lounge, which came with an interactive floppy disc; Todd worked on Woodstock: 1969-1994, which accompanied the forgettable '94 festival, a fiasco best remembered for the incident in which a security team mistakenly punched Green Day's bassist in the face.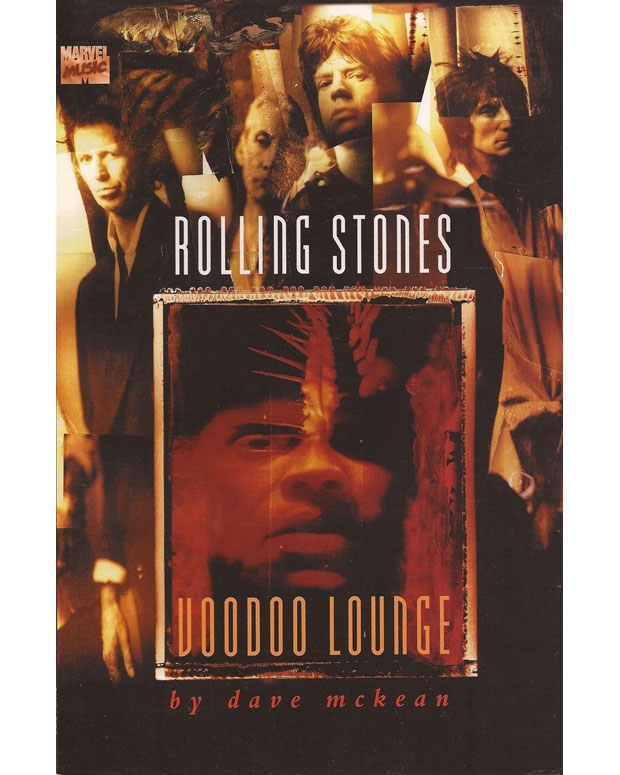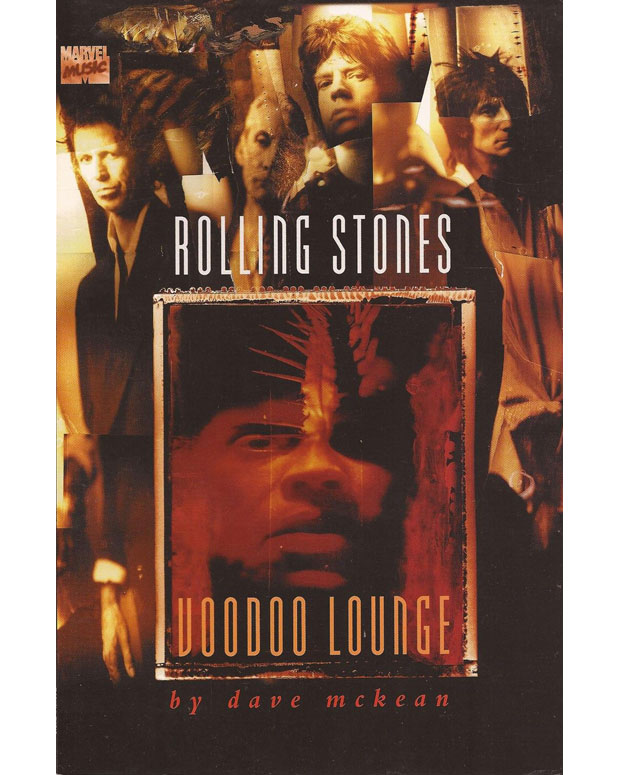 Meanwhile, the country titles, Marty Stuart: Marty Party in Space and Billy Ray Cyrus, were both written by Paul S. Newman, anointed by the Guinness Book of World Records "world's most prolific comic-book writer," and share the same surreal qualitIes found in a '60s-era TV episode of Batman or Star Trek. Stuart requested a cartoon based on walking around America with his dog, whereupon he eventually runs into alien rappers and alien country musicians, and helps them all get along. Billy Ray Cyrus, meanwhile, is made up of two shorts, both of which involve time travel: One involves our hero hanging out with Native American ghosts, and the other finds him perennially annoyed at time-travelling back to the Middle Ages (he's got a show in Nashville tomorrow!), and ends with him giving an autograph to a fan, which also constitutes the issue's last page.
But like all good dark carnivals, Marvel Music held a terrible secret: It wasn't making any money. The company "just didn't have the marketing down," Todd says. "They didn't know how to sell anything that wasn't superheroes… the whole thing that lured me into it at the time was going into record stores or book stores. We weren't doing the regular floppy comic books; we were doing square, bound graphic novels, so we'd have a good price point for these bookstores. So after I was there for a few years, I was talking with their marketing people, and they were like, 'You know, we just can't really sell Elvis or Bob Marley.' And I was like, 'What? There are companies that sell Elvis tampons, and you can't sell an Elvis comic book? What? People love Elvis, people love comics!' So I was infuriated with Marvel and didn't renew my contract."
Stewart, who concedes that Marvel Music "could have been" a personal vanity project, shared Todd's frustration. The books weren't reaching their intended markets — "We tried getting artists to sell the books at shows, but that didn't work," he notes. (The shrewd Marty Stuart was a notable exception, making Marty Party in Space one of the imprint's better-selling works.) The Rolling Stones comic based around the Voodoo Lounge tour also did well, but otherwise, things were bleak, and doubly so at the parent company: The Marvel Entertainment Group boss Ron Perleman had dabbled in a wide variety of collectible fields, from trading cards to stickers, fads that all tanked by the mid-'90s. As Marvel went hurtling towards bankruptcy (it would file for Chapter 11 in 1996), Marvel Music was deemed dead weight.
What we're left with is a long list of tantalizing but ultimately abandoned ideas. Chuck D was interested in an Agents of S.H.I.E.L.D-type comic for Public Enemy, envisioning himself as a black Nick Fury more than a decade before Samuel L. Jackson got cast. David Bowie was so impressed with The Last Temptation that he wanted to work with Gaiman on a book of his own. The Suge Knight meeting had produced plans for a Were-Dogg comic based on the cover art to Snoop's Doggystyle; also, Todd recalls, "We had an idea for one with Ice Cube set in the year 2000, where President Hillary Clinton declared war on North Korea."
Oh, well. "Maybe it was doomed at the beginning," says Stewart. "There just wasn't enough of a market. Was it because we couldn't get into the record stores? I don't know." Marvel was still decades away from being the masters of synergy they are today, with a TV show and an easy-to-digest backstory lying behind every corner. In 2009, at the New York Comic Con, the company resurrected Marvel Music, but in name only, as an outlet to release the scores and soundtracks to the company's various films and TV shows. Which, in a sense, is a more boring version of the original concept: find boardroom-grade synergy in the midst of genuine creativity. "The renewal of Marvel was based not on leaping to new hot markets… but the reapplication of the strongest assets in the company's historic core", according to the Harvard Business Review. But releasing a soundtrack to the new Thor movie is Snooze City compared to sending Billy Ray Cyrus back in time, or recruiting Onyx to fight aliens.
In the end, Marvel Music mostly served as a vehicle for the higher-ups at a newly rich company to hang out with rock stars. "Even if we had gotten the comic books stores" to distribute, Stewart remembers, "would it have worked? I don't know." But some really weird and funny art emerged from the morass anyway. No Marvel Music titles — not even Gaiman's — can stand next to, say, Scott Pilgrim or Ghost World. But at least a few proved themselves worthy of Alice Cooper.