It wasn't exactly the surprise it could have been. Two days after announcing their new album Glass Boys via a video trailer, Toronto's hardcore heroes Fucked Up played the forthcoming release front-to-back for a relatively tame hometown crowd. It was the last night of Long Winter, Fucked Up's second annual PWYC (ie. Pay What You Can) art-and-music monthly takeover of the austere, multi-story Great Hall on Queen Street West. Considering Glass Boys is Fucked Up's fourth record, and the first since 2011's highly acclaimed, Polaris Prize-nominated musical opus David Comes to Life, the intimate reveal for a largely motionless crowd felt a little too much like the band on display.
That's not to say that Fucked Up weren't their typically tumultuous selves, even if the intimate reveal and mostly apathetic crowd felt lacking in celebratory vibes. The six band members – still ragtag and sartorially uncoordinated – were squeezed onto a small stage that had the front row eye level with burly frontman Damian Abraham's black and red basketball shorts. It's not the band's first time playing the fancy, two-story room either; seeing the hardcore punk group here is always a slightly removed way to experience visceral band, despite the few scrappy fans who always manage to clamber on stage to topple off into the waiting hands of the sparse scrum. The sound of the guitars – enveloping, pleasingly inscrutable, hella loud – wafts just a little too high, and the still periphery heavily outnumbers the shoving, shouting centre.
Their album teaser vid might have actually worked against them. Fucked Up are more famous now than ever, so what better way for them to introduce a new record than to get nostalgic with old-school video footage; a relic of calamitous days past with a dolorous, cinematic new song dubbed over top? Maybe if Abraham and his five bandmates had announced the record squeezed onto that tiny stage of Great Hall instead? Two days is a digital lifetime but, as the songs on Glass Boys explore, Fucked Up is no longer the original, countercultural entity it once was.
The band's transparency about their evolution is part of the band's continued allure. And, to be fair, Fucked Up are still more rag-tag than most of their younger local counterparts. Abraham, now primarily recognized for his TV hosting work by a segment of Canadians, still peels off his shirt and presses his bald head and soft torso into the hands of ecstatic fans. But the crowd is more polite and less willing to be plastered in bodily fluids.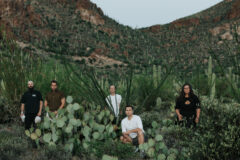 The music has changed as well, but for the better (and more fitting to the band's suggested new partnership with Arts & Crafts). David Comes to Life was widely praised for its conceptual, novella-like pacing and irreverence in a genre defined by revved-up meters and a lo-fi sheen. Glass Boys is still yell-y, but its nine or so tracks – still in the working title phase – build on David's collapsing of hardcore tropes and turn them into something more melodic and elegant. There are blissful guitar swells, dizzying meter changes, heavy starts and sparse closes, and a couple of surprisingly dense moments of groove. Abraham and pals – including the ever-babely bassist Sandy Miranda – might be all grown up, but they've got it right by making music that has ripened with them.