Sudan Williams sounds like a particularly aggressive GPS navigator as he rolls through East Oakland on a late-October afternoon. The 24-year-old rapper is slumped into a large white van with a half-dozen friends and affiliates of his crew, the Heartbreak Gang collective (HBK for short). He looks out the window and croaks out the names of streets as they pass: "MacArthur, Seminary, Foothill."
Williams, known to fans as Iamsu (or Iamsu!), is arguably the most popular young rap star in the Bay Area right now, but this isn't his home turf. He grew up in the neighboring shipping city of Richmond, located about 20 minutes north, and rarely finds himself this deep in the O. Still, his voice is an imitation of a local hero: veteran Oaktown rapper Keak da Sneak.
Su's clearly come down with a minor case of Rap Tourette's. Specifically, he's mimicking Keak's local and locals-only 2004 hit "Town Shit," a relic of the hyphy movement — that maybe-golden age of Bay Area music that sparked locally in the mid-2000's, but fizzled before crossing over into the mainstream. And yet, the spirit and sonics of hyphy have never been more alive on a national level than they are today, thanks in part to Su and fellow HBK member Sage the Gemini, a 21-year-old named Dominic Wynn Woods who self-produced the biggest track to come out of the Bay Area in many years, "Gas Pedal," in his bedroom. You'd never know it, though — the tightly wound and subtle club banger sounds perfectly professional.
The rise of Iamsu and HBK is a curious paradox. On one hand, their ascension has been a typically underground one, fueled by strong branding and internet word-of-mouth, a perpetual string of freebie mixtapes, and ceaseless touring up and down I-5. On the other, Su is a bona fide radio hitmaker, having quietly dominated the West Coast airwaves for the past two years. In 2012, his voice was on almost every major rap record produced in the Bay Area, yet he was the primary artist on exactly none of them.
"Gas Pedal" is the latest smash to feature Su's voice, and the rare record that's managed to blow up without completely crossing over. Though first released in May of 2012, the platinum-certified track still carries the ubiquity — and weekly sales — of a new release, crushing digital charts in a way that few rap songs not by Drake, Jay Z, Macklemore, or Eminem can.
This reign is purely organic. Prior to a well-received Jimmy Kimmel Live! performance last month, the track lived mostly outside of mainstream channels, moving instead via fan-made YouTube videos and Vine hashtags. It's one of those airy dance-rap records that might superficially look like the work of a semi-anonymous one-hit wonder, except Sage, whose full-length debut Remember Me comes out today, has already produced another major hit in the equally slinky and Vine-able follow-up, "Red Nose." That one has gone gold and, like "Gas Pedal," has racked up more than 50 million YouTube views across various uploads.
//www.youtube.com/embed/X8LUd51IuiA
Today, though, Su and Sage are in the real world. The duo has just arrived at the Youth UpRising community center — one of those non-profit organizations that every city wishes it had, but that only liberal enclaves like the Bay Area tend to execute properly — to knock out a run-and-gun Halloween appearance. In the courtyard, the pair shake hands and pose for photos with a spattering of "young youths," as Su later calls them.
Youth UpRising is housed in an aggressively modern structure dropped amid East Oakland's comparatively desolate cuts, with a mass of windows tucked into a sharp yellow-stucco frame that makes it feel like either a big-box store in a modern suburban strip-mall or a newly endowed student center at a private college. And by the looks of things, it's doing exactly what it's supposed to be doing: keeping teens and pre-teens off the streets by offering a host of wholesome after-school activities. On Halloween, that means offering something akin to a middle-school assembly: costume competitions, dance routines, a funk-leaning band that cranks its way through an instrumental take on VIC's dance-rap classic "Wobble." The performance space is packed tightly, with 100 or so kids clogging the dance floor in mostly low-investment costumes like skeleton shirts and witch hats, while parents and staff wait patiently in the lobby.
Sage does the same, mostly playing the wall and hiding behind his deep green eyes, a few shades deeper than the plant from which he takes his rap name. Meanwhile, Su digs right into a plastic jack-o-lantern and grabs a handful of candy, then immediately hits the dance floor, blending in reasonably well with the 100 or so teens. Su rocks a camo T-shirt and sagging skinny jeans, with his disheveled afro puffing out from under a backward baseball cap. At about six-feet, four-inches, both rappers tower over their constituency: When fans approach Su, they're greeted with a politician's smile and firm two-handed shakes. The exchanges feel rehearsed, but still radiate with his genuine warmth.
When it's time for the rappers to hit the stage, the school-assembly vibe really begins. An announcer rattles off their résumés, and Sage, wearing an all-black tracksuit and Jordans, quickly launches into the first verse of "Red Nose." He and Su are undoubtedly the most animated in the room, but to be fair, that probably would hold true in many rooms. "Gas Pedal" elicits the largest response: The song means everything to a handful of the kids. Their joy might be a show of old-fashioned regional pride, or it could be born of the sort of wide-lensed community-driven fandom that can only be built via social media. Either way, the HBK movement is as digital as it is physical.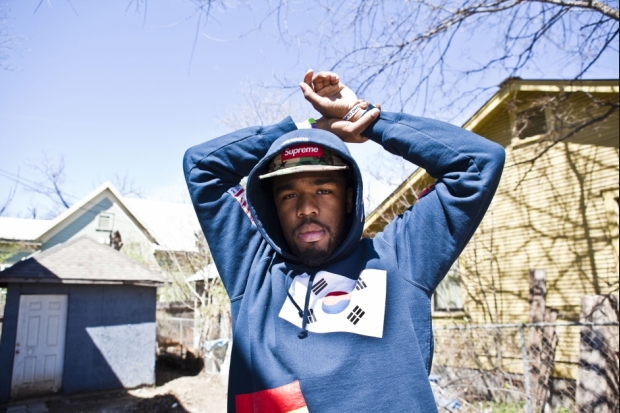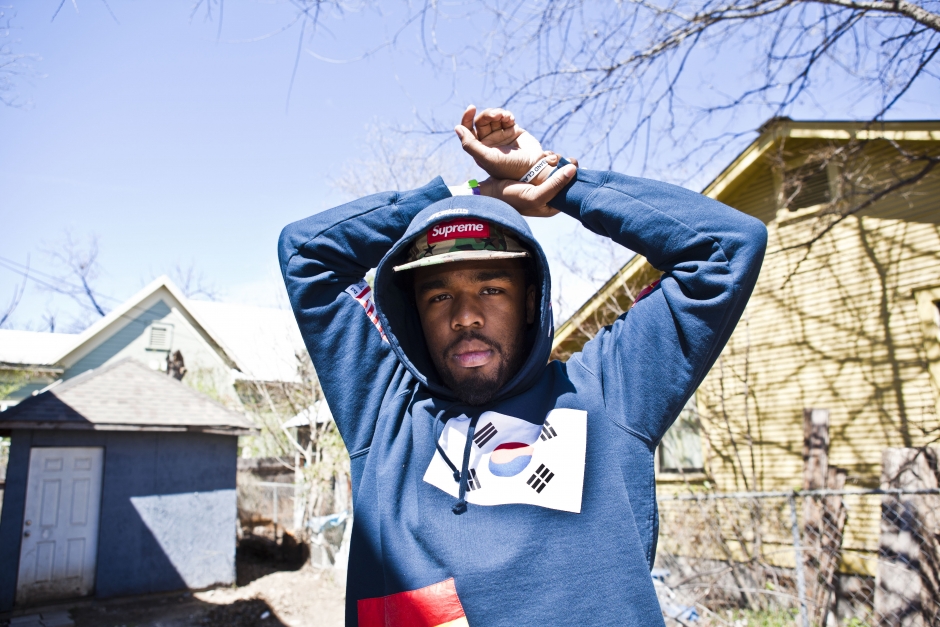 Bay Area rap has long had something of a tortured existence. It is, after all, one of the first and richest regional rap scenes to emerge, dating all the way back to Too $hort's dirty raps of the early '80s. The Bay wears that legacy with tremendous pride, but also clearly resents the ongoing lack of national attention. Tupac is more commonly associated with Los Angeles to outsiders; MC Hammer has been reduced to a punch line, Digital Underground to a pair of Groucho glasses. And even as street-rap stars like Spice 1 and E-40 sold millions of records throughout the '90s, helping to inspire then-nascent independent scenes across the nation, both artists remain largely under-documented and underground, their influence still dwarfing their visibility. That's why, on "Why They Don't Fuck With Us," the opening track from 40's slept-on 2002 album Grit & Grind, the snake-tongued rapper lamented, "They never put me on the cover of The Source!" Twelve years and 15 (!) E-40 albums later, they still haven't.
At the turn of the century, a lithe and upbeat sound known as hyphy took over locally, seeming like the logical antidote for these slights. The term was invented by Keak in the late '90s as a mutation of "hyperactive," and the movement was just that: an Ecstasy-fueled, electrically charged community where bugged-out impromptu car shows and absurdist dancing were the social norm. Perhaps the most lasting image of this era was the trend of "ghost-riding the whip," in which a driver would hop out of a slow-moving vehicle and dance around it.
The music was party- and personality-driven, much like then-recent crossover scenes in Atlanta and Houston. Its musical forefather, Mac Dre — whose street stardom dated back to the late '80s, and who had pledged himself to a newly playful and positive outlook following an extended prison stay — seemed primed to become its breakout star. But when he was murdered in 2004, Dre instead became its martyr. This left the job to '90s carryovers like Keak, whose 2005 local smash "Super Hyphy" slipped through the cracks in the major-label machine, and 40, who did get some minor mainstream traction with the 2006 hyphy-instructional hit "Tell Me When to Go." But it wasn't enough to sustain the movement.
In retrospect, the expectations for hyphy may have been overly optimistic. The music was strange and beautiful in its time, one of those rare omnipresent local scenes that made perfect sense in a confined context. But it's not really a huge surprise that its spastic-electro slump and twisted thizz faces failed to fully connect with casual rap listeners nationwide. (Though hyphy's MDMA obsessions predicted hip-hop's national obsession with the drug by about a decade.)
Hyphy also happened to hit at the cusp of internet mobilization for rap music — and in the most wired community in the nation. It was the formative music for the Bay Area's first truly digital native generation, and it didn't take long for the sound to trickle down to a significantly younger circle of artists, who funneled that chaotic energy into a more stripped-down production palette, no doubt informed by the then-reigning snap music that had emerged from Atlanta and the relative ease of cracking entry-level beat-making software Fruity Loops. This generation of rappers absorbed skate fashion and described themselves as "punk rock," a tenuous connection musically, but logical ideologically.
At the crux of this splinter movement was the Pack, the teenaged Berkeley quartet anchored by production visionary Young L and eccentric hookman Lil B, the latter only just beginning to sow the seeds of his cult-like internet presence. Their sparse sneaker anthem "Vans" cracked a million plays on MySpace in 2006 (the number seems quaint today), and soon they were touted as the first artist in any genre to sign a major-label deal off of a MySpace page, landing at Too $hort's Up All Nite imprint through Jive.
//www.youtube.com/embed/5fR2OgGbKds
Much like Sage does today, the Pack looked like one-hit wonders from a distance: "Vans" was the only record to draw even a lick of mainstream play. But other records — the playful driving anthem "In My Car," the upbeat trunk rattler "Booty Bounce Bopper" — remained underground favorites. The Pack's social circle swelled quickly, too, producing less-remembered peers like the Cataracs, who would later move to Los Angeles and produce Far East Movement's No. 1 pop hit "Like a G6," and the Diligentz, whose Jay Ant is now a card-carrying member of the HBK Gang.
The Heartbreak Gang remember this era of MySpace fondly, as both consumers and artists. At just 11 years old, Sage says he boosted his own friend count with a track titled "MySpace," appropriately enough. "MySpace really brought out the fun in people," he remembers. "It let people be themselves. Before MySpace closed, I got like three million plays, all together. I got my little first [taste of] fame."
But as the site went out of fashion, so did hyphy's surge, with local rap fans shifting their focus back towards insular hardcore acts like the Jacka and Husalah. Still, the scene's aesthetics continued to spread south through California. By 2009, the flailing, lower-body-intense dance craze known as jerkin' had caught on in Los Angeles and its surrounding suburbs, its earliest videos soundtracked by Pack album cuts and latter-day hyphy anthems like D-Lo's "No Hoe" and Young Curt's "It's the Mobb."
The rest of the jerkin' playlists were filled out by original rap songs by Southern California teens, who eventually found their interchangeable mainstream liaisons in New Boyz and Audio Push, they of "You're a Jerk" and "Teach Me How to Jerk," respectively. Jerkin' seemed to fizzle as a brand by 2010, but similar SoCal dance-rap records continued to blow up nationally, cf. Cali Swag District's "Teach Me How to Dougie" or the Rej3ctz's "Cat Daddy." (None of these songs would've sounded out of place on a Pack mixtape from four years prior — Lil B actually sparked a short-lived dispute with the New Boyz over those similarities.)
While jerkin's principals would gradually abandon the dance-rap marketing formula entirely, many have stayed the course sonically. L.A.'s current-day reigning rap star, YG, cut his teeth on the jerkin' circuit, as did his producer, DJ Mustard, the man most commonly associated with this style, thanks in part to his early success with Tyga's 2011 breakout cut "Rack City."
The sound feathered outward from there. Drake made the formal hyphy homage, "The Motto," in 2011, and that served as a ratchet gateway drug. The South followed suit with 2 Chainz's "I'm Different," Jeezy's "R.I.P.," B.O.B.'s "Headband," and Yo Gotti's "Act Right." (HBK's P-Lo produced that last one; Su appears on the remix). Functionally, these are all Bay Area records, regardless of where the performers actually live.
"It's been pretty much the sound of the music out here from the start," Su tells me as we cross the Bay Bridge. "If you look at how Too $hort's 'Freaky Tales' sounded, it's the same [as] a Mustard record or a record I'd produce. It had the same elements. That moody bass, that 808. The sound's been around for like 30 years — we just built off of what the people did before us."
But it isn't just the sound of the Bay Area anymore: It's the sound of California, it's the sound of the West Coast. Bay Area rap has always had a strong grip up and down the coastline, but technology has granted equal access to every campus, cowtown, and cul de sac in between.
"When you do those cities like Bakersfield and Petaluma and Stockton, those random places, everybody knows every word, even the obscure songs," Su continues. "Those are places that will always support you. It's like that in Portland and Seattle, all these places that have adopted the Bay's culture as their own." And if hashtags are to be believed, it stretches even further than that, well across locales and demographics. Though the crumbling monoculture and shifting Billboard measuring sticks don't show it as clearly, the raw numbers suggest that this is the preeminent sound of American party rap, the Lil Jon of today.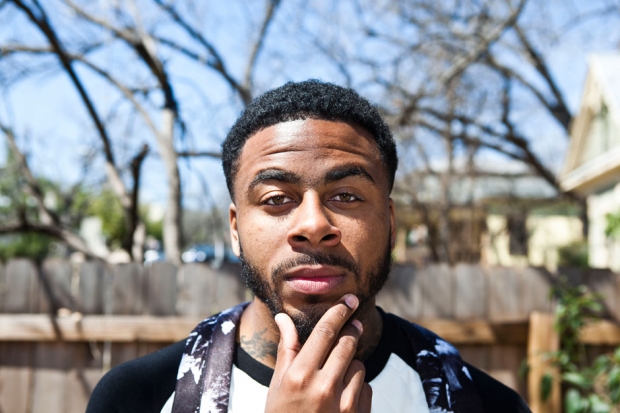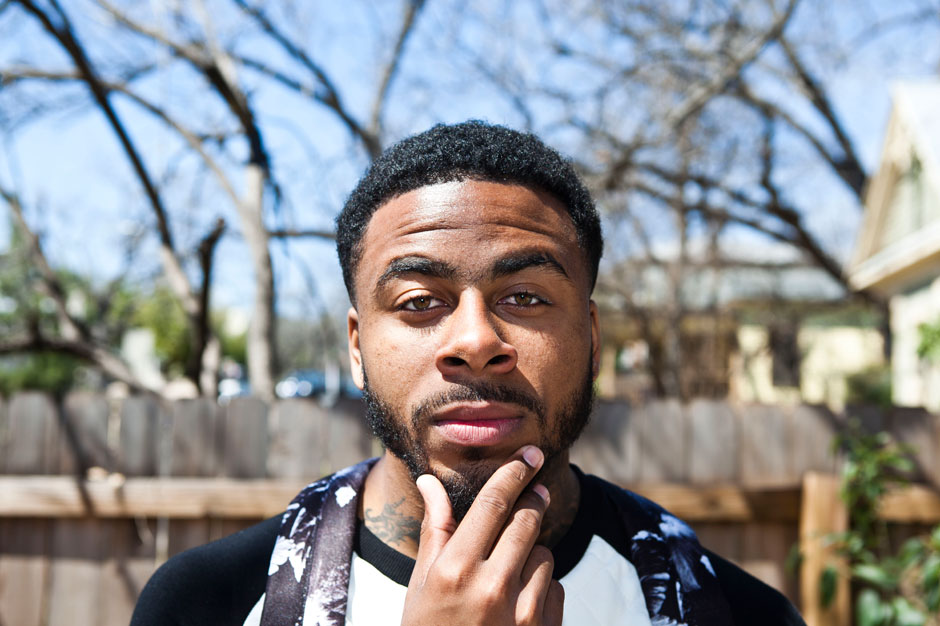 Like so many rap crews before it, HBK has its roots in youth and simple friendship. They first formed as "The Invasion," a production crew featuring Su and high school friends P-Lo, Chief, and Kuya Beats, all of whom still handle the boards today. From there, it expanded like any social circle, absorbing musical collaborators and friends alike. Gradually, the posse grew into double digits, a pack of playful and benevolent East Bay kids currently revolving around nine core performers: rappers Su, Sage, Jay Ant, P-Lo, Kool John, Skipper, CJ, and Dave Steezy, as well as R&B singer Rossi. (In true Bay Area fashion, it might also be most diverse rap clique of all time, with members of black, Asian, Latino, and Native American descent.)
As the crew swelled, the artists began to splatter the internet with a string of tapes, kicking off the grassroots crawl of accumulating Datpiff and YouTube views in 2010 with Su's Su! The Right Thing tape. They didn't quite rack up the stats as rapidly as their more visible contemporaries, but the fans that did respond were enthusiastic, if largely confined to the greater Bay Area.
The first HBK record to reach beyond those borders was "Up!," the one and only hit by now-estranged HBK member Loverance, produced by Su, who also contributed a guest verse. Driven by little more than thumps, claps, and his hollow "I'll beat the pussy up up up up…" refrain, the track ruled KMEL, the Bay's only urban-leaning radio station, for the first half of 2012. By summertime, elder statesman E-40's "Function" emerged, passing its name onto the scene and giving Su another hot 16. Shortly thereafter, Su rounded out his year by hopping on "Who Booty," a major regional hit from local R&B singer John Hart.
//www.youtube.com/embed/cPZesRdhP9U
Su isn't a scene-stealer by nature — he's more of a support beam on these records. They would suffer in his absence, and they did. After the songs were picked up by majors and pushed nationally, his verses on both "Up" and "Who Booty" were replaced by turns from bigger stars: 50 Cent and French Montana, respectively. But Su, who's still unsigned, seems comfortable with his most-known unknown status. He's released a half-dozen mixtapes in the past three years — four solo and two separate collaborations with Jay Ant and Los Angeles ratchet architect Problem, respectively — and they're all strong but subtle album-oriented affairs.
"The way I operate, I don't necessarily pick a record and say 'This is my single' and push it as if it were," he says. "I've been trying to build my fan base moreso than look for that hit record. I think when it's time for me to focus on a single, it's going to do what it needs to do [on its own]."
Sage, the latest addition to the HBK family, took a more traditional trajectory: Kid makes hit, hit makes star. Hailing from Fairfield, a city about 30 miles and a bridge toll north of Richmond, the 21-year-old self-produced "Gas Pedal" in his bedroom; Su landed on it by a chance meeting. "I went to Sage's house to do a verse for somebody else — his cousin raps," Su remembers. "So I ended up just chilling with Sage, and [he's like], 'Bro, that's hella crazy that you here, I'm a big ass fan,' which made me feel hella uncomfortable. His mom came in and took a picture with me. But then he started playing me hella music, and I'm like, 'This kid is hella talented.'"
Su added a verse then and there, and the rest was history. "We put it out on Memorial Day [2012], and it just went crazy," Sage says.
If any one record directly presaged "Gas Pedal," it's the one 2012 Bay rap hit that didn't feature Iamsu — at least not initially, though he'd jump on one of the many remixes later. The organic rise of "Slow Down," a surprise late-career hit from hyphy holdovers Clyde Carson and the Team, was primarily due to a homebrew remix video put together by Daly City rapper and party promoter Priceless Da Roc and his friends. In it, they introduced a hip-swaying dance that would quietly and swiftly take over the Bay Area: First named J12 (after Priceless' DJ), it was later rechristened yiking, and though the term doesn't evoke the name recognition of twerking, it looks just as good on an iPhone video clip and physically fits its controversial sister dance like a glove.
"Gas Pedal" wisely builds off of the loose "Slow Down" model — the creeping bassline, the whispered hook that alludes to the unspoken parallels between driving and dancing — but reimagines it on more minimal terms, and in doing so, wisely absorbs the energy of yiking. There's an almost symbiotic relationship between the song and the dance: "Gas Pedal" gave yiking a new theme and a fresh-faced young star, and yiking gave "Gas Pedal" its marketing engine. When Thizzler on the Roof, the Bay Area rap blog that Sage credits with breaking "Gas Pedal," first posted the record, they did so with "J12 Dance" parenthesized in the header. Soon after, a low-budget video popped up on YouTube, featuring a small mass of teens, including Sage's brother D-Mac, yiking. Naturally, it was shot at a gas station.
//www.youtube.com/embed/EgHK_ZU0qQI
The video's virality wasn't just a testament to Sage's knack for crafting dance records, but his ability to conjure small soundtracks for the smallest of screens. His best songs are, in effect, musical memes. So it's not a coincidence that the record's success surged last year with the emergence of Vine, a simple mobile app that disseminates six-second video loops across a social network. Vine's statistics aren't as easily as sorted as YouTube views, but the sheer depth of #gaspedal and #rednose hashtags is undeniable, with dozens of new interpretations going up on a daily basis: twerking babies, acoustic covers, Rudolph jokes, actual bloody noses, even cats. In many ways, both HBK and their fans recall the MySpace-era hyphy diaspora. As streamlined social networks like Facebook and Tumblr encourage more consumptive or curatorial usage for a slightly older audience, YouTube and Vine more directly reflect MySpace's creative spirit and youthful impulses.
"I don't really laugh at most of the Vines," says Sage, who might have just recently aged out of the service's ideal demographic. Still, the users love him: "Swervin" and "Mack Down," also from his entirely self-produced Gas Pedal EP, and "Panorama," a collaboration with D-Mac, have become part of the hashtag canon as well. And his debut album, Remember Me, is surely preloaded with a new batch of Vine fodder.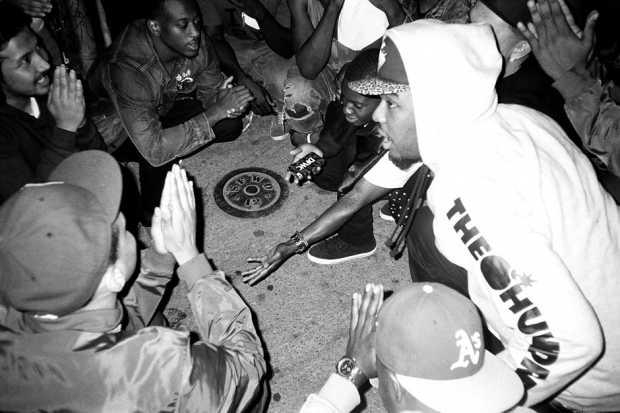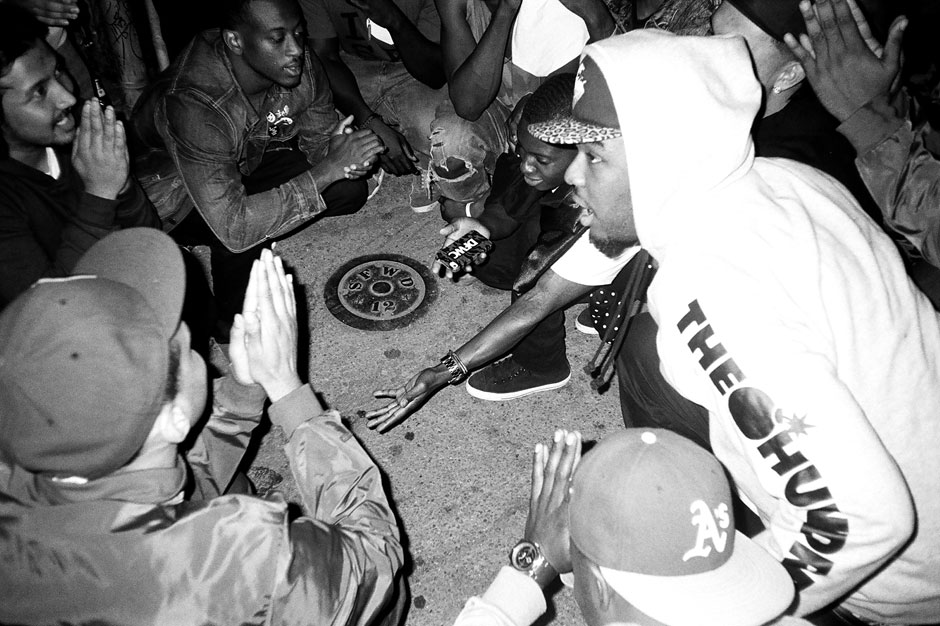 Later on Halloween night, HBK's social-media dominance is converted into real-world clout, as the entire gang files into San Francisco's Regency Ballroom for the official HBK Halloween party. If the Youth UpRising performance was the pep rally, then the Regency plays host to the main event, right down to the blunt smoke and make-out sessions that fill the stairwell. The sold-out show is all-ages, and the crowd reflects that, down to a few parents nursing beers at the bar. It's difficult to tell who is wearing a costume and who is just looking slightly ridiculous in the name of fashion. The kids are mixed pretty evenly along racial and gender lines, all in their mid-to-late teens. These are the children of the post-hyphy age, kids for whom hella shit is hella tight, and who can barely remember the time before Mac Dre was a martyr. (Presumably, many of them have traveled from neighboring cities, as local teenagers have been rapidly evaporating in gentrified San Francisco.)
The warm-up playlist is a reminder of how many of rap's biggest stars, from Jay Z to Kanye, have abandoned (or been abandoned by) the club entirely. In their place, the DJ mostly drops middle-ground records from HBK's contemporaries, mostly twerk-friendly bangers in the direct hyphy lineage: "No Hoe," PTFA's currently meme-ing "Boss Ass Bitch," Finatticz' post-jerking "Don't Drop That Thun Thun." Like "Gas Pedal," these are all long-tail hits, songs that peaked in popularity well after their initial release, thanks to dance crazes and Vines and such. The Furley Ghost is definitely in the building: Mac Dre's "Thizzelle Dance" is met with much joy, and the partygoer costumes include at least two hideous and bulky rubber Dre masks in the style of the Reagan masks from that one Genesis video. (These are available commercially, and it's never too early to start planning for next Halloween.) The Pack is here too, not musically but by way of the occasional cooking dance and selections from Young L's very fluorescent Pink Dolphin clothing line, which is easily the most popular fashion brand in the room, besides maybe HBK's own.
It's striking how PG-rated the entire evening feels. This is wholesome ratchet. Certainly a concerned parent or blogger could find a dozen things wrong with this picture on some straight-up Highlights magazine shit, most of them having to do with the suggestion of promiscuity or the confused stereotypes that come with blurred racial lines. But take it as a whole, and it just looks like good, clean teenage fun. Twerking is the new version of "The Twist," especially when executed clumsily and by a teenaged girl. And it's really no different from the yiking and cooking and turfing and Bernieing that bump into it, often literally.
The cavalcade of live performers follows. A wheelchair-bound SF rapper by the name of Remedy raps, "Suck this wheelchair dick" over some by-the-numbers but completely effective ratchet music. Priceless, J12 and crew do a set that's equal parts dance troupe, karaoke, and rap performance. Mobbish Oakland rappers NHT Boyz hit Ice-T and Whodini instrumentals, as per their trademark YouTube favorites, and both sound perfectly modern in the context of the evening. Kool John rocks an old-time black-and-white-striped prison costume; P-Lo prances around with a bottle of Hennessy. Jay Ant drops the Dilligentz' 2007 hit "Punk Rock" to great response, despite the fact that many in the crowd couldn't have been older than ten when it came out. There's a palpable sense that this is not just a rap crew, or the usual glut of opening acts that clog up every rap show, but a real scene. No matter who's onstage, at least a handful of kids in the crowd are familiar with — or at least interested in — their music.
//www.youtube.com/embed/FjspipESGIc
When Sage emerges, it's immediately apparent that he lives up to the Heartbreak name more than anyone else in the Gang. He moves like a real-life heartthrob; at one point, he even takes his shirt off and throws it to an adoring crowd. But offstage, he turns sheepish if you ask him about this aspect of his fan base. "That's actually kind of weird — I wasn't really a ladies man [growing up]," he says. "A lot of these people don't really know me from a can of paint. All they see is my eyes. I don't really see it, but I'll accept it." He doesn't rely on the groupies, though, and displays a reserved but surprisingly comfortable stage presence and breath control for a rapper of his age and disposition. Onstage tonight, he runs through most of the Gas Pedal EP, except for the title track, which will be saved for later.
Su's up next, and his energy is almost the exact opposite of Sage's: He runs across the stage in what he'd called his "soccer player" uniform (shorts and a striped jersey), looking more like a frantic ref. He has a considerably deeper catalog to draw from, and his aesthetic is notably broader than Sage's, ranging from Drake-ish ballads to straight-up backpack rap. But he's at his best when working in the same ratchet/function/post-hyphy idiom.
Finally, Su drops "Gas Pedal," and Sage re-emerges with a new shirt. The crowd has thinned out some, likely because it's pushing midnight and the BART is about to shut down — and because it's still a school night. But the remaining fans ride the record out with exuberance until the trailing instrumental becomes a curtain call, with nearly all of the night's performers bum-rushing the stage. The crowd dissipates completely before the clock strikes the hour, but the HBK Gang and their extended family — at about 30 deep now — continue to hold court. It all started online, but it won't end there.