Astro Kid, "My Neighbor Yeezus"
Wherein some Soundcloud weirdo layers the candy-colored marching-band weirdness of Joe Hisaishi's "Sampo" — from the soundtrack to Hayao Miyazaki's much-loved, low key, two-kids-and-a-totally-adorbz-smiling-cat classic My Neighbor Totoro — atop the Wax Trax goth-hop of Kanye West's "Black Skinhead." Hopefully, part of a larger mash-up project that will yield more of these, there's a playful wit to this stitched-together refix, something that even the slowly-losing-his-sense-of-humor Kanye could appreciate, given the animé moves of Graduation and, of course, this tweet.
Common, "War"
So Common has announced a Chicago street-violence concept album called Nobody Smiling; the first track we get to hear is a booming '70s-TV-crime-show No I.D. production, with the rapping Chi legend doing a Nas "New York State of Mind"-style all-little-details-stacking-up rap (and a quasi-hook that riffs on Mobb Deep's "Shook Ones Pt. II"). This totally makes sense, actually, because Common and No I.D.'s 1994 album Resurrection was a Midwestern bildungsroman that held its own next to Illmatic, even if it's still mostly regarded as a cult classic. But typical of post-Be, platitude-piling Common, "War" feels rather superficial, and the way he's hyping this project conveniently ignores the surrounded-by-gang-life concept album that is good kid, m.A.A.d city, as well as Chance the Rapper's Acid Rap and hell, the handful of kids from the area who are already rapping about this shit from (to borrow Common's war metaphor) its front lines.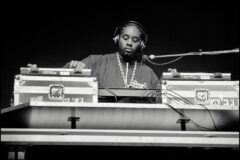 Fabo, "Keep Your Mind on Dat Money"
In which Fabo, the original molly maniac — formerly of D4L, and now staging a slow and steady comeback after new-school ATLiens showed him some love (Trinidad Jame$ featured him on "Quez": Young Thug declared, "I feel like Fabo" on "Stoner") last year — does a David-Ruffin-if-he-were-rollin' vocal performance over DJ Speedy's '60s-soul-signifying beat. If this song were less joyous/insane (or less old-school women-empowerment-themed), it might come off as some kind of grab for respectability, though in that case, he wouldn't be screaming in the background, slathered in Auto-Tune. Mostly, though, it's just an assertion that Fabo's got soul, in that old-fashioned, grit-and-grime, pain-and-pleasure kind of way. A retrolicious closer to Fabo's We Amongst U, a mixtape that otherwise sounds like the Silver Surfer cruising on an oversized E-pill straight into Galactus' mouth, cackling at the idea of death.
Gunplay, "Numbers on the Boards (Freestyle)"
One of the best rappers alive who just can't seem to get his shit together doles out another half-formed but still-fascinating freestyle, this time over Pusha T's inverted minimalist-ratchet mean-mug anthem. This adheres to the Gunplay formula, which never gets old: self-deprecating observations about his street-dude limitations ("Barely good at math") bumping into puffed-up Michael Mann-character IDGAF-isms ("I must be super insane / To punch 50 in the face/ And beat the sentence in vain"), and undercut by affecting quotables about the minor victories of what Stanley Crouch calls "the salty posture of the streets" ("From under the porch light to picking-the-porch type"). Mostly, though, it just makes you wish for a proper Gunplay record with some adventurous production — he needs more G.O.O.D. and less MMG.
//www.youtube.com/embed/QhKYvfcyXYA
Justin Bieber ft. Lil Wayne, "Backpack"
Sure, my "Hey, guyz, Justin Bieber's Journals is great" campaign continues, because this bizarre little space-soul slow jam is something else, almost despite its lyrics, which seem to be about Bieber, sad and lonely, finding an alien that be brings home in a backpack, E.T.-style. The hook goes, "Don't try to find your spaceship / They might be out there waiting / Stay in my backpack forever," and then an alien voice answers back, "You know I gotta find my spaceship / My planet's outside there waiting / I can't stay in your backpack forever." So you know, it's got some doomed-romance pathos to it, only then, the alien is voiced by Lil Wayne, so it's more of a bromance, it would seem, which makes it a really cute little song. Don't sleep on that antiseptic Jimi Hendrix-esque solo that cuts through the whole thing, either.
//www.youtube.com/embed/XmjTCptbe4Q