SPIN is in Park City, Utah, traversing snow and cutting queues to bring you reviews of the next big films (and flops) as they make their Sundance Film Festival 2014 debut.
If anyone knows a thing or two about portraying high-drama paternal relationships onscreen, it's the guy who played Breaking Bad's beloved, embattled Jesse Pinkman. But Hellion places Aaron Paul in the role of the paterfamilias, a young blue-collar widower too caught up in his own grief to be the strong single father that his children desperately need. Nascent stunner Josh Wiggins plays the titular delinquent, a 13-year-old boy all but destined for juvie, and fellow newcomer Deke Garner is his little brother, 10, whose charmed innocence hangs in the balance.
Big bro Jacob has an insatiable taste for dirt bikes, heavy metal, and vandalism, and he rolls with a scrappy small-town Texas trio that are down for whatever — a fact that director Kat Candler (Black Metal, Love Bug) clues us into immediately. In the first scene, the boys absolutely demolish a pickup truck parked outside of the local football stadium during a big game. "I swear I won't let anything happen to you," Jacob later tells little Wes after the pair are nearly nicked on an arson run. He knows it's on him to look out for the boy but constantly bucks against the responsibility his dad has unfairly saddled him with.
Because Hollis Wilson would rather grab a six-pack and head out to the family's Galveston home, or what's left of it after a hurricane presumably demolished the thing and took his wife along with it. Against even his buddies' advice, Paul's bleary-eyed, big-bearded, camo-capped character attempts to literally rebuild his old life while his new reality progresses with or without him. A moment of levity — the brothers, alone, eating whipped cream and sugar sandwiches, then bouncing on the couches to some blaring thrash — precedes the catalytic crux: moments later, Child Protective Services shows up and takes Wes.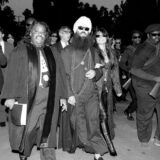 He winds up with Hollis' well-off sister-in-law Aunt Pam (Juliette Lewis), and since dad can't keep up with his court dates, Jacob finds himself at the foot of two possible paths. The angel on his shoulder tells him that if he straightens up, flies right, and wins the local motocross race, his whole family will be redeemed. But the Hellion inside is interested in a more direct approach, and with his equally angsty pals around (in Slayer shirts and the Sword hats, no less), the potential for fire and brimstone looms large.