DJ Koze, Amygdala Remixes (Pampa)
"It's magical / It's magical / It's magical / It's magical." Bold words — especially when you open with them, intoning the blissed-out proclamation like a mantra. But damned if Matthew Herbert doesn't deliver on the sentiment with his new remix for DJ Koze's "Magical Boy." Motivated, perhaps, by Koze's sublime remix, late last year, of Herbert and Dani Siciliano's 2001 song "It's Only" — one of the most unequivocally sentimental songs the squirrelly German producer has ever done — Herbert puts the kibosh on his own cantankerous instincts and settles into 10 minutes of wide-eyed wonder. Matthew Dear can occasionally be heard warbling in the background, as in the original, but new vocals come from the singer Rahel, who muses heartbreakingly on solitude while Herbert wears Koze's shuffling loops as smooth as the stones in a riverbed; set this one aside for your next Valentine's Day mixtape. Keep Efdemin's "La Duquesa" remix on hand, meanwhile, for your next star-gazing outing – or, hell, navel-gazing, if you prefer. The Berlin producer's trademark pitter-pat hi-hats and chimes cast a cool light on their surroundings while a hyptnotic bass pulse provides the track's meditative center; feeling numb was never so comforting.
Young Male, I Lost My E (Work Them Records)
It's tempting to imagine that I Lost My E is a reference not to ecstasy, but to Georges Perec's La Disparition, a lipogrammatic novel written entirely without recourse to the letter "e." In the case of Young Male, of the White Material label, it's melody that gets excised, and decisively so. Techno doesn't come much more skeletal than these spindly, jagged drum tracks: "Body Music" features a single, oily bass tone, and "Depraved Thoughts in Depraved Times" sprinkles on a handful of dissonant bleeps like so much Sähkö fairy-dust, but that's it for tonality. The shuddering title track and the even more shuddering "Finesse" make do with just analog drum machines, phaser, and delay, but the absence of "notes" doesn't equate to a lack of anything; the meanness of the materials translates to a mood that's damn near brutal. As they say, the comedown's a bitch.
https://youtube.com/watch?v=FCcAgwIxByw%3Fversion%3D3
Richard Pinhas and Etienne Jaumet, Vents Solaires (Versatile)
Two generations of French electronic music from the outer limits meet on a new EP from Paris' Versatile label. Etienne Jaumet is a core member of the Versatile crew, both solo and as part of the space-rock duo Zombie Zombie (recently sampled by none other than Lady Gaga). The guitarist and electronic-musician Richard Pinhas, meanwhile, was blazing cosmic trails way back in 1974, first with his group Heldon and then on his own, developing a psychedelic strain of proto-trance comparable to Klaus Schulze and Edgar Froese. (More recently, he's been working with the likes of Merzbow, Wolf Eyes, and Oren Ambarchi.) The two-part Vents Solaires is every bit as expansive as you'd expect from these two. Part one is pure, beatless ambient drift, all gamma rays and solar flare; part two is where they really take off, as squalls of Pinhas' guitar feedback and Jaumet's saxophone tussle with burbling synthesizer arpeggios over a solid-state techno groove. It sounds like Flying Saucer Attack, Emeralds, and Model 500 stuck in a space elevator to Mars. I:Cube was responsible for mixing down the two musicians' improv sessions into the forms presented here, which makes sense; he did, after all, once record a live album in a planetarium.
Various, #100 (Electric Deluxe)
Speedy J's Electric Deluxe label comes through with the month's most unusual record. Or set of records, actually: #100, a vinyl quadruple-pack commemorating the 100th episode of Electric Deluxe's bimonthly podcast series. Electric Deluxe is nominally a techno label, but its podcasts often veer into the realm of dark ambient, noise, and industrial; a recent episode from the Irish duo Lakker features Pan Sonic, Morbid Angel, Agoraphobic Nosebleed, Merzbow, and even white-belt screamo weirdoes the Locust. Over the past few years, the podcast has found Speedy J mixing up Fennesz, EPMD, Chain Reaction, and Tackhead; Ed Davenport balancing Laurie Anderson and Iggy Pop with Bandulu and Sasha; and techno wizard Mike Parker pulling out Zoviet France, Chrome, and Louis and Bebe Barron's Forbidden Planet soundtrack.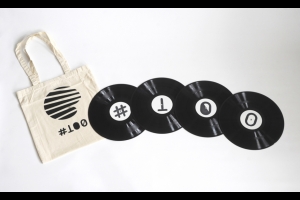 Flashing back to the days when DJ mixes still came on vinyl, #100 presents various highlights from the podcast spread across eight sides. (The label describes it as "a limited run of hand-stamped bootleg vinyl featuring unedited selections from the last 99 episodes"; the edition of 300 is available from the Electric Deluxe webshop.)
There are no credits, neither for the DJs responsible nor the tracks played. The first two discs are mostly dusky, dusty ambient (including something that might be Burial darting through the B2). The third disc emphasizes drifting dub techno — plus errant squeals, skeletal clanks, and what sounds like a drum machine that's been patched into the circuit board of the dying HAL. And the fourth disc really heads for the outer limits, with a coldwave cover of Third World's "Dancing on the Floor," a smeary Fennesz extract, avant-garde string music, free jazz, and a virtual avalanche of white noise. The whole thing amounts to one of the more curious releases I've come across recently, fusing the permanence of the recorded object with the ephemerality of a freeform radio station.