"I was the only one who was able to draw in the whole class," says Maya Arulpragasam, a.k.a. pop icon M.I.A., of her earliest school years in Sri Lanka. "So, when we were doing our alphabet and we had to do little illustrations, I would draw in everybody's books… I was the go-to person in the class."
The M.I.A. origin story — unchanged since the earliest articles about her appeared a decade ago — is not the definitive story. That tale is just a history of her career as told through interveners: Her "terrorist" dad, her Brit-pop benefactors, Peaches' gifted drum machine, Diplo's affection and production on those early bamboo bangers, Madonna taking her along to the Super Bowl halftime show. But this myth of M.I.A.'s pop ascent should rightfully be viewed against the dazzling backdrop of an underdog artist who started as a child in Sri Lanka, when she discovered that fastidiously sketching images gave her the ability to transcend her circumstances.
"It's a really difficult story," says Arulpragasam. "Basically, when I went to school in Sri Lanka from age five onward, the classes there were sometimes sorted into a hierarchy of your skin tone. So the fairer-skinned kids sat at the front row, and the darker-skinned kids sat at the back by the poor ones who played out in the street all day long. They would turn up to school with no clothes on and they sat in the back row. I'm a Tamil, so I had darker skin, so I was sat in the back row… I was very useful to all the kids because I was good at drawing, and then I could sit anywhere that I wanted. So I kind of earned my way up the seating rank." This is how art became her passport, the origin story of Maya the Artist.
She had no formal exposure to art as a child — just what she encountered in cinema posters, and the vibrant colors and prints of clothing worn by the women around her. She grew up next door to a textile factory that made and printed saris. "I used to hang out in the yard all the time, and they chucked all the paints out in the corner of the garden. I remember the smell of it, paint of all different colors." These color combinations and print patterns became a part of her visual vocabulary, showing up in her earliest work after she attended the public Central Saint Martins College of Art and Design in London, and continuing up to the clashing hues of M.I.A.'s 2005 breakthrough Arular. That aesthetic still mirrors the sound of her latest album, Matangi: bright, tight, repetitive, and as busy as the Tamil Eelam's tiger-print camouflage.
stenciled it over a hot orange tiger and a blast of electric red. It became one of Arulpragasam's most perdurable visual works: In addition to appearing in her first public art show and subsequent 2002 book M.I.A. No. 10, it served as an animated backdrop for her "Galang" video). Arulpragasam's Freedom Birds fascination would show up again in her decision to cast Tamil girls for her "Sunshowers" video, and then style them to recall the combat unit. The iconography limned a parallel life, of another pretty Tamil girl caught up in a different fate, a different fight.
The disappearance of Arulpragasam's cousin Janna was a turning point for her work, reconnecting her with Sri Lanka, her family, the war — though it was something shy of a full-tilt radicalization. Longtime collaborator and Saint Martins classmate Steve Loveridge suggested, in his introduction to M.I.A., the 2012 monograph of her work published by Rizzoli, that the easy success and white privilege of the Brit-pop set she was hanging with — including Loveridge himself (they've since become estranged) — riled the young artist deeply. He says she suddenly started talking about the effects of growing up amid the terrorism and strife of the Sri Lankan civil war and the systematic oppression of Tamils. She was surrounded by work that Loveridge suggests was "puffy, trivial." The artists around her were "exploring apathy," she writes in M.I.A., "missing the whole point of art representing society." Arulpragasam was interested in confronting it all with harsh realism, making work filled with Molotov cocktails, guns, flaming palm trees, and prints of execution-style killings streaked with red. It was all reflective of the life that she'd lived before joining the rarefied world of "Cool Britannia."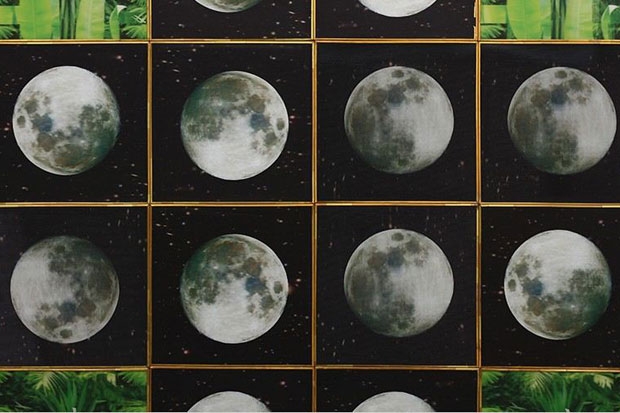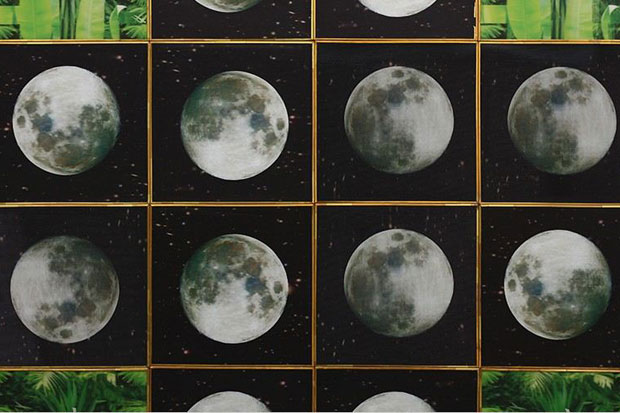 After her inaugural, wildly successful art show, she was shortlisted for the 2001 Alternative Turner Prize. But instead of pursuing that path, Arulpragasam reflexively shifted into making music. In some of her early press, the music was simply seen as an extension of her visual art — though in hindsight, one clearly sees the fomenting of M.I.A. the pop star, the savvy, aspirational culture worker anxious to illuminate her ideas with a brighter light. She has never wavered from that vision. We know her aesthetic, her brand, her way of synthesizing sources into a larger narrative or pattern. "The medium is secondary," she says. "You always have to have an essence, an idea. You do it in a song or a painting, or you make a signpost, or you make a T-shirt, and it's not enough. It can be even more than that."
Now that she is functionally inside the pop-culture machine, does that negate her ability to criticize it? Does her achievement and her visibility undermine the art's effectiveness as an act of resistance? On this point, she's emphatic: "That's bullshit."
As Arulpragasm has evolved as an artist and found real market success more and more, her art is no longer the product or expression — she is. As a result, she doesn't want to ease up.
"You have to constantly redefine who you are," she says. "The fact that I bombard myself against many industries, many cultures, many people, shows me putting content into my head and putting that dimension into my life… Politics has become a big mash of nothing, and to give it time would be a waste, because now with the Internet, it's obvious what's going on. It doesn't take an artist making a huge album about it to understand. It's right there, on the front page of everything. We already know and we're already past it. It's more about what is keeping the people down from reacting to it."