Our Van Could Be Your Life: Screaming Females Invite Us Inside Their Trusty Ride
New Jersey's mighty Screaming Females are one of those bands that's on the road so much it almost feels wrong to say they're "on tour" -- like that's something out of the ordinary. Traveling around and playing concerts is what this trio of punks does, and as a result, their van is as much a home as it is a means of transportation. Singer-guitarist Marissa Paternoster provided us with the captions, and some on-camera commentary, for these images of the band's primary residence, captured during a recent run of shows.
1.Our Van Could Be Your Life: Screaming Females Invite Us Inside Their Trusty Ride
1/22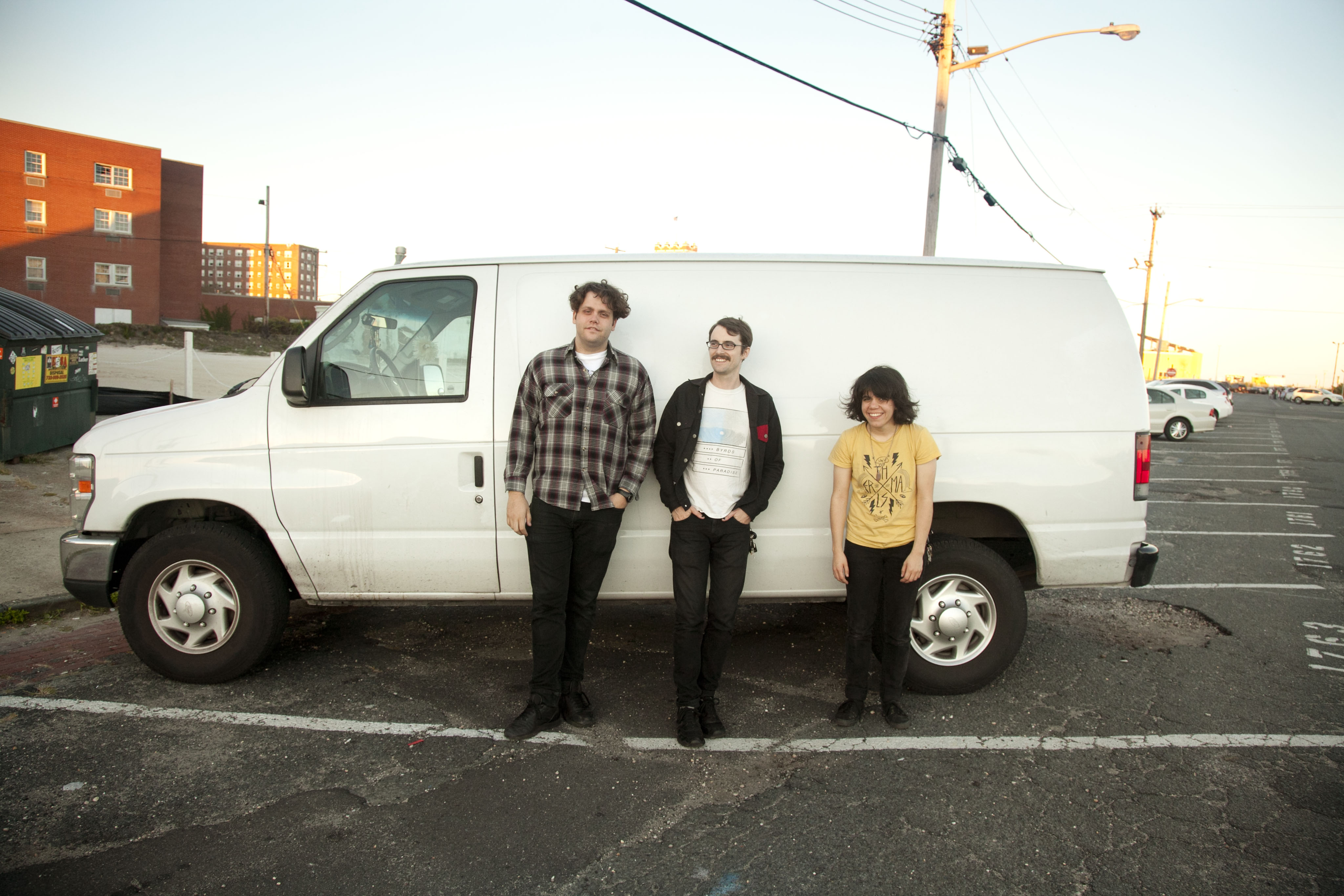 2.I can barely see over the wheel of the van, so I have to sit on a pillow when I drive. I'm good on the highways but I turn into a wreck in the cities. Being as small as I am and driving something so huge can be kinda terrifying.
2/22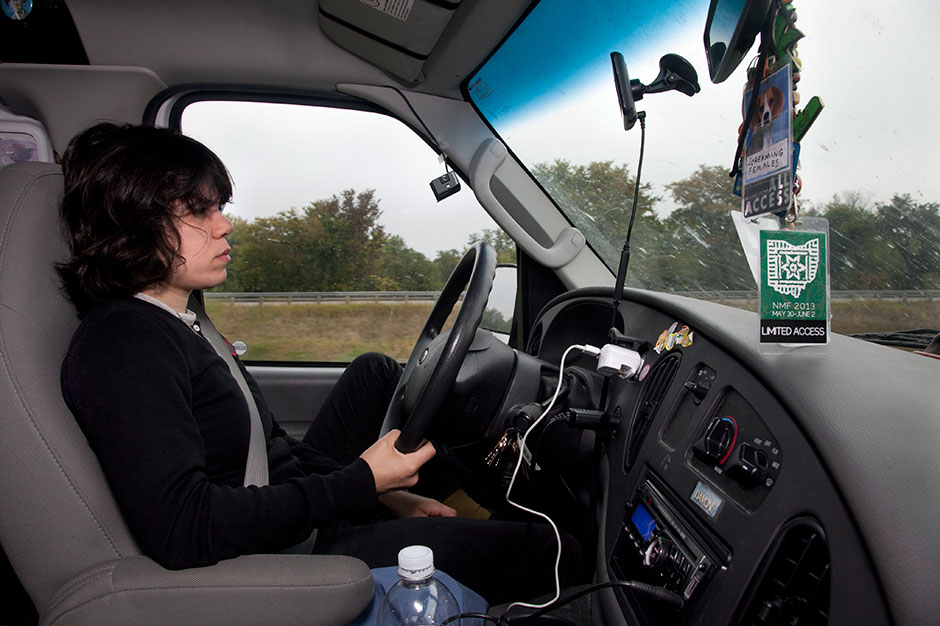 3.We've had our van for a while now. Our old van was a Dodge conversion van, and it was really cozy. Our current van is a regular Ford Econoline, and it was kind of depressing inside when we first got it, so we decorated.
3/22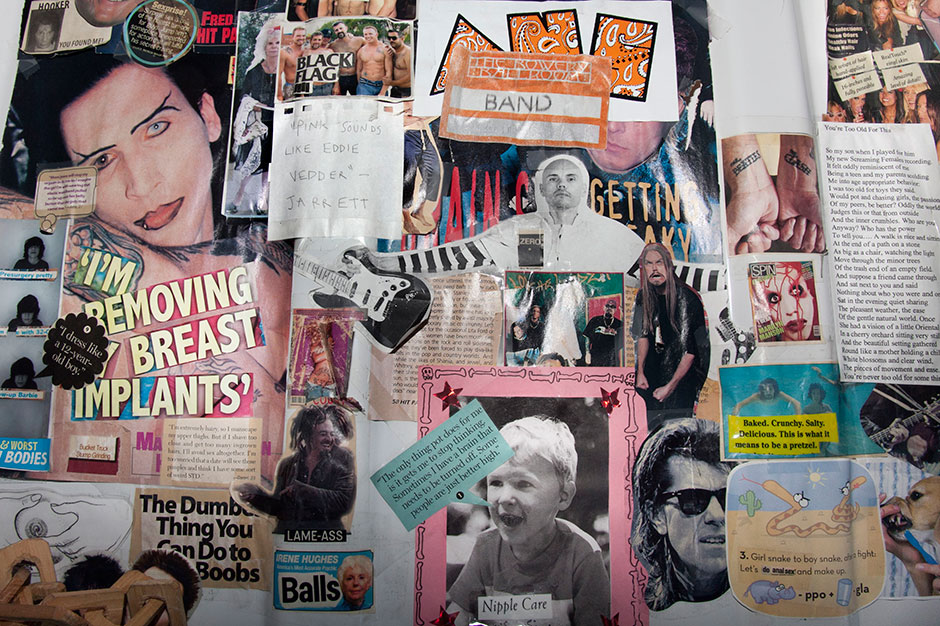 4.Mike's bass head kept shitting the bed on this tour, so by the time we hit Chicago we had accrued three separate bass heads.
4/22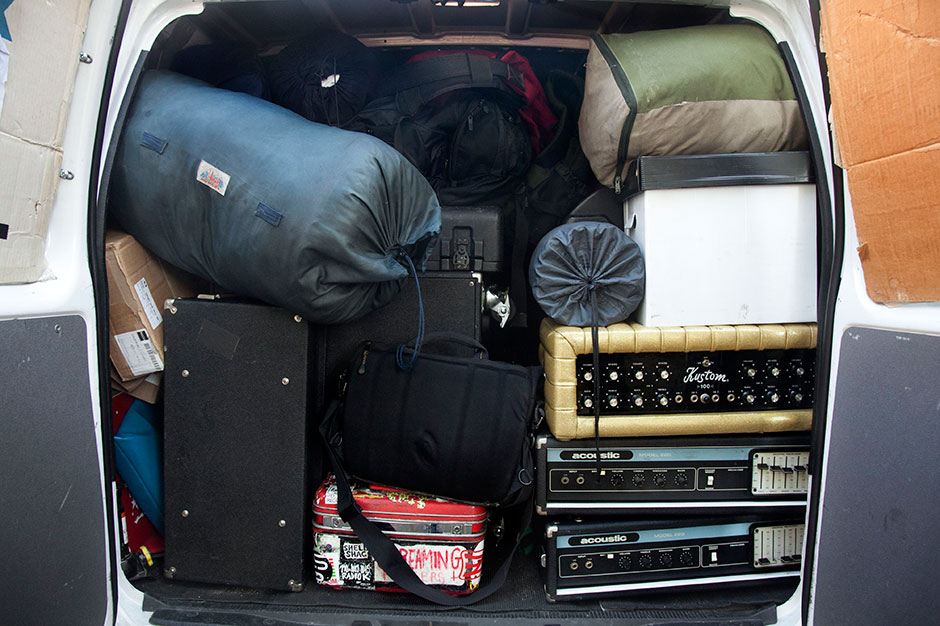 5.[Drummer] Jarrett [Dougherty] currently holds the "Tetris" champion title: 172 lines. I was rockin' "Pokemon Silver" for a while but that shit is too hard.
5/22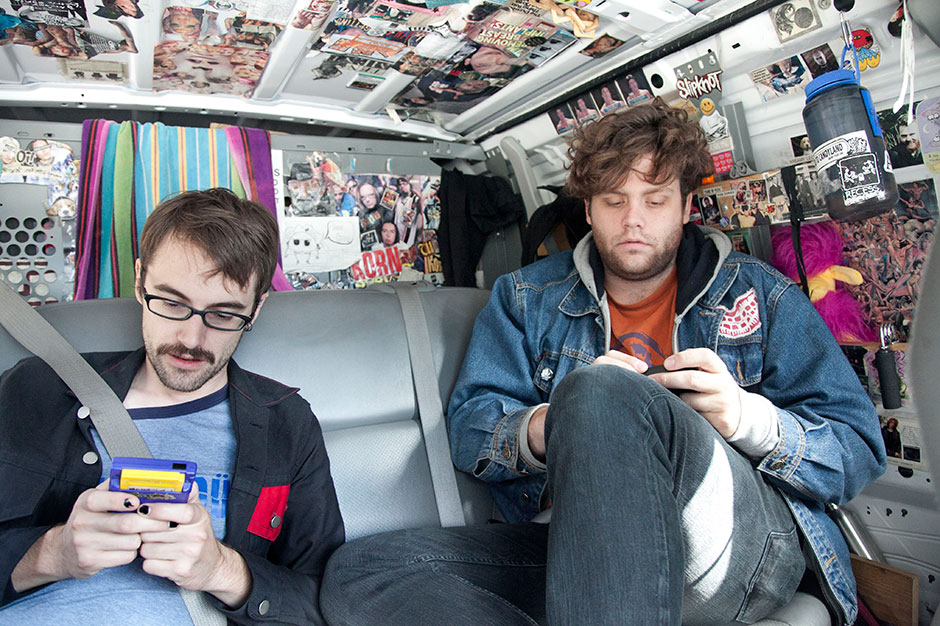 6.If it's not a bass drum, snare, or a tom, it's a bongo. I don't know what sort of drum this is, but it's been wedged between the windowless wall and the bench seat for years.
6/22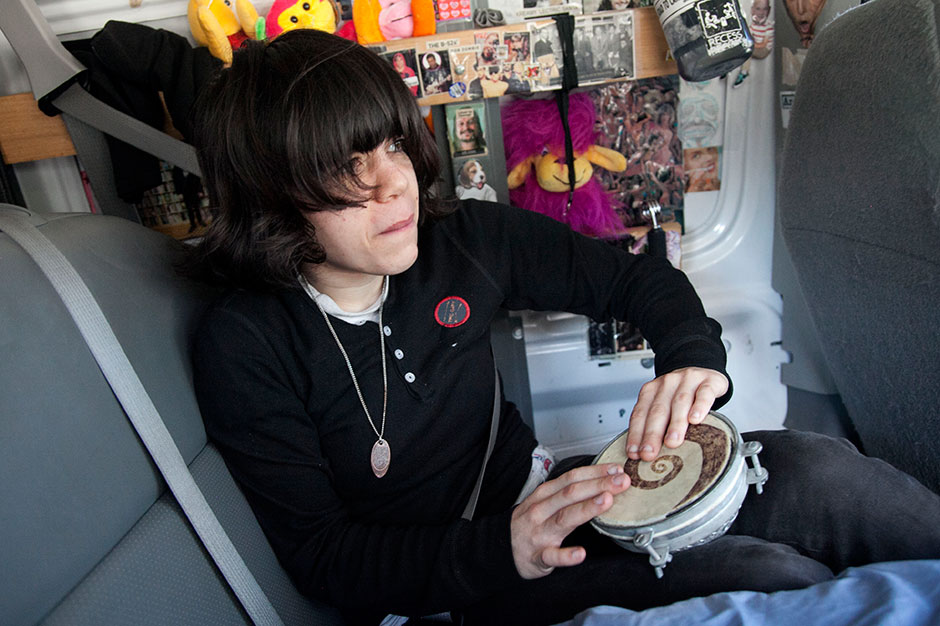 7.Hopefully Screaming Females can garner enough attention so that we embark on future tours that require all-access laminates. I've already dreamt up a few designs.
7/22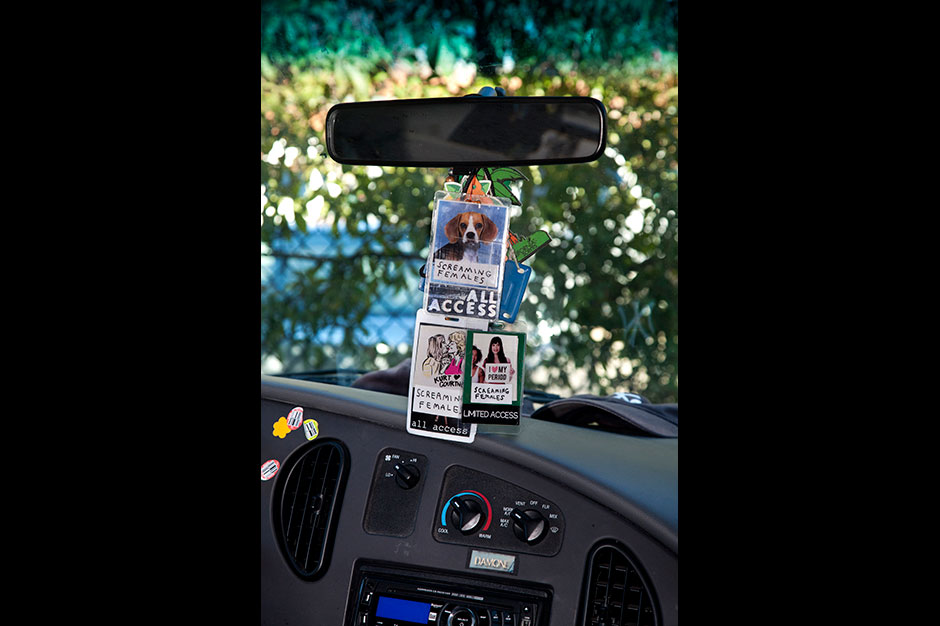 8.[Bassist] Mike [Abbate] is a huge fan of crane games. Pictured are a few of his winnings. We're all very proud of his achievements.
8/22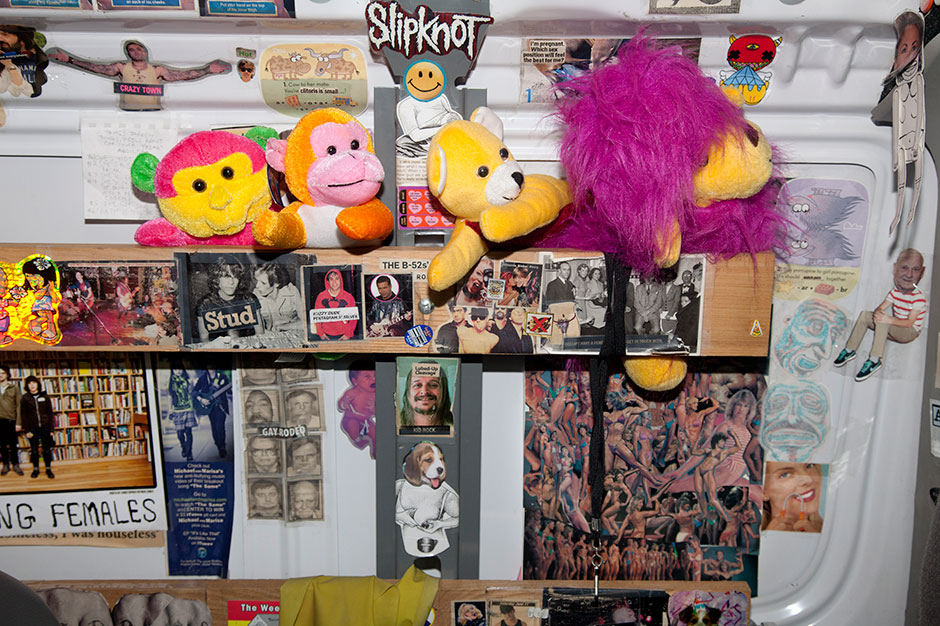 9.See that fine pillow? That pillow is probably the single most filthy thing in the van. I think it's been traveling with us, unwashed, since 2006. That's gross.
9/22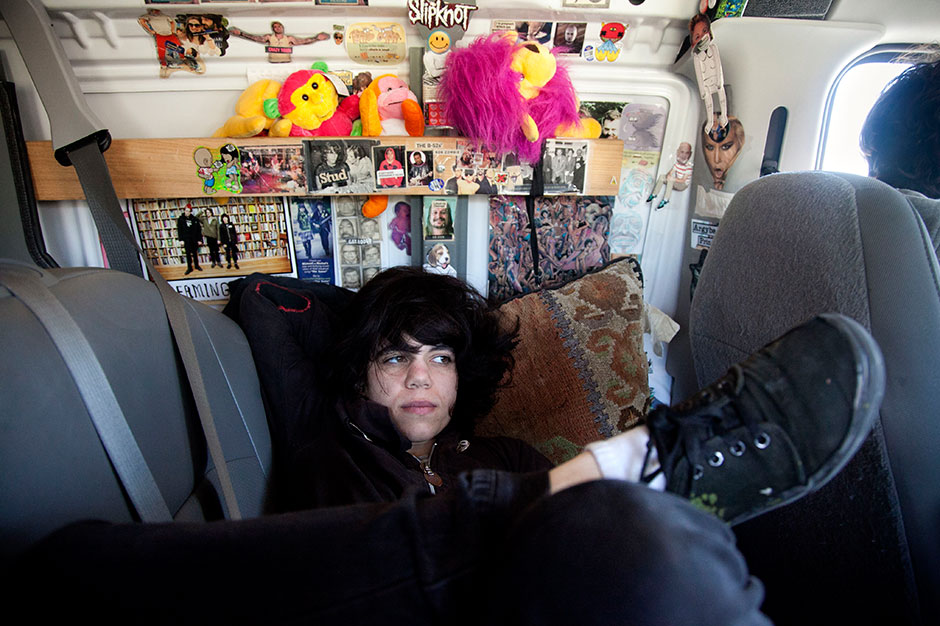 10.I don't know if most bands give one another holiday gifts, but we do. Mike bought Jarrett and myself travel French press mugs for the holidays one year. They're great.
10/22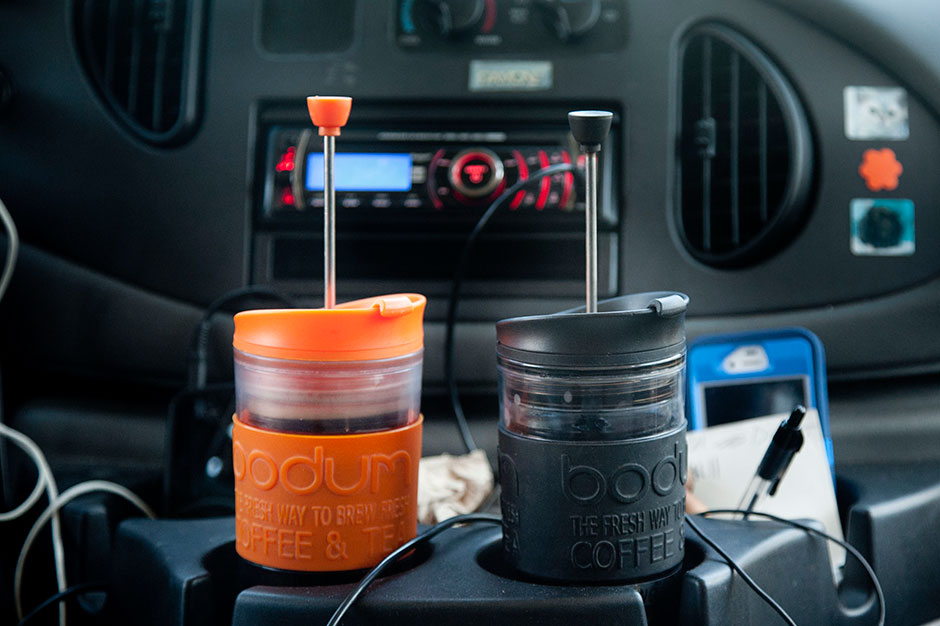 11.Mike riding shotgun in the golden hour.
11/22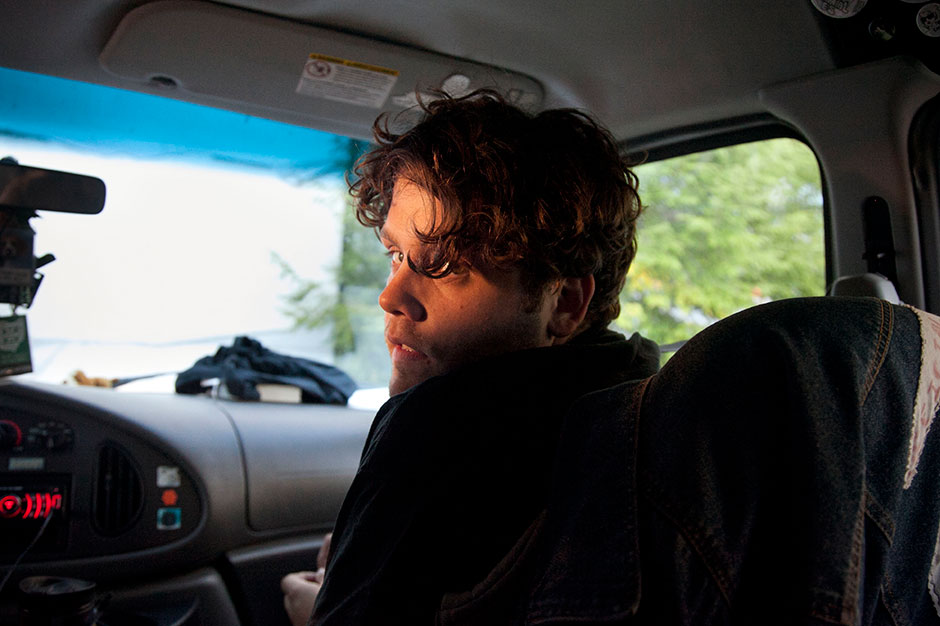 12.Mike successfully collaged a fine postcard for the post. Whomever is on the receiving end will be pleased.
12/22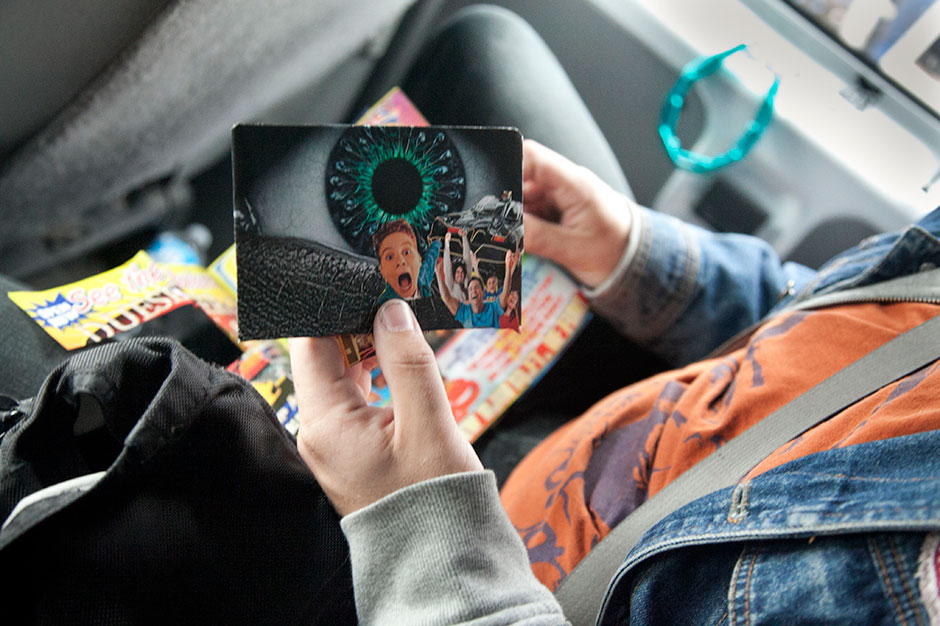 13.Jarrett gave himself a moustache for our tour. I voted for mutton chops but I'm also pretty partial to the mustache.
13/22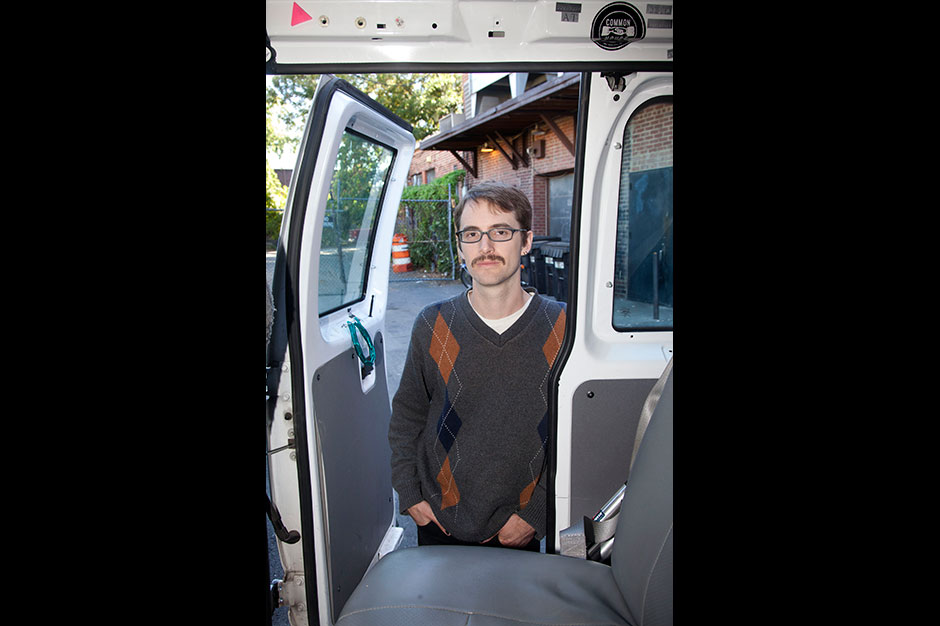 14.On rare occasions the boys take a little wiz in empty bottles, then we triumphantly douse the highway with it. Sadly, this left the side of our van covered in wee-wee.
14/22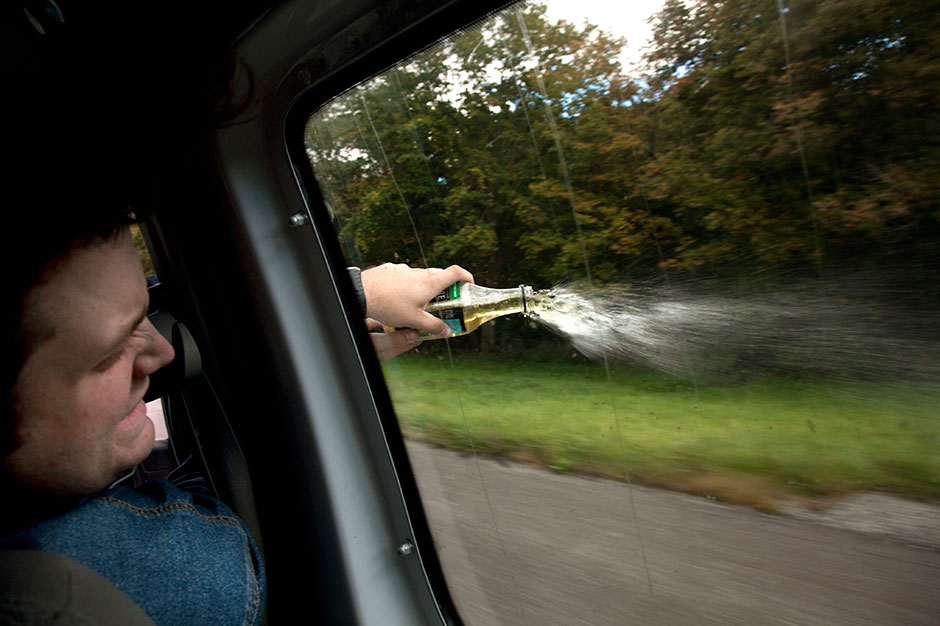 15.Drawing in the van is hard 'cause the road is often bumpy. But I make do.
15/22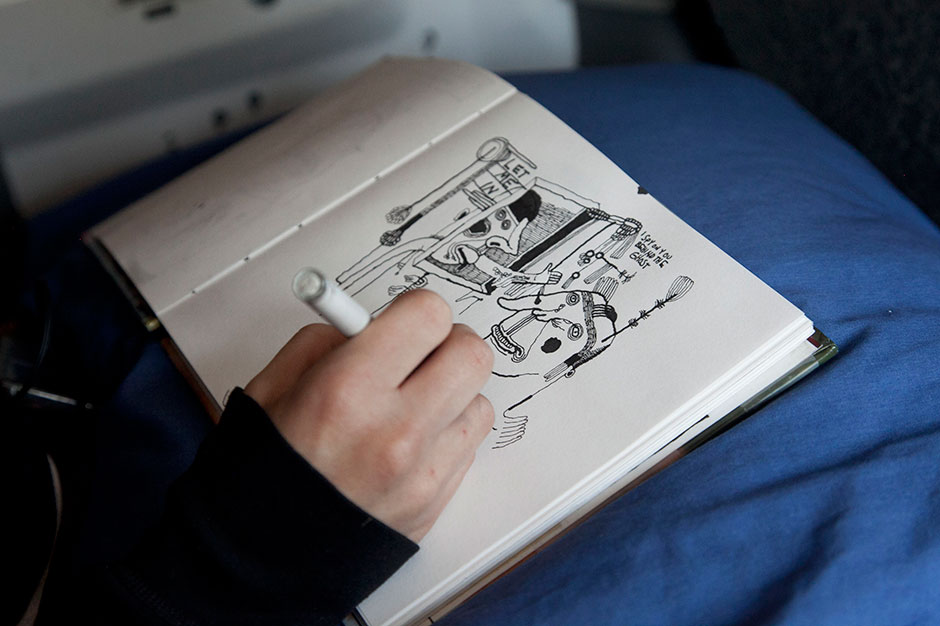 16.Using the van itself to stretch out my bad back. The world is my playground.
16/22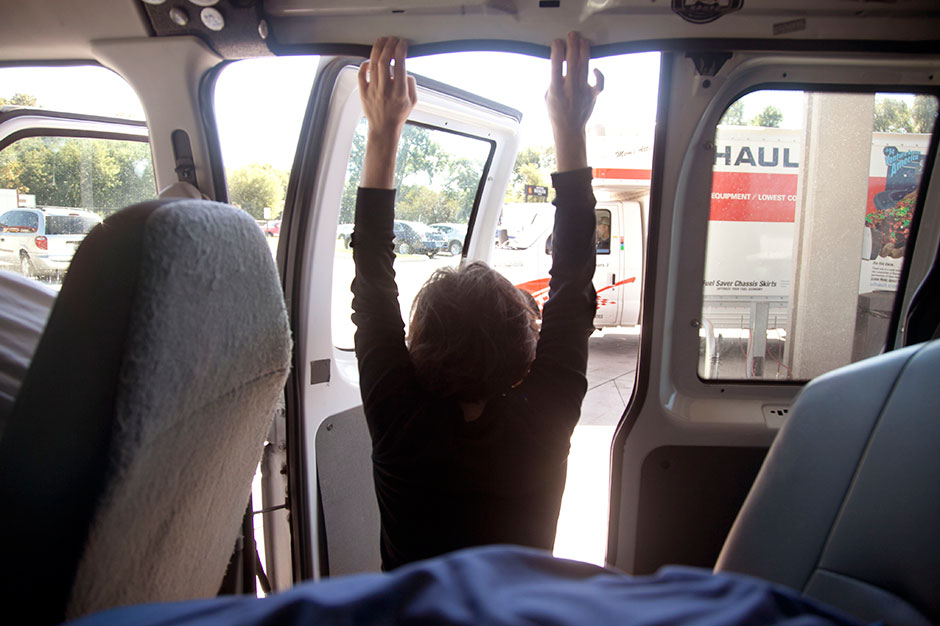 17.The nicest folks come to see us play. We get cookies fairly often. It's sweet.
17/22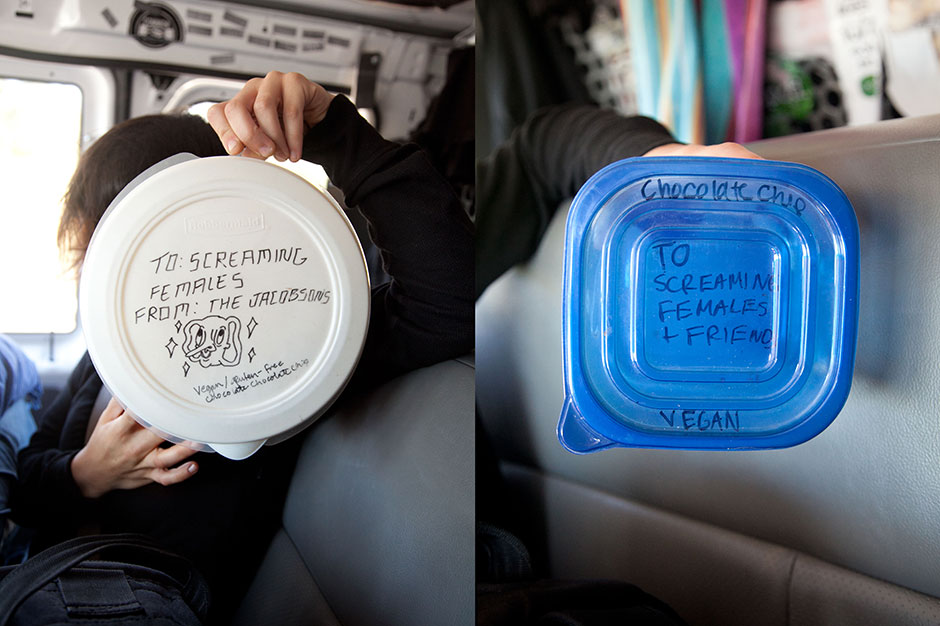 18.We kill a lot of bugs on the highway. A lot. Millions of them. Sometimes they obscure the driver's visibility. That is unacceptable! Mike is taking care of it.
18/22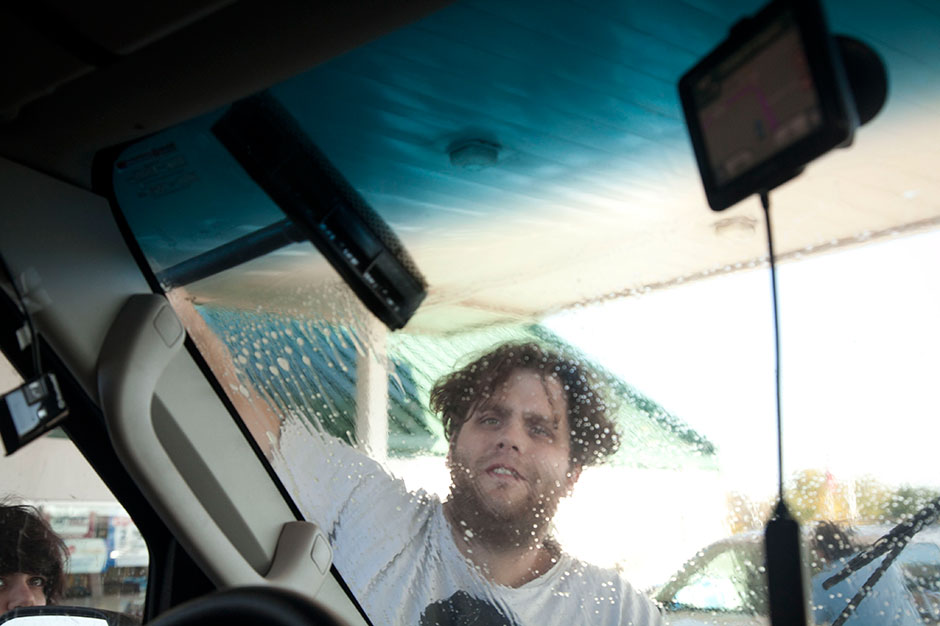 19.Jersey girls don't pump gas.
19/22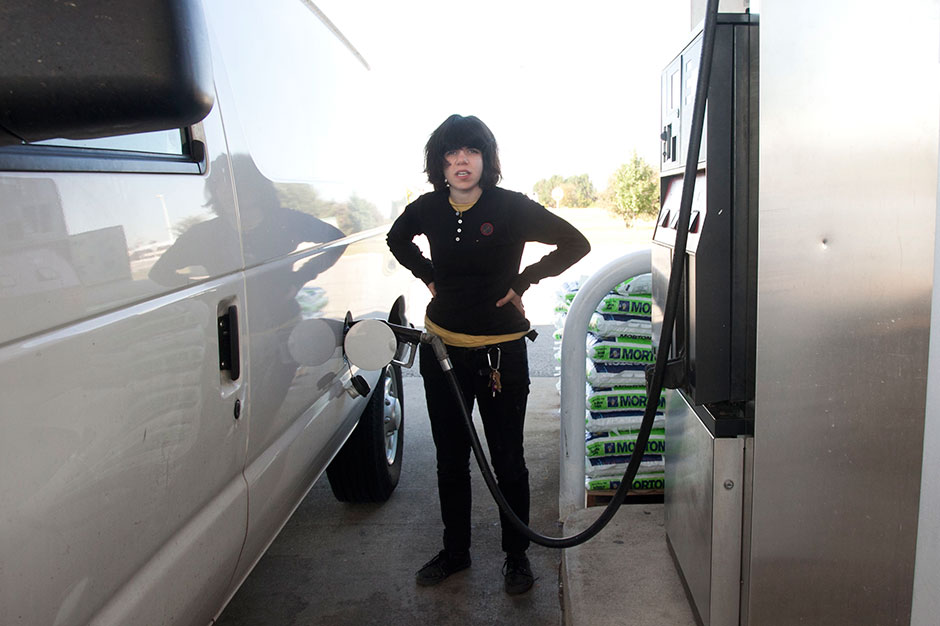 20.It was heartbreaking to remove my KoRn piece, but don't worry folks, I'm keeping it in the vault.
20/22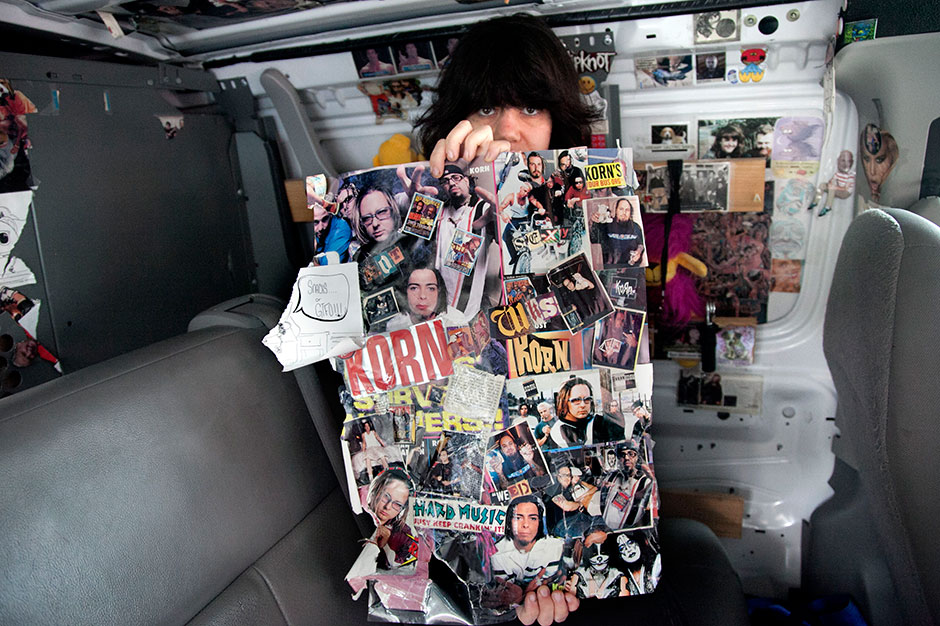 21.Our second-to-last day of tour in Asbury Park, NJ.
21/22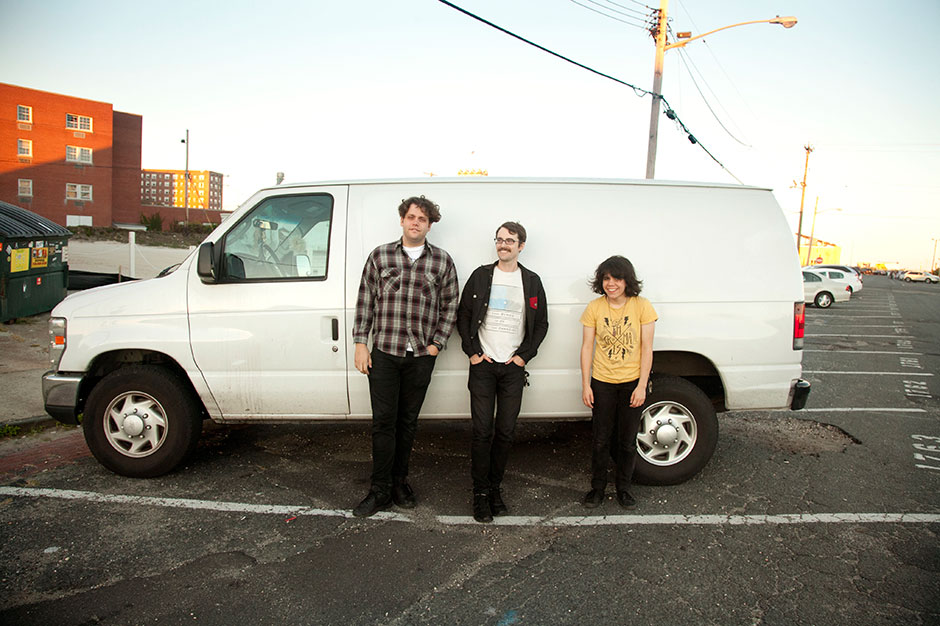 22.After three years of basking in the glory of our combined artistic efforts, we made the collective decision to start anew.
22/22
This content is no longer available.