So the obvious question about Icona Pop is this: What kind of "'90s bitch" (or "chick," on the radio) are they, exactly? The Courtney Love kind? The Liz Phair kind? The Missy Elliott kind? Or being Swedes, maybe Marie Fredriksson from Roxette or one of the Ace Of Base ladies are more their speed? The hype machine insists that Caroline Hjelt and Aino Jawo are somehow indebted to "punk" and "indie pop" (apparently because they occasionally curse and tour with such challenging artistes as Passion Pit). But beyond intermittent Auto-Tune/dubstep/screwchop technology to keep things up-to-date and a Tupac reference and perhaps a certain overall groggy, stay-out-all-night-drinking-and-jumping-trains, girlfriend-bonding vibe, there's really not a lot in their music that you couldn't trace back to Bananarama or the even less R&B Kim Wilde or similar post-disco British dance-pop of that provincial '80s ilk.
In fact, some of the pair's tastier moments feel like pure Stock Aitken Waterman: Before its skies open up to let the Ke$ha bo$h in, "In The Stars," from their new This Is…Icona Pop basically suggests Bananarama covering "I'm a Man" by the Spencer Davis Group, and the intricate, slightly reggaefied harmonies in "Good For You" (off last year's Iconic EP) were even more Bananaramoid. In the '90s, S.A.W.'s brand of pop evolved into the Spice Girls, but it took some steps to get there. And all the super-bratty shouting about cars crashed-and-burned into bridges and bags of shit pushed down stairs in "I Love It" (both puzzling images, by the way) no doubt reminded certain certain-aged Anglophiles of the amusing mid-'90s-bitch duo Shampoo: two Manic Street Preachers fanziners whose Licensed To Ill approximation "Trouble" hit No. 11 in the U.K. and whose 1995 album Girl Power (its title phrase apparently lifted from Bikini Kill) preceded the Spice Girls' debut by a year.
Icona Pop have "edgy" trappings — a name that almost makes its "Pop" "Ironic" so Knife fans okay with Robyn and Annie, but maybe not Ke$ha, won't be scared away; Aino Jawo telling interviewers that "fuck-it mode equals Icona Pop"; and occasionally silly hats. But they make more or less conventional modern electro-pop, neither as rock nor rap as Shampoo were. "I Love It" itself belongs just as much to Charli XCX, who co-wrote it and performs on it, and the unabashed brashness that got it onto Girls and elsewhere isn't particularly typical of Icona Pop's sound; frankly, nothing else they've done comes close. If anything, This Is… smooths out their eccentric side. It's still likeable, though — at least in part because it stirs memories of the 1997 global debut by British dance-pop girl duo Crush.
Like This Is…, Crush was the group's second full-length — where 2012's Icona Pop stayed stuck in Sweden, Crush's 1996 Teenage Kicks saw release only in Japan and South Korea. And where This Is… affixes a "Fix8 Remix" of "I Love It" as a bonus track, Crush's similarly tongue-in-cheek, tell-off-the-boyfriend hit "Jellyhead" (No. 72 U.S., No. 50 U.K.) appeared on their self-titled album in a "Motiv 8 Mix" that actually scored on its own (No. 32) in Australia. In the U.S., its original version first charted in August 1996 — a week after Republica's maybe-also-proto-Icona "Ready To Go," but five months before the Spice Girls' "Wannabe." And like Icona Pop, Crush begged identification with less mainstream stuff, in their case Big Beat electronica: "I want the Prodigy really loud! / I want it all right now!" they demand in "Jellyhead," after making fun of the loser they're dumping for his ripped jeans, since "they've been torn since Bros were cool" — perplexing for Americans, who might've heard the word as "bras" instead, given the Brit boy band Bros' lack of Stateside success. Somebody named Peter reviewing Crush's album on Amazon even refers to "Jellyhead" as "a catchy, indie-pop number" — some things never change.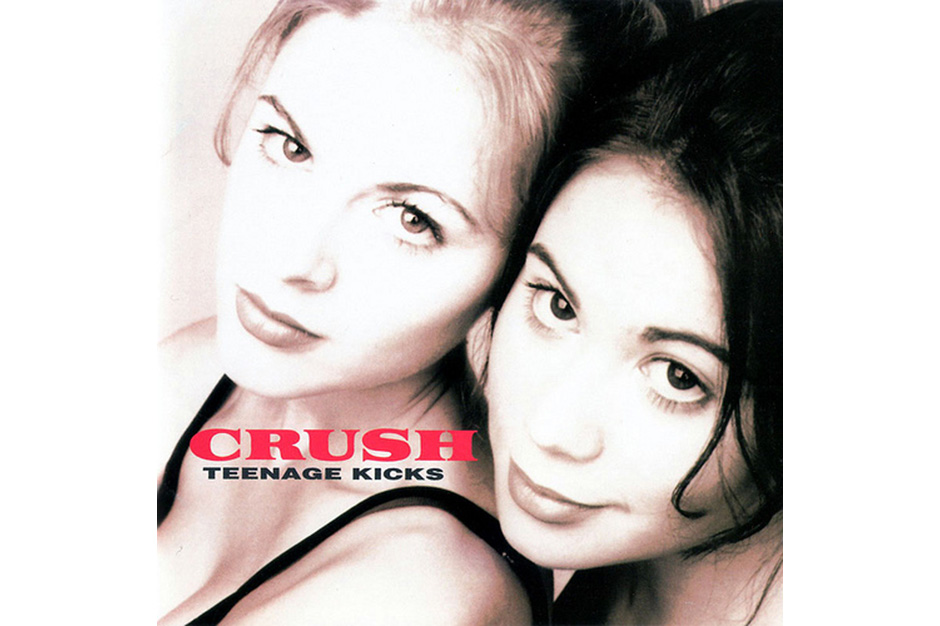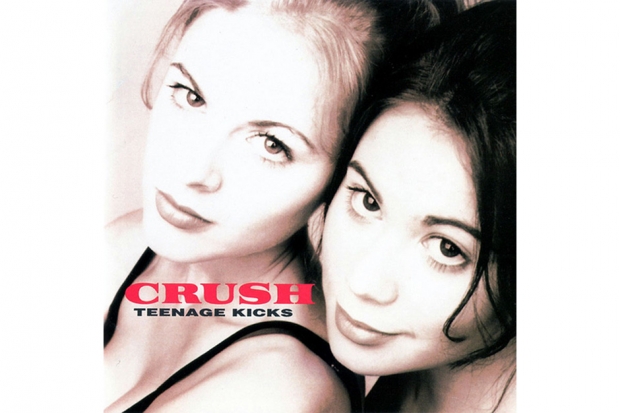 Peter, it should be noted, also wants you to realize this is "NOT THE REAL CRUSH" — point being that Jayni Hoy, who had joined partner Donna Air to cover Blondie, Undertones, and Go-Go's tunes on Crush's barely existent first album (so…power-pop! Another term now inexplicably applied to Icona Pop) is replaced on Crush by Luciana Caporaso. Well, sort of — Hoy, unpictured on the cover, is still credited with "co-lead vocals" on eight of 12 songs, all of them carried over (albeit frequently remixed) from the debut. Hoy and Air first worked together on a Brit TV soap called Byker Grove where teenagers got blinded by paintballs and bit by badgers and died from brain tumors and stuff; they thereby released a 1994 single as part of the trio Byker Grooove — mixed up yet? So some diehards saw the Crush album as a sell-out. In the words of another Amazon kvetcher, "you have t[w]o punk-rock chica wanna-bes and a label that wants to dance everything up."
Despite all that, the label — Robbins Entertainment, then and now specializing in picking up music that Europeans club to so Americans can too — "dances everything up" real good. Wide range of styles: borderline-R&B, rent-party-piano house-diva pop of the Ce Ce Peniston stripe ("Love's Hold"); gothic flashdance rock ("Feel So Fine"); semi-operatic Latin freestyle ("We Can Make It Happen"); aerobics-class hi-NRG ("Tease Me"); skittery junkyard drum'n'bass (the bluntly titled "He's Stupid"); Cars-keyboard new wave (remake of the Go-Go's "We Got the Beat."). The Supremes-basslined "Luv'd Up" (actually a bigger U.K. hit than "Jellyhead") and "Bloody Nose" steer closest to Bananarama. The latter, one of two songs co-written by Sarah Cracknell of Saint Etienne (talk about your indie-approved dance-pop stars), cleverly juxtaposes Beatles "Day Tripper" guitars with lyrics about waking up in the middle of the day, not to mention such intriguing musical characters as "Bloody Nose, he's a real cool Joe" on the "double decks" and "Left Wing Jean, he's a mighty fine thing" who plays both basketball and guitar. Cracknell's other co-write is "Mexican Moon," a pretty, tentatively tropical-lilting slow one. And next to "Jellyhead," the peak track might be "Penthouse Girl, Basement Boy" — yet another about getting rid of a lousy boyfriend, this time by literally moving up in the world to a deluxe apartment in the sky, with a melody you can easily imagine the Pet Shop Boys coveting, though Heaven 17's class-obsessed 1981 Penthouse And Pavement also comes to mind.
But the city-after-dark adventure of "We'll Find the Sunshine" might most anticipate Icona Pop (via Cascada's trashy trance, maybe): "Dance with the moonlight / Changing the shadows of who we are," Crush observe. Sixteen years later, the This Is…Icona Pop bonus track "Nights Like This" tells us, "We will all change shapes in the dark / A weekend disguise," and two other songs on the album have "Night" in their titles. It's a theme that dates back at least to disco, and it still rings true: For two young women out dancing, the night is forever full of possibilities.