SPIN Rating:
Release Date:
September 16, 2013
Label:
Joyful Noise
Fuck yeah, we still need indie-rock bands! As a nation of independent contractors, invoicing each work-for-hire project as if it were our last, we naturally hunger for new models of committed long-term collaboration. But until those emerge, old models — and maybe even old bands — will have to do. Gripe about reunions as nostalgic cash-ins all you want, but there's something morally instructive about watching prickly-ego'd musicians humble themselves with the public admission that their art succeeded best when forged in compromised communion with some other insufferable jerks.
Defend Yourself is the first new Sebadoh full-length since 1999, and shouldn't that seem like a much bigger deal? Maybe if Lou Barlow and Jason Loewenstein hadn't released the five-song Secret EP earlier this year, or if they hadn't already reformed twice to tour, or if they weren't on their fourth drummer. (Bob D'Amico, who's played with Loewenstein in Circle of Buzzards and the Fiery Furnaces, here succeeds multi-instrumental co-founder Eric Gaffney, Bob Fay, and Russell Pollard.) Or maybe we're so accustomed to rock's past not even being past that when middle-aged dudes eke out a decently legacy-untarnishing comeback, we can't distinguish between nostalgia and déjà vu anymore.
Thus, this is less a "return to form" (as the critical cliché goes) than a self-conscious return to a form: the spiky, tuneful discord of Sebadoh's '90s heyday. Multi-pronged riffs splay to either side of the rhythm on "Final Days," while guitar lines echo vocal melodies with a familiar languor on "Love You Here." The dogged "Beat" segues almost imperceptibly into the more dogged "Defend yr Self" — a title that makes you admire the restraint needed to keep from saddling their whole album with that zine-y throwback abbreviation of a title — then gives way to the rollicking "Oxygen."
As always, Barlow and Loewenstein create a curiously interdependent organism. Unlike the stimulating/debilitating sibling rivalry that had earlier ensnarled Barlow and J Mascis (and made a Dinosaur Jr. reunion so much more miraculous than this regrouping), the Sebadoh dynamic has often suggested something more like parallel play. Lou was the genuine indie archetype, articulating his emotional feints and evasions seductively enough to illustrate why otherwise intelligent women of the '90s regularly picked up a subculture's shitty boyfriends after band practice. But for the epigrammatic malcontent to shine requires the direct frustration of Jason's forthright everyman as contrast.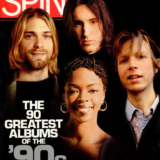 They still play those roles. Though Barlow promises "a new way to complicate the simple things we do" on "Love You Here," he and Loewenstein instead spin expert variations on familiar themes. Many of the lyrics — "I think we're overthinking," "Making everything so complex," "There are things I can't change that I hate," "It's pointless to explain" — could have been written 15 or 20 years ago. But if Defend Yourself sounds like old times, it doesn't sound just like old times. These obsessively discussed quirks of relationship miscommunication once served as a kind of dysfunctional foreplay in the songwriters' twenties and thirties, back when Barlow sang, "Truth could be a game we play." Now, such lyrics relate ordinary, irritating obstacles the guys wish they'd overcome by now, and the music occasionally doubles back on itself in a similar way.
And yet, there is something new here. Barlow always has projected a uniquely distanced intimacy, his voice paradoxically confessional and distracted, but now it's taken on a new creepily self-possessed tone. He starts the album by calmly asking, "Can you tell that I'm about to lose control?" and the immediate response is "No, Lou, we can't," while slowly backing away, one hand behind the back groping for the doorknob. But the giveaway is the truly icky follow-up line: "Someone else has found her way into my soul." "I Will" is a genuine break-up song, rather than a threatened breakup that a younger Barlow might have deployed as an exercise in brinkmanship, a way to forestall finality. He doesn't lose control, or even sound as though he's capable of losing control.
Barlow wants us to know that his recent divorce inspired his songs on Defend Yourself, and it's not surprising that he'd look up an old collaborator after ending a quarter-century romantic relationship. When he calls off his marriage on "I Will," he claims, "This will be the hardest thing I've ever done"; he returns to that sentiment almost verbatim on "State of Mine," about watching his children grow. And that about sums up Defend Yourself: Musical achievements that once came easily (if not accidentally) to Sebadoh must now be persistently willed; processes that once pointed toward self-discovery now only offer a familiar balm. Maybe the sound of two dissatisfied men losing themselves in their work, putting their heads down and waiting out the hard times, isn't exactly inspirational. But fuck yeah, it's morally instructive — and you'll just have to decide if you need it, too.