Dr. Dog marked new territory to craft their latest album. After being based out of their Meth Beach studio for eight years, the psych-inclined Philadelphia crew wanted a change of scenery. Months of searching led the six-piece to their current headquarters: a former silversmith mill located 15 minutes outside of West Philly.
"It was like a crazy person exploded in there," recalls bassist-singer Toby Leaman. A fine layer of red dust coated the entire space, which, he says, also held a collection of steel vats filled with "God knows what."
The rootsy, genre-mashing outfit took it upon themselves to transform the decaying foundry into a functional recording studio that could double as a home away from home for the band members. Construction began this past February and stretched into March, resulting in a multi-purpose unit that includes two bedrooms, two bathrooms, a common area, and an office, plus storage for tapes, tour gear, and tools.
One other amenity featured is the "B-Room," a no-frills nook where Dr. Dog recorded much of their upcoming, self-produced album, also dubbed B-Room.
"We fashioned it after early Motown, when Motown [Records] was still a basement," guitarist-singer Scott McMicken says of the intentionally run-down compartment. "The joke was you'd show up to the B-Room with a tie on and your hair slicked back and a cup of coffee. The general character of the place had this really endearing, workaday thing that we all found very soothing and funny."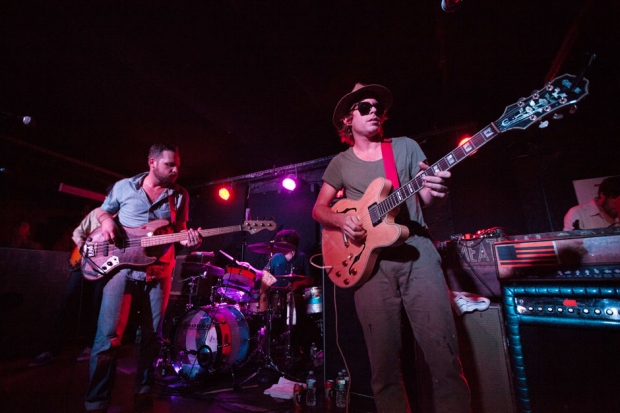 Dr. Dog's Motown-leanings also imbue B-Room — the group's eighth full-length and third for Anti- — with an undeniably soulful streak. Opening track "The Truth," with its effortless sway and aching melodies, stands as one of the most confident songs in the band's decade-plus career. It's a clear, naturalistic tribute and a marked departure from Dr. Dog's earlier, studio effects-laden output.
"We're great live," Leaman says, explaining the decision to record a great deal of the 12-track album in full-band live takes. "Every other day for the past 10 years we've played a show, pretty much. There's no reason to not take advantage of that in the studio. For years we didn't take advantage of that and it was sort of getting to the point where it was just getting absurd and we would be overdubbing everything."
Due October 1, B-Room presents a simpler, more collaborative breed of Dr. Dog, following the lead of last year's Be the Void and Wild Race EP. On previous albums, Leaman and McMicken would deliver tunes and material to the rest of the group, and songs would be built from there, but the writing process loosened with B-Room, allowing for greater contributions from rhythm guitarist Frank McElroy, drummer Eric Slick, keyboardist Zach Miller, and multi-instrumentalist Dimitri Manos.
"There is nobody without a voice in the band," says Leaman. "There isn't some echelon of opinion. If somebody has an idea, nine times out of 10 it's probably a good idea."
Or, as in the case of relocating to a once defunct silversmith mill, it's a great idea.