For the first Brooklyn edition of the MTV Video Music Awards, SPIN was on the red carpet and inside the Barclays Center — posted up in our suit and tie. Let us show you a few things…that you couldn't see on the broadcast.
1. 'N SYNC had a real life Spinal Tap moment
After they said "Bye Bye Bye" to Justin, three of the other members of 'N SYNC descended onto the stage via the pneumatic platforms that had just brought them up. But the platform assigned to Chris Kirkpatrick didn't budge. He flailed around jokingly and ended up having to hop down one of the other open holes.
2. This was Justin's house…and definitely not One Direction's
"Let's see how loud you can get," Jimmy Fallon told the crowd, and it was no joke. Whenever someone said the words "Justin Timberlake," it was abject pandemonium in Barclays. And One Direction? It sounded like cheers on the broadcast, but we couldn't even hear them accept the "Best Song of the Summer" award over the roar of boos.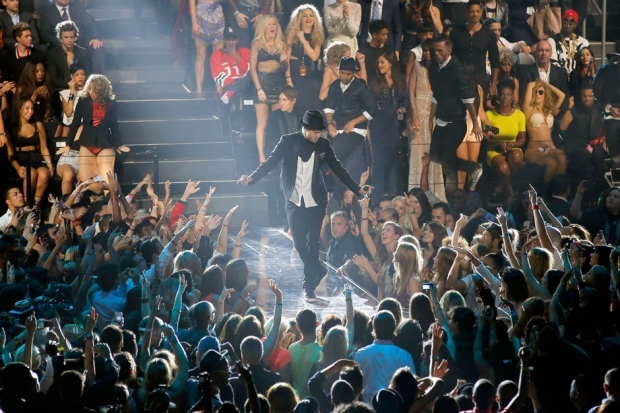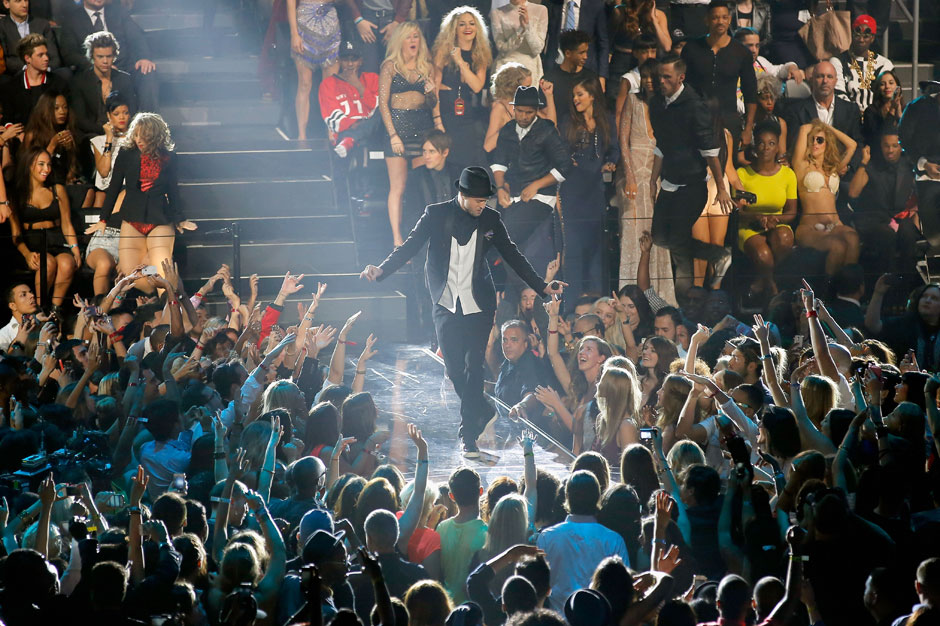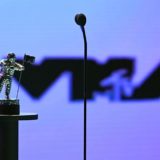 3. Kanye still loves you
That stern, stone-faced, shadowy Kanye West performance? He was all high-fives with the crowd when they went to commercial.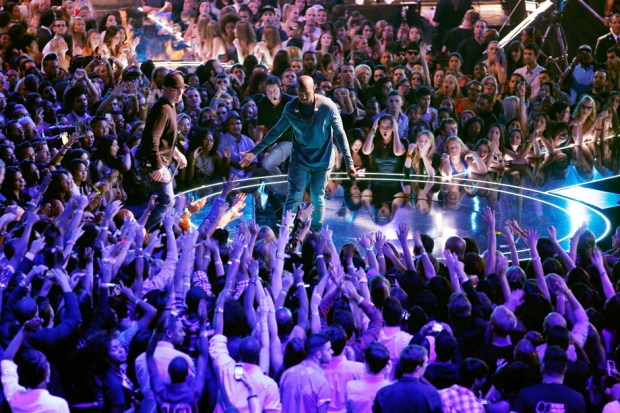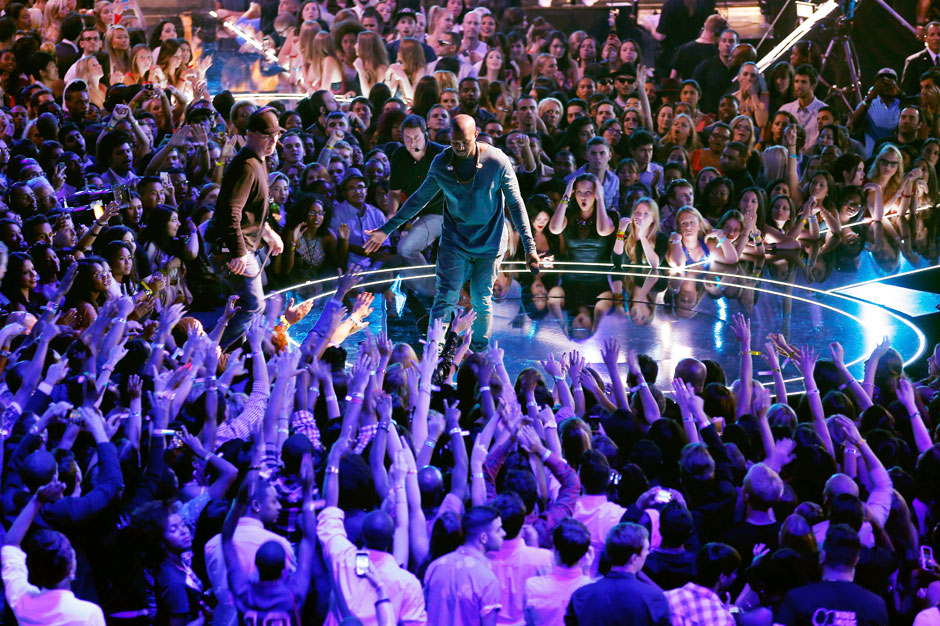 4. If A$AP Rocky's speech looked unrehearsed, it's because it was
Pretty Flacko caught a little bit of Twitty flak for a rambling speech where he promoted the A$AP Ferg record and supported gay rights — albeit with a hand gesture that made sure to separate himself from out-and-proud basketball star Jason Collins. If it all seemed a little off-the-cuff, well, it was. "I don't even know nothing about my presenting duties yet, you know, I'mma just get there and do the damn thing," he said on the red carpet. "I don't know nothing about what I'm gonna say."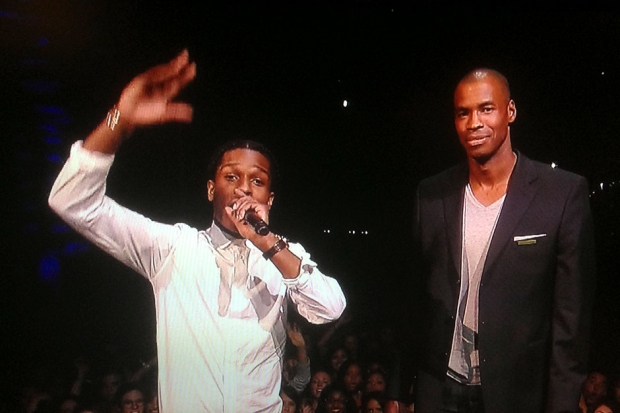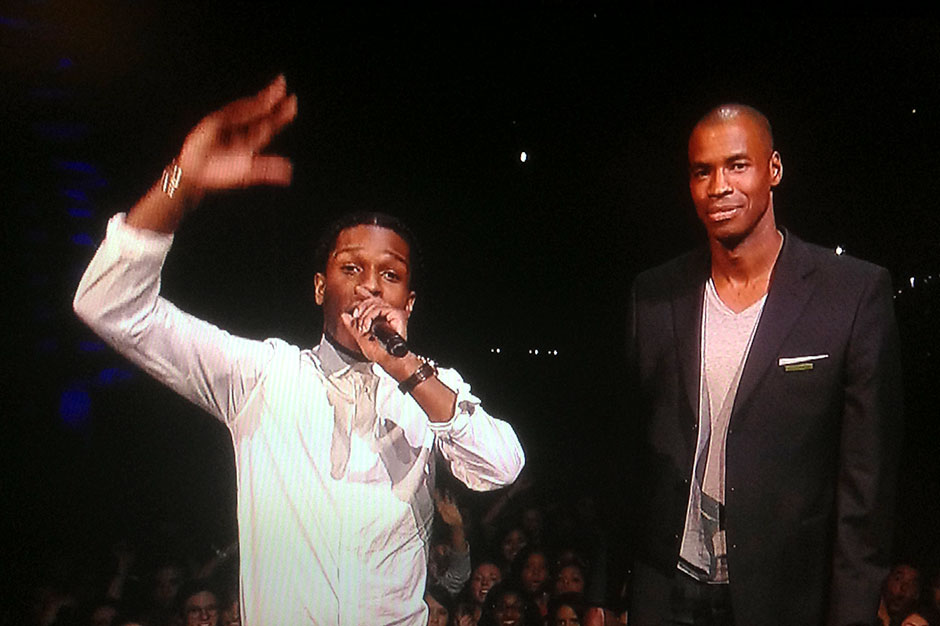 5. DJ Cassidy, the event's house musician, had limitations — and not the ones you'd expect
Said Cassidy: "The hardest part about anticipating what I was going to play tonight was not being able to play any of the songs that are going to be performed tonight. So, I can't play "Blurred Lines." It was really hard to not play my favorite songs from last year and still come up with ways to bridge the gaps and keep the party going." One thing you could hear Cassidy spinning both before the ceremony and during commercials were songs with swearing intact — presumably since they weren't gonna make it to air, but it still had the aura of risk. He yelled out the "you'd be in Paris getting fucked-up too" part of "Niggas in Paris" and left in the "all my real live niggas throw your hands up" from that Crooklyn Clan "Benjamins" mix. He even played the Buggles' "Video Killed the Radio Star" — i.e. the first video broadcast on MTV back in 1981 — probably because he couldn't resist. It was blended into Icona Pop, by the way.
6. At some point, Sheryl Crow secretly won "Video of the Year"
As press was being herded through Barclays, we could hear dress rehearsal going on inside. After Joseph Gordon-Levitt (or someone standing in for Joseph Gordon-Levitt) read the list of nominees for "Video of the Year," the practice winner was announced: "Sheryl Crooooooow"
7. Two dudes tried to crash the red carpet by saying they were with Vibe
Two very dapper gentleman insisted they were there to cover the event for SPIN sister publication Vibe. One, frantically using a cell phone, insisted they were on assignment for "Regina Louise" — a name that doesn't exist anywhere on the Vibe masthead. Guys, at least say you know Quincy! They were very promptly and brusquely escorted off. Said the MTV publicist who shooed 'em away: "I haven't had that happen in eight years."
8. Eric André remained really, really dedicated to a Twitter joke.
For days, SPIN's favorite guerilla comedian had been posting Tweets and one ridiculous YouTube video in hopes of haranguing MTV into letting him host the ultimately hostless VMAs. He stayed dedicated to the gag, showing up in an all-white suit, Flavor Flav top hat, Halloween sunglasses, and a huge blue ribbon that said HOST. "They never responded, but no news is good news," he said. "I just took that as a soft 'yes.' Or I might just be part of the 'N SYNC reunion, who knows." This was his first trip down a red carpet this size ("Adult Swim doesn't have red carpets.") and he says the response wasn't exactly like he was Ed Sheeran: "I've never seen more cameras point to the ground when I've entered a place."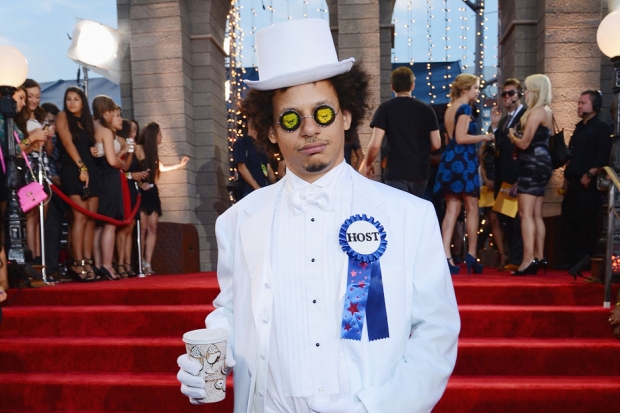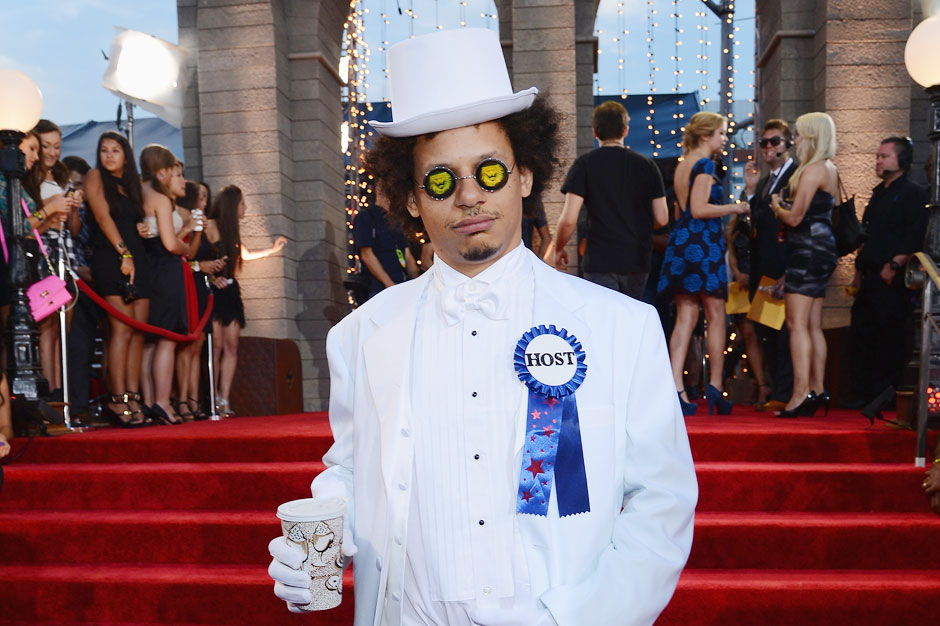 9. Everybody loves Whitney
Though she only snagged one Moonman in her illustrious career, Whitney Houston got the only sing-along moment besides Drake's tossing the mic to the crowd to say "Give a fuck about you." DJ Cassidy (or, more likely, the soundmen) cut the music during a spin through "I Wanna Dance with Somebody," and the whole audience finished for him.
10, RiFF RaFF was there — and stone-cold sober
For the second year, human trending topic RiFF RaFF resumed his red-carpet-correspondent duties for MTV Internet house of mirrors Weird Vibes. The most stressful part of his job? "Not being able to drink yet," he said. "I'm feeling sick though from yesterday, I drank too much. Just drank too much and I had to get to the airport at 4 a.m. I just basically got into town. Sat down and had a little lobster bis-ket. I don't even know how to pronounce it. Lobster bis-kay or something? Yeah, lobster bisque." So when does the party start for Rap Game Kurt Loder? "As soon as my body tells me. Right now, my liver is like, 'No, not right now.'"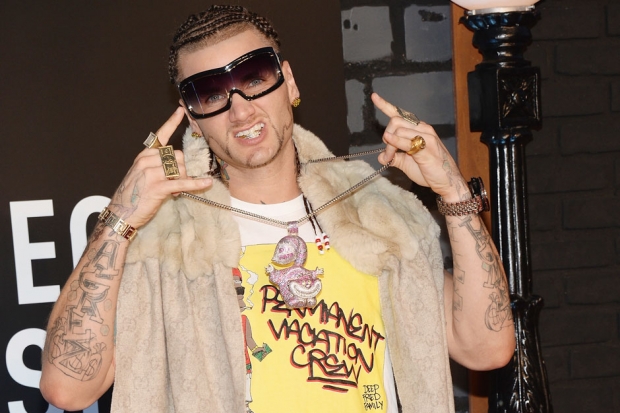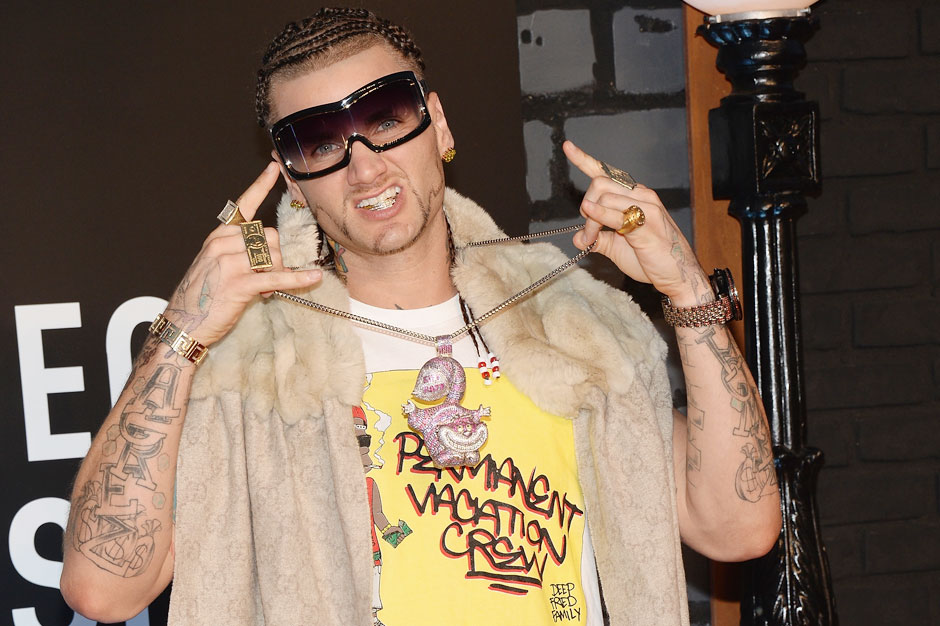 11. Wallpaper. pissed in an SUV last night
Though dance-pop snarkbots Wallpaper. weren't nominated, frontman Ricky Reed was cruising the red carpet with no apparent nervousness. "I feel relieved, I feel relaxed, comfortable — unlike I did 10 minutes ago," says Reed. "Because I jumped into the back of my SUV that we cruised up here in, I had like a really tall Starbucks green tea that had just a little green tea left, and I took the mini-bar Patrón, and we were in traffic and I was just drinking this the whole time. So, you know, I jumped in the back of this SUV, fill up this water bottle, relieve myself, and now I feel fit for interviews." So, how did Reed dispose of the water bottle? "Disp—," he laughs. "It's in the poor guy's escalade. He's gonna find it later."