Rave is the new "rave" and HARD Summer proves it. Back when the Los Angeles electronic music fest shared turf with Electric Daisy Carnival (which would be Rave™, to be fair), founder Gary Richards avoided association with that four-letter word like the plague. His music would be harder — heavy techno, nasty electro, dirty dubstep, noisy rap — and raver accoutrements like furry boots, candy bracelets, and tiny backpacks were discouraged or banned outright. But EDC left town, leaving a palpable local lack, and another acronym arrived: EDM, or "electronic dance music," which, though hardly a genre, has wound up being exactly the shoehorn these events needed in order to wiggle their way into broad American acceptance.
But at HARD Summer 2013 — Saturday, August 3 to Sunday, August 4 at the city's State Historic Park — the attendees knew who they were, and it wasn't "EDM fans." They were frat boys who wanted to fist-pump, and twinks who wanted to twerk, and babes wearing tutus with corsets, or pasties with neon, or black eyeliner with JNCOs whose cuffs were large enough to swallow a Golden Retriever whole. Some dressed up as Finn and Jake from Adventure Time. One dude wore a shirt that said "EDM MY ASS." Another read "Eat, Sleep, Rave, Repeat." These were people who wanted to be served incessant beats while gyrating their way to a sweatricity-conducted, possibly drug-addled collective consciousness. In a word: ravers. But it's okay. We're ready for them, again, at last.
It's fitting that the aforementioned T-shirt borrowed its motto from the title of Fatboy Slim's 2013 return single. Though Norman Cook wasn't in the house, his '90s loomed large over the field. There was the old-school breakbeat glitch of Bassnectar (an O.G. in his own right) and nods to happy hardcore in the high-energy retro-rave of Jerome LOL. There was the resurgence of house music in a dozen different strains: Disclosure's live R&B-suffused approach, Julio Bashmore's funky minimalism, Ryan Hemsworth's gooey trap-wave, and Eats Everything's busy beats. But the formerly über-hip electro auteurs of Ed Banger were confined to their own Sunday stage (Mr. Oizo was a mindfuck, Breakbot did Daft Punk, and Justice … DJed). And dubstep was all but absent.
It speaks volumes that Skrillex was there playing brutal techno and acid house with Boys Noize under their Dog Blood guise rather than blasting us with face-rippling waves of futuristic robot skronk. And while there were the more celestial strains from electronica's bleeding left edge — Flying Lotus and XXYYXX, mainly — the most consistent nod to newness came from the purveyors of trap. RL Grime drew a huge crowd on Saturday afternoon and repaid the kindness by cranking out hi-hat-heavy reworkings of French Montana and Yo! Majesty while GIF-like images of flaming crypts were projected above. TNGHT had one of the most memorable and visceral sets of the fest, topping off their bleak-banging shadow music with an edit of their Yeezus track, "Blood on the Leaves." Also, Bauuer slayed. Really. He was great.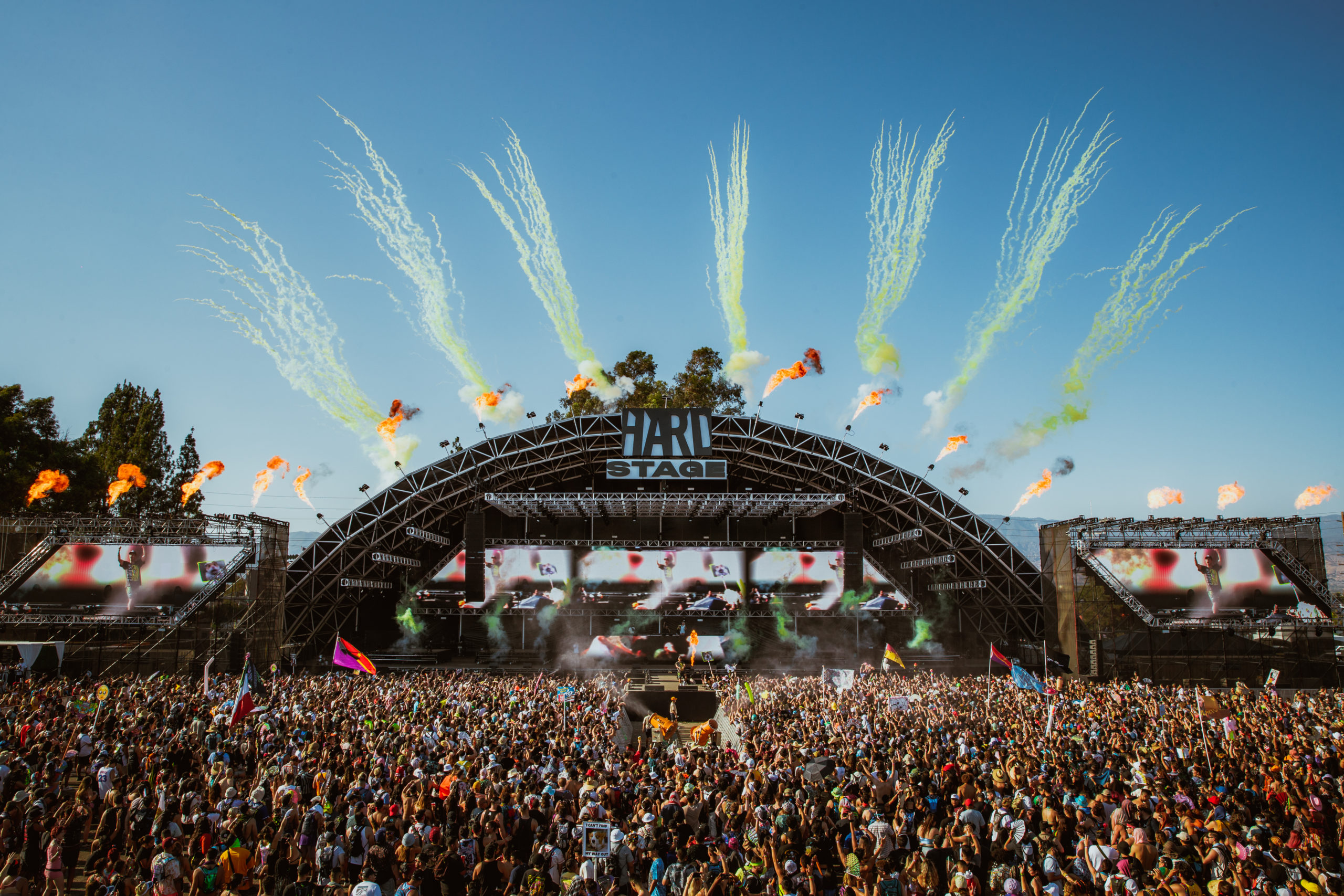 Meanwhile, 2 Chainz held the distinction of actually having spent time in said trap, and he let us know on "Crack": "Started from the trap, now I rap," he rhymed with typical glee. He then told us that he felt "like we developed a relationship" during his set, and closed with a highly relatable message: "Look at you / Now look at us / All my niggas look rich as fuck." Ever the showman, he tossed his mike over his shoulder before swaggering offstage. In the live department, he was matched by the shrill cyber-punk insanity of Crystal Castles (Alice Glass sung standing on her fans' shoulders) and also by the technicolor synthesized psych-pop of Empire of the Sun (Luke Steele destroyed his guitar after a mighty solo). Kill the Noise is fierce enough to fake it.
But Dillon Francis deserves a special shout-out for not being afraid to share his feelings in real time. The moombahton disrupter got a little choked up at the end of his set. As he cued up Notorious B.I.G.'s "Juicy," he explained that he felt as wide-eyed as Biggie on the song. "L.A., I love you," he stammered. "This is my hometown. You mean so much to me it's like … I can't even explain." He caught his breath. "I've played here four years in a row, and this is seriously one of the most special moments of my life." He then thanked all of the audience members who'd blown up his face and affixed it to cardboard before hitting play. "It was all a dream," the song began, and the same could be said for the feel of HARD … if our ears weren't still ringing.