In his silver screen pursuits Emile Hirsch, 28, has done everything from roughin' it in Into the Wild to scooting around the track in Speed Racer. In the upcoming Prince Avalanche, directed by David Gordon Green and in theaters August 9, Hirsch gets to chill out a bit, playing the foil to Paul Rudd in the comedy about two mismatched Texas highway line painters. Hirsch recently phoned SPIN after finishing up a run around his uncle's farm in Nashville, where the warm breeze gave his hair what the actor described as a "very elegant jog look." Read on as the California native discusses the music of his life.
Do you have a playlist you listen to while you run?
Well, my iPod broke — one too many times through the washing machine, I guess. So I've been using my phone and today it would only play these two Peter Gabriel songs for some reason, [a cover of David Bowie's] "Heroes" and [a cover of Paul Simon's] "The Boy In The Bubble." Usually I'll get into some Daft Punk or The Beach Boys' Sounds of Summer. One of my favorite things to run to is Hans Zimmer's The Thin Red Line score. There's this nine-minute song called "Journey to the Line" and it's this epic, sweeping, mega song. It's so great.
What was the last concert you went to?
I saw Dido at a little listening party in Hollywood. She had some badass songs.
When you were growing up was there any music you wanted to listen to that your parents objected to?
I had to haggle with my mom to listen to Snoop Doggy Dogg's Doggystyle. It was that album and Green Day's Dookie. I was around nine so those were two albums that were my first adult music. I remember singing along to "Gin and Juice" and I didn't even know what the words meant. When he says, "I've got a pocketful of rubbers and my homeboys do too," I remember one time my mom asking me if I knew what he was even rapping about. I was like, "Yeah, mom. He's saying rebels like Star Wars people. He has them in his pocket."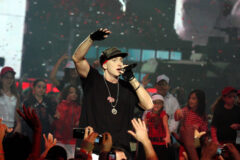 Did that story cut it with her?
I guess so, I was just a little kid and I was always singing or rapping in the car. I always liked to rap and started freestyling in middle school. One time, in high school we had this rap Olympics. Every MC wanted to take me down because I was the only white kid in the competition so I had to flow against like five different people at once because they all wanted to get their shot at me. Somehow all of the kids watching ended up rooting for me because I was this underdog. I started pulling through and dropped a couple solid punch lines and the crowd went nuts.
Please tell me you remember one of your lines.
Something like, "You think I'm unstable teetering on the fence? / Look at your dumb ass, you can't add up two cents." It was pretty juvenile.
If you were putting together your own summer festival and you could put anyone on it, living or dead, what would your lineup be?
I'd want some Jimi Hendrix, Nirvana, and the Doors. I'd also want Beethoven and Mozart, some really old guys. Then throw in some Luciano Pavarotti.
So you'd have some very interesting fan sections coming together.
Yeah, well fuck the fans. Fans can be so specific in sticking to just one genre of music. I don't only eat hamburgers, you know? I go to different restaurants all the time. I try different cuisine. A lot of people end up pigeonholing themselves by only listening to one genre of music. I guess if you can do that it's admirable somehow. I just think you should appreciate other genres of music and not be such a tight-ass that you can't break out of listening to just one thing.
What's some music that's helped you over a break-up or hard time?
I think Elliot Smith and Nirvana are perfect for those times. Eminem is too. Elliot Smith for when you're really forlorn and like, "The world sucks." Nirvana's for when you're like, "Fuck the world!" Then Eminem for when you're like, "Fuck her!"
Do you have a go-to karaoke song?
I think Kelis' "Milkshake" is a really fun karaoke song. I'll do anything that makes me sound as awful and ridiculous as possible, but with that one I can get moving these thighs and shaking this ass.