This story was originally published in the June 1993 issue of SPIN magazine
Sitting on a fallen tree on a small island in the middle of a frozen Minneapolis lake, Bob Stinson is a shaky defense for the rock life-style. Heineken propped up in the snow, thrift-store suit jacket pulled tight against the ten-degree cold, he blows his nose into the wind, belches, and shivers. An unrepentant alcoholic for ten-plus years, Bob insisted that we buy a six-pack and do the interview out here, near where the speedboats race in the summer. "It's completely untouched by screw-ups," he marvels, blood-shot blue eyes squinting into a bright midday sky.
Still best known as an ex-Replacements guitarist more than six years after being fired from the band he started in his mom's house, Bob is harshly defined by the past. Every other Replacement, including his replacement, guitarist Bob "Slim" Dunlap, and Bob's half-brother, bassist Tommy (who refused to be interviewed for this story), has released, or will soon release, an album this year. Dunlap, The Old New Me; Tommy, Friday Night Is Killing Me, Bash & Pop's debut; ex-drummer Chris Mars, 75% Less Fat, his second solo album; and ex-singer-songwriter Paul Westerberg (who also refused to be interviewed), 14 Songs, his first solo outing. Meanwhile, Bob, 33 and holding on, is an unemployed cook, divorced, killing time in the Bleeding Hearts, a youthfully Stones-y bar band, and living in a dorm-style apartment wallpapered with rock posters (Jimmy Page, Ace Frehley) and Madonna pin-ups. A pink dress, a relic of Replacements past, hangs on a broken mike stand.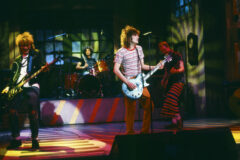 Long before Kurt Cobain's bank card became an indie-rock talisman, the Replacements were self-destructively struggling with the postpunk myth of "selling out." While Nirvana's "Smells Like Teen Spirit" video effectively fetishized the band and its fans' alienation, the Replacements refused to even show their faces for their first video, 1985's "Bastards of Young" (instead, the camera shot their feet, nervously tapping). The band flaunted its volatile dynamic. Bob, a burly, gentle Yes fan who favored thrift-store frocks nicked from Captain Sensible, played Shakes the Clown to Westerberg's half-assed Pagliacci. Grinning like a vagrant crashing an office party, he would petulantly refuse to play a solo, then spew out some grossly beautiful racket that was equal parts Kiss babyfood-metal, Robert Quine art-mangle, and pure-pop trash. Westerberg-an aloof fuck-up much like Bob, would inevitably smirk, look away, and cigarette-rasp a heart-wrenching, no-future-in-frontin' chorus. His best songs ("Shiftless When Idle," "Color Me Impressed," "Kids Don't Follow," "Unsatisfied") scripted the self-deprecating middle-class vulnerability of the '80s just as sharply as Dylan sketched the pretentious middle-class dreams of the '60s. Tommy, 11 when he joined, struck airborne rock poses and thumped punkily, flashing his I'm-too-young-to-know-better glance at college girls. Mars, a dead ringer for an ABC After School Special "loner," hunched over his drums, slight frame pounding away like somebody was chasing him. There was never much tawdry glamour with the Replacements; just raw nerves.
But as boredom and fear of semi-fame crept up on the band, they more often sputtered through a schlock-block of stunted covers ("Detroit Rock City," "Smokin' in the Boys' Room," "Cat Scratch Fever," etc.) like janitors throwing a smoke bomb down the toilet. Night after night, they heckled themselves: It's a filthy job, but somebody's gotta screw it up. And Bob, the band's most recklessly troubled member, became a symbol of how rock dangles redemption, and then laughs in your face when it's snatched away.
He is offhandedly brutal about his risks and disappointments. "You know, I'd really like to meet myself sometime. I'd probably beat the shit out of myself for letting opportunities go by," he says, adding, "I guess you could say I'm never pleased, or in Paul's words, I'm unsatisfied." More problematically, he rambles on about his life's almost-clownish misery. "It's like trying to commit suicide. The bigger the gun, the less likely you are to make it happen. I mean, I put a gun to my head, but I'm still alive. I don't have a problem with that."
It's almost as if Bob's begging someone to tell him he's full of shit. "You know, he does play the tragic thing up," says longtime friend Terry Katzman, the Replacements' original soundman and owner of Garage D'Or Records in Minneapolis. "He's a true rock'n'roll personality. He'll have little spells of lunacy… just stirring things up. That's part of what he's about. Still, I think he's a loving human being."
Neither terribly famous nor tragic ("Though I've seen him look pretty tragic," Katzman chuckles), Bob has muddled through a variety of bands since the Replacements, but nothing's clicked. Although he constantly downplays the Replacements as "not that big of a deal," what he's obviously missing is the tightly tangled, fraternal bond of the band — a sense of family, no matter how dysfunctional — and Westerberg's uncanny ability to write songs that were as much about Bob as himself. Now Bob awkwardly seeks out that bond everywhere, in other bands, in bars, in interviews, by reading rock bios and quoting and comparing himself to rock stars, particularly fellow mama's boy John Lennon. In the Bleeding Hearts, he tries to fit in, but he's more of a sideshow than a sideman, and it's hard to watch him cede the spotlight to his roommate, 23-year-old singer-songwriter Mike Leonard, a charmingly clueless rock brat who tosses back his retro-rooster-cut hair, belts out lines like "I was 21 / You were 17 / I was in love / You know what I mean," then yells, "Take it, Bobby!"
Bash & Pop's Friday night showcase with the Bleeding Hearts at the First Avenue & 7th Street Entry, a black-walled sunken rec-room of a club in downtown Minneapolis, was a minefield of emotions. And predictably, Bob stomped blindly, full speed ahead. During the opening set, when his mom, ex-wife Carleen, and sister Lonnie all walked in, Bob simply stopped playing. Waving crazily, resplendent in pinkish-orange hausfrau blouse and and burnt-orange pajama bottoms, he leaned over to give them a kiss. The rest of the band was bewildered as Bob scurried back and started screaming in Leonard's ear. Finally, as the song ended, Leonard understood and also gave Mrs. Stinson a kiss. However clumsily, Bob was trying to welcome Leonard into the family. Later, when Tommy and Bash & Pop tore into their single, "Loose Ends," Bob jumped up and down like an overgrown kid, hugging his mom from behind, and pumping his fist toward the stage. Like Tommy donning a dress in the video for the song, it was almost as touching as it was bizarre.
The Stinson family definitely was "no Leave It to Beaver," as Bob puts it. Mom, Anita, was an alcoholic throughout his childhood. A longtime bartender at the Uptown, a popular rock-scene hangout within walking distance of Bob and Leonard's apartment, she's been sober for seven years. Bob (at the Uptown): "Mom, I need a rum and coke." Mom: "Need?" Bob: "Okay, I want a rum and coke." His father, an alcoholic who divorced Anita when Bob was two, has no contact with the family.
Tommy's dad, his mother's longtime boyfriend, is dead. Neither son made it to high school. Bob was pulled out of ninth grade for being "incorrigible and self-destructive," and went through the entire juvenile system. "As a matter of fact, the last group home I was at was where I learned to drink, get good drugs, and play guitar, all at the same time," says Bob.
When Bob returned to the family, Tommy became his personal project. "He was throwing stones through gas station windows and shit like that and my mom said, 'Something's got to be done.'" So Bob bought his brother an amp and taught him how to play Yes' "Roundabout" and Peter Frampton's "Show Me the Way," and appointed him bass player of Dogbreath, his and Chris Mars' first band. "God, I was so impressed," says Bob. "I mean, I made him cry a couple of times, throwing bottles and speakers at him, but when he caught on, he surpassed me, I mean, his happiness, not his talent, of course." Eventually, Tommy left school, in the ninth grade also, to join the Replacements full-time. The Stinson brothers have coexisted uneasily — sometimes not communicating for a year at a time — since Bob was dumped from the Replacements in 1986, reportedly for excessive drug use and his unwillingness (or inability) to learn the more "mature" material being written by Westerberg. This past year, though, the relationship got its biggest jolt when Bob went into a coma and almost died after a neglected tooth infection spread into his nervous system. "Same thing that Jim Henson of The Muppets had!" he says, laughing devilishly. Tommy, preoccupied with recording the Bash & Pop album, never visited the hospital, instead sending his brother a copy of the book Stairway to Heaven: Led Zeppelin Uncensored. "Beside all the shots that got me high every three hours — the Demerol and blah blah blah — I'd have to say that the Led Zeppelin book helped me through more than anything," says Bob. "[Tommy] was doing his record, and he was, um, how can I put this nicely, I don't think he could come to terms with the fact that I was going to kick the bucket, and that scared the hell out of him, to be honest." Letting the Bleeding Hearts, relative unknowns, open the show for Bash & Pop at the Entry was a thinly disguised peace offering from Tommy to Bob.
But some wounds never heal. And family and friends express uncannily similar frustrations with both siblings.
"Tom is Tom," says Katzman. "I feel real sad for him and Bob that they haven't stayed in touch. I think Tom will be sorry for that someday. I feel like he's disassociated himself. He's moving to L.A., he's separated from his wife. But hey, give the guy a break. He was playing the bass with the Replacements when he was 11. Its remarkable he's still around."
"You just can't change people," says Mars. "But it's interesting about Bob. He's very smart, he's just so different. He says stuff that other people think, but are afraid to say…I don't know if it's this rock-casualty thing. I think it's a personality thing, although something like the Replacements can really affect your personality."
Expectations for the Replacements raged after 1984's Let It Be — a perfectly torn flannel shirt of '60s garage-pop, '70s blues-metal, and '80s hardcore. As did doubts about Bob. Westerberg told Musician in February 1989:"[Bob] believed the image we played with onstage. Bob thought that was the Replacements. He didn't understand, 'Oh, we gotta play some music, too. We gotta do something.'" Here was the readily embraced mythology: Bob was a balls-to-the-wall slob holding back the band's aesthetic development. But what Bob embodied, and what Westerberg would not admit (except in his songs), was a specifically postpunk burden of truth. Like it or not, the Replacements' brilliance became noosed up with their pathos. They rocked because they felt pathetic. But then they still felt pathetic, so Westerberg's aching ballads about stunted hopes were even more poignant. After Bob was gone, that dynamic was lost.
"It was never the same after he left," says Mars. "I remember in Detroit, somebody got together like 1,000 cardboard cut-outs of Bob's face for the show and passed them around for everybody to put on, including Slim. It's like they were protesting, they wanted Bob back. That was a great night I missed him."
"Yeah, we had our image, and then when I left, the Replacements were like a body without a face," says Bob with his usual bluntness.
But Westerberg was spooked that the band was being pigeonholed as out-of-control boobs. So he contrived a reality for outsiders in which Bob was the out-of-control boob. Which wasn't too difficult, since Bob was drunk, high, or in a dress most of the time (the cover of 1985's The Shit Hits the Fans live cassette was a hilarious drawing by Mars of Bob as a barber, beer in one hand, clippers in the other, and a sign above the chair which read: "Asylum Cut $20… or lines"). But Westerberg's fatal contradiction was that he made the argument against Bob with a drink in his hand.
"Bob became the scapegoat, for whatever reason," says Mars, who was fired from the band in 1990. "Of course, he could've gone too far and killed himself. But if you say, 'Could Bob have died?' then you have to ask if any of us could have died. Funny thing was, after Bob left, it got worse with Tommy and Paul, and it was to the point where I was afraid that they wouldn't wake up the next day."
Supposedly, during the sessions for 1985's Tim, the band's major-label debut, the situation degenerated to the point that "Bob didn't have a clue," or so Westerberg told SPIN in April '89. "He didn't know the key of A from his left foot, so I'd sorta show him where to put his hands. 'Just kinda start there, Bob.'" After a European tour supporting Tim ended, Bob himself sensed the band was on the verge. "I remember he came to practice and said that he was sad, he didn't like himself for drinking, and just the state of the band," says Mars. "I think it was a plea to have some sort of camaraderie, to sit down and talk. You know, 'it's not only me who's fucked up, it's the band, it's the attitude.' But what can you do? We never talked about those things. It was almost sacred, this circus we had going."
Later in '86, about six months after he and Carleen were married, a court order put Bob in St. Mary's Rehabilitation Center for alcohol abuse treatment. "Bob hit me when he saw me talking to a guy at a party," says Carleen. "I'd never been hit before, and Bob had never laid a hand on me, but he was afraid that somebody was going to take me away from him. So I called his mom, we're really close, and she said he'd been diagnosed as psychotic when he was 12, and that nobody had done anything about it. The court sent him away as a condition of us staying married. But once he got in there, he made the decision to stay, and it worked, at first."
Shortly thereafter, Bob was playing on the stage at the Entry when the Replacements were doing five nights in a row. It turned out to be Bob's last gig with the band. "Paul came over with a bottle of champagne," Carleen says, "and he said to Bob, and I'll never forget this, he said, 'Either take a drink, motherfucker, or get off my stage.' It was the first time I'd seen Bob cry. He came home that night in tears, he didn't know what to do. He'd been completely dry for the 30-day program and the three weeks following. But after that night, Bob felt that no one liked him unless he was drunk."
Two weeks later, on a Saturday morning, Bob was sweeping up the First Avenue disco, where he worked to make extra money. Westerberg, very drunk, called up and explained that he'd been getting lectured for months by record executives in New York who'd indicated that they were fed up with Bob's behavior. "I don't think I can play with you anymore," Westerberg finally blurted. Bob murmured okay and hung up.
"After that, Bob started drinking again, and he's been drinking ever since, like he has some major death wish," says Carleen. "He sold all his guitars and amps, broke my guitar and bass [Carleen plays in a local band, My Uncle's Butt Trick]. We separated because we had a son by then and I didn't want Bob around him. It was just so frustrating. The constant abuse those guys in the Replacements were doing and then to try and clean up their image for the public and claim that they were a chemically free band now that Bob, their evil appendage, had been hacked off. Bob was not a wasted drunk when their relationship dissolved. In fact, it was the other way around…. He loved those guys so much that he actually trained Bob Dunlap, he taught him all his leads and all the songs. And how did they repay him? By trying to make him out to be some evil, codependent monster."
But Bob Stinson's travails with the Replacements pale in comparison to a relationship he's never even had the chance to get wrong. And that's with his four-year-old son Joey, a blond, blue-eyed Bob look-alike who was born without an immune system, and was not expected to live a week past delivery. Treated with an experimental drug used for AIDS and terminal cancer patients, Joey has never walked, only speaks a few words, and his medical costs run about $200,000 a year. His mental capacities, however, seem intact "if Joey lives and grows up, he's gonna be a real neat human," says Carleen. "He has a lot to teach the world. And all animosities aside, he has a lot to teach Bob, too."
But unless he's sober, Bob's not allowed to see his son. When Joey was hospitalized recently for a staph infection, Bob stayed dry and visited. But as soon as Joey got better, his father went back to a steady diet of 16-ounce Export malt liquors. Nothing, not Joey's illness, nor the threat of his own death, seems to jar Bob out of his cliched rock casualty rut.
As we trooped back across the frozen lake after our interview, Bob ducked under a bridge and slid out onto a section not covered with snow where he could see fish through the ice. I was afraid he was going to slip and fall butt-over-beer-bottles again, like he had earlier in the day on the sidewalk in front of his apartment, but he kept his balance, excitedly pointing toward a group of men seated in lawn chairs up ahead.
"Do you know what they're doing?" I nodded. "Oh man, I love ice fishing." Then, just as quickly as the fish darted under the ice, Bob's mind switched subjects. "Have you ever done heroin?"
Before I could answer, he continued. "Ever use a needle?" I shook my head no. "You can really get some good, cheap stuff around here. I don't really do it, but if you wanted to, we could get some and do it, you know, later, if you wanted." He almost sounded like he was asking me out on a date. And I didn't want to say no, because this was the first real gesture of well, I don't know, trust or friendship or something that Bob had extended. When I finally said no, I knew he felt like I was judging him.
"You know, my mom's really worried about Tommy," said Bob, without prompting. "It bothers me that Tommy does drugs and it bothers him that I do drugs. But we still get along all right."
Later, back in the hotel room, channel-surfing a sizable wave of depression, I suffered through Ugly Kid Joe's MTV version of "Cat's in the Cradle," the most maudlin father-son lament ever, and I thought of Bob, and felt like punching a hole in the wall. What the hell was he doing to himself and what was I doing here, pushing his buttons? What did we want from each other? I remember at one point Bob said that I seemed like more of a confused fan than a reporter, which was just about right, though I was more confused than anything else. But for the life of me, I can't figure out where that leaves him.