Jim MacPherson: I was really green. I'd only been in little tiny studios. This was my first real studio. I was blown away by how everything worked — how things sounded through those monster speakers at Coast. I was blown away by the whole experience.
Kelley Deal: The pretty part at the beginning of "No Aloha" was my first foray into using a lap steel. Andy [Taub] and Mark [Freegard], the producer — do you understand how patient they had to be? Any one of them could've done it so much faster than I was able to do it. Kim and everybody else spent the time with me, and understood that the way that I play it is different from the way she plays it and the way Andy would play it. There's something about somebody who doesn't know. They don't add any finesse, there's no affectation to their playing. That's something we really value sonically. It sounds authentic and genuine. For me, it was never about "Oh, I have all this virtuosity, but I'm just going to put it away and carve my own path." I never had that. I'm still just all right and it works for me.
Josephine Wiggs: Some things were smooth, because some things were very much worked out ahead of time, and they ended up almost identical to the demos we had already made [at Cro-Mag]. It was more of a struggle to get others to work. And some were very much more experimental, in that their final form was very much shaped by what happened in the studio. Like "New Year," for example, on the demo, the sections are reversed. It starts off with the fast part, and then all of a sudden someone realized it would sound better the other way around.
Kelley Deal: [Josephine] is fucking hard to please. Kim and I established a grading system. If something was "okay," we'd put an equals sign, if it was "all right," it was awesome in our vocabulary, and if it was "quite good," it was the best ever.
Josephine Wiggs: What Jim and I did had to happen first — to provide a foundation for everybody else to work over. Our role in it was more workmanlike. I was aware that this foundation we were creating, there would be a meta-layer of deconstruction and reconstruction going on above it. Which was a little bit — at the time, I found it slightly mystifying, because you only ever saw parts of it, you only ever saw little discrete aspects of it, and it wasn't until the whole thing came together at the end that anybody knew what it was that had happened. [But] I liked the fact that Kim was always looking for a way to refine something. And if she saw that you were suggesting a way of doing that, she was very open to it. She was putting the song first rather than her ego first. That was a very delightful experience, to work with someone like that.
Kim Deal: We were opening pianos and singing into [them] to get a cool sound. Pulling up Moogs, the double bass, having Josephine play that. Throwing cymbals out of buildings to try and make them crack, to make them sound better. We probably could've used a metal saw, but I didn't have one.
Andy Taub: Kim is a genius. That's how it worked. There was nothing too inconvenient for her to try. I remember her singing "Cannonball" in the bathroom. Kim and Kelly were in the bathroom, and all I could see were the lights flashing on and off while they were singing.
Carrie Bradley: Kim composes with air and electricity as much as with a guitar. The whole band was constantly engaged in discussing ideas on arrangements, dynamics, room sounds, string sounds, effects, amp choice, nuance, and energy. If something wasn't working, they turned the lights off, or changed rooms, or ran a lap. I remember trying to get the right take for "Drivin' on 9." It didn't come together until we were all kind of sweating, crowing here and there, dancing in place, pinned to our live stations like marionettes, our own little bittersweet concert. There was inclusiveness, a family spirit, even when the going got tough or frustrating.
Kim Deal: I didn't have a sound in mind for the record, but it is called Last Splash and there are a lot of under-the-water moments in it. It is kind of watery — it's strange. It's kind of funny, I never actually thought about that. Just the tremolo can sound like bubbles, and the "Cannonball" video, having me under water with the bubbles. It is funny.
Janet Billig-Rich: I think from the beginning "Cannonball" was just a fucking giant song — it sounded so unique, fun, and amazing. It sounded like the way ice cream on a hot summer day tastes. Perfect and refreshing.
Ivo Watts-Russell: I don't think there was ever another choice [for a single]. It's such an amazing bloody song, beautifully executed in terms of edits and sticking things on and the distorted aspect of it. If you wanted a track to represent the Breeders, it was that song. It wasn't because it was the most commercial. I think "Divine Hammer" was the most commercial song, the most obviously pretty and hooky and memorable.
Kim Deal: With "Cannonball," I remember I just really liked the riff. It's fun — it's super fun. It's hard to come up with fun things. I'm always coming up with Sabbath things because I'm a metal girl from Ohio. I used my older brother Kevin's harmonica microphone. A bullet mic. It had a quarter-inch I could plug into my Marshall.
Kelley Deal: I remember having to tape the strings [of my guitar] because it was so hard to play. I have to do that now, even. It's hard to play without extraneous string noise, and it's such a particular tone.
Jim MacPherson: I can remember putting huge packaging blankets over my bass drum. I think we might even have built a little box to make the kick sound bigger. For the intro to "Cannonball," I was doing all these stick configurations. I did like ten minutes worth of little stick intros. I would try something, and Kim would be like, "No, something else." Until finally she was like, "That's it!"
Josephine Wiggs: There's a whole micro-world of people on YouTube playing the "Cannonball" riff on the bass, and what's so hilarious about it is that nine out of ten of them are doing it wrong. Some of them are actually presenting it — they sit down on the edge of their bed, in front of their camera phone, and they say, "I'm going to play the 'Cannonball' riff for you now, and I've seen other people posting these, and there are so many of them getting it wrong, so I decided that I'm going to show you how to play it." And then they launch into it, and I'm sitting there thinking yeah, that's not right, either. It's a really long slide — I just didn't go quite far enough. And because I was the only person playing, I didn't realize I was playing the wrong note until the guitars came in — "Oh, I'm playing in the wrong key." So of course on the next riff, I adjusted it. It's hilariously deceptive, because you think it's gonna be one thing, and then all of a sudden it's something else. We all thought it sounded cool. We left it like that.
Kim Deal: We were on 4AD, so if we made a single, it was a promotional single. It wasn't like a Mariah Carey single. The label would service radio stations with it — college radio. It wasn't ever thought that it would be out as a single, it would just be serviced as a single. It starts with that incredible vocal feedback through the Marshall — of course, it's not meant for radio.
Ivo Watts-Russell: Kim's always been beautifully beyond my reach in terms of why she does something, or why a song sounds the way it does. I always put her in this category of thinking in a way that is different from most. Some people want an A&R person to speak with and talk about one song versus another, or where it should fit. I didn't do any of that stuff with Kim. I'm sure we spoke about releasing "Cannonball" as a single and following it with "Divine Hammer." But I doubt I had any influence.
By June of 1994, Last Splash had been decreed platinum, and its lead single, "Cannonball," had hit No. 33 on the Billboard Hot 100— a coup fueled in part by its video, which was co-directed by Spike Jonze and Sonic Youth's Kim Gordon, and aired incessantly on MTV. That summer, the band played the main stage at Lollapalooza, along with the Smashing Pumpkins, the Beastie Boys, L7, and Green Day.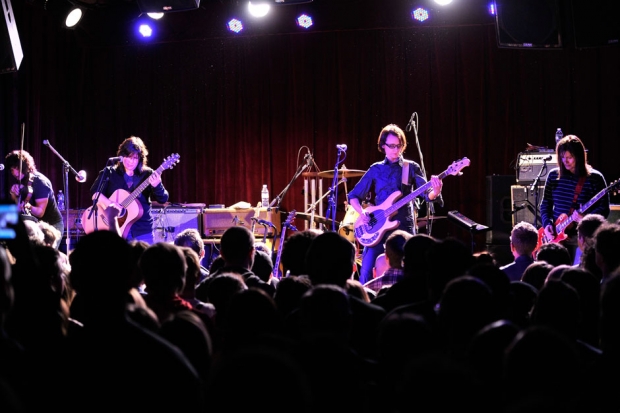 Kelley Deal: We never thought about the charts. Paula Abdul was on the charts. That was what was on the radio.
Josephine Wiggs: It took months for it to unfold. Nirvana asked us to go on tour again, and all of a sudden it was a completely different audience — people who were at those shows wouldn't have necessarily seen us, otherwise. It was a whole different demographic. We were playing San Antonio, Texas. We were in places we wouldn't have gotten to, playing to 12-year-olds.
Ivo Watts-Russell: Between [the Pixies'] Surfer Rosa in 1988 and Last Splash in 1993, in those five years, you had Nirvana. Everything was the same, except you now had something like MTV's Buzz Bin to take it to a completely different level, to get it to the masses.
Jim MacPherson: We had a Buzz clip on MTV. That was a huge deal. Now our video was on at noon. And 9 a.m. And every three or four hours. I remember seeing it on TV for the first time, sitting in my little apartment in Huber Heights, off Powell Road. There was a commercial with a bunch of old people doing old people dances — like sock-hop dancing — to "Cannonball."
Andy Taub: I was psyched. They were all such nice people and it was fun seeing them go on Conan or whatever.
John Slough: I do remember that I knew we weren't gonna see them for a while. We were wrapping up whatever tapes they needed [at the studio], and Kim was there. I gave her a big hug, and she had a look on her face like, "Here I go." She took a deep breath. I think she even said, "Wish me luck."
https://youtube.com/watch?v=PghwbxtcJo8
Josephine Wiggs: When "Cannonball" became huge, there was a shift in terms of audience. People thought that Last Splash was the first album the Breeders had made. In terms of fan mail, all of a sudden we were getting fan mail from people who were 14 years old, and this was the first album they had ever bought, and it was a huge, huge deal for them. It wasn't indie-rocker college students anymore; it was literally teenagers. I've got those letters — from people who could barely form words with a pencil. "My dad won't let me come and see your show because he says your music is the Devil's work."
Kim Deal: I feel kinda bad saying this, but I remember being in the mall — the Dayton mall — with mom and Kelley, and people recognized us. And I felt very uncomfortable with that. It was something that I didn't really like. That never happened with the Pixies. Hell, no. Dayton, Ohio? No way. We might get recognized if we went to a record store or to another show — like if I went to a Luscious Jackson show, maybe someone would recognize me. But at a mall in Dayton, Ohio? I felt somebody was clocking me. Like, oh wow, this is weird.
Kelley Deal: I remember going to lunch with my mom and dad and Kim. We went to the Olive Garden, which was near the mall. People were looking at us. Then people started clapping. We got a spontaneous round of applause at the Olive Garden!
The Breeders went on indefinite hiatus shortly after the Lollapalooza tour ended — almost a year after Last Splash was released. Then, in the fall of 1994, Kelley Deal was arrested for heroin possession; she entered rehab soon thereafter. Kim Deal and Jim MacPherson continued to perform together as the Amps (with bassist Luis Lerma and guitarist Nate Farley), releasing one album, Pacer, in 1995, but the Last Splash-era lineup of the Breeders wouldn't play together again until 2013.
Kim Deal: Last Splash came out at the end of the summer of '93, and we played constantly that year. We played through the winter. And then we played through the summer — that was Lollapalooza. Then I think we were exhausted. Because we'd also toured in '92, so we'd had two-and-a-half years of pretty much straight playing, touring, recording, and traveling. The idea that one regroups and does another record — that didn't happen.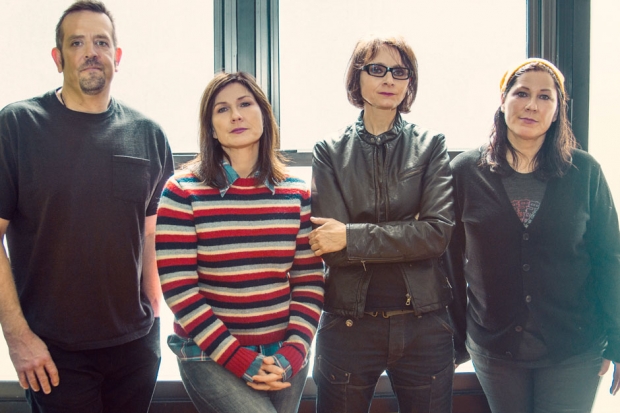 Josephine Wiggs: After the last Lollapalooza show, in September '94, we'd been touring for more than two years. In addition, Jim's second child had been born a week before Lollapalooza. So, perhaps with that in mind, we planned some time off. I was in L.A. that December and by chance bumped into the head of 4AD's U.S. office — he told me of Kelley's drug arrest.
Ivo Watts-Russell: [There were] personal "problems" that it's not my place to talk about. But Kim did make an Amps record and was constantly working.
Josephine Wiggs: I think it was in March, I was back in the U.K., when Kelley called me saying that Kim was getting together new material to record and that we should be in on it. When we had arranged to have a break, Kim had mentioned maybe doing a solo side project, instead of taking time off. I then contacted Kim to ask if it was a Breeders record, or a solo project — if it was the Breeders I'd fly over, but if she wanted to blow off steam, solo, I was totally supportive of that. The record she made was the Amps' Pacer, which she then spent the rest of the year touring.
Kim Deal: I don't know. I don't know if it was a conscious decision that we weren't gonna be playing with each other anymore. I don't think we were particularly angry with each other.
Jim MacPherson: I was bummed out that we couldn't get back together to do another record. I loved the Amps record and I loved recording it and touring it, but I was bummed out that there wasn't gonna be another Breeders record with Kelly and Josephine. It did seem like we had all this momentum. We had just gotten off the Lollapalooza tour. It seemed like everything was going so good, then I don't know what happened.
Josephine Wiggs: Kelley was in and out of rehab, and Kim's drug use was escalating. I was settled into New York, recording, co-producing, and touring with [the Luscious Jackson side project] Kostars, and recording a solo album [Bon Bon Lifestyle], both for Grand Royal, the Beastie Boys' label. Then I started to work with [Luscious Jackson keyboardist] Vivian Trimble on [the group] Dusty Trails. It wasn't really a "choice" to go on indefinite hiatus. It wasn't planned. It just happened.
Kim Deal: It was probably my bad. Maybe I should've…I don't know. I was still here in Dayton playing with Jim MacPherson, so I was still in the place where we practiced. Kelley had drug trouble — got busted. So she was busy with that stuff. And then I thought that I asked Josephine, and I thought she said, "Not this one, the next one." It's cool, whatever. She told a different interviewer person that she didn't say that in '95; she said that it was in '96 or something. Maybe I wanted to go solo. It was my intention to do a solo record. I knew everybody needed a break and I didn't want to bring all the acoustics with me [somewhere else to record]. I could have all the players that live in Dayton with me and then I can just play around the area when I wanted to. Not like a big deal. So me and her remember that differently.
[After more discussion of Last Splash recording minutiae, plus a period in Sausalito when they were mixing Last Splash and living on "freaking houseboats," the phone cuts out abruptly, but eventually comes back.]
Kim Deal: I'm going to have to get off the phone now. I'm going to wrap it up, but if you need anything else and have a burning desire, just call me back.
More Breeders in the SPIN Archives:
Our original 1993 review of Last Splash
Ordinary People: The Breeders on the Bus and Back Home (March 1994 profile)
Kim Deal: The Breeders Leader Gets Pissed (July 1995 cover story)