Slayer guitarist Jeff Hanneman has died at the age of 49. An announcement came from the band's publicist late Thursday (May 2) explaining that he suffered liver failure around 11 a.m. this morning while at a hospital near his Southern California home. Along with fellow ax-wielder Kerry King, Hanneman co-founded the legendary thrash-metal band in 1981. The dual guitarists were celebrated for their uncompromising style and jaw-dropping speed, as noted in SPIN's 100 Greatest Guitarists of All Time.
Hanneman had a health scare in early 2011 when he contracted flesh-eating disease from a spider bite on his arm. According to a post on the Slayer site from roughly a year ago, "There was talk that he might have to have his arm amputated, and we didn't know if he was going to pull through at all." A lengthy period of rehabilitation followed and though he played at the Big Four show in Indio, California, he wasn't able to rejoin his bandmates on the road for subsequent tours. It's unclear whether his passing is related.
Below, the full text of the announcement from the band's representative.
Slayer is devastated to inform that their bandmate and brother, Jeff Hanneman, passed away at about 11AM this morning near his Southern California home. He was 49. Hanneman was in an area hospital when he suffered liver failure. He is survived by his wife Kathy, his sister Kathy and his brothers Michael and Larry, and will be sorely missed.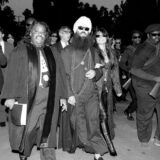 For a taste of the legendary Hanneman in action, revel in this fan-edited YouTube clip:
https://youtube.com/watch?v=nikDw2WOGWM%3Frel%3D0