Rock the Bells' 2013 lineup is packed with living talent, but it also includes two head-turning posthumous acts. This year's 10th anniversary bill features "original virtual performances" by Ol' Dirty Bastard and Eazy-E. It's unclear how closely those virtual incarnations will resemble the Tupac Shakur "hologram" that appeared at least year's Coachella, but at a press conference streaming online last night, festival founder Chang Weisberg singled out the 2Pac moment as an inspiration.
Ol' Dirty Bastard will appear with Wu-Tang Clan, while Eazy-E will manifest himself alongside Bone Thugs-N-Harmony. Other very-much-alive acts on the bill include all of Black Hippy (including Kendrick Lamar), Odd Future's Tyler, the Creator and Earl Sweatshirt, E-40 and Too $hort, Rakim, Danny Brown, Juicy J, Talib Kweli, Curren$y, Common, Brother Ali, Jhene Aiko, Flatbush Zombies, Hit-Boy, Kid Cudi, Tech N9ne, Jurassic Five, and more.
In other posthumous-reunion news, TLC are set to perform at Pennsylvania's Mixtape Fest on July 26 and 27, but they'll reportedly be using "projections of archival footage" rather than a HoloPac-style reanimation. Late last year, the company behind the 2Pac projection, Digital Domain Media Group, filed for bankruptcy.
No word yet on how Rock the Bells specifically will be bringing back the late rappers, but Eazy-E's widow, Tomica Wright, and ODB's mother, Cherry Jones, were present at last night's press conference to bless the proceedings. So that's a hugely encouraging sign.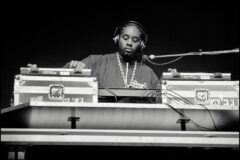 Rock the Bells festival dates:
September 7-8 – San Bernardino, CA @ San Manuel Amphitheater
September 14-15 – Mountain View, CA @ Shoreline Amphitheater
September 28-29 – Washington, DC @ Festival Grounds at RFK Stadium
October 4-5 – Rutherford, NJ @ Meadowlands