Kanye West knows the public relations value of gossip and controversy, and from the sound of it his new music will continue to generate plenty of both.
The talented producer/DJ Hudson Mohawke, who's one-half of exemplary trap-rave duo TNGHT and who contributed to West's 2012 G.O.O.D. Music track "Mercy," unveiled a couple of West-led tracks in a set at Poland's Free Form Festival last night. The visuals aren't much, and the audio is a bit distorted, but it's still a whole lot clearer than the brief snippets from West's performance at New York City's Met Ball last week.
The first video features West appearing to make light of Parkinson's disease ("We get this bitch shakin' like Parkinson's") and then taking what DDotOmen notes might be a shot at Kris Humphries, the husband of West's soon-to-be baby-mama Kim Kardashian ("Black dick in your spouse again"). The second clip repeats the phrase "new slaves" (a possible title?) and includes the ugly, stupid lyric, "I'd rather be a dick than a swallower." But it also refers to the segregation era and whites-only water fountains, juxtaposed with a reference to fashion designer Alexander Wang.
It's unclear if the songs are taken from West's "dark" new album, which will somehow involve West referring to himself as a God, plus collaborations with Daft Punk and potentially everyone from Skrillex and 2 Chainz to The-Dream and Azealia Banks. West might help shed more light on all this when he performs on Saturday Night Live this weekend. In the meantime, check out our list Bigger Than Jesus: 25 Rock Deities, Rap Messiahs, and Would-Be Golden Gods. We get the god we deserve.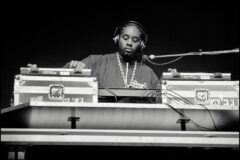 https://youtube.com/watch?v=Axvsgqh19PE%3Ffeature%3Dplayer_embedded
https://youtube.com/watch?v=3vRYLlm7K3o%3Ffeature%3Dplayer_embedded