SPIN Rating:
Release Date:
April 02, 2013
Label:
Little Record Company
How many bands' outtakes could serve as a primer? Rkives is not the sorely nonexistent sixth Rilo Kiley album, unfortunately, but as a career-spanning loose-ends wrap-up, it's sure a lot better than the next best thing. Revealing more to outsiders than, say, that entire Nirvana box set, it revels in the seemingly defunct L.A. pop greats' status as old-school virtuosos who turned the new school on.
There's no way to explain why Rilo Kiley were loved — yes, loved —without sounding like a bygone jerk. They played their instruments, oh yes they did. And not just good-student guitar architect Blake Sennett and powerhouse frontwoman Jenny Lewis. Premium pounder Jason Boesel graces Rkives' "It'll Get You There" with a car-factory whomp fitting of both Psychocandy and Kings of Leon, while Pierre de Reeder's bass adds concrete boots to the set's most irresistible track, "Runnin' Around." The leaders throw their sizable talent around, too: Sennett takes an incinerating solo on "Well, You Left" and tumbles through one of his most elegant chord sequences for "Let Me Back In," in which Lewis drunk-dials L.A., while her gospel turns on "Draggin' Around" and New Orleans vamping on "About the Moon" just make anyone who insists indie rock only discovered R&B last year look like an asshole.
Fans grew with this band, which never released a record on the same label and flamed out too quickly (they lived from 1999-2007, approximately) while never lacking for ideas. Justin Timberlake could learn about both Gloria Estefan and three-ways from "Dejalo" (off '07 career peak Under the Blacklight, and that wasn't even their first three-way song); just try and choose between the original and the awesome Too $hort remix included here (you need both). On "Well, You Left," they didn't waste a full horn section just because another record was complete without it.
Lewis' skills sharpened in public, not just because she was a child actress, but because her voice bloomed from a timid folkie into an American Idol finalist, with caustic narrative detail to match Warren Zevon, another of L.A.'s estranged exes. "I hope you don't think I make a habit of taking strange drives," she sings to a cowed duet partner on "I Remember You," while Sennett fingertaps his best "Marquee Moon." Her coyness was a gift you'd never call noncommittal or ambiguous — who else could've sold the "He's runnin' round takin' dirty pictures" line on "Runnin' Around"? (Maybe a Lana Del Rey who dallied with Slash instead of Axl.) That's followed by the second-most joyous song here: "All the Drugs."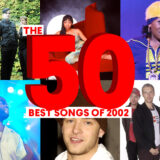 Being 77 minutes of outtakes, Rkives does lack the formal belt-cinch of their two best albums, Blacklight and 2004's More Adventurous (every Rilo album except 2001's Takeoffs and Landings was better than the one before, lest an old-guard Saddle Creek fan tell you otherwise). Going just by the evolution of Lewis' voice, the track list works somewhat backward chronologically, where less interesting grandiosities called "Emotional" and "American Wife" appear after track nine. Mini-opera "A Town Called Luckey" is probably one six-minute-plus track too many. And the closing inclusion of excellent 1999 debut single "The Frug" only serves as a sad reminder that excellent debut album Initial Friend remains puzzlingly out-of-print for those without a spare $200 to blow on eBay.
This set's most recent analogue is Stephin Merritt's revelatory Obscurities, which'd make a great home for the Martian-Casio demo of 2001's "Rest of My Life," were it not perfectly comfortable here: "For the rest of my life / I'm gonna search for someone just like you," Sennett sings. He's not talking about the most amazing band he'll ever play in. But you'll listen for clues.