Justin Timberlake made us wait seven years for The 20/20 Experience, his follow-up to 2006's classic FutureSex/LoveSounds, but it looks like the South By Southwest all-star is already prepping his next batch of songs for release later this year.
Roots drummer ?uestlove recently posted on an Okayplayer message board that JT will put out a second volume of The 20/20 Experience in November (via Rap Dose). "spoiler alert," ?uesto wrote. "20/20 Vol 2 comes out in nov. (10 songs now…..10 songs later= 20 vision)." So, yes, that means that after sharing a ten-track, 70-minute full-length, the former 'N SYNC star still has more material left.
The Late Night with Jimmy Fallon bandleader also shared his thoughts on the 20/20 project, writing that he admires Timberlake and producer Timbaland's willingness to work outside of pop's current parameters.
"i will say the album is OVERLY ambitious," ?uestlove wrote. "like a LOT of ideas crammed into one… i admire the balls it took to make this record. cause he coulda easily urshurd his work in and made diplo his teddy riley to 20/20's dangerous instead of sticking with timb's Quincy."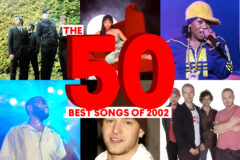 The Roots member/memoirist also drew a comparison between JT's "Suit & Tie" and funk legend James Brown's production work for R&B band Sly, Slick & Wicked, adding, "i like throwback Timb… so i was shocked he wasn't 4 on the flooring it like the timb of 2005 was doing. like these joints were straight up missy/magoo timb and justin said he wanted timb to 'get back in his real zone' even if it meant alienating the tweens born after 86 who never ever heard of the sly slick and wicked… but of course unless you got a master degree in soul-ology this won't mean shit to you."
Well, new JT means plenty to us.
https://youtube.com/watch?v=31j3rQxxjSo