See all our best live photos from SXSW 2013 here
5. Samantha Crain
Bungalow, Thirty Tigers Showcase, 8:00 p.m.
Samantha Crain will do what it takes to win new fans — including get into car accidents. Speaking from the small outdoor stage at Bungalow, the Oklahama singer-songwriter told a story about having a minor collision while she and her guitarist, bassist, and drummer were driving to Austin. Turns out that the woman in the other vehicle had the same destination, and wound up waving and cheering for Crain at a SXSW show earlier in the week. Thankfully, the silvery-voiced, raven-tressed singer has some more uplifting, less stressful methods for audience-building.
Singing songs taken mostly from this year's Kid Face, Crain delivered a raft of warm, homespun melodies, her voice glinting and gliding over her bandmates' acoustic guitar leads, upright bass thump, and ambling drums. She smiled as she sang about summers and scissortails (the Oklahoma state bird!), and strummed gently flowing, folkie chords, turning the noisy venue into something altogether more intimate and relaxed. The music felt so comfortably lived-in, and the smiling Crain's presence so welcoming, that it was impossible not to be charmed — just ask the woman with whom she exchanged insurance info. DAVID MARCHESE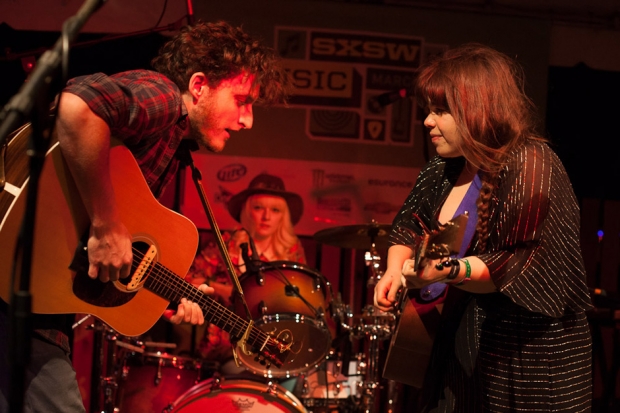 4. Haim
Stubb's, 11:00 p.m.
Haim bothered the hell out of us last night… only because they were so good. Playing immediately before Vampire Weekend, L.A. sisters Este, Danielle, and Alana Haim, on bass, guitar, and keyboards, respectively (they all sing; Dash Hutton is on drums), would howl a melody, detonate a riff, or bash out a rhythm that always felt difficult to place. Was it Heart's "Barracuda" that a galloping rocker early in the set reminded us of? Did one vocal line sound like a Pretenders song? At multiple points during the set, each sister would pound a snare drum positioned alongside their main instrument — the dramatic percussion breaks redolent of a Peter Gabriel track that was impossible to recall. And which Peter Green-era Fleetwood Mac song where they covering? (We eventually got that one: "Oh Well.") That Haim kept raising questions like those are a big part of why they were so impressive. Their arena-ready arrangements are so dynamic and precise, their melodies so sturdy, the playing so tough and clever, that the band somehow sounds as if they're covering modern rock standards that just happen to have not been hits yet. D.M.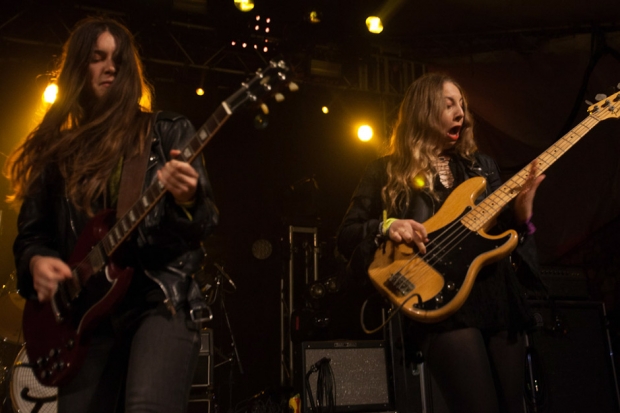 3. Vampire Weekend
Stubb's, 12:10 a.m.
Vampire Weekend are readying to release their new album, Modern Vampires of the City, in early May, but the crowd at Stubb's didn't seem like in much of a rush to hear any new material. The band's catalog of hits and fan favorites run deep, and their 90-minute set went by with ease. Vampire Weekend aren't exactly a big-tent band, but songs like "Oxford Comma" and "Giving Up the Gun" can play up as galvanizing singles in a context like this: a headlining set that nonetheless was capped at well under 1,000 people.
It was a fantastic set, but it always is. More importantly, they debuted two new songs. "Diane Young," the impending first single, an uptempo number with a soft, airy hook and "Ya Hey" (arguably the most Vampire Weekend song title of them all), a power ballad of sorts that edges up on "All the Things I've Done." The former sounded great, the jury might be out on the latter, and third new song, "Underachievers," the expertly crafted, Paul Simon-esque acoustic popper, already sounds like it will join the ranks of the band's biggest hits. JORDAN SARGENT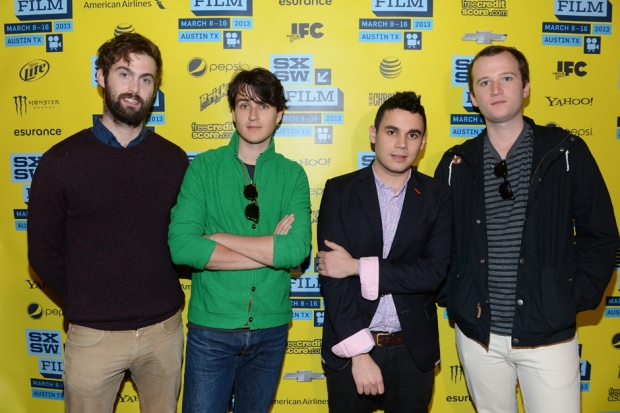 2. Justin Timberlake
Myspace Secret Show, 12:15 a.m.
Justin Timberlake dressed down for his Myspace secret show last night, which meant wearing a tuxedo T-shirt rather than the real thing. By the time he emerged at 12:15 a.m. to a horn fanfare, the crowd of 800 superfans and superconnected at the Coppertank Events Center — reminded how "lucky" we all were by the MC more times than there are JT solo albums — was primed by ?uestlove's DJ set of hits like Kanye West and Jay-Z's "Niggas in Paris" and Lil Wayne's "6 Foot 7 Foot." They wanted live hits.
And hits JT delivered from the outset, stepping suavely onto the stage in a fedora, acoustic guitar in hand, playing his 2002 single "Like I Love You" with his band, the Tennessee Kids. The guitar and 16-piece crew of bubbly, accomplished musicians were both functional and symbolic: They connote that Mr. Timberlake is grown (and sexy, duh), and a serious musician. The fact that he is so clearly both seems to have successfully ended debates about his authenticity and intentions before they even began.
Timberlake, a literal son of Memphis, has always been able to slip effortlessly into the world of hip-hop and evade the criticisms that dog most blue-eyed soul singers because he is one of the most gifted performers of our time. On Saturday, he reminded us he's one of our best dancers, fluidly gliding across the stage but eschewing choreography and backup dancers. He flipped the chilly synth smash "My Love" into a big-band jam. He transformed bitterly beautiful ballad "Cry Me a River" into a party record.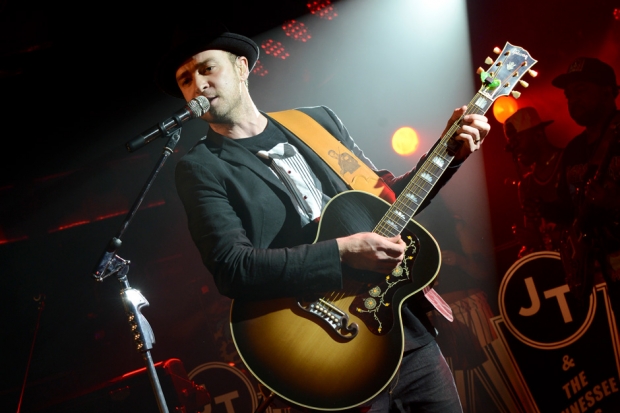 Then it was time for "new shit," as JT put it, from The 20/20 Experience, an album that has already divided fans and critics in its early days. The army of camera phones retreated for "Pusher Love Girl," an exceedingly sleek showcase for Timberlake's famous falsetto, and the equally gooey love song "That Girl." Neither track recalls the 22nd-century pop sensibility of his smash 2006 album, but both are FutureSex and LoveSounds.
Though the show was tailored for a small audience, Timberlake pulled out some of his old arena-show tricks (chugging a full drink and tossing the cup in the crowd), tossed the word "fuck" around, and played to the locals (relating a lengthy anecdote about Amy's Ice Cream). After a stellar acoustic arrangement of "What Goes Around… Comes Around," he launched into a crowd-pleasing end-run, transitioning the bass line of "FutureSex/LoveSound" into INXS's "Need You Tonight" with "Can I take you back, Austin?" The crowd roared for new single "Suit & Tie," and nearly rioted when he tipped his hat over his eyes for closer "SexyBack."
There were no guest appearances — the opportunity was there for T.I., who was in the neighborhood — though Timberlake nodded at both "Niggas in Paris" (a quick musical moment during "Cry Me a River") and Trinidad James (he was, for the record, sweating). Instead, Timberlake tried to spotlight his band whenever possible, bringing his guitarist and bassist up front and allowing the horns space for solos. He often turned back and grinned at his fellow musicians knowingly; he is one of them, and yet not one of them at all — he's a superstar on a level only a handful achieve each generation.
Right now, Timberlake shares that rarified air with one other singer — Beyoncé — and both are pop stars in the sense that their music is wildly popular. They're truly R&B stars, playing with convention in the the most vital genre of the moment. JT's 20/20 Experience will take listeners there, if they're willing to get on the soul train with him. As last night's frenzy made clear, JT is gifted at convincing nearly anyone to come along for the ride. CARYN GANZ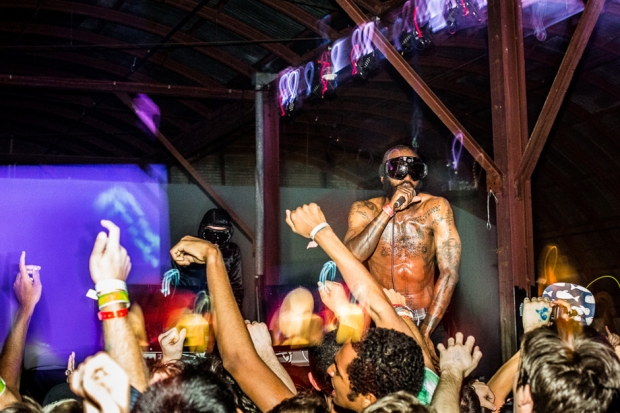 1. Death Grips
1100 Warehouse, Ray-Ban x Boiler Room, 12:45 a.m.
There's one very particular reason why Death Grips were SPIN's 2012 Artist of the Year — virtually everything they do is unexpected and boldly cathartic. On Saturday night, the twosome found themselves on one of the strangest bills of the week at one of the strangest venues. To start, the night's most anticipated act was teenaged Chicago rapper (and Internet debate topic) Chief Keef, who was just released on Thursday from a 60-day jail stint for violating his probation from a former drug-charge conviction. But Keef didn't show, and much of the crowd bailed from the vast venue, an airplane-hangar-ish space outfitted with cameras in order to live-stream the event, sponsored by Ray-Ban in conjunction with the Boiler Room, a famed London website that throws invite-only parties at secret locations featuring underground DJs, and then streams them online. But a whole new mob of people refilled the place for tremendous sets by an experimentally abrasive Mount Kimbie and a typically animated Lunice, who brought out guest rappers Flatbush Zombies and Mykki Blanco. But it was Death Grips, the former major-label shit-stirrers, who made the room their own. Performing on an in-the-round stage, MC Ride's mad-prophet rants were accompanied by a barrage of both digital beats from an elaborate stage set-up as well as live, Skyped-in(!) drums from the duo's driving force Zach Hill. It appeared that Hill himself was wearing some sort of camera, since anyone watching one of the many large video screens was beamed directly into the middle of his frenetically rattling kit. It was a wildly powerful gimmick, and along with Ride's gruff, code-red barks and incessant flailing, it created a scene of chaotically thrilling what-the-fuckness. Once Death Grips finally wrapped up, the room emptied again, but an entire new wave of (much younger) faces flooded in for Bauuer of "Harlem Shake" infamy. SXSW in 2013, it makes absolutely no linear or conventional sense whatsoever, and maybe that's its primary strength. CHARLES AARON