SPIN Rating:
Release Date:
March 18, 2013
Label:
Northern Spy
The animal scribbles, yarn-bomb towers, and neon hunks of noise-punk that epitomized 2003 were a punk-rock endgame: support-group skronk pushed to the furthest limits of melody and tone, until Wolf Eyes found themselves chasing black-vomit waterfalls onstage at Lollapalooza. Heretofore terrible sludge-wallop was recast as cartoon party music. The bands-across-America underground got one last network of artists touring in vans (or, in the case of Friends Forever, performing in vans), maybe the final indie-rock movement without its own Arcade Fire/Sleigh Bells/Salem "lookie what the Internet did" Cinderella story.
Of course, this accidental convergence of ex-hardcore kids and art-school mutants and reformed hippies was bound to fracture. After skree-bang's initial big burst, artists started exploring a love of techno beats (Carlos Giffoni, Prurient, Nate Young of Wolf Eyes), or got cozy and woozy in tape-damaged chill waves (James Ferraro of Skaters, Aaron Dilloway of Wolf Eyes), or successfully navigated the blogosphere (members of Thee Oh Sees, Death Grips, and Best Coast are all noise-scene veterans), or just stayed the gloopy, gloppy, super-sloppy Double Dare course (Black Dice, Sightings, Hair Police).
But ten years on, some of the scene's original architects are concurrently forging a bright new direction for punk's squiggly, squawky, pillow-fight moment. This year's new records from Foot Village (ex-Friends Forever, ex-Gang Wizard), Black Pus (mem. Lightning Bolt), and Pete Swanson (ex-Yellow Swans) all balance the cheerful and abrasive in ways that are more hypnotic than ever. If the sound of 2003 was a home-brewed take on the slapstick gnash of early Boredoms, then the sound of 2013 is a home-brewed take on the sun-gazing, optimistic uplift of late Boredoms.
Nowhere is that connection more apparent than the music of Los Angeles tribe Foot Village, a band whose four-drummer, two-megaphone, no-guitar lineup works like a loft-show version of the transcendent Boredoms wall-of-pound. Featuring former members of traveling parking-lot circus/fire hazard Friends Forever and no-fi bad-moon shouting contest Gang Wizard, they've been kicking around for about seven years, and over three albums, starting with 2007's Fuck the Future, they've specialized in an intentionally messy collision of doomsday drums and pep-rally chants — somewhere between Adam Ant, Flowers of Romance-era Public Image Ltd., and a post-apocalyptic marching band thirsty for blood and possibly friendship. They've either verged on chaos or dived straight into it. But their fourth album, Make Memories, is a hypermagically streamlined statement, tight from years of practice, produced to a sizzle at Portishead's Bristol studio, and stretching into spacey new territory with Beak>'s Matt Williams laying down an extra layer of atmospheric synth work.
Onetime masters of Butthole-centric three-minute tantrums (a song from 2009 barked, "Whenever you want! / You have the right to go pee!"), now they're magical mystery torturers on a quest to evoke and entrance. Make Memories leads with Foot Village's first-ever opus, a snaky 12-minute kraut-punk zone-out that never seems directionless, and closes with a six-minute séance called "The End of the World." On both, drums of war battle Crayola drones or haunting vibraphones atop Mt. Heart-Attack, while gallons of sticky prog textures and vocal harmonies relocate their percussive pulverization to blue and yellow purple hills.
The middle section of Make Memories, however, is just an amped-up version of Foot Village Classic, a mix of stampede-trample and cotton candy. In three-minute bursts, it's all fire-alarm cowbells, locomotive-ride cymbals, Sleigh Bells-gone-Jello-Biafra sing-song chants, and scream-alongs ready for a 11-year-old's first sip of Jolt Cola: "You are a rainbow!" "Every day is beautiful with our friends!" "Fuck all adults!" "Let's celebrate! Let's celebrate! Let's celebrate!" Sure, it's nostalgia for the simplicity of youth, but it's not going to ease you in like chillwave (or Animal Collective, for that matter). Instead Foot Village drag you kicking and screaming onto the trampoline and throw frosting in your hair.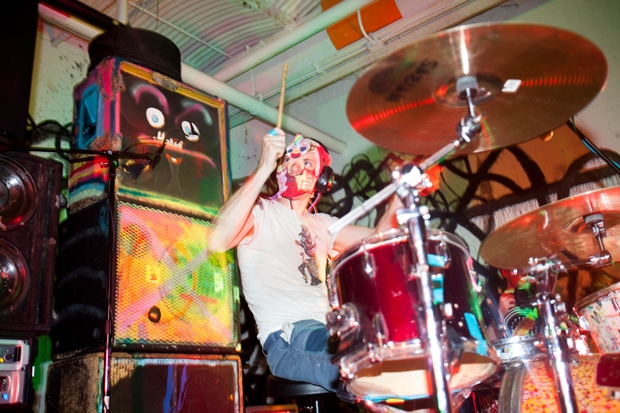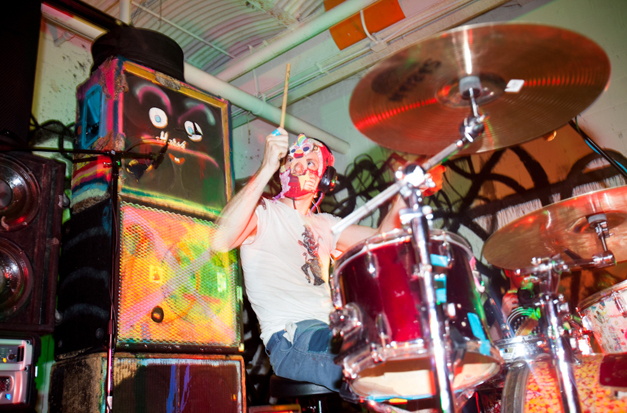 But if we're talking about shiny, happy, rainbow-obsessed drummers, then Lightning Bolt's decibel-pushing triathlete Brian Chippendale should own the conversation. He's the Papa Smurf of the noise-punk world, a Starburst bag flavored like Keith Moon and Jaki Liebezeit and a Stooges laser-light show. Lightning Bolt spent their first decade in a slow, deliberate crescendo towards classic FM hooks and more cuddly torrents of distortion, but his sideline under the name Black Pus always lurked in the background as something a little more undomesticated and untethered. A typical Black Pus release would feature TalkBoy-recorded-quality bursts of spastic drumming processed through effects, and hypothetically catchy jingles garbled through a mouthful of scum.
All My Relations, Chippendale's sixth solo record and first for Thrill Jockey, is easily his most nuanced and defined. It's the first time he's ever recorded with amps in separate rooms, and the kick drum sounds like a broken muffler in your bedroom. Obviously, the whole thing is fuller and fatter, and even though the project is usually just a one-man noise battalion (occasionally with overdubs), it sounds like a full band. Chippendale hasn't lost his pop center (a song off 2008's 4: All Aboard the Magic Pus sounded like INXS's "The One Thing"), and may have only gotten more playground giddy — for example, "Hear No Evil" kind of sounds like a loop-pedal version of "Frère Jacques." Shouting amid accidental dubstep noise drops and slime-time divebombs and pocket-calculator crumble, Relations plays like a thrashier version of krautrock, a bunch of motorcycle-revving nougat-and-caramel noise as a conduit for listening to dude pound away on a groove for seven minutes at a time.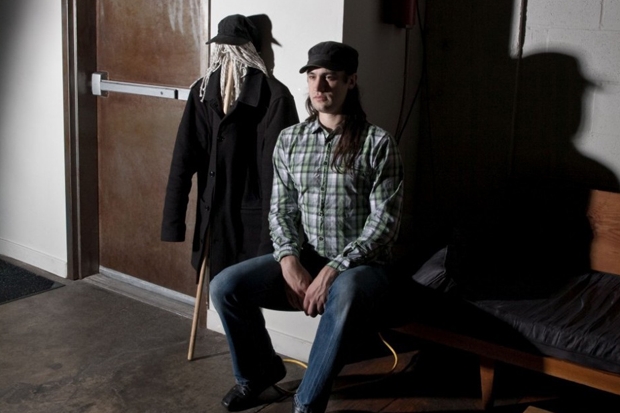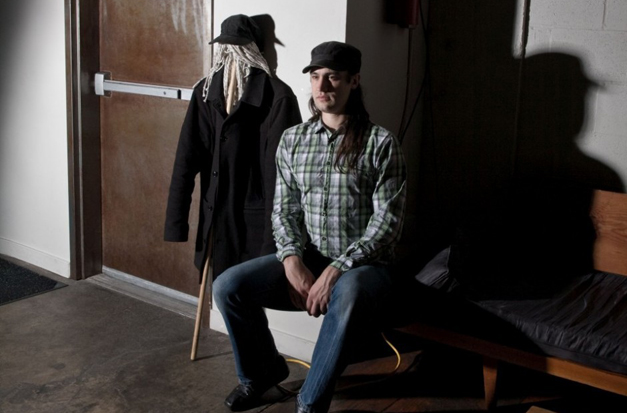 Pete Swanson's Punk Authority drowns itself in similar sounds, a wordless, melody-less, techno tragicomedy where bubbly squirts bump and grind and chatter and fart. It's haunting, lively, Autechre-headlining-the-Smell glitch-punk, heady electronic music played through the cheap pedals and frayed wires of '00s noise — Swanson cut his teeth in the decidedly more caustic drone duo Yellow Swans. The result is not as sunny as Black Dice, but certainly nowhere near as dour as the new wave of darkwave. Tracks like "C.O.P." or "Grounds for Arrest" start with a miasma of white noise, flickering VHS fuckery, and colon-cleansing sputter-beats. But then a cheery, cheeky, innocent, one-finger Casio melody struggles to swing itself over the monkey bars, scary monsters refusing to defeat the nice sprites.
This is misshapen EDM (though "D" at your own peril), decidedly of the moment but sui generis all at once: Swanson's beats fail to connect in the same way that they do in, say, footwork, instead sounding like a DJ trying (and failing) to beat-match Fuck Buttons and Demdike Stare. Twelve-minute closer "Life Ends at 30" (a more apt metaphor for punks turning to techno, there is not) would probably be a glorious, night-closing, ecstasy-ready Ibiza anthem if it weren't sifted in a pool of battery acid and broken glass, and squishy noises that sound like Prince's "Let's Go Crazy" guitar solo. As that old Lightning Bolt album foretold, there's a party at the end of the Wonderful Rainbow.