During the 1960s, the counterculture simply became culture: the sexual revolution, psychedelic drugs, hating the Vietnam War, Dennis Hopper. And it's impossible to bodypaint this decade's popular music as anything less than a combustible force of nature, especially with Jimi Hendrix torching guitars and Pete Townshend smashing guitars and James Brown fining his masterfully precise guitar player for flubbing a note. Unfortunately, Baby Boomers have tenaciously dominated the discourse for decades, and a canon of explosive, world-altering music quickly became another generation's California Raisins ad.
So here's our collection of that generation's alternatives; the noisemakers and hopeless outsiders whose visions ran so counter to the counterculture that they were never Big Chill-ed. In these 100 albums are the origin stories of punk, grunge, hip-hop, noise, EDM, and more. Feral garage bands, splattery free-jazzers, vanguard composers, haunting folkies, psychedelic funkateers, and whatever Moondog was. We didn't start the fire.
1. Marshall McLuhan – The Medium Is the Massage (Columbia, 1968)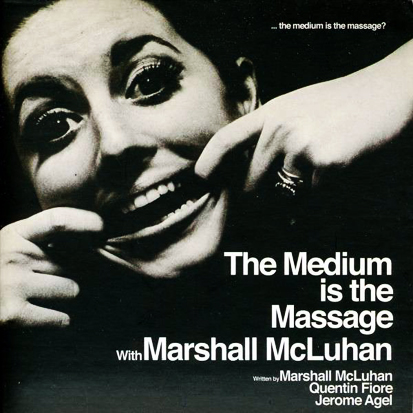 Less an "album" than a proto-mixtape, the LP version of communications theorist Marshall McLuhan's million-selling book The Medium is the Massage is a strange, literally and figuratively loopy attempt at putting his ideas into audio form. Made by taking a razor to hundreds of yards of reel-to-reel tape, spliced and overdubbed together in chaotic permutations, the album features snatches of everything from Homeric recitations to chirping birds to moddish jazz to McLuhan himself, reading book excerpts "straight" while a cacophony of sound blender-whirls around him. It's a feat of analog-era editing but also a stunningly prescient sonic prediction of the coming "noise" of the information age, where the austere, professorial voice of authority must contend with a constant barrage of old and new media intruding. OLIVER WANG
2. Cromagnon – Orgasm (ESP-Disk, 1969)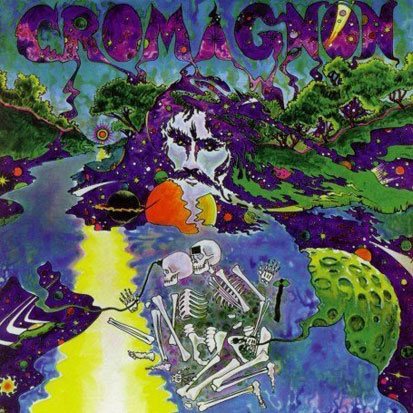 Two frustrated pop songwriters and the mysterious seven-person "Connecticut Tribe" hole up in an Upper West Side studio and yell and moan and convulse until they discover a place more primordial than hardcore. The lone album from Cromagnon is true body music — mostly a primal outpouring of wet swallows, warm gulps, creepy whispers, and glottal jungle animal noises; the feral yowls of sex, pain, or warfare — but also occasionally grabbing people in the hallways to bang broomsticks on plywood. Its seven-minute bouts of throat'n'throttle anticipate the howl-and-hertz of power electronics and the full-contact gargle of '90s Japanese noise. But Orgasm's real claim to fame will always be opening track "Caledonia" a throbbing bagpipe-and-trash junkyard clangbanger that anticipates Einstürzende Neubauten, Nine Inch Nails, and Ministry in four raspy, thudding minutes. CHRISTOPHER R. WEINGARTEN
3. Mulatu Astatke – Afro-Latin Soul, Vol. 1 (Worthy, 1966)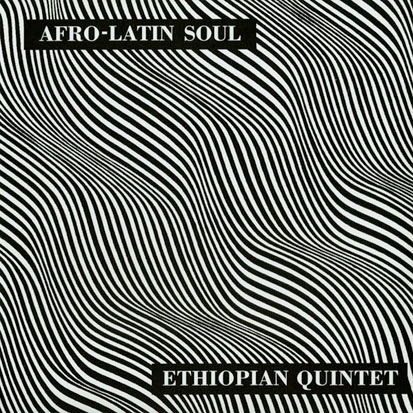 A native son of Ethiopia, composer and vibraphonist Mulatu Astatke became the face of "Ethio-jazz," blending Western jazz and Afro-Cuban styles with the distinctive, pentatonic scales of traditional Ethiopian music. Afro-Latin Soul was Astatke's first release, composed while attending music schools in the U.S. and obviously under the sway of New York's Latin dance. Despite the unexpected elephant blares that open "I Faram Gami I Faram," the song is otherwise a classic Cuban pachanga, while the heavy vibes on "Mulatu's Hideway" sound right at home with a Lionel Hampton jam session. Astatke's more Ethio-flavored compositions from the early '70s would ultimately gain more traction years later, but this somewhat more conventional record is a testing ground for the composer's future fusions. O.W.
4. Brigitte Fontaine – Comme à la Radio (Saravah, 1969)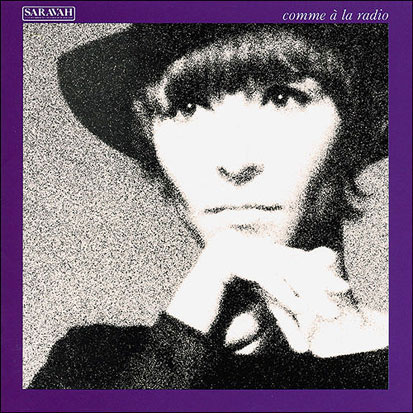 She's been a novelist, an actor and, at the beginning of her career, something like a pop singer. But when French vocalist Brigitte Fontaine joined forces in 1969 with the Art Ensemble of Chicago (a bass-and-horns jazz quartet who were then living in Paris), they made an album that still deserves a section of its own in record stores. It's a haunting, starkly spare record, as chilly as 4 a.m. caffeine jitters. Fontaine purrs little tunes and recites her poetry en français, her longtime collaborator Areski addding guitar and interjections, while the AEC backs them up with heady drones, hand percussion, and occasional flurries of melody. Decades before "world music" was a dream in a marketer's eye, their collaboration came off like a field recording from terra incognita. DOUGLAS WOLK
5. Alan Watts – OM: The Sound of Hinduism (Warner Bros., 1967)
British-born writer and former Episcopalian priest Alan Watts recorded wilder albums than this (see the wise hippie scholar's LSD-inspired, primal-screaming 1962 tripumentary This Is IT), but OM went against the proto-"world music" grain by combining the sound of one man (non-Indian Vince Delgado) intermittently tapping his tabla and talking drum as Watts, a longtime radio presence linking Beats to hippies, ruminated on the meaning of Existence. Delgado's droning tanpura can also be heard emanating from the right channel as Watts recites sagely in the left and percussion issues from the middle. Watts begins by distilling Hinduism's essence into the on-off "pulse" of existence: "All of us are raised from one center," he explains, "tits on one sow, sounds on one flute." Long after his death in 1973, Watts's pulse flickered back in numerous STRFKR samples. RICHARD GEHR
6. Conlon Nancarrow – Studies for Player Piano (Columbia Masterworks, 1969)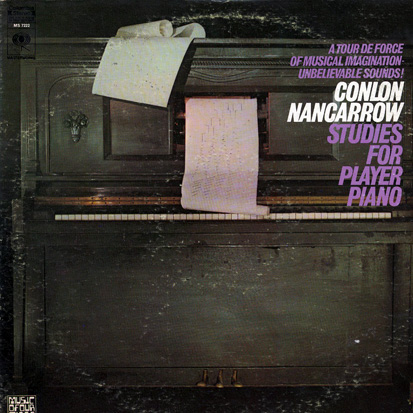 Nancarrow was an American original, holing himself up in Mexico for decades with an inheritance-purchased player piano and paper-roll puncher, toiling with competing tempos so fast and complex they were unplayable by human hands. His writing won't seem wholly alien to untrained ears, however, as it also invokes blues and jazz licks in its furious hailstorms of notes. Combined with the barroom evocations of the player piano, Nancarrow's music harkens back to a collective sonic memory — conjuring a surreal sense of tradition even as his tempos run riot. With this first release of some "player piano studies," it's as though Columbia realized they'd made too radical a move (they quickly let it fall out of print). But the secret was out, and before long, Gyorgy Ligeti and Frank Zappa were singing Nancarrow's praises while successive generations of conservatory players expanded their range of technique, the better to finally play (some of) Nancarrow's pieces. SETH COLTER WALLS
7. Pärson Sound – Pärson Sound (Subliminal Sounds, 2001)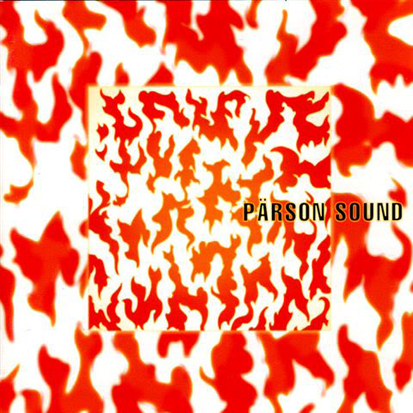 For decades, these Swedish pioneers of avant-psych-drone-eternity were little more than a legend. They were known as the group from which many other cult bands emerged — Trad Gras och Stennar, Harvester, Arbite Och Fritad, etc. — and for their participation in the 1968 Andy Warhol exhibit in Stockholm, but had no known recordings until this archival set (recorded between 1966 and 1968) came out in 2001. Formed as an outgrowth of composer Terry Riley's visit to Sweden, the quintet fused improvisational rock with repetitive minimalist song structures, and feedback drone blasts in the manner of the early Velvet Underground. There are many parts absolutely consonant with German groups like Faust and Amon Düül II, as well as French free-rock ensembles such as Mahogany Brain and Red Noise. But none of that stuff had happened yet. Brilliant, forward-looking, psychedelic as hell. BYRON COLEY
8. Pearls Before Swine – One Nation Underground (ESP-Disk)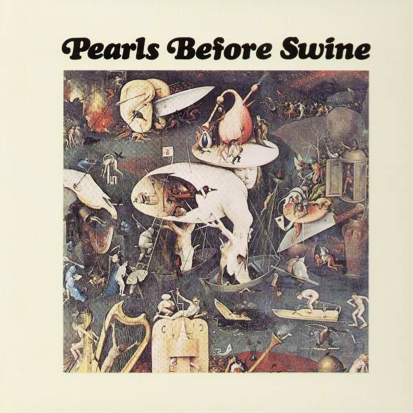 Formed as a folky rock band in Central Florida, Pearls Before Swine sent a demo to ESP-Disk after hearing the first Fugs album. They were signed and went to New York City to record this lovely debut, which mixes Tom Rapp's delicate folk stylings with Dylan-esque rockers, including one of the first anti-Vietnam songs released anywhere. This probably sounds fairly mundane, but there was a surrealistic quality to Pearls' lyrics that felt more organically acid-aware than anyone else recording at the time, and there was also a difficult-to-tag feel of psychedelic rockers playing folk that was a complete reversal of the folk-into-rock evolution that so many of the period's other bands underwent. The early version of the band didn't often perform live, since they were still living in Florida, which led to a raft of rumors about their existence. (The most humorous of these posited the band was composed entirely of dwarves — they were not.) Still, the album became the best-selling ESP title ever, and the Hieronymus Bosch poster tucked inside was omnipresent in college dorm rooms (and even seen adorning Paul McCartney's wall in one photo essay). Over the years, One Nation Underground became a template for the whole psychedelic-folk revival, and rightly so. B.C.
9. The Monkees – Head (Colgems, 1968)
In the space of a year, the Monkees went from singing "Cheer up, sleepy Jean" to "The porpoise is laughing goodbye." Their G-rated psychedelic cinema-bomb Head was no Hard Day's Night, despite being helmed by Five Easy Pieces director Bob Rafelson (and featuring Frank Zappa as a music critic with a talking cow), but the soundtrack was a largely un-Monkees-like potpourri that jostled for space in the annals of underground weirdness. A far cry from the polished Neil Diamond radio ditties they came up on, Head features Middle Eastern-tinged groove-rock ("Can You Dig It?"), swinging Harry Nilsson swank ("Daddy's Song"), ambient interludes, surrealistic dialog snippets ("I'd like a glass of cold gravy with a hair in it please," says Davy Jones); and, of course, porpoise pet sounds. KORY GROW
10. Os Mutantes – Os Mutantes (Polydor, 1968)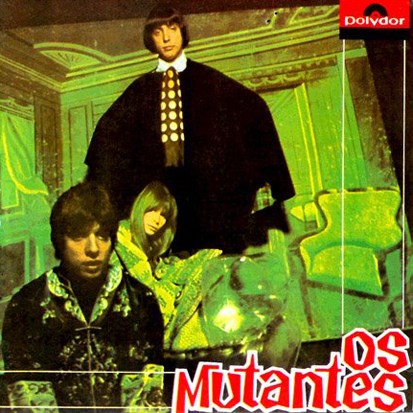 In the face of a repressive regime, sometimes absurdism proves the quickest path to subversion. More even than their peers in the Tropicalía movement, Os Mutantes ("The Mutants," in Portuguese) fought back against Brazil's military government by turning out a bizarre new spin on traditional Brazilian pop so outwardly batshit that the censors didn't know what to make of it. Their self-titled debut album picked up the Beatles' psychedelic baton (Sgt. Pepper's and Magical Mystery Tour had been released the previous year) and ran with it. But not content to limit themselves to trippy soundscapes and electronic effects, the classically trained members of the band jammed their songs full of stylistic juxtapositions, knotty abstractions, and dissonant modal pile-ups: "Tempo No Tempo (Once Was a Time I Thought)" careens through a church choir, Dixieland jazz, Música Popular Brasileira, a barbershop quartet, and musique concrète, all in under two minutes. On "A Minha Menina," they make a rock'n'roll guitar lead sound like a bumblebee trapped in a kazoo. Given the way that Os Mutantes' irreverent, inquisitive approach anticipated the cut-and-paste aesthetics of hip-hop and electronic music, it was only fitting that Beck, the Prince of Po-Mo himself, would pay tribute with the title (and sound!) of his 1998 album, Mutations. PHILIP SHERBURNE
11. Harry Partch – The World of Harry Partch (Columbia, 1969)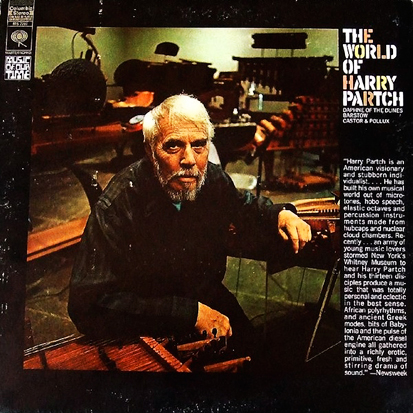 John Cage once said Europe had been sending its operas to America for years, and now he was sending them back. But Harry Partch had already done that with all Western concert-music forms — inventing his own instruments and tossing out our 12-note scale for his invented 43-pitch language. His ballet "Daphne of the Dunes," for example, calls for "spoils of war" in its percussion section (i.e., artillery shell casings). For all the abstractions, though, it's a tactile piece, with appreciable meter switches and tremulously gorgeous writing for strings (one being Partch's "adapted viola," which you play like a cello). To say there's an "Eastern influence" is to isolate a single part of the wide sound-spectrum that Partch heard. "Bartstow" uses hobo graffiti — a language Partch used himself during the Depression — as a vocal text. With its folk feeling and unusual harmonies, this Columbia Records sampler publicized Partch's idiosyncratic art-music, built from scraps of Americana. S.W.
12. Babatunde Olatunji – Drums of Passion (Columbia, 1960)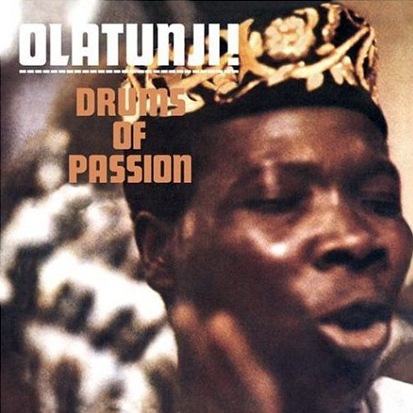 Babatunde Olatunji's first and best album of Yoruba tribal drumming arrived in 1960 on the tail end of swinging-bachelor-pad exotica and the first flickerings of the Black Power movement. Produced by Columbia's in-house pop technician Al Ham and impeccably recorded in a former church on Manhattan's East Side by a predominantly African-American ensemble of singers and percussionists dressed in full African finery, Drums of Passion is an unadorned facsimile of the call-and response religious chants ("Shango"), harvest songs ("Odun De! Odun De!"), courting dances ("Baba Jinde"), and other secular and sacred communal throwdowns that Olatunji heard as a child in Nigeria. Passion's polyrhythms inspired John Coltrane (an early Olatunji patron), the Grateful Dead, and Santana, whose cover of "Gin Go Lo Ba" galvanized Woodstock while sneaking Afro-Latin rock into the hippie canon. R.G.
13. Ornette Coleman – Town Hall 1962 (ESP-Disk, 1965)
As divisive an album from the free-jazz icon as it must have been, it was a transcendent live experience. Recorded in December 1962, the performance signaled a self-imposed crisis in Coleman's career — what with the multi-year "retirement" that followed. Aside from some great trio cuts, this live album was the official debut of Coleman's idiosyncratic engagement with classical music, thanks to the string-quartet piece "Dedication to Poets and Writers." With stray unison riffs born of Coleman's melodic talents emerging from an atonal edifice, this was not "classical" music that was ever going to be taken up by the academy, or even much loved by jazzers: The radical move here is that Coleman clearly doesn't care. Because it appeared before his codification of the "harmolodics" system, this wasn't a masterstroke on the order of his symphonic "Skies of America" — though it does offer a chance to hear this artist sketching the shape of yet another music to come. Meantime, the kicking trio on display — featuring Charles Moffett on drums and David Izenson on bass — proved too good to disband, as they reunited triumphantly for Blue Note by mid-decade. S.W.
14. John Lennon and Yoko Ono – Unfinished Music No. 2: Life With the Lions (Zapple, 1969)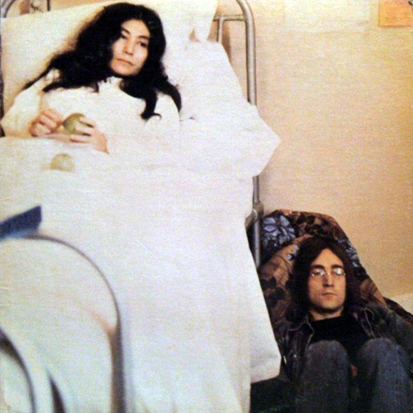 Two Virgins got the press for John and Yoko's full-frontal cover turn, but their follow-up is the really startling one, an audio verité reality show in which the world's most documented couple give their audience all the intimacy it can handle and then some. Its first half is nails-on-glass live improvisation: Ono shrieking, Lennon matching her tone with feedback, and free-jazz pioneers John Stevens and John Tchicai turning up at the end to flesh things out. The B-side, however, is four John Cage-inspired pieces recorded in the hospital room where Ono had a miscarriage (and where Lennon had to sleep on the floor, the subject of the newspaper clipping whose text Ono quietly sings as "No Bed for Beatle John"). In 1969, none of that was anything like what a pop star was expected to do, but it's more naked than any picture could be: "experimental" music that directly documents its artists' lives at that moment. D.W.
15. Sun Ra and His Solar Arkestra – Other Planes of There (Saturn, 1966)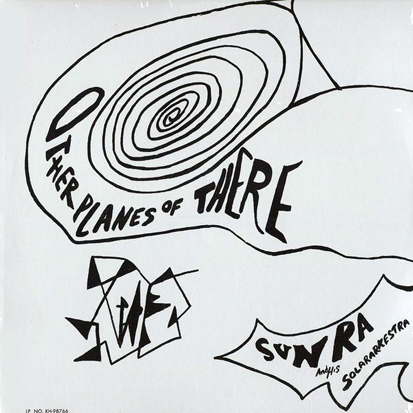 Recorded before other longform masterpieces like "The Magic City" and "Atlantis," the thick, intense, 22-minute one-shot title track that takes up side A was dubbed a "Concerto for Arkestra" by The Penguin Guide to Jazz. Spacier than Space is the Place, and leading with a broken-chord blast-off, the running time gives select members of Ra's ensemble room to meditate as well as skronk. The range of instrumentation, including oboe, helps suggest the classical textures being conscripted for duty, while some sax solos hint at the jamming spaceways Ra travelled early on. Some of the best moments come when Ra improvises with beneficent oddity on piano, atop just the rhythm section. Four shorter pieces on Side B bring blues, waltzing, wailing, and occasional liftoff. S.W.
16. Joe Cuba Sextet – Wanted Dead or Alive (Bang! Bang! Push, Push, Push) (Fania, 1967)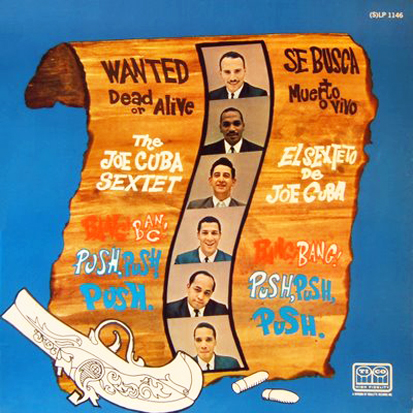 With its bodacious blend of hot Latin percussion, R&B; call-and-response ("Bi-bi… hah! Bi-bi… hah!"), endless fake endings, and a pair of enthusiastic eight-year-olds, congalero-bandleader Joe Cuba's 1966 Latin boogaloo hit "Bang! Bang!" burst through the radio like the most ecstatic street party ever. Born Gilberto Miguel Calderón in 1931 New York, Cuba (who was actually of Puerto Rican descent) infused Cuban cha-cha with a soulful backbeat and stripped down Latin music's horn-heavy arrangements to a nimble sextet. You can still hear mighty Cuban chops in the nine-minute descarga "Cocinando" (Cooking), but it's the raucous Harlem quake of tunes such as "Oh Yeah," "Sock It to Me," and "Push, Push, Push" that ignited this atomic blast of Nuyorican pride during a wild three-year window, at least until bossier Latin big bands pushed boogaloo back into New York's background. R.G.
17. Kim Fowley – Outrageous (Imperial, 1968)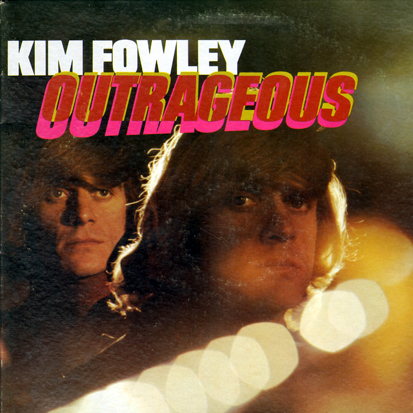 By 1968, impresario, producer, and professional "animal man" Kim Fowley was at the perfect midpoint between the delirious, dizzy whiz-bang of '60s novelty singles (he had a hand in both "Alley-Oop" and "Papa-Oom-Mow-Mow") and the gum-snapping badass attitude of American proto-punk (he would Svengali the Runaways). His own third album was Goofy Grape-flavored Tarzan rock full of laughing and belching and fuck noises and gooble-gobbling. Its feral blues limp was clearly drinking the same electric milk as Captain Beefheart, but instead Fowley ended up accidentally inventing the trebly punk-funk of the Minutemen. Lyrically, the man who once covered Napoleon XIV connects a lines between the darker edges of the novelty jukebox to the comic negation tactics of future finger-jabbers like G.G. Allin: "I'm ugly! / Dirty filthy sneaky horrible! / I'm gonna kill you!" C.W.
18. The Roscoe Mitchell Art Ensemble – Congliptious (Nessa, 1968)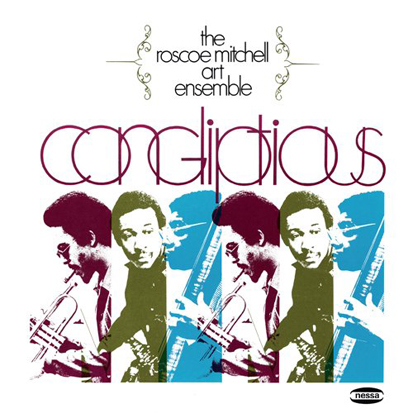 By 1968, Roscoe Mitchell had already issued an early Chicago rejoinder to the New York "energy" scene of out-jazz with debut Sounds, an album full of quiet valleys amid peaks of blow-out. But Congliptioius is where the multi-instrumentalist — alto/soprano/bass saxes, plus "little instruments" — honed his voice. Side B is a free-sounding piece that is more playful and purposeful than the more aggro experiments of the time. (You can imagine, much later, Yamatsuka Eye and John Zorn freaking out over Mitchell's toy-like approach to the recorder.) And the piece closes with an antique-feeling, good-time melody, an early example of jump-cut jazz. Within a year, Mitchell's Art Ensemble would become the Art Ensemble of Chicago, and that band's core is already on display here, taking unaccompanied solos on Side A. Trumpeter Lester Bowie's number — titled "Jazz Death?" — uses spoken interludes to parody a trend in music journalism that was already tired by 1969. From its concepts to its execution, this recording still feels contemporary. S.W.
19. The Electric Prunes – Release of an Oath (Reprise, 1968)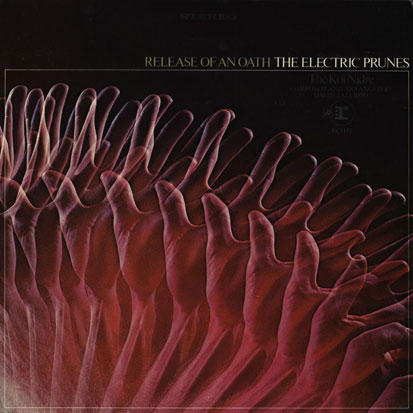 Boomers remember the Electric Prunes as the far-out garage headcases who sang the No. 11 pop hit "I Had Too Much to Dream (Last Night)." But just two years later, they were doing "Kol Nidre," a pop-music take on the Jewish holy declaration made the evening of Yom Kippur. As the lead track to this experimental commercial failure, it heralded a new side to the Prunes — one they flirted with on that same year's Mass in F Minor — a proto-prog visage of sprightly strings, triumphant horns, and free-jazz guitargasms. The Prunes actually had little hand in making the album, merely singing what composer/producer/funk-Svengali David Axelrod wrote and recorded with session wonks. Other than the devotional ballad "Holy Are You" (sort of the Love Generation's "You Light Up My Life," but unpopular), the record's peaks include the organ-and-guitar interplay of "General Confessional," the crisp, Baroque pop of "Our Father, Our King" (and its "help us" refrain), and the splatter of guitar, strings and vibes on "Closing Hymn." Although it didn't chart upon release, the album took on a new life in the '90s, as hip-hop producers ranging from the Beatnuts to RZA sampled its sounds. And the Prunes? They regrouped in 1969, sans Axelrod, with a comeback album called Just Good Old Rock and Roll. K.G.
20. The United States of America – The United States of America (Columbia, 1968)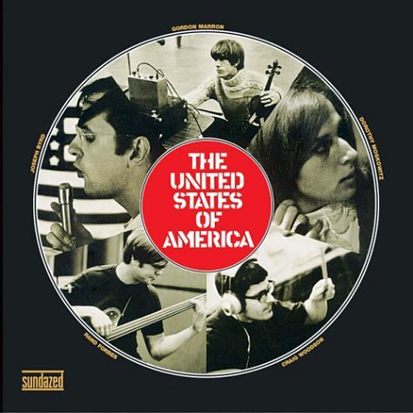 Joseph Byrd intended for his 1968 pop-concrète masterpiece to be the American corrective to Sgt. Pepper's Lonely Hearts Club Band. Hence the headfuckingly overstuffed "The American Metaphysical Circus" and its overlapping calliopes, ragtime piano, and marching bands playing four different American standards, Charles Ives-style, all at once, helpfully accompanied by two tracks of oscillator and ring modulator. On United States of America, strings and embryonic electronics steal the spotlight from the era's guitar heroes. It's a concept album in the most accurate sense of the term: a radical psychedelic critique of American society that builds to a finale ("The American Way of Love") which synthesizes everything that came before. The record company didn't like the title of "Love Song for the Dead Che," and opening for the Troggs wasn't exactly a savvy booking decision, so the USA bit the dust just as they were getting started. But you can hear their blippy, trippy legacy in bands like Animal Collective, Portishead, and electro-folkies aplenty. R.G.
21. Cecil Taylor – Unit Structures (Blue Note, 1966)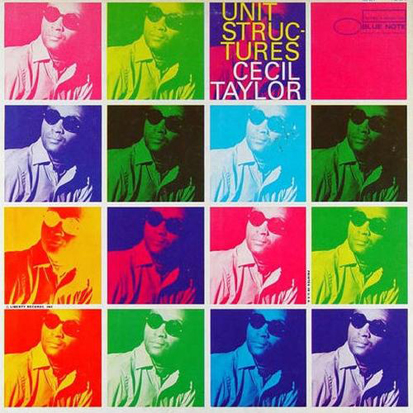 No reason to mince words: Pianist Cecil Taylor remains the most uncompromising performer in jazz. When his ferocious genius was compared to Boulez or Messiaen, he'd angrily ask what was wrong with Duke Ellington. If adherents praised his percussive keyboard technique, he'd retort, "technique is a weapon to do whatever must be done." And he paid dearly for such prickliness, washing dishes to pay the rent between gigs. But on Unit Structures, recorded during his brief Blue Note tenure, he managed to articulate how jazz performance might internalize the European academy while remaining resolutely suspicious of notation and composition. Guiding long-time collaborators Jimmy Lyons, Henry Grimes, and Andrew Cyrille by ear, Taylor cast himself as "catalyst" rather than band leader, shrinking an orchestra's power down to a sextet, wondering aloud why chord changes need dictate improvisational direction even while proving swing is so much more than tapping one's foot. He wouldn't enter another recording studio until 1978. JASON GUBBELS
22. Tod Dockstader – Eight Electronic Pieces (Folkways, 1961)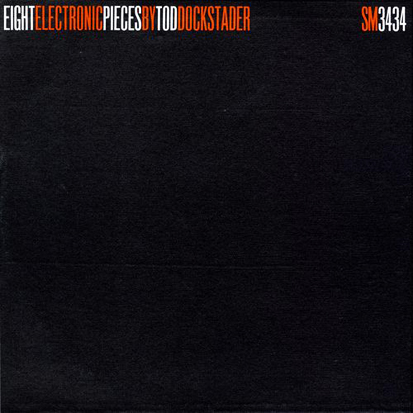 In 1961, electronic music came mainly from the ivory towers of academia, the only institutions with the R&D; budget to fund all those circuits and gizmos. Tod Dockstader, by contrast, was a recording engineer who also created sound effects for Tom and Jerry and Mr. Magoo cartoons. Inspired by Edgar Varèse's pioneering 1958 musique concrète work "Poeme Electronique," he set about assembling his own DIY interpretations after his co-workers had gone home for the night, fiddling with tone generators and magnetic tape to come up with what he called "Organized Sound." ("I found it was like the best part of painting — standing on your feet all day, moving around, working with your hands," recalled Dockstader. "It had a muscular joy to it.") By 1961, he had assembled enough material to release Eight Electronic Pieces, a brain-scrambling reel of rubbery twang and sizzling filament that required no particular expertise to decode; reveling in the material presence of sound, it was meant as a radically democratic, human-after-all contribution to the emerging medium. P.S.
23. Nihilist Spasm Band – No Record (Allied Record Corporation, 1968)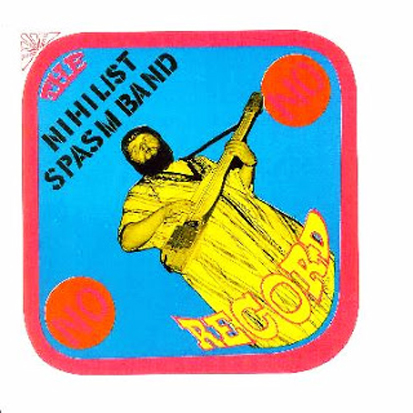 In 1965, eight guys from London, Ontario, decided to start a free-improv group — "free" to the point of building their own instruments, which they decided couldn't be set up to produce specific pitches. The band got together once a week with their electric kazoos and kludged-together guitars and Art Pratten's "pratt-a-various." Their vocalist, schoolteacher Bill Exley, banged on a cooking pot and bellowed hilariously about stupidity and destruction and Canada. They didn't treat what they were doing as an advanced, visionary form of experimental music, but as a big, stupid, fun, ecstatic noise — which is maybe why they waited more than 10 years to make a second album. By the '90s, noise artists finally recognized NSB as their ancestors — and, almost 50 years after they started, the surviving members of the Nihilist Spasm Band still play every Monday night while their children haunt loft spaces the world over. D.W.
24. Various Artists – Back From the Grave Volume One (Crypt, 1983)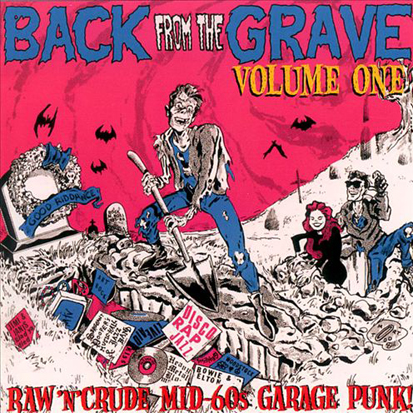 There had been plenty of '60s garage compilations before 45 collector Tim Warren put together Back From the Grave, but none of them had been as raw, willfully obscure, and filled with genuine monsters. Songs like the two-part "Rats' Revenge" by Akron's the Rats were so crude that they sounded as though they'd actually been recorded by cave-teens. Other winners include the snot-packed "Night of the Phantom" by Larry & the Blue Notes (originally titled "Night of the Sadist", but changed when the band was told that "sadist" was a word banned on Texas radio), and the Swamp Rats' guitar-blasted cover of the Sonics' "Psycho." But this was really the first '60s comp where there were no ballads (or at least anything soft-edged). The whole package was so insane it was stunning: Warren got his friend, Mort Todd (soon to become the editor of Cracked) to provide cover art that made fun of anything that wasn't absolutely primitive. The series played a huge role in rebooting the wilder end of the garage-rock revival of the '80s. Hard to imagine how bands like the Jon Spencer Blues Explosion would have formulated their aesthetic without chewing on this particular brand of meat. B.C.
25. Bonzo Dog Doo-Dah Band – Gorilla (Liberty, 1967)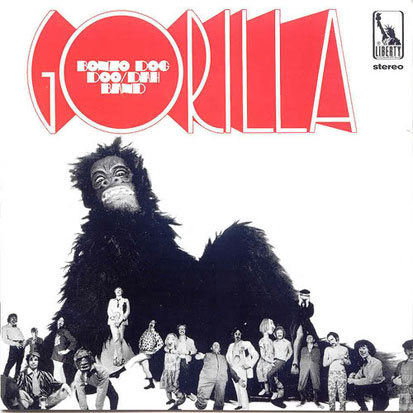 If Monty Python's Flying Circus had been a rock group, they probably would've have sounded like these London pranksters. Mixing so-square-they're-groovy music-hall ditties and big-band jazz parodies with a surrealist slant on particularly English comedy, the Bonzo Dog Doo-Dah Band both reveled in and satirized the psychedelia of the day, but favored tuba and banjo over guitars like a real Lonely Hearts Club Band might've. Harpsichord waltzes, film-noir spoofs, Beach Boys send-ups, Noel Coward-esque gaiety, and plenty of pinkies aloft all co-mingle as frontman Vivian Stanshall proves himself a man of many accents: That's him aping Elvis in "Death Cab for Cutie," which appears here and in the Beatles' trippy/dippy Magical Mystery Tour movie. Featured alongside future Pythons Eric Idle, Terry Jones, and Michael Palin on the Brit kids' comedy show Do Not Adjust Your Set, the Bonzos put the Dada in Doo-Dah, reverently imitating pop culture as they irreverently skewered it; a combo that would serve co-songwriter Neil Innes a decade later with his Beatles spoof band the Rutles. BARRY WALTERS
26. Brigitte Bardot et Serge Gainsbourg – Bonnie and Clyde (Fontana, 1968)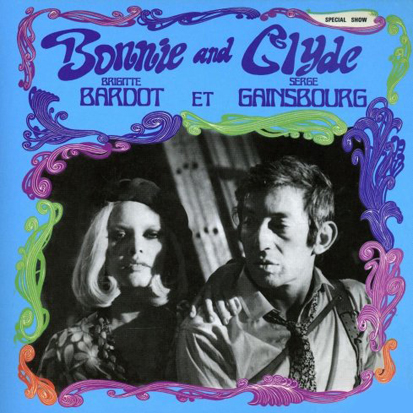 Although the late French chanteur/writer/producer/Svengali Serge Gainsbourg is best known for his collaborations with Jane Birkin — which resulted in albums like 1971's lecherous masterpiece Histoire de Melody Nelson, with its incredible orchestral arrangements by Jean-Claude Vannier — he had long been "involved" with French female singers. Vocalist France Gall already had scored hits under his tutelage, but when he hooked up with French actress/sex symbol Brigitte Bardot, his artistry went to a whole new level. Bonnie and Clyde is not as elegantly assembled as some of his later projects, but its mix of bizarre rhythm tracks and dreamy vocals helps create a totally cracked fusion of American pop culture, the French love thereof, and a languidly dreamy evocation of the unnerving sexiness that fueled Arthur Penn's 1967 film. The title track remains one of Gainsbourg's best-loved and most covered songs, while the other full-on collaborative track, "Comic Strip", is readymade pop-art/yé-yé genius. The whole thing shimmers with an extremely screwy vision of 1960s France that continues to intoxicate espresso sippers around the globe. B.C.
27. Pentangle – Basket of Light (Transatlantic, 1969)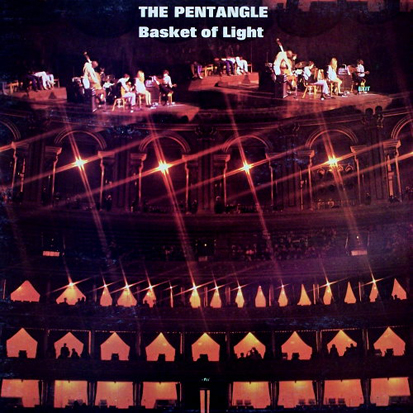 Pentangle may have evolved out of the exploding mid-'60s British folk revival, but they hardly needed to pull a Mumford and file off the weird edges of old-tyme music to do so. Anchored by established acoustic heroes Bert Jansch and John Renbourn, Pentangle built their foundation atop the pair's baroque interplay, drummer John Cox tracing a spacious tock against the implied rhythms in Jansch and Renbourn's patterns. Hardly purists, their third and biggest album, Basket of Light, owed at least a part of its success to the proto-indie licensing of its lead single, "Light Flight," to the popular BBC show Take Three Girls, about (sound familiar?) a trio of hip female flatmates. A jazz-inflected cover of the Jaynetts' "Sally Go 'Round the Roses" surely didn't hurt, nor did Renbourn's dalliances with sitar, but Pentangle's archaic dirges and double-bass drones located them in a resonant space, saved from egghead-ism by instinctual atmospheric beauty. JESSE JARNOW
28. Amon Düül II – Phallus Dei (Liberty, 1969)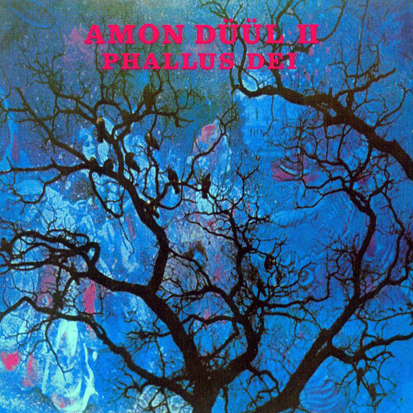 When a band christens their debut album with the Latin phrase for "God's penis," it certainly signals that they are not fucking around. Born from the same radical Munich commune as the founders of the terrorist Baader-Meinhof Gang, Can's only peers in the earliest days of krautrock were a far more savage variant on West Coast jam bands. After all, these were Germany's war babies with serious, furrowed-brow protest on their minds, deploying influences from tribal Africa, India, and the classical avant-garde. Chris Karrer scrapes at his violin as if he's attempting to kill it; Renate Knaup warbles like an operatic Yoko, and the band, led by two drummers, rattles and drones its way into the musical equivalent of the members' own untethered lives — simultaneously psychedelic and proto-punk, utopian and dystopian, a dispatch from the shadow of their parents' atrocities. B.W.
29. The Seeds – The Seeds (GNP Crescendo, 1966)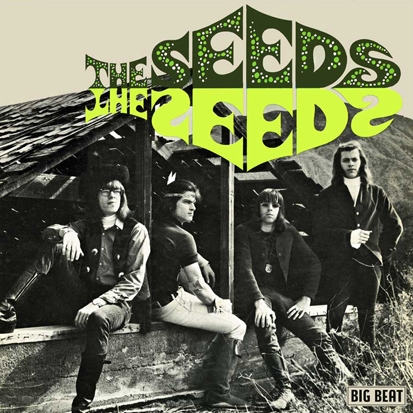 By the time the Seeds surfaced in Los Angeles in 1965, there were plenty of equally rambunctious garage-rock bands (see the Sonics, the Music Machine) already making the rounds. None were as filthy and feral. Led by bass-playing frontman (and mop-topped Source Family member) Sky Saxon, the Seeds married the Dionysian thrust of the Stones to shambling, increasingly psychedelic rock grooves, few of which had a place on the likes of American Bandstand. Then came "Pushin' Too Hard," a wild-eyed warning to a too-demanding girlfriend that both cracked the charts and anchored their 1966 self-titled debut, a hunk of seething, acid-splashed primitivism that shook fathers, seduced daughters, and provided an early blueprint for what would ultimately become punk rock a decade later. DAVID BEVAN
30. Eric Dolphy – Out to Lunch! (Blue Note, 1964)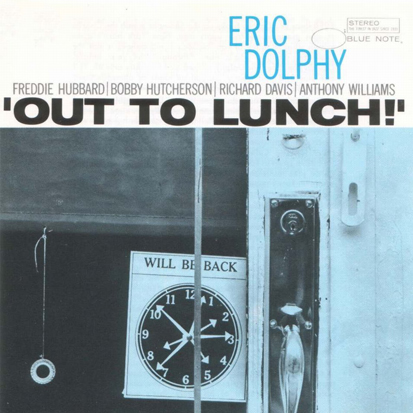 Among players whose collaborations with Coltrane upset the jazz establishment, Eric Dolphy came before Archie Shepp and Pharaoh Sanders. And today, Dolphy still comes before them in the avant-garde's heart. His inimitable, multi-textured voice on three instruments — alto sax, bass clarinet, and flute — has had a lasting influence, just as his virtuosic, classical-level technique has inspired countless woodshedders. (Dolphy could pull off Varèse in concert.) Just before his tragic death in 1964, Dolphy emerged as a master bandleader on this album. The first three minutes dart between passages of walking-bass feel and swaying-then-stabbing moments, with the variations serving as a set-up for Dolphy's solo, during which he vaults over skyscrapers with nimble interval-jumps, and then, after landing, digs deep into the ground with power-growls that tear up the sidewalk like a Con Ed crew. S.W.
31. Karen Dalton – It's So Hard to Tell Who's Going to Love You the Best (Capitol, 1969)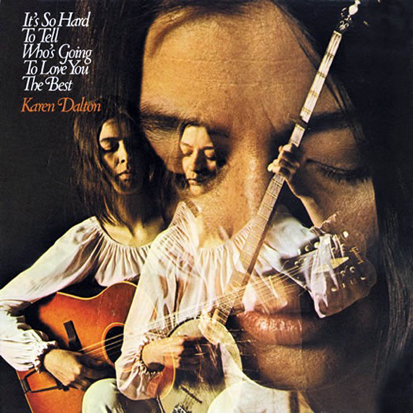 While much of the strumming world followed Bob Dylan from surrealism to singer-songwriter solipsism and back to the country, Karen Dalton never left her roots. Though interpreting other people's songs with a gorgeous, doleful voice straight from the distant haunted hills, it is Dalton's spare, dust-blown guitar that anchors 1969's It's So Hard to Tell Who's Going to Love You the Best, ensuring that the arrangements of former Beach Boys producer Nick Venet never overwhelm her endless bummers and bad vibrations. Recording this debut nearly a decade after she shared stages with Dylan (who claimed her as his favorite singer in Chronicles), Dalton would release only one more proper album, but her repertoire's cherished heartache expands with each posthumously-released demo collection. J.J.
32. The Roland Kirk Quartet – Rip, Rig & Panic (Limelight, 1965)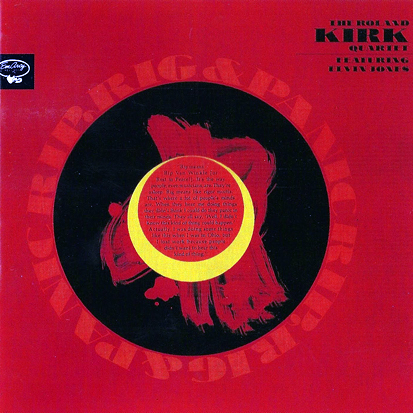 Beyond exhibiting Kirk's then-novel ability to circular breathe through multiple horns at once, as at the beginning of "Mystical Dream," Rip, Rig and Panic offers a bracing wake-up call in the form of a wild roller-coaster ride through jazz's past, present, and future. Pianist Jacki Byard and drummer Elvin Jones rarely sounded more dynamically engaged than here, as they collectively recapture the ragtime, stride, and boogie-woogie futurism of "From Bechet, Byas, and Fats"; revel in the title track's explosive freedom; or bop past the Varèse-ian electronics that introduce "Slippery, Hippery, Flippery." Kirk sounds simply epic throughout, waxing sentimental and ecstatically raging in a heartbeat. No wonder he could share bills with rock bands (including Led Zeppelin) and leave them gasping, or that Neneh Cherry and members of the Pop Group copped this album's title for their own outside project in 1981. R.G.
33. Karlheinz Stockhausen – Gruppen / Carré (Deutsche Grammophon, 1968)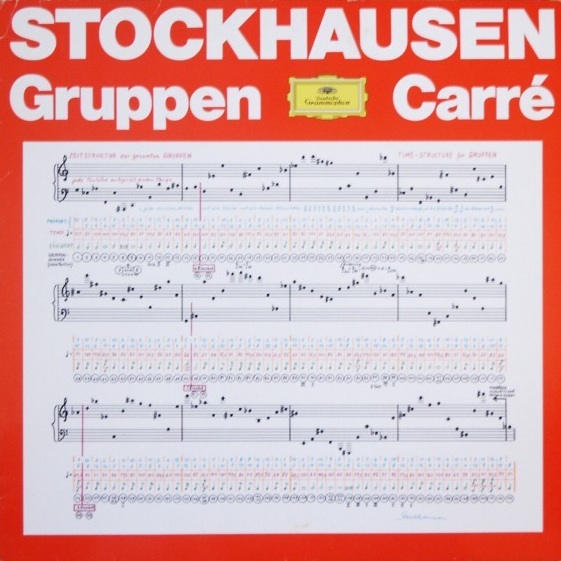 Once this musique concrete pioneer got used to tossing around electronic sounds from one corner of a surround-sound room to another, he got another idea: What if he did the same thing with multiple orchestras? So he wrote "Gruppen" for three of them, and the monsterwork "Carré," which requires four orchestras and four choirs. Mortals at conducting podiums around the world have attempted to make it work ever since, given how "Gruppen" in paricular swirls and bludgeons and transmogrifies with real beauty. The point-to-point navigation of the writing recalls Stockhausen's electronic pieces, though the composer's imposing structures are wedded to his lesser-known flair for painting with orchestral color. Unexpected murals lurk behind every corner, as when the several brass sections spray the same grand chord back and forth at each other. Even Igor Stravinsky, a grandmaster of orchestral climax, had to give the odd flow of "Gruppen" his blessing. S.W.
34. Caetano Veloso – Caetano Veloso (Philips, 1969)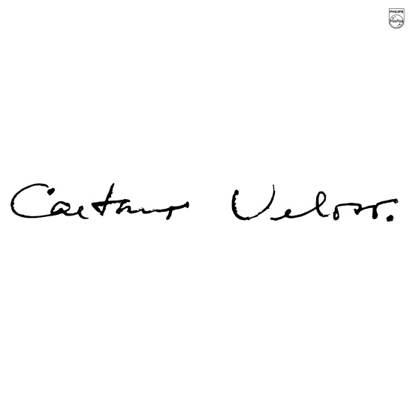 The second of three eponymous albums the Brazilian singer, composer, and political activist released between 1968 and 1971, the record known as Caetano Veloso's Àlbum Branco (Portugese for "White Album") remains a key statement of the short-lived Tropicalia movement. A cultural revolution that also encompassed poetry, theater, film, and visual art, Tropicalia's fusion of avant-garde and pop (especially American imports), riled both the sanctimonious left and the authoritarian right in late-'60s Brazil. In fact, Veloso's vocals, accompanied by Gilberto Gil's acoustic guitar, were recorded during the pair's imprisonment by the Brazilian military government (both were exiled soon after, unable to return to Brazil until 1972). Producer Rogério Duprat added dizzying arrangements of classical strings, jazzy horns, and fuzzed-out acid rock guitars to create a zesty stew of bossa nova, fado, tango, and Bahian carnival music, further spiced with a dash of post-Sgt. Pepper psychedelic rock. Though Veloso sings most of the album in Portugese (with the exception of the melancholic "The Empty Boat" and the allegorical "Lost In the Paradise"), his distinctive recipe for cross-cultural polyglottony has universal appeal. MIKE RUBIN
35. Various Artists – The Balinese Gamelan: Music From the Morning of the World (Nonesuch, 1967)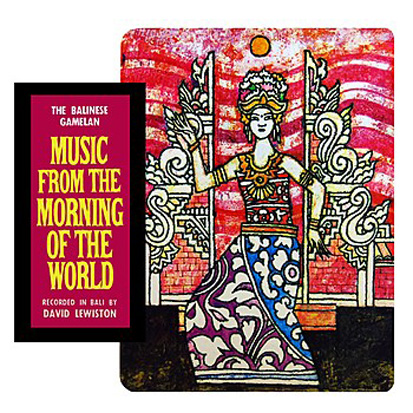 For American pop audiences, music from the far-flung pages of the atlas had been the province of World's Fairs, college campuses, obscure 78s, and the odd Folkways release, until producer David Lewiston returned from Indonesia with field recordings of what he termed "music from the morning of the world." Their subsequent release on Nonesuch Records, which helped to inaugurate the label's vaunted Explorer Series, was the first Western exposure to the gamelan, a collection of specially-tuned microtonal pitched percussion considered by the players to be one instrument, and which sounds like a thousand toy pianos twinkling madly. Moonshot psychonauts had nothing on the otherworldiness of Balinese lullabies or the proto-hardcore rhythmic shouting of ketjak "monkey chants." J.J.
36. Spontaneous Music Ensemble – Karyobin (Island, 1968)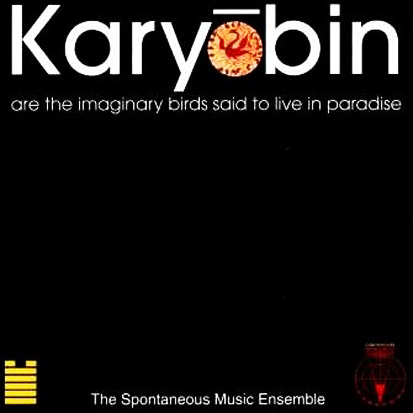 Guitarist Derek Bailey was the type of guy to see the Jackson Pollack splatter painting on the cover of Ornette Coleman's Free Jazz and wonder, "So, why would that have a frame?" In 1968, the English improv visionary launched his career with the Spontaneous Music Ensemble, scraping out jagged shards of jazz that felt truly free — abandoning structure, melody, rhythm, and logic in favor of an ever-changing, whimsical, disorienting, wholly instinctual tumult of activity. The players engage in a complex conversation — horn players Kenny Wheeler and Evan Parker, in particular, chatter at each other like chickens — that cycles through moods and dynamics with controlled abandon. The sound is ultimately a looser version of Beefheart's wet-galoshes stomp or Coleman's melodic warfare transmogrified into a tangle of noodles. C.W.
37. David Axelrod – Songs of Innocence (Capitol, 1968)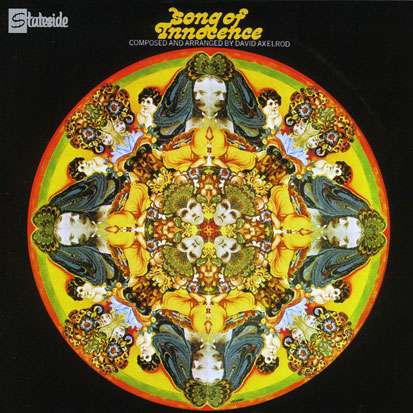 For most of the 1960s, David Axelrod was a competent but undistinguished in-house producer at Capitol Records, mostly working with Lou Rawls and Cannonball Adderley. With Songs of Innocence (and its sibling album, Songs of Experience), Axelrod unleashed his remarkable imagination, one that would forever shape his reputation as one of the decade's most eclectic and creative producer-composers. Taking its title from the poetry of William Blake, Axelrod's solo debut creates a symphonically lush and rhythmically stirring soundscape, filled with piercing, dissonant string arrangements ("Urizen," "The Mental Traveler"), funky Carol Kaye bass lines and dancing vibes ("Holy Thursday"), plus rollicking drum fills and breaks ("The Smile"). It's an effort that transcends genre — is it rock, jazz, soul? For many, especially later sample hounds, the album was simply sublime. O.W.
38. Moondog – Moondog (Columbia Masterworks, 1969)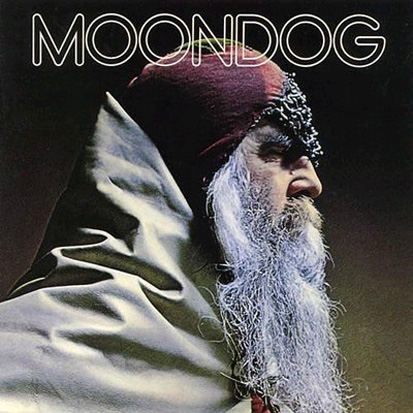 When I was a kid in the '60s, the helmet-clad Moondog, a.k.a. Louis Thomas Hardin, was a strange bohemian fixture on the corner of 53rd Street and 6th Avenue in Manhattan. He would stand there in Viking garb, performing for passers-by, having his picture taken by tourists, and generally acting like the most mysterious guy on Earth. We had no idea he'd been recording since the '50s (including a very strange album of nursery rhymes with Julie Andrews), but James William Guercio (staff producer at Columbia) was better informed. Twelve years after Moondog's third album of jazzy percussion and vocal music, he decided it was time to take the Viking of 6th Avenue into the studio again. With a large orchestra at his command, Hardin created a gigantic, romantic swirl of jazz and classical music, interspersed with clomping percussion and his own rhyming, couplet-heavy poetry. Presumably, this session came about because Janis Joplin and her band, Big Brother, had released a cover of Moondog's "All is Loneliness" on their debut. This got people talking about the guy, who was really viewed by New Yorkers as a harmless kook more than a man at the vanguard of minimalism whose work would be lauded by everyone from Philip Glass to Antony Hegarty. The resulting album — with its arresting portrait of Hardin in full regalia on the front — ended up in many collections otherwise bereft of anything remotely classical. B.C.
39. Dick Hyman – MOOG: The Electric Eclectics of Dick Hyman (Command, 1969)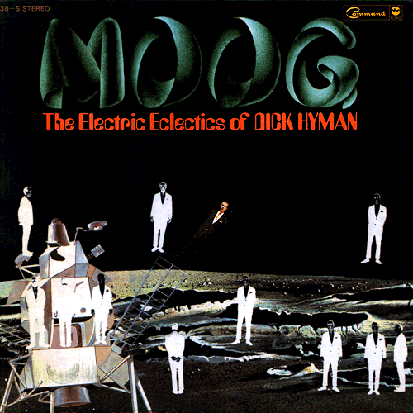 Already established as a wildly versatile jazz musician (his résumé boasted Benny Goodman, Charlie Parker, and NBC game shows), Dick Hyman took to the Moog synthesizer like a kid with a new toy. Because, well, it was. Without any of the foresight to envision the Moog's storied future as Stevie Wonder's warm engine or Giorgio Moroder's hazy disco fog machine, Hyman instead flung the gizmo into his own star-streaked, quirky Candyland — cool jazz, Turtles-centric pop, robot tap-dances, Wonka'd ambient landscapes, and space-age bachelor pad music. His optimistic melodies ran wild against the completely alien meteor trails of the Moog gave Hyman a quirky cool all his own — so, naturally, this album's been sampled by Beck, and name-checked by the Beasties. C.W.
40. Pharoah Sanders – Tauhid (Impulse!, 1967)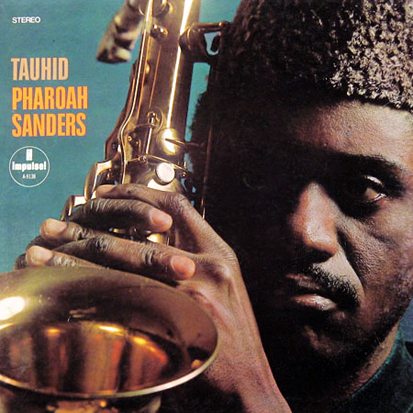 Tenor saxophonist Pharoah Sanders first made a name for himself trading incendiary solos with John Coltrane on trailblazing free jazz recordings like Ascension and Meditations. On his own 1967 Impulse! debut, Sanders' distinctive overblowing produces screeching, scorching textures (a flammable, high-thread-count version of Coltrane's "sheets of sound"), then segues seamlessly into lilting melodic passages, evidence of a range so remarkable that Ornette Coleman called him "probably the best tenor player in the world." The album makes history by introducing the guitarist Sonny Sharrock, as important a six-string innovator as Jimi Hendrix, who translates Coltrane's raw, intense sax tones into guitar electroshock therapy, creating a buzzing trademark trill he called "an abrasive harmonic" that was the precursor to skronk, no wave, and grunge. Sanders continued to develop his "spiritual jazz" on albums like 1969's Karma (which features acid-jazz touchstone "The Creator Has a Master Plan"), but Tauhid was a crucial influence on both the MC5 and the Stooges in their initial tickets to sonic reduction. M.R.
41. Pauline Oliveros – Reverberations: Tape & Electronic Music 1961-1970 (Important, 2012)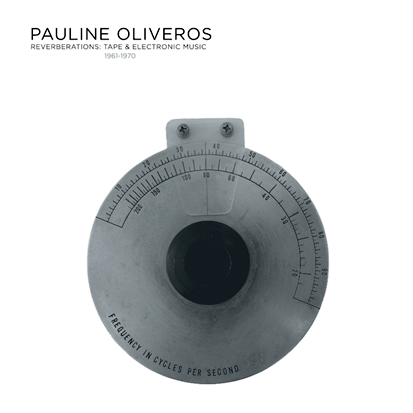 She was there at the San Francisco Tape Music Center — alongside Terry Riley and Morton Subotnick — in the 1960s and her pioneering studies with tape delay were critical in the advancement of American experimental music. Yet for a long time, Pauline Oliveros' name wasn't so well-known. That's changed in recent years, partially due to this 12-CD set of Oliveros' electronic and tape pieces from the 1960s. After Cage made the world safe for silence, Oliveros made it safe for noise, pushing the new electronic tools of the time to harsh extremes, as pieces such as "50-50 Heads/Tails" reveal. Unlike Stockhausen, she wasn't a prognosticator of strict new styles, instead adopting an intuitive, receptive approach to the new sounds made possible by throwing out the users' manuals. The early "Mnemonics" studies reveal Oliveros's gripping way with longform improvisation-composition; the buzzing oscillations and echoing tape-manipulations achieve a charm that feels influenced by Oliveros' curious, open-minded attitude. And these 12-plus hours of early experiments only show one side of her art; her electro-acoustic explorations and extended-technique accordion playing still transport audiences to this day. S.W.
42. Pierre Henry – Messe Pour Le Temps Présent (Philips, 1967)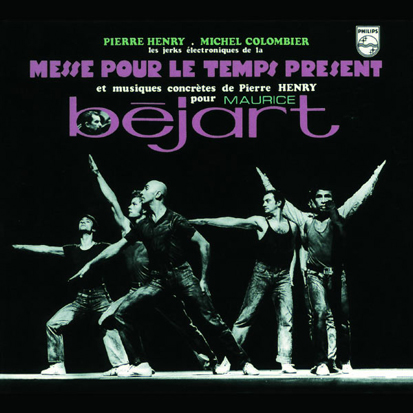 Sure, parts of French composer Pierre Henry's ostensible "ballet soundtrack" live up to electroacoustic music's reputation as a melody-busting, rhythm-ignoring avant-garde music with weird, screeching moans breaching out of murky monotones ("Divinites Paisibles"). However, on half a dozen songs, created by Henry and collaborator Michel Colombier, they layer analog synthesizer blips, whirls, and stutters within catchy, British freakbeat tracks ("Jericho Jerk," "Teen Tonic"). The psychedelic end effect falls somewhere between the sound labs of New Jersey's Berkeley Heights and the discotheques of London's Berkeley Square. O.W.
43. The BBC Radiophonic Workshop – BBC Radiophonic Music – (BBC, 1968)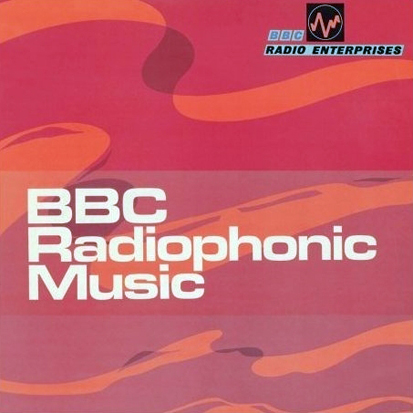 Part science lab, part art-house, part anonymous McNugget factory for a titan of public broadcasting, the BBC Radiophonic Workshop was a crowded, dusty London room where unsung heroes invented exciting sounds and occasionally introduced a generation to electronic music (via the transfixing Doctor Who theme). The mid-'60s crew — Delia Derbyshire, John Baker, and David Cain — were specialists in making machines do their quirky bidding, a bloopy sound at once utopian and melancholy, painting your retrofuture in faded colours. Pressed in 1968, getting a commercial release in 1971 (and reissued by Aphex Twin in 2003), this collection of sound effects, jingles, bumpers, and farts are all robotic mbiras, tooting Jetsons appliances, and shimmering squirts that brought the bubble and scrape of avant-squish to families huddled around the telly — not to mention future fans like Broadcast, Stereolab, Animal Collective, and the Ghost Box roster's Nostalgia Chills Ward. C.W.
44. The Red Crayola – The Parable of Arable Land (International Artists, 1967)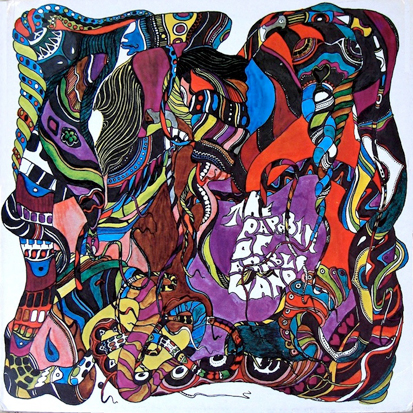 The first album by singer/guitarist Mayo Thompson's arty, constantly mutating group (which has been intermittently active since the mid-'60s) was a splatter-bomb dropped on the unsuspecting garage-rock scene. It's got a handful of memorable, feral songs crammed full of psychedelic effects — "Hurricane Fighter Plane," featuring 13th Floor Elevator Roky Erickson on droning organ, has been covered many times, and "Transparent Radiation" is the great-grandfather of the Spacemen 3/Spiritualized interstellar exploration division. In the context of the album, though, those tunes are just bait for Thompson and company's grand conceptualist gestures. Half of The Parable of Arable Land consists of extended "free form freak-outs," consisting of several dozen hippies bashing away at whatever they pleased. D.W.
45. Morton Subotnick – Silver Apples of the Moon (Nonesuch, 1967)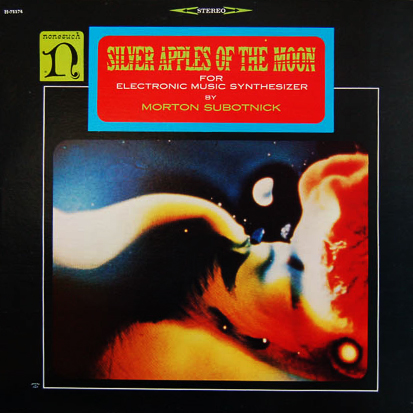 The electronic masterpiece Silver Apples of the Moon, realized on the new Buchla 100 synthesizer, was a modern classical piece that leapt right over the idea of ever appearing in a concert hall — or even an alternative performance space — and delivered it straight to vinyl. Here, the pioneering West Coast composer Morton Subotnick made a lyrical advance beyond most early synthesizer experiments: There are actual hooks to be found amid the composer's toying with ostinatos and riffs. And there's also an improvisatory feel —' enabled by the Buchla 100 — that confirms the influence of Pauline Oliveros' intuitive approach. Subotnick would keep tilling purely electronic fields for another decade, but Silver Apples remains his major statement, a manifesto on behalf of the idea that electronic music need not be forever "otherwordly" in its textures or rhythms. S.W.
46. Perrey-Kingsley – The In Sound From Way Out! (Vanguard, 1966)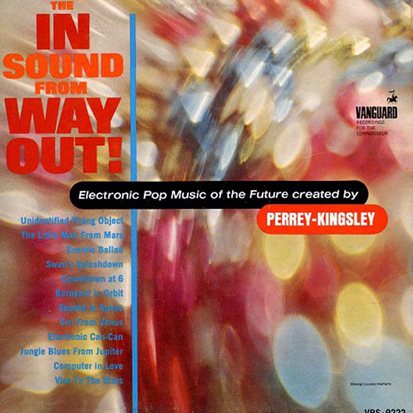 When pioneering French electronic musician Jean-Jacques Perrey moved to New York to experiment with the tape-loop techniques being pioneered by the classical avant-garde, he met up with German-born Gershon Kingsley, a former colleague of John Cage and staff arranger at the mostly folky Vanguard label. Together the pair created the very first mainstream-aimed electronic music album. Bridging huge gaps between tony musique concrète, easy-listening kitsch, prototypical synth-pop, and boings and bangs that could've been lifted from Looney Tunes cartoons, The In Sound is as giddy as music gets. Anticipating the pitch-shifting of drum and bass and happy hardcore, Perrey painstakingly cut-and-pasted frantic, ridiculously fun ditties like "The Unidentified Flying Object" while Kingsley filled in the blanks with blatant camp. Thirty years later, the Beastie Boys paid tribute with their identically titled and similarly packaged instrumental comp, and in 1997, Smash Mouth pillaged the album's "Swan's Splashdown" for No. 2 single "Walkin' on the Sun." B.W.
47. AMM – AMMMusic (Elektra, 1966)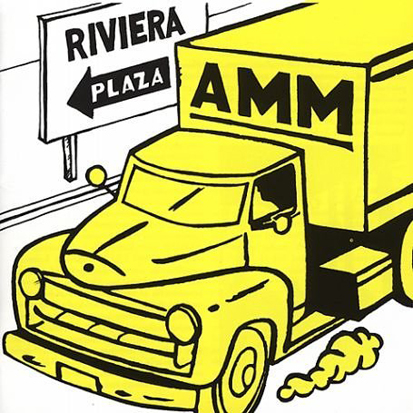 Going beyond was one of the 1960s' great quests, and British improvising collective AMM arguably went the beyondest, engaging in bold interplay sans harmony, rhythm, or rules. Unlikely labelmates with the Doors fior their 1966 Elektra debut (but not for long after) AMM kept their acronym secret, but one suspects that knowing its meaning wouldn't bring much more focus to the headily buzzing sound-plane of scrapes, blonks, drones, and unearthly radios. As noisy as the two side-long tracks are, though, they are hardly chaotic. With imagistic titles like "Later During A Flaming Riviera Sunset," the quintet improvises with a unity that's freer than free jazz — a shared secret knowledge of the next horizon. J.J.
48. The Incredible String Band – The Hangman's Beautiful Daughter (Elektra, 1968)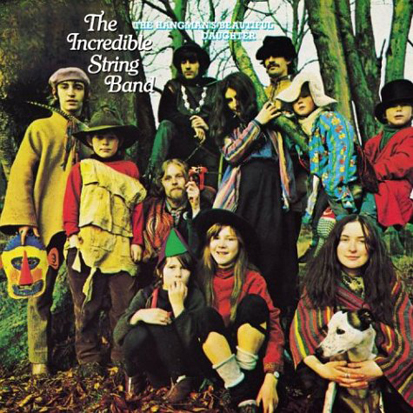 A folk band of indeterminate size, sitting cross-legged in the forest with rough-hewn violins, crank organs, washboards, sitars, talismans, tokens, and wooden flutes from faraway lands. Their best album features a tavern sing-along about minotaurs, a woman whispering ameebuhs or very smool, and liberal use of kazoo. Compared to the majority of late-'60s psychedelia, ISB were defiantly un-rock, drawing instead from traditional Celtic folksong and its more contemporary American counterparts, gospel, drone, and Indian classical music. Some of Daughter is a little on the witchy side (see: "The new moon is shining, the harmonious hand is now holding lord Krishna's ring!"), but most of the album is anchored by easygoing mysticism and a communal sense of joy that feels more like kindergartner's playtime than serious séance. Its centerpiece, the 13-minute "A Very Cellular Song," is definitive not just for the band but the subculture of U.K. folk they inhabited — an entire movement summarized in a single, sprawling moment. MIKE POWELL
49. Scott Walker – Scott 2 (Smash, 1968)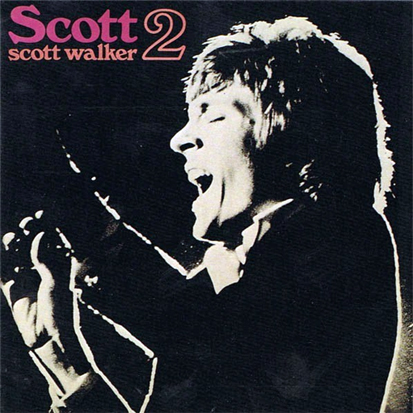 In 1967, Scott Walker turned his back on a commercially successful fake-brother vocal group to release a series of orchestral art-pop albums filled with stark songs about rape, fascism, whores, and other subjects not often dealt with using violin accompaniment. No singer has sung the word "gonorrhea" with more poise or the phrase "stupid-ass" with more venom. "Jackie," Scott 2's first single, was banned by the BBC; the album hit No. 1 anyhow. Walker's late-'60s run is starkly iconoclastic — too square to be avant-garde, too bitter and warped to be taken lightly. While all four Scott albums were alluringly fucked-up, Scott 2 was the series' undeniable peak: Luxurious without limit and vulgar without cure — the sound of the gutter, cast in gold. M.P.
50. The Mothers of Invention – We're Only in It for the Money (Verve, 1968)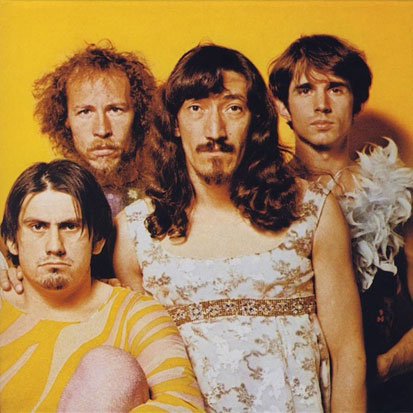 With pot shots at the Beatles (check the Sgt. Pepper's-lampooning inner gatefold), the Velvet Underground (a spoken-word dig was scrubbed from the CD reissues), and the entire Haight-Ashbury aesthetic (see all of side A), Frank Zappa's fourth full-length We're Only in It For the Money is an anti-counterculture dispatch blowing snow at the Summer of Love. But the real coup is the self-taught Zappa teaming his protesting-the-protesters jabs with a relentless melodicism that flows with a unity undreamt of by even George Martin. "Flower power sucks," the Mothers declare amid lush musique concrète, bar-band grooves, and a full battery of session musicians playing to Zappa's exacting specifications — all overseen by the pop eye of executive producer Tom Wilson, the connecting force between Cecil Taylor and Simon & Garfunkel. We're Only in It for the Money remains the opposite of novelty music, an unparalleled pop composition and conceptual flipside to Lumpy Gravy, the even more outré noise suite Zappa released months earlier. J.J.
51. Françoise Hardy – Françoise Hardy (Disques Vogue, 1962)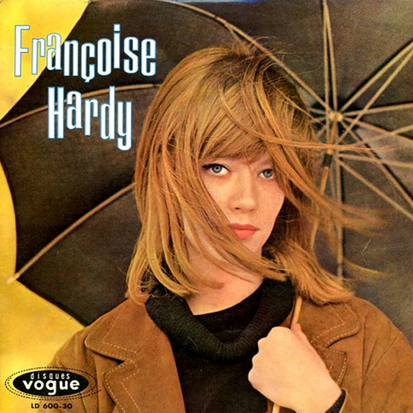 With the release of her eponymous 1962 debut, 18-year-old Sorbonne student Françoise Hardy immediately became the beautiful, breathy final rebuttal to the critical slamming of French pop. With a voice somewhere between Marianne Faithfull and Nico, Hardy broke the yé-yé (as in "yay-yay-hooray" rather than "yeah, yeah, yeah") mold with self-penned odes chronicling her romantic trials and tribulations; the folk-rock arrangements echoed Americans like Peter, Paul and Mary while hewing to France's intimate chanson tradition. Opening track "Tous les Garçons et les Filles (All the Boys and Girls)" became a hit despite being recorded by, in Hardy's words, "four of the worst musicians in all of Paris." Her shy, intriguing charm made her a hit with the Beatles, Dylan, and the even shyer Nick Drake, with whom, contrary to rumors, she was just a friend. R.G.
52. Rotary Connection – Rotary Connection (Cadet Concept, 1968)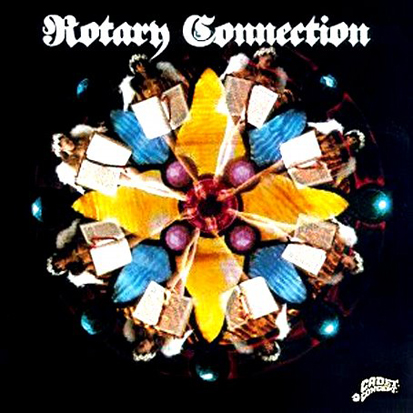 At the time, Rotary Connection appeared in late 1967, R&B; mostly drew on a very specific set of instrumental sounds: electric guitar, bass, drums, maybe a horn section or an organ. Producer Charles Stepney's masterstroke was to give Rotary Connection, a band assembled at the request of its label, the mammoth palette of psychedelia. The repertoire came from both the rock and R&B; charts, while Stepney's arrangements were a hypermaximalist Technicolor trip, with multiple singers (including a young Minnie Riperton!), a full orchestra, and everything else that British acid-gobblers were dumping onto records that year. Though the album hardly made a ripple at the time, decades later its extravagances turned out to have aged exceptionally well — "Memory Band" provided the sitar curlicue that turns up in A Tribe Called Quest's "Bonita Applebum" and the Fugees' "Killing Me Softly." D.W.
53. The Watts Prophets – The Black Voices: On the Streets in Watts (FFRR, 1969)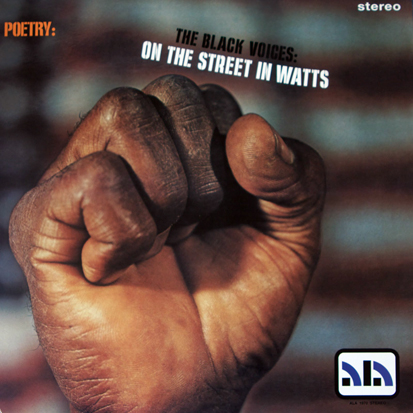 Often described as the West Coast's answer to proto-rappers the Last Poets, Amde Hamilton, Otis O'Solomon, and Richard Dedeaux are more like the Harlem trio's freakily tuned-in, Dada-tinged older brothers. The Watts Prophets' debut contains powerful poems ("They Shot Him," "Things Gonna Get Greater Later"), curt, clever audio fragments ("The Meek Ain't Gonna" is a short track that simply finds Hamilton declaring, "The meek ain't gonna inherit shit, because I'll take it!"), and pointed word deconstructions ("Funny How Things Change"), all set to rickety soul-jazz. Emerging after the Watts Riots of 1965 just like a generation of gangsta rappers emerged after the L.A. Riots of '92, hope and rage come alive via fervid spoken word, one of the earliest trips to what would become the Hip-Hop Nation. BRANDON SODERBERG
54. Terry Riley – A Rainbow in Curved Air (CBS, 1969)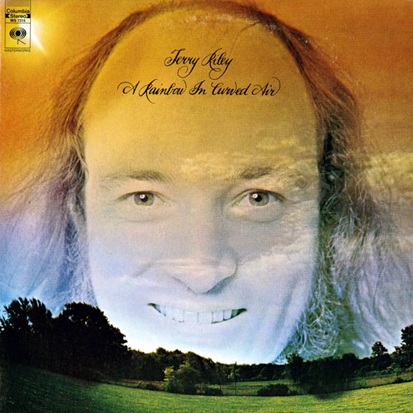 There are almost too many great interpretations of In C, Riley's conceptual triumph, so Rainbow in Curved Air was the concrete reminder of who Riley was, on his own, during minimalism's first wave. While La Monte Young was droning and Steve Reich was clapping, Riley was showing how to be hyperactively minimalist. With the help of multi-tracking, the composer showered the listener with superimposed blizzards of electronic notes. Even the more blissed-out "Poppy Nogood and the Phantom Band" on Side B featured some urgent sax playing from Riley underneath the thrumming keyboard part. You can hear the jazzlike flexibility of Riley's mind throughout: never the most dogmatic of composer-theoreticians, he'll improvise endlessly within a given structure (as on 2012's two-CD Aleph for Tzadik). Though The Who was the earliest and most well-known band to cite Riley's electronic textures and repetitive strategies as an influence (see their dedication "Baba O'Riley"), their appreciation hardly marks the apex of this record's impact on decades of electronic music to come. S.W.
55. Ray Barretto – Acid (Fania, 1968)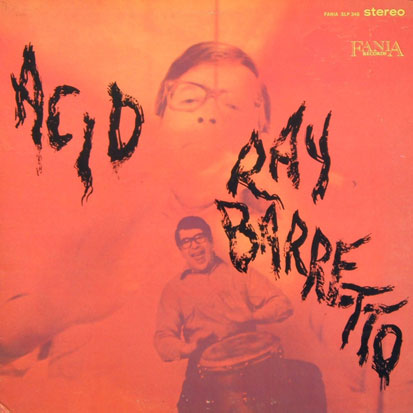 For a brief spell in the 1960s, after mambo's decline but before salsa's ascendance, New York's Latin music scene was dominated by boogaloo. Merging African-American R&B; rhythms with Latin instrumentation, boogaloo reflected an East Harlem cultural sensibility reared on both mambo mania and corner doo-wop. Compared to his younger brethren, Barretto was an elder, with a deep history in Afro-Cuban jazz and dance; and Acid, though not as blisteringly raw as some other boogaloo albums, was more sophisticated. The title track is a slow-burn masterpiece of unwinding basslines, chattering percussion, and a piercing horn, while more explosive tracks like "El Nuevo Barretto" and "Soul Drummers" scamper along with an irresistible verve. O.W.
56. The Monks – Black Monk Time (International Polydor Production, 1965)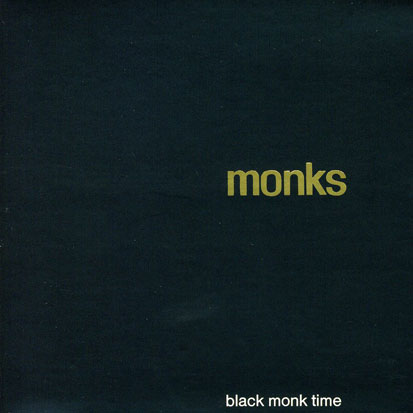 The Love Generation would have acted very differently if the sole album from divinely sloppy garage-punks Monks had actually become a hit upon its 1965 release. As fate would have it, though, the LP barely made it outside of Germany, where the group — composed of American ex-G.I.s wearing tonsures and monastery robes — had been honing their guitar skronks and quirky lyrics. As early adopters of the fuzz box, the Monks played gritty garage in the vein of the Troggs, for whom they once opened. But where their "Wild Thing" contemporaries sported shaggy haircuts to complement their hip three-chord guitar smashers, the Monks ambled through mordant, messy outsider-rock with choruses like "Shut up, don't cry," and "I hate you… but call me." Despite limited distribution, the album has no shortage of admirers generations after its release: Members of Pavement, Beastie Boys, and Radiohead have declared themselves fans, while Henry Rollins reissued Black Monk Time on his Infinite Zero imprint in 1997. K.G.
57. Townes Van Zandt – For the Sake of the Song (Poppy, 1968)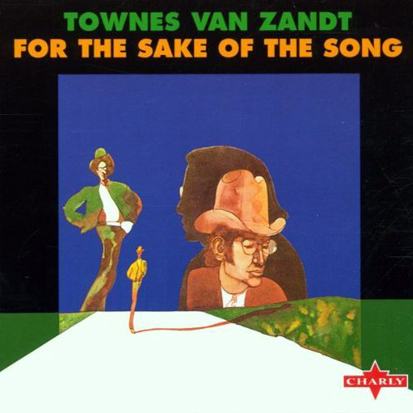 When Townes' debut album was released, the idea of the "Texas Troubador" was near its nadir. But for the few people who heard the LP — which was cut out immediately — it was obvious that he was a writer and performer cut from a deeper, darker cloth. The album suffers a bit from the overproduction so prevalent in the era, but songs like "Waitin' Around to Die" refuse to be buried. Even at this stage, Townes was capable of presenting harsh loser imagery, sung in a voice that accepts the reality of his shit situation without asking for our tears. His songwriting would get even better, but this first step is an essential part of a journey that ended in '97, just as a long-planned album project with Sonic Youth's Steve Shelley went haywire. B.C.
58. Nico – Chelsea Girl (Verve, 1967)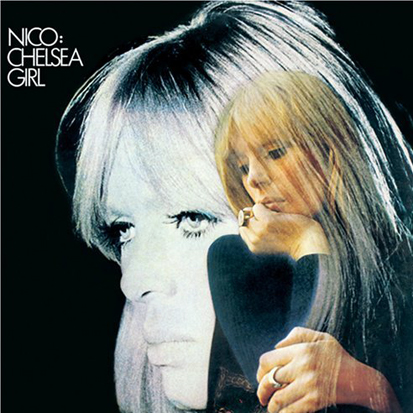 "The first time I heard the album I cried," said German singer-songwriter Nico, speaking about her solo debut, Chelsea Girl, in 1981, "and it was all because of the flute." For her, the album was too soft, too lush, not nearly stark enough. (A problem she soon rectified with a harrowing pair of albums, The Marble Index and Desertshore.) For everyone else, though, the icy Teutonic wraith was, just this once, approachably human. A huge part of that had to do with a warm, empathetic set of songs. Nico applied her entrancing honk to winsome, bittersweet compositions by former Velvet Underground bandmates John Cale, Sterling Morrison, and Lou Reed, as well as Bob Dylan (the charming "I'll Keep It With Mine"), doomed folkie Tim Hardin, and a then-teenaged Jackson Browne, who never wrote anything better than the nostalgic "These Days." The songs were painted in the vibrantly decaying autumnal colors — woodwinds and strings, clean guitars, and that wispy flute — giving everything a gently existential, chamber-folk air, one subsequently adopted by the likes of Belle & Sebastian and Sharon Van Etten. On Chelsea Girl, Nico looked into the void, and the void smiled resignedly back. D.M.
59. Anthony Braxton – For Alto (Delmark, 1969)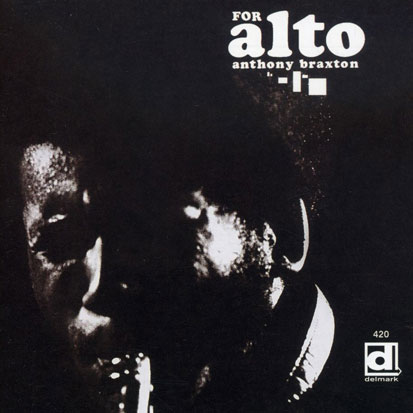 Cut by Braxton himself with a tape player, this LP cemented his early infamy. While he'd already played with other members of the boundary-pushing Association for the Advancement of Creative Musicians, this was the equivalent of a moonshot. Not only was an album-length recording of unaccompanied solo sax audacious for the time, but Braxton's approach also demolished the cultural boundaries between Cecil Taylor's thick, atonal workouts and the appreciation of space that John Cage was writing about in Silence. (Braxton dedicated parts of the album to each composer.) For Alto's dictionary of new sounds was articulated with great clarity: There was extremity and dissonance, but also humor, beauty, and even the blues. It inspired rancor from traditionalists; and to the world, it announced that the next vanguard would draw inspiration from modern composition and Fluxus just as easily as from Coltrane. Not long after its release, Carnegie Hall requested Braxton's solo act. S.W.
60. Alexander Spence – Oar (Columbia, 1969)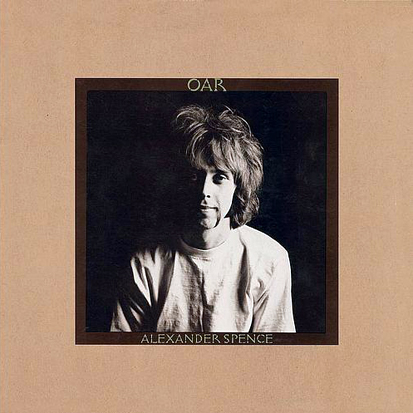 Greil Marcus got it mostly right in Rolling Stone, when he equated the slapdash brilliance of Moby Grape guitarist "Skip" Spence's solo debut (and final recording) to Bob Dylan's basement tapes with the Band. But Spence had no band, alas, having severed relations with the Grape by attempting to smash into his drummer's hotel room with an ax one demented evening. Instead, Spence, 22, recorded his masterpiece of phase-shifted one-man-bandmanship all by himself in Nashville in late 1968, and the result reeks as much of desperate loneliness as wild-eyed folk-rock ecstasy. It's the oddball-brilliant obverse to the slickly oblivious Los Angeles singer-songwriter sound that would prevail a year later. Try to imagine James Taylor attempting to conjure anything close to Spence's ghostly howl, off-register guitars, and free-form drumming over lyrics like "a honey-drippin' hipster whose be cannot be bopped / Better to be rolled in oats than from the roll be dropped." R.G.
61. The Godz – Contact High With the Godz (ESP-Disk)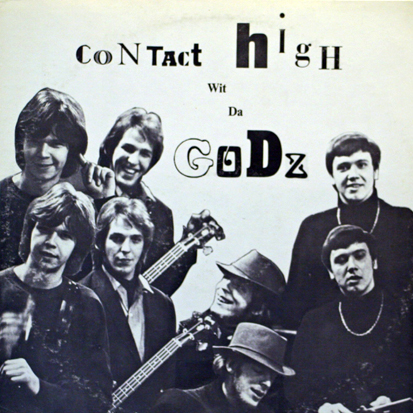 The Godz probably weren't the first folkies to record an album without particularly knowing how to write songs or how to play their instruments, but they were the only ones to be employsed as the office staff at Bernard Stollman's confrontationally idiosyncratic ESP-Disk label. "The Beatles came along and really took over," Stollman supposedly announced to the office one day. "I'm looking to start a group like that." Over Stollman's vehement protests, his employees — including shipping clerk Paul Thornton, graphic designer Jay Dillon, and sales manager Larry Kessler — auditioned and the man who signed the Fugs and Albert Ayler declared it brilliant. Opening with the meow-strewn "White Cat Heat," Contact High With the Godz is a glossolalia-laced punk hootenanny that delivers brilliant slop-slabs like "May You Never Be Alone," "1+1=?," and the lusty "Lay In the Sun." Like similar outsider heroes the Shaggs, the Godz got nowhere near the Beatles' rarefied air, but maybe arrived someplace much better. J.J.
62. Sonny Sharrock – Black Woman (Vortex, 1969)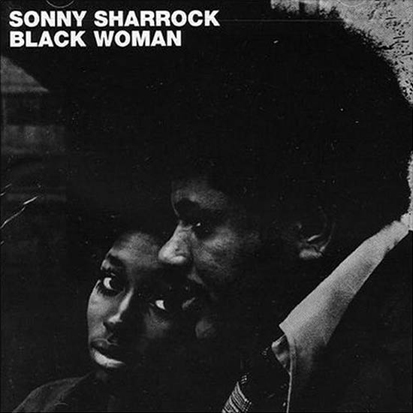 Sharrock was an electric guitarist who joked that he was "a horn player with a really fucked-up axe," and made his name on jazz records by Herbie Mann and Pharoah Sanders. For most of his first solo album, he's joined by an even more out-there variation on the sound of a tenor sax: his wife Linda's wordless, unrestrained vocal ululations. Black Woman did to theme-and-improvisation jazz (and the wave of guitar music that followed) what Marcel Duchamp's "Nude Descending a Staircase" did to painting — find a hidden wellspring of glory by slashing it open and fracturing its sense of time. Black Woman's closing statement is "Portrait of Linda in Three Colors, All Black," eight-and-a-half minutes of Sharrock riffing, Linda screeching orgasmically, and drummer Milton Graves battering out everything but a beat. D.W.
63. Desmond Dekker – This Is Desmond Dekkar (Trojan, 1969)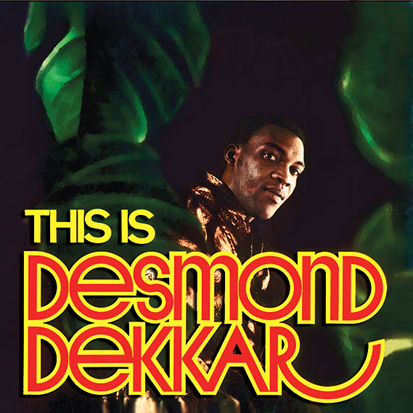 Millie Small's 1964 cover of "My Boy Lollipop" was the first international ska hit, but Desmond Adolphus Dacres' 1967 single "007 (Shanty Town)" was the track that broke more frank, streetwise documentary-style Jamaican music until Jimmy Cliff and Bob Marley came along to certify its magnificence. The first in a string of new-school rude-boy anthems that reflected the grit and violence of Jamaican life ("Dem a loot, dem a shoot, dem a wail"), Dekker's rocksteady hit resonated with British mods (thank you, Bond reference) and later inspired the Two-Tone movement. Other Leslie Kong-produced tracks — such as the suave party anthem "Music Like Dirt," the filial plaint "Hey Grandma," and "Mother's Young Girl — hint at Dekker's gospel roots in pre-rebel rocking Jamaica; but nothing sold the notion that "rudy got soul" quite like Dekker's tight, reedy voice. R.G.
64. The Holy Modal Rounders – The Moray Eels Eat the Holy Modal Rounders (Elektra, 1968)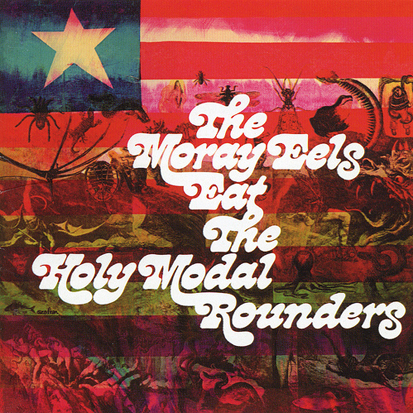 Part of New York City's urban folk bohemia, the Rounders heard in rockabilly and old rural string bands a vision of new music. On this, their fourth album, the styles were still mostly from the rural south of the 1920s, with added garage blues and scraps and bits from rags and barrelhouse and the American songbook (such as the melody but not the words to "Three cheers for the red, white, and blue"). But each instrument played its own accents and unique curlicues, not in direct support of the main melody or the singer (whose mic is always set to "soft"). Imagine a number of people wandering into a room and simultaneously telling their individually varied stories, while never losing touch with what the others are saying. The effect isn't dreamy or diffuse but slightly crazed, as everyone seems to be listening to notes just out of earshot, and every sound can potentially drive the wagon off various cliffs in any direction. FRANK KOGAN
65. The Peter Brötzmann Octet – Machine Gun (BRÖ, 1968)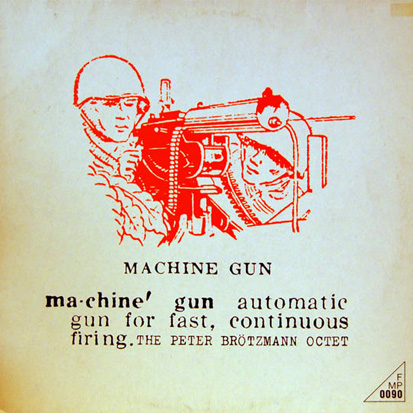 A mustachioed Wuppertal autodidact assembles an international octet in May of 1968, the year of the Paris strikes and the peak of Vietnam, and detonates the strongest blast of "energy music" yet unleashed upon a bewildered jazz audience. This three-track political statement — boasting the leader's own silkscreen artwork, barely rising above bootleg sound quality, printed in small numbers and mostly sold at Brötzmann's gigs — would serve as ground zero for European free jazz. The lineup came to define the continental underground: Evan Parker, Willem Breuker, Han Bennink, Peter Kowald, Fred Van Hove. And as music, the title track was unrelenting in ways that rock bands couldn't manage: 18 minutes of continual sound blasts, lung-collapsing massed skronk that avoids any semblance of melodic content until the 15-minute mark, when a merciful leader briefly let his cavalry indulge in some bar-band-from-hell swing. Possibly the most raging piece of jazz to this day. J.G.
66. Fairport Convention – Liege & Lief (Island, 1969)
For a few years, "folk-rock" basically just meant "playing Bob Dylan songs on electric guitars," and as the British equivalent of Jefferson Airplane, Fairport Convention did that too. With their third album, though, they went deep into the well of actual folk music — the bleak, majestic traditional songs of the British Isles — and played those as rock songs, teaming Sandy Denny's calm, elegant voice, Richard Thompson's mercurial guitar, a piledriving rhythm section, and barbed 17th-century ballads like "Matty Groves," in which a noblewoman seduces a commoner and they both get slaughtered for it. What came out of that mix combined modern muscle and ancient melody: You can crank up the distortion on their version of the centuries-old "Tam Lin," and it could just as well be Lightning Bolt. In an era suffused with up-with-people-ism, Liege & Lief's songs were haunted by inexorable death and cruel fate. The enormous family tree of British folk-rock grew from what this group grafted onto ancient roots. D.W.
67. The Sonics – Here Are the Sonics (Etiquette, 1965)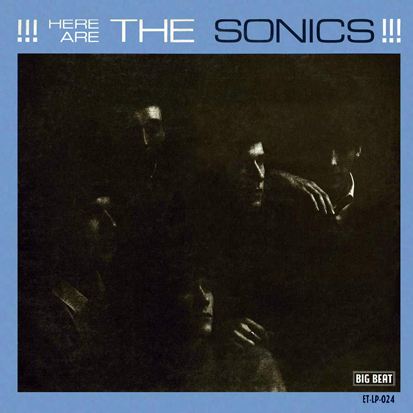 Discovered by fellow Tacoma, Washington garage band the Wailers, the Sonics were five clean-cut kids who sounded madder, badder, and more out-of-control than just about anyone else in 1965. It wasn't so much what they played: Like nearly every Yank and Brit band of the era, they covered the usual R&B; oldies. It was the way they played them — way harder, as if throwing, not faking, a genuine psychotic episode. Their swaggering, definitive version of Richard Berry's "Have Love Will Travel" was no doubt the inspiration for the Hives' nearly identical hit "Main Offender": Bob Bennett slams his snare drum like gunshots to your head; Gerry Roslie screams with an intensity that could make Little Richard jump, and Rob Lind's bleating sax break blasts harder than the guitars. Even better are their proto-punk originals: "Witch," "Boss Hoss," "Psycho," and "Strychnine," the last of which easily ranks as one of the most extreme pro-drug/pro-poison songs ever. B.W.
68. White Noise – An Electric Storm (Island, 1969)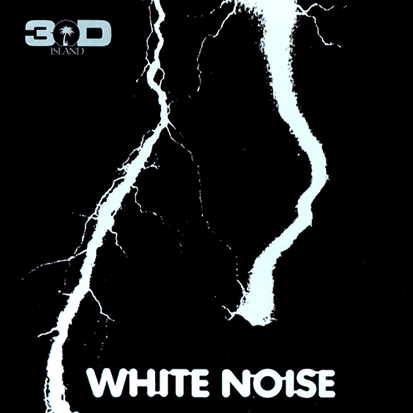 Growing from revered radio sound-effects lab the BBC Radiophonic Workshop, White Noise furthered the idea that electronic music was something to be enjoyed by everybody. In previous years, group member Delia Derbyshire had produced theme music for Dr. Who as well as a series of collages based on dream descriptions — the competing poles of populism and abstraction by which White Noise's sole "pop" album, An Electric Storm, might be measured. Deeply weird by the standards of both contemporary pop and the trio's roots in library music, Storm mostly revels in its own fun, from the Smile-era Beach Boys- giddiness of "Firebird" to the head-spinning Moog swirls of "The Visitations," and the processed percussion of "The Black Mass." Not so much a pop cash-in as an even deeper experiment into the potentials of electronic music: Derbyshire, David Vorhaus, and Brian Hodgson built sounds from the ground up, supplying the answer to the immortal question of "Who will synthesize the synthesizers?" J.J.
69. The Meters – The Meters (Josie, 1969)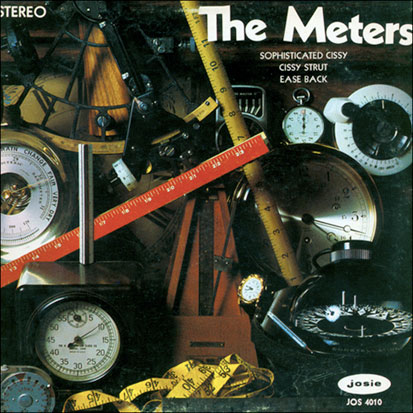 The 1960s birthed any number of important R&B; instrumentalists — Kool and the Gang, the Bar-Kays, the ever-changing James Brown band — but few boasted a heavier sound than New Orleans' the Meters. Built around just four members — Art Neville, Leo Nocentelli, George Porter Jr. and Zigaboo Modeliste ૼ the Meters crafted a landmark style in funk's evolution, bridging New Orleans' distinctive "second line" dance rhythms to the musical mainstream. Bassist Porter and drummer Modeliste anchored the low end ("Cardova"), while Neville's wheezed in on keys ("Here Comes the Meter Man"), and Nocentelli's twitchy, plucky guitar added both melodic and rhythmic accents ("Ease Back"). Unlike more cover-driven albums of the time, The Meters only had a couple, including a sublimely moody version of "Stormy," but the originals such as "Sophisticated Cissy" and "Cissy Strut" inspired the greatest fanfare, especially amongst later generations of sample-hungry hip-hop producers. O.W.
70. John Coltrane – Ascension (Impulse!, 1966)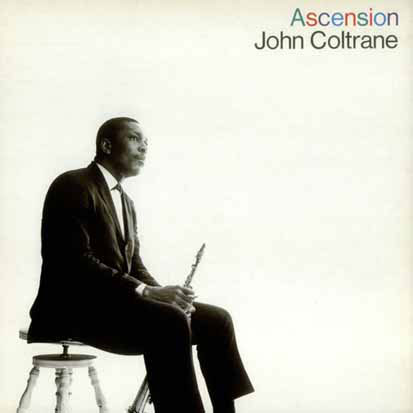 "The people who were in the studio were screaming," recalled alto saxophonist Marion Brown of recording Ascension with John Coltrane. "I don't know how the engineers kept the screams out of the record." For as much of a quest as it was to attain some higher understanding of improvisation, of music, of sound, Ascension was an aggressive, unpredictable free-for-all; a punk-rock nose-thumbing at what jazz should be. Following in the steps of Ornette Coleman, Coltrane explored the outer limits on Ascension, an album so subversive, so expectantly divisive that the original liner notes were basically a lengthy caveat from author A.B. Spellman. This was playing and thinking at its most free, and the 11-man ensemble who recorded Ascension held nothing back on its two takes. In the jumble, Ascension features some of the greatest, fiercest jazz solos of all time, notably tenor saxophonist Pharoah Sanders' fire-tongued flutters on the second take, drummer Elvin Jones' delicate cymbal rumbles and crashing snares on the first, and, of course, Coltrane's own unpredictable runs on both. It's a love extreme. K.G.
71. Steve Reich – Early Works (Nonesuch, 1987)
Even before the hippies arrived, San Francisco wasn't for Steve Reich, though he did get to study with Luciano Berio, experiment with a tape deck of his own (shared with Berio co-pupil Phil Lesh!), and help arrange the 1965 debut of his friend Terry Riley's In C at the San Francisco Tape Music Center in the blissful, pre-explosion Haight-Ashbury. Just before splitting for New York, Reich created "It's Gonna Rain" on a pair of Wollensak reel-to-reel tape recorders. A field recording of a street-corner preacher hypnotically looped and ricocheted, its infectious repetition became the Rosetta Stone for minimalism, ambient, and hip-hop. With successive experiments documented here, like 1966's "Come Out," Reich turned his tape-pinging into a voice that was rigorous, rhythmic, powerful, and just as deeply emotional as more melody-based music. With 1967's "Piano Phase" (here represented by a 1987 recording), he turned his conversing tape players into something that humans could transform into an ebbing shimmer. J.J.
72. Blue Cheer – Vincebus Eruptum (1968)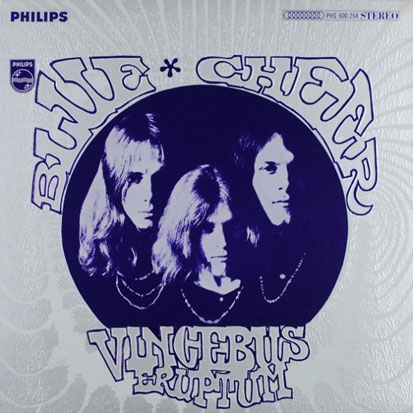 No matter how many Marshall amps and stomp boxes today's heavy-metal militias employ, no guitarist sounds as electrified or piercing as Blue Cheer's Leigh Stephens on the group's cover of "Summertime Blues." Those earth-shaking pentatonics, when teamed with Paul Whaley's dumpster-rattling drumming and vocalist-bassist Dickie Peterson's acid-burnout drawl, paved the foundation for Led Zeppelin and Black Sabbath to redefine "heavy" in the coming years. The rest of the 1968 album that bore "Summertime Blues," titled Vincebus Eruptum in drugged-out pseudo-Latin gobbledygook, was even more unwieldy. The secret to its sound is that the trio recorded the LP outside, bashing out throat-shredding originals like "Doctor Please" and noodling blues covers (Otis Redding's "Rock Me Baby," Mose Allison's "Parchment Farm") at eardrum-splitting volumes. It's chaos divined, and it resounds today in the thunderclaps of the Melvins, Boris, High on Fire, and more. K.G.
73. John Fahey – Vol. 3: The Dance of Death & Other Plantation Favorites (Takoma, 1964)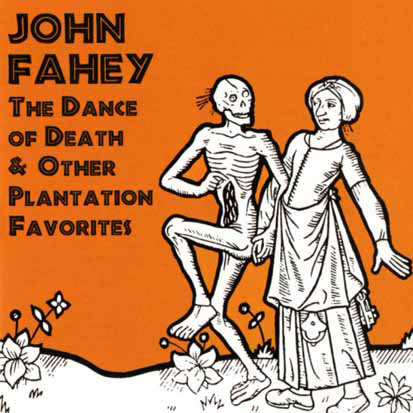 Guitarist John Fahey remains a totemic figure (both musically and psychically) for a vast number of younger musicians, via his uniquely syncretic approach to the acoustic guitar ("I thought it might be cool if you could syncopate Bartok," he once said.), his DIY approach to record production, and his general weirdness. Before his death in 2001, Fahey had begun exploring textures of electricity and noise, but his reputation was built with a series of amazing fingerpicked acoustic-guitar albums released throughout the '60s and '70s. He established his own universe in which country blues, old time fiddle tunes, musique concrete, and bizarre sound effects existed on a single plane. Dance of Death, Fahey's third, recorded in '64, draws from a vast array of traditions, including oddly metered covers of country blues classics, a raga-fried duet with Bill Barth (later of experimental blues band Insect Trust), fantasias based on traditional country-and-western ballads, plus the requisite Episcopal hymn. More widely distributed than his previous two LPs, Dance of Death really began to grow Fahey's legend. There's less of the overt experimentalism of other early sets, but it's a gorgeous, holistic, and wildly exploratory album, the reverberations of which continue to bubble up everywhere — from William Tyler and Daniel Bachman to Matt Valentine and beyond. B.C.
74. Nick Drake – Five Leaves Left (Island, 1969)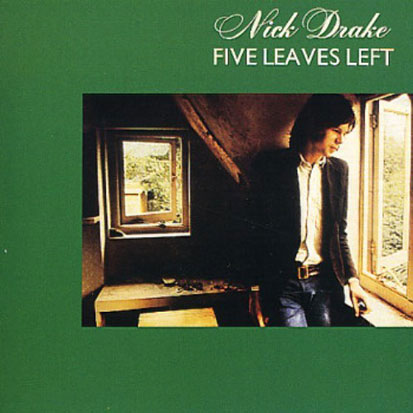 Released when he was only 21, the prodigious 1969 debut by former Cambridge student Nick Drake seems to exist out of time. Unlike his timely, socially conscious post-Woodstock peers, Drake avoids all temporal references beyond those found in nature. Instead, he sings of women and men and suggestions of emotional intimacy, but no lust, no carnality — just a longing for peace of mind, implied not necessarily through words but through an overwhelming wistfulness. Employing unconventional guitar tunings and compositional sophistication far beyond ordinary folk music, Drake croons squarely on the notes, as if the air just poured out of him and into precisely the right places without any effort. On "Fruit Tree," he contemplates fame as something impossible to measure until well after death. Decades after Drake's 1974 overdose from prescribed antidepressants, this album, virtually unheard at the time of its release, is universally acknowledged as among the greatest English folk statements ever made. B.W.
75. Love – Forever Changes (Elektra, 1967)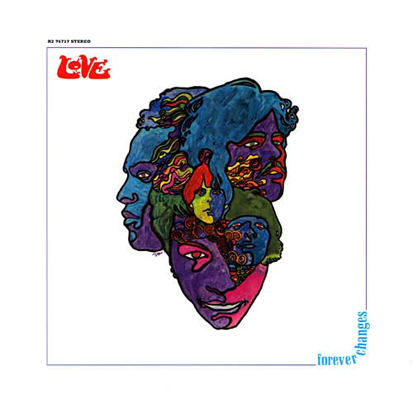 Released in the fall of 1967, just as the Summer of Love was curdling into 1968's Year of Infinite Hate, the third album by this Los Angeles band was initially a commercial flop, but now it stands as an iconic moment, perhaps the pinnacle of psychedelic pop. Conceived as an ambitious song cycle by singer-guitarist Arthur Lee, Forever Changes reveals itself as a baroque gem the moment leadoff track "Alone Again Or" explodes from gentle acoustic picking into a post-Bacharach orchestral attack, complete with swelling strings, mariachi horns, and flamenco guitars. Despite the band's blissfully positive moniker, Lee's lysergic imagery — "Oh the snot has caked against my pants / It has turned into crystal / There's a bluebird sitting on a branch / I guess I'll take my pistol"—bristles with extreme paranoia, suggesting that those diamonds in the sky may be shards of shattered glass. Influencing bands from the Stone Roses to Neutral Milk Hotel, Forever Changes remains as timeless as its title prophesied. M.R.
76. Silver Apples – Silver Apples (Kapp, 1968)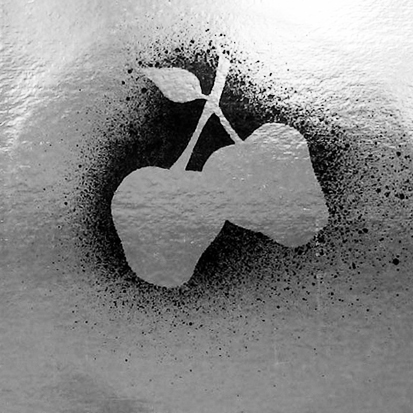 Landing the same year as Kubrick's 2001, New York techno-pop bad trip Silver Apples were a similarly disorienting mix of the darkly robotic and the decidedly psychotropic. Tinkering on a massive oscillator of their own design, the duo were among the very first to explore the transformative tension between pummeling rock, wub-wubbing electronic noise, and sampledelic radio rumbles. Long before Kraftwerk put us at one with the robots, tweak-punk Simeon and (minimally) funky drummer Danny Harris were paranoid androids playing a blade-running tug of war with technology — sometimes they could train these whistles and honks into behaving like something approaching dance music ("Oscillations"), sometimes they wrestled uneasily with the drums and nearly wobbled off axis ("Whirly-Bird"), and other times the transmissions go completely haywire and wreak havoc ("Program"). C.W.
77. The Fugs – The Fugs First Album (Folkways, 1965)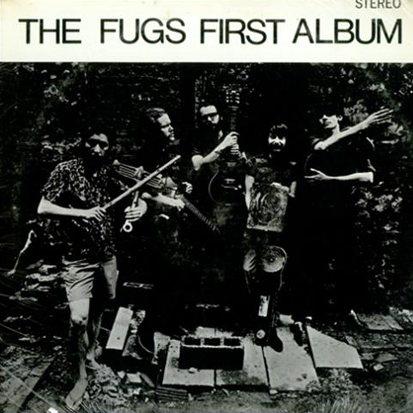 From his Peace Eye Bookstore a few blocks from Tompkins Square Park, poet Ed Sanders preached and practiced a "total assault on the culture," publishing Fuck You/a magazine of the arts, weathering an obscenities bust, and co-founding the anarcho-folkie spit-take the Fugs with East Village proto-hippie Tuli Kupferberg, a hero alluded to in Allen Ginsberg's Howl. Streaking their 1965 debut with William Blake poems set to music ("Ah, Sunflower Weary of Time"), paeans to then-still-legal LSD (Ken Weaver's "I Couldn't Get High"), existential bongo drones ("Nothing"), and obscene bubblegum punk (Kupferberg's classic "Supergirl"), the Fugs were held together by fellow drug-crazed folk-destructors the Holy Modal Rounders. MCing the 1967 "levitation" of the Pentagon, as well as an exorcism of Joseph McCarthy's grave, plus aligning with the Yippies for 1968's teargas-laced Festival of Life at the Democratic National Convention, the Fugs proved perhaps too countercultural for the classic-rock canon. J.J.
78. Van Dyke Parks – Song Cycle (Warner Bros., 1968)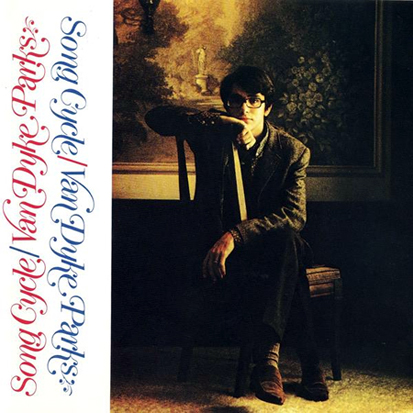 A wildly ambitious, Southern-gothic daydream set in pop-saturated Southern California, Van Dyke Parks' 1968 debut set the out-of-step tenor for the composer-producer-arranger's subsequent dealings with his label Warner Bros. A semi-autobiographical snapshot of life in the Los Angeles rock demimonde during the Vietnam War, Song Cycle creates a kaleidoscopic orchestral world where Dixieland, ragtime, gospel, and Appalachian folk coalesce in gorgeous, often gauzy fabrications. His Louisiana lilt helps sell freely associated lyrics such as, "Time is not the main thought from under the rain wrought from roots that brought us coots to hoot and haul us all back…" A sophisticated, swirling fever dream of American musical history inspired by Stephen Foster, Louis Gottschalk, and George Gershwin, Song Cycle set an unimaginably high standard for art-pop overachievers from Brian Wilson to Sufjan Stevens to avowed superfans Grizzly Bear. R.G.
79. The Velvet Underground – The Velvet Underground (MGM, 1969)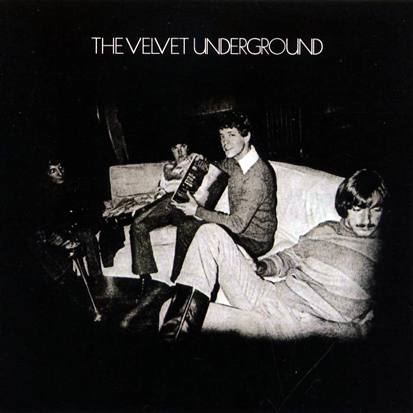 On their third album, the scariest band in America plunged into the shocking realm of quiet prettiness. John Cale was gone, replaced by singer/bassist Doug Yule; the feedback and orgies and smack-fueled bugouts of White Light/White Heat were gone, too, replaced by precise, gently observational songs by Lou Reed about clear-eyed perception, tricky emotional states, and Jesus. The rhythm guitar part on "What Goes On" alone spawned bands from the Modern Lovers to the Wedding Present. Aside from a long lounge-jazz/word-salad piece, there's nothing overtly avant-garde about The Velvet Underground. Its power is subtler, and built around the absence of the towering noise they already knew they could make. D.W.
80. Pink Floyd – The Piper at the Gates of Dawn (Columbia, 1967)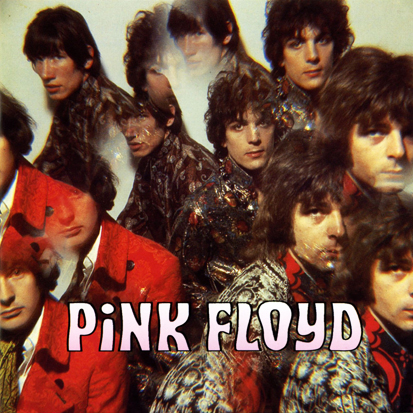 While bassist Roger Waters later copped to only being in it for the money — or at least not in it for the drugs — there was no faking it for Pink Floyd founder and crazy diamond Syd Barrett. His elliptical lyrics ("Chapter 24"), ball-bearings-on-the-fretboard jamming ("Interstellar Overdrive"), and quick retirement to his mother's house, make Piper a founding document of the outsider canon, hidden in a muscular rock record. Few out-of-their-gourds musicians can make something this beautiful, but they'll forever be compared to the first man to pull if off. His band captured the pulsing strobes and unpredictable bottom-drops of the psychedelic experience far more acutely than most of their LSD-honked San Francisco counterparts. The Floyd would go onto better bigger things, but Piper remains not only an album to trip to, but the trip itself, right down to the uncontrollable giggles when "The Gnome" comes on. J.J.
81. The Mothers of Invention – Freak Out! (1966)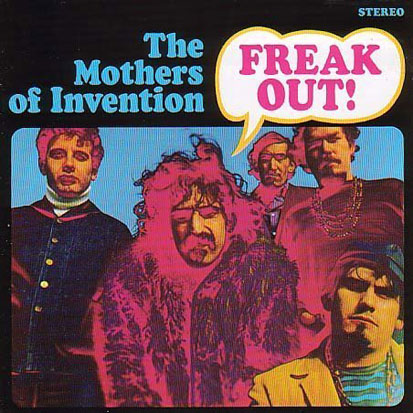 Rock's first double-album debut was a blistering and frequently hilarious montage of pachuco doo-wop, dirty psych-garage, snarling electric blues, greasy R&B;, and Darmstadt-inspired left-field improvisation. A year later, Sgt. Pepper's Lonely Hearts Club Band seemed little more than a sanitized response to Frank Zappa's satiric cri de coeur from Great Society America. With liner notes containing an autodidact's dream syllabus of some 150 influences (Sonny Boy Williamson, Bram Stoker, Karlheinz Stockhausen), Freak Out! embraced and transcended the hippie milieu that Zappa would atomically excoriate two years later on We're Only In It for the Money. Like the Residents or Weird Al Yankovic, Zappa loved what he lambasted, and even Freak Out!'s most mercilessly mocked teenage pop tropes (see the broken doo-wop of "Go Cry on Somebody Else's Shoulder") are rendered with affection. "Trouble Every Day," Zappa's blues-rapping response to the Watts Riots, might have been written for Kimani Gray. R.G.
82. Albert Ayler – Spiritual Unity (ESP-Disk, 1964)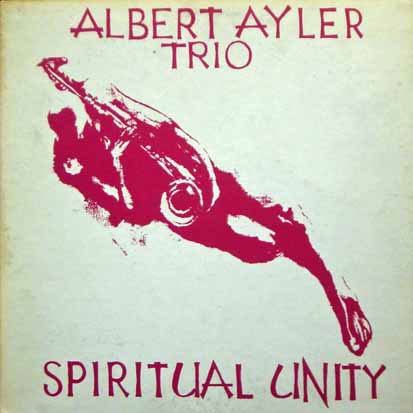 At least Coltrane and his post-bop jazz peers were given the benefit of pulling a Picasso after they tired of playing it straight. Albert Ayler's roots were in R&B;, meaning charges of charlatanism dominated the critical discourse around him. The reactionaries had a point, for Ayler sounded like no other horn player, rarely explaining his methods and encouraging listeners to focus on "feelings" rather than "notes." The second release from the only label in town willing to cut him a check found Ayler's unsettling tenor sax screaming atop a rhythm section so unmoored from traditional meter that casual listeners heard only chaos. Yet Gary Peacock and Sunny Murray knew how to keep time as surely as Ayler himself loved a good melody — why else would the maestro cover his best tune ("Ghosts") twice on a four-cut album? Soon, the quartet would expand into an ensemble, quoting brass bands and Irish jigs. But here Ayler speaks in tongues the way few of his rivals ever dared. J.G.
83. The Zombies – Odessey and Oracle (CBS, 1968)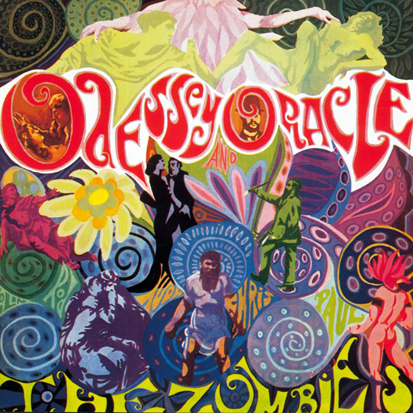 Forget Sgt. Pepper: The Zombies' Odessey and Oracle is Blighty's best response to Pet Sounds. Angelic vocalists Colin Blunstone, Rod Argent, and Chris White sang bittersweet melodies about eccentric subjects (imprisoned lovers, shell-shocked soldiers, old spinsters) in gloriously pure Church of England harmonies, while assembling simultaneously baroque and stripped-down music into an elegant tapestry of sophisticated chord changes, thrumming Mellotron, stately piano, and gothic organ. Yes, the sultry "Time of the Season" was a minor hit, but it was also an outlier. Odessey and Oracle as a whole is as haunting as a beautiful face seen once in passing and never forgotten, and a key influence on Beck (who has covered the album's "Beechwood Park"), the punningly named Beachwood Sparks, and scads of other forlorn would-be studio wizards who see sunshine as an opportunity for shadows. DAVID MARCHESE
84. MC5 – Kick Out the Jams (Elektra, 1969)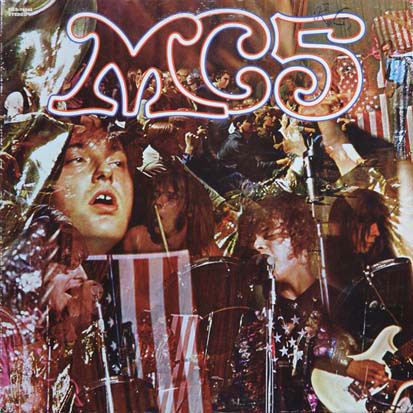 Although the MC5 had neither the gritty magnetism of the Stooges nor the sharp artistic temperament of the Velvet Underground, they had a revolutionary mindset and a take-no-prisoners ethos to earn their place among proto-punk's most influential names. Their rally cry was 1969 debut Kick Out the Jams — a raw live album that, were it not for their White Panther politics, hippie-fueled "brothers and sisters" anti-jingoism, and censor-challenging "motherfucker"-tossing, might sound like any other forgettable Woodstock-era bar-rock browbeater. But because of its marriage of highbrow radical screeds and lowbrow blues-rock, the lead track has been covered by everyone from Afrika Bambaataa to Rage Against the Machine to the Presidents of the United States of America. The rest of the album is a loose-cannon exercise in freedom that either culminates or melts down — depending on how you look at it — with their shambolic, album-closing, bad-trip cover of Sun Ra's "Starship." K.G.
85. The Shaggs – Philosophy of the World (Third World, 1969)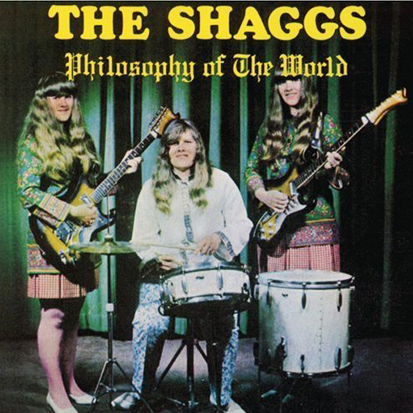 About a decade after the invention of free jazz, the Shaggs accidentally invented "free rock" — a musical conflagration of unpredictable drumbeats, untuned guitars, and atonal vocals about parents, Halloween, pets, and Big Questions like "Why do I feel?" The reason the band, composed of three small-town New Hampshire sisters, sounded so unbelievably trippy was because they recorded their 1969 debut, Philosophy of the World, a little over a year after they'd started playing their instruments, spurred on by a tone-deaf stage dad. The result was an eccentric clatter powered by its own internal rhythms, paired with a simple, naïve pop that's pure bubblegum ("The short people want what the tall people's got / And the tall people want what the short people's got"). To the right ears, the musical melee was entrancing. Frank Zappa called the group "better than the Beatles," and Kurt Cobain listed the record as his fifth favorite LP of all time. Ultimately, the Shaggs' philosophy has resounded loudest in generations of deliberately innocent bands from Half Japanese to Deerhoof. K.G.
86. Leonard Cohen – Songs of Leonard Cohen (Columbia, 1967)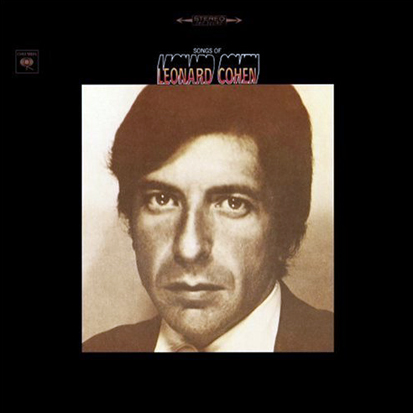 Acid, beads, long hair, free love, loud rock: Leonard Cohen had nothing to do with the 1960s of the popular imagination (except maybe the free love thing). And that's why his debut still sounds so poised, powerful, and resonant — radical, too. Released when the Montreal singer (per se) and songwriter (prima facie) was an ancient 33 years of age, Songs is a hushed, melancholy collection of erotic longing and sensual obsession rendered in fathomless lyrics befitting their author's standing as an award-winning poet and novelist. Set free to waltz amongst producer John Simon's smoky, Euro-suggestive settings — shimmering strings, cooing background angels, moaning harmonium — melodically insinuating Cohen koans like "Sisters of Mercy" and the deathless "Suzanne" are as fundamentally graceful as a lover's bare shoulder. Musically and lyrically, everything sounds as if it could've been recorded anytime between, say, 1935 and the day the album came out. D.M.
87. Nico – The Marble Index (Elektra, 1968)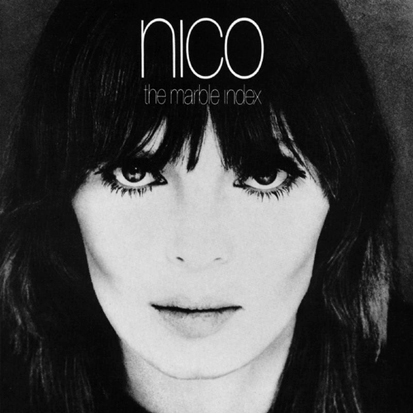 "I don't know if I would classify it as oppressive or depressing, but I do know that The Marble Index scares the shit out of me," wrote Lester Bangs of Nico's second album, and with good reason: Few records, before or since, have sounded lonelier, spookier, or more desolate. The erstwhile model, actress, Warhol muse, and original It Girl had already radiated a deathly cool on 1967's The Velvet Underground & Nico, and the pensive Chelsea Girl was plenty melancholy, albeit wrapped up in easy-listening trappings that reportedly horrified the singer. But 1968's The Marble Index was something else entirely, abandoning Chelsea Girl's warm, fuzzy folk in favor of pre-modern madrigal forms, wheezing harmonium, and John Cale's layers of shivering dissonance. For lyrical inspiration, Nico looked to the Romantic poets and peyote, passions shared with Jim Morrison during a brief, intense affair. The album takes its title from Wordsworth's 1888 poem "The Prelude," in which he contemplates a statue of Isaac Newton "with his prism and silent face / The marble index of a mind for ever / Voyaging through strange seas of Thought, alone." The same could be said of Nico's album. It set the tone for decades of music to come — Arthur Russell, Dead Can Dance, Fennesz, Zola Jesus, Grouper, pretty much every metal band that ever used a harpsichord — but few followers have sailed so near to the edge of the abyss with such chillingly beautiful results. P.S.
88. Karlheinz Stockhausen – Kontakte (WERGO, 1964)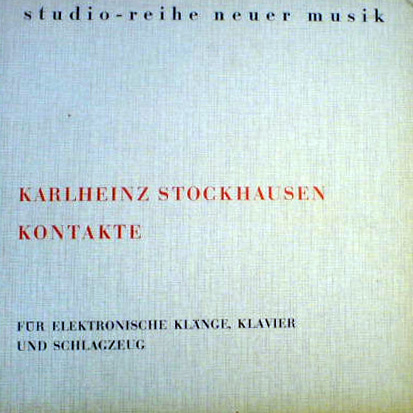 By 1964, vanguard composer Stockhausen was notating every single blip and squawk according to his serialist designs and "moment" form — that is, every sound is discrete and unto itself, with no thought given to building toward a particular climax. And so behold this brain-bending half-hour battle between piano, percussion, and tape: explosion begets whisper begets whine begets scrape. The first version, for four-channel electronics, was completed in a German studio over three years. But Stockhausen immediately updated the opus to invite live-instrument interplay with his hermetically perfected electronic sounds. Musicians battling otherworldly noises created an unpredictable yet scripted anarchy, blowing the minds of several generations of outsider aesthetes, including Mike Patton and Autechre. Thurston Moore's Ecstatic Peace ultimately released a version by James Tenney and William Winant, but the 1960 recording from David Tudor and Christoph Caskel later issued on WERGO is more aggressive and more precise. S.W.
89. The 13th Floor Elevators – The Psychedelic Sounds of the 13th Floor Elevators (International Artists, 1966)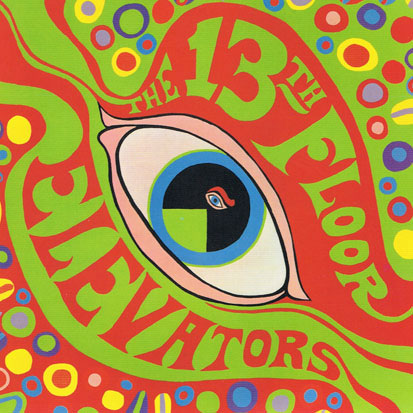 From its phantasmagorical all-seeing-eye cover art, to the liner notes' psychotropic proselytizing, to the hallucinatory sounds contained therein, the 13th Floor Elevators' 1966 debut album introduced the world to the concept of psychedelic rock. Drug-gobbling Austin pharmacological outlaws who never got the memo about the brown acid, the Elevators embarked on an LSD-fueled "quest for pure sanity." While their electric jugband acid test produced two outstanding records of distorted Mekong Delta blues (distinguished by Tommy Hall's electric jug, reverberating like a hiccupping theremin), it also culminated in personal lives tragically wrecked by addiction and mental illness. "You're Gonna Miss Me" is on any short list of the best-ever garage-rock anthems, a snarling declaration of profound alienation, with Roky Erickson's unhinged shrieks establishing him as one of rock's most haunting voices (and one of its most damaged souls). Despite their casualty count, the Elevators' cautionary tale didn't stop them from influencing several generations of altered consciousness seekers — from Television to Butthole Surfers to Spacemen 3 — willing to turn on, plug in, and wig out. M.R.
90. Various Artists – Tropicália ou Panis et Circensis (Phillips, 1968)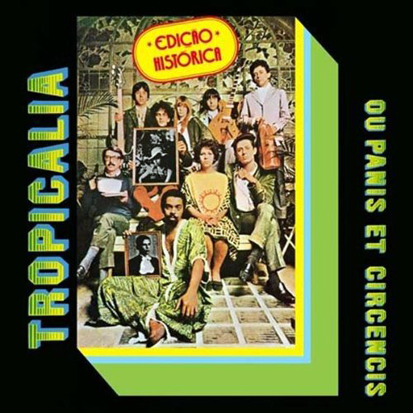 The cream of Brazil's Tropicalismo movement announced its collective arrival on Caetano Veloso and friends' 1968 record and manifesto. Anglo-American pop, rock, and soul, avant-garde art, and Brazilian-bred cultural consumables from Carmen Miranda to bossa nova congeal beautifully. Rogerio Duprat played George Martin to the songwriting genius of youthful Tropicália pioneers Veloso, Gilberto Gil, and Tom Zé, whose tunes range from rapturous to revolutionary. Os Mutantes' title track (written by Veloso and Gil) is a Beatles-esque call to ideological arms with a "Penny Lane" horn riff; Gal Costa's version of Veloso's "Baby," a Neil Sedaka-like love song filtered through Godard's existential cool ("You need to know about swimming pools, margarine, Caroline, gasoline"); and Gil's "Bat Macumba" a concrete-poetry hybrid of Afro-Brazilian religion, yé-yé pop, and Batman. A masterpiece of Brazilian pop-art collage, Tropicália revolutionized Brazilian music by strip-mining the past while preserving and reinventing everything worthwhile for future fans such as Beck and David Byrne. R.G.
91. Can – Monster Movie (United Artists, 1969)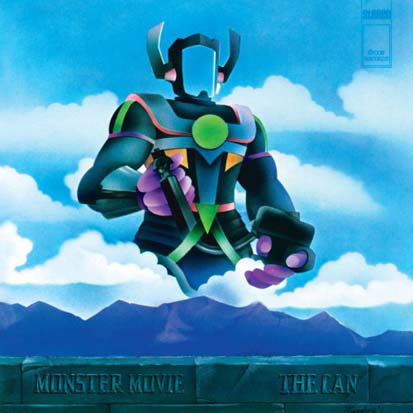 Though recorded in a 14th-Century castle, the debut album by this German group anticipated the 21st century more than almost any other band of the decade. Blending the heady experimentation championed by former Stockhausen students keyboardist Irmin Schmidt and bassist Holger Czukay — including the use of noise, sampling, and minimalism-inspired repetition — with a body-moving hypnotic groove generated by Jaki Liebezeit's drums, Can created a free-flowing improvisatory psychedelia that truly put the "trance" in "transcendent." Monster Movie featured original vocalist Malcolm Mooney, an African-American sculptor whose singing style consisted mainly of chanting a phrase over and over again to the brink of possession, whether the source material was nursery rhyme ("Mary, Mary So Contrary") or New Testament ("Yoo Doo Right"). The latter song, a spellbinding roller-coaster edited down to 20 minutes from six hours of jamming, surges and crests repeatedly as Mooney gets increasingly unhinged and Michael Karoli's guitar weaves back and forth between inner and outer space. While later albums like Tago Mago and Ege Bamyasi perfected avant-kraut-funk, it was Monster Movie that made a believer out of Public Image Limited, the Fall, and several generations of post-punk bands and electronic musicians. M.R.
92. Sun Ra – The Heliocentric Worlds of Sun Ra, Vol. 1 & 2 (ESP-Disk, 1965)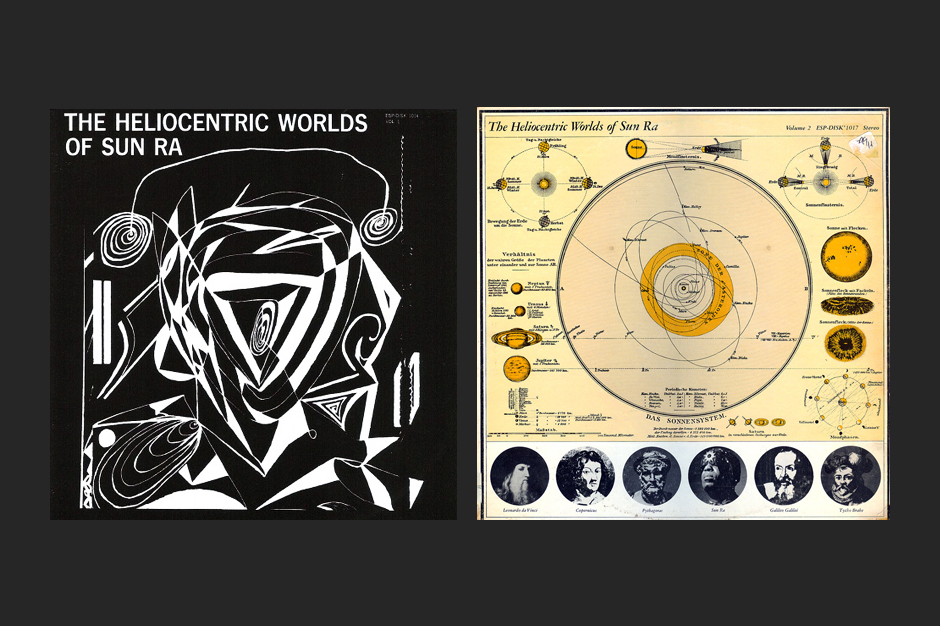 Jazz keyboardist, bandleader, and space cartologist Sun Ra (born Herman Blount) spent most of his career as the consummate outsider. He declared that he was from Saturn (by way of Birmingham, Alabama), lived communally with his ensemble the Arkestra, and was far more interested in cosmic esoterica than what his contemporaries were doing. Ra released most of his several dozen records of the '60s on his own El Saturn imprint (and mostly just sold them at his shows), but the two Heliocentric Worlds albums, both recorded in 1965, appeared on the iconoclastic ESP-Disk label, and propagated his music to a wider audience of listeners who were open to freakiness. Both volumes are improvisations by subgroups of the Arkestra (directed by Ra), and even at their most dissonant, they're playful and spacious — "Dancing in the Sun" is off-the-cuff big-band swing, and "The Sun Myth" is a panoramic 18-minute fantasia in which two or three instruments at a time toss long, buzzing tones and high honks back and forth, then fall out of orbit again. D.W.
93. Terry Riley – In C (Columbia, 1968)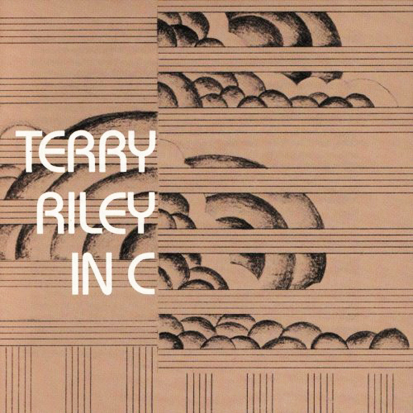 At the height of New York serialism's chilly grip on contemporary composition, Terry Riley cheerfully spoke out of turn with pure West Coast optimism. If other composers paid lip service to jazz improvisation or Indian drones, Riley integrated non-Western techniques into his proto-hippie philosophy, throwing out the classical script via a disarmingly simplistic one-page score, first unveiled in 1964 and put down for posterity on this transcendent, spellbinding recording. With a wit reminiscent of fellow Californian John Cage, the piece called for "about 35 people" to cycle through 53 "cells" at no fixed tempo for any length of time until a satisfactory conclusion, anchored by a steady eighth-note piano pulse, preferably played by a "beautiful girl." Cerebral yet democratic, Riley's magic formula allowed great flexibility between performances while remaining immediately identifiable, a hypnotic pile-up full of accidental melodies and brief epiphanies. That pulse would help light the spark of American minimalism, while serialism languishes in dusty academia. J.G.
94. Ornette Coleman – Free Jazz (Atlantic, 1960)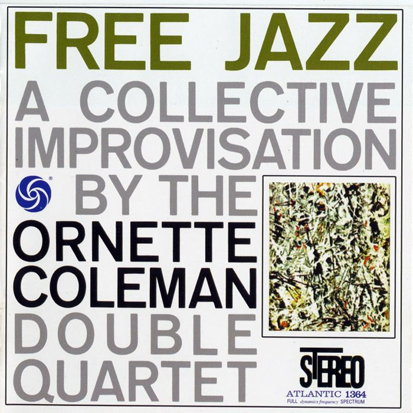 There was always more bop and blues within Ornette Coleman's early quartet dates than scandalized traditionalists would admit. But when the alto saxophonist summoned a double quartet to New York's A&R; Studios for a single 37-minute track of frenetic improv (the longest continuous cut in jazz history at the time), he was venturing into uncharted territory. Careful listening revealed a collectivist ethos straight out of Dixieland, two drummers swinging like crazy, and a thematic phrase anybody could whistle, provided you were still listening when it surfaced deep inside the performance. But at the time, nobody was talking about Dixieland or swing or melody — they were either fleeing the cacophony or seeing the light. Five decades and many variations later, the shock tactics of Free Jazz have become part of our DNA: If you think head-solo-head arrangements are passé, you just tipped your hat to the master. J.G.
95. Various Artists – Nuggets: Original Artyfacts from the First Psychedelic Era (Elektra, 1972)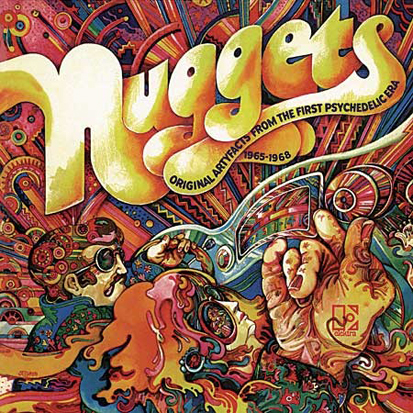 Released just as British progressive rock was peaking with lengthy, virtuosic complexities far beyond the reach of the average self-taught musician, this 27-track collection of singles released between 1964 and 1968 captured young America morphing from short, crude, and simple garage-rock into headier but still attainable psychedelia. Assembled by rock critic and future Patti Smith Group guitarist Lenny Kaye and Elektra Records founder Jac Holzman, it's the first retrospective rock comp assembled around an artistic principle rather than mere "golden oldies" popularity: In his liner notes, Kaye calls that aesthetic "punk rock," one of the earliest printed uses of that phrase. It's not concerned with originality: Nuggets features fake Beatles (the Knickerbockers), fake Dylan (Mouse), fake Who (Nazz) and too many fake Stones to count. But nearly every one of these inspired imitators approaches greatness through force of will, distortion, bad attitude, hormonal abundance, and a maniacal riff or three. The cumulative effect of these sharp blasts of shrieking weirdness (like the Castaways' "Liar Liar") and romping, raging horniness (like the Chocolate Watchband's "Let's Talk About Girls") suggests the Ramones-led revolution soon to happen. B.W.
96. The Flying Burrito Brothers – The Gilded Palace of Sin (A&M;, 1969)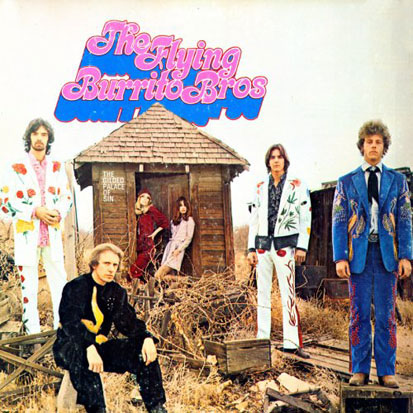 Country, soul, rock, folk, rural, urban, black, white: Gilded Palace is all of the above; it's one of those albums whose importance can get lost in how easily the sound goes down. Its internal contradictions are so strong that it's best to just accept it as is, a Zen approach that frontman Gram Parsons might appreciate, having dropped out of Harvard theology for the cheaper and more immediate effects of acid. Parsons had previously played in the short-lived International Submarine Band and on the Byrds' 1968 album Sweetheart of the Rodeo, but Gilded Palace was the first — and best — articulation of what he thought American music ought to sound like, a meeting of fuzz pedal and pedal steel, too invested in black soul and white hippie ideas to be taken seriously as good country but with an aw-shucks sense of humor and wisdom that made the Burritos more old-fashioned than any psychedelic band. And those outfits! Long hair and cowboy boots, dinosaurs and flowers embroidered on mohair suits. No self-respecting establishment would let them in, so they had to build their own. M.P.
97. Captain Beefheart & His Magic Band – Trout Mask Replica (Straight, 1969)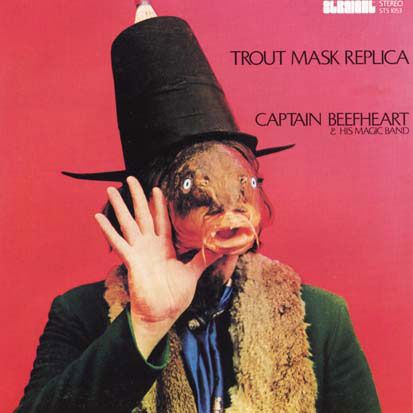 A meticulously rehearsed polyrhythmic jigsaw puzzle, nothing else before or after sounded even remotely akin to the authoritative weirdness that was Trout Mask Replica. Composed and rehearsed under what drummer John "Drumbo" French has described as cult conditions in the band's shared San Fernando Valley pad, Trout Mask blends the Magic Band's telekinetically galumphing instrumentals with Don Van Vliet's unhinged Howlin' Wolf vocals and feral saxophonic yawp. Longtime Vliet friend Frank Zappa produced the album with a hand loose enough that even the multiple studio and domestic environments in which it was recorded add their own peculiar mystique. At its best, Van Vliet's lyrical poetry resembles language reinvented from the substrata up, distilled into demented sloganeering like "a squid eating dough in a polyethylene bag is fast and bulbous." Got us? R.G.
98. The Velvet Underground & Nico – The Velvet Underground & Nico (Verve, 1967)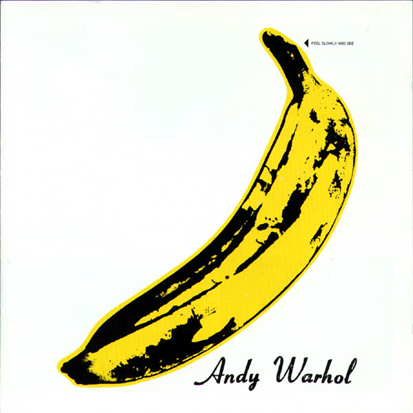 It's a convention of drug songs as much as love songs that if you say you don't care, you do care. But a line like, "When the smack begins to flow and I really don't care anymore" does glorify self-destruction, as a rebuke to senators and society, to niceness and complacency. Choose to choose, choose to go. While Simon & Garfunkel hit big with similarly death-obsessed lyrics, the Velvets brought the conversation to eye level, skillfully precise ("up three flights of stairs," "twenty-six dollars in my hand"). The music matches, feels as sick and dirty as the protagonists. But the drones and unison pounding are a frame for cascades of notes and syllables that are as virtuoso as Diddley and doo-wop without announcing themselves as such. So the whole thing's got a lilt and a dance, solace for the broken people. F.K.
99. The Stooges – The Stooges (Elektra, 1969)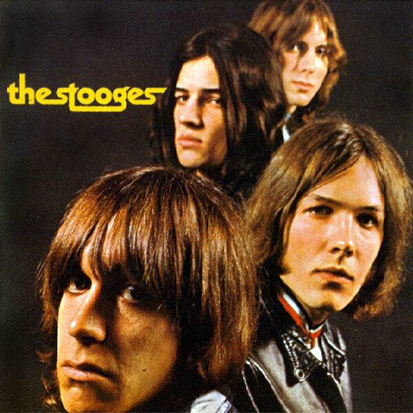 The Stooges were always the smartest slobs on the block. Sure, their self-titled debut, produced by highbrow primitivist John Cale, took four wild days to record, and legend goes that Michigander goons Iggy Pop, guitarist Ron Asheton, his younger brother and drummer Scott Asheton, and bassist Dave Alexander hadn't even written a single complete song before inking a record deal, but The Stooges was far from an album-length drool. Okay, it might've been, such is the fundamental power of Asheton's wah-wah riffing, the band's noogie-boogie lurch, and Pop's idiot-savant lyrics. But it's the superstructures that keep the slovenly proceedings from being one-note — even when it is (e.g., Cale's plinkplinkplink piano part on "I Wanna Be Your Dog."). Pop was a high-school debate-team member heavily into the occult, the Ashetons were history buffs, and all four dum-dum boys were open listeners — they'd burn their brainholes with weed and hash, lay on the floor, and blast free jazz for hours. (The Stooges closer "Little Doll" is partly derived from saxophonist Pharoah Sanders' "Upper & Lower Egypt.") Other bands were also thrillingly incompetent, and plenty of them had higher aesthetic ambitions, but no one, ever, combined raw power and arty abandon like the Stooges. So, say oh my and a-boo hoo. D.M.
100. The Velvet Underground – White Light/White Heat (Verve, 1968)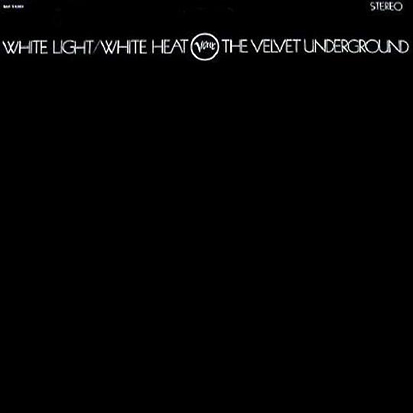 Let the record show that The Velvet Underground & Nico was the best Velvet Underground record of the 1990s. The entire decade was mapped out there. It opens with a faux-naïve avant-pop breakthrough ("Sunday Morning") as its "Smells Like Teen Spirit"; and closes with a repetition-into-soup hammer party ("European Son") as its "Rockafeller Skank." The guitar-based tunelessness born on that album was a badge of honor if you were Calvin, or a weapon if you were Thurston, or a plaything if you were Kurdt. And dopesick, leather-licking, plain-brown-wrapper lyrics were the perfect transgression for a decade that gave us Marilyn Manson, The Chronic, and Butt Trumpet.
However, recorded just ten short months later, White Light/White Heat rocketed the band 20 years forward into the future. That record is ultimately an amorphous, bubbling suite of ping-ponging drugnoize and wobbling, crusted-over feedback with, remarkably, an infectious bubblegum-pop record spiraling away out of its center: a dynamic that formed the blueprint for texture-centric noise-pop bands like Animal Collective and Deerhunter and Fuck Buttons. WL/WH's got rhythm and muscle, so it's not too hard to draw a straight line from the churning proto-kraut on display straight through Public Image Limited into LCD Soundsystem and beyond — "Drunk Girls" is "Lady Godiva's Operation" +32 bpm. And everyone from Embryonic-era Flaming Lips to the Isis/Boris axis of post-metal to Shjiploads of psych-rock drugonauts have been riding "Sister Ray"'s ding-dong for years. Hell, even those aspiring hipsters Metallica know enough to cover "White Light/White Heat." All tomorrow's parties are now yesterday's, hear this call your name. C.W.