Ric Menello, a director and screenwriter who was a pioneer as hip-hop became a commercial force in the '80s, has died at age 60, MTV News reports.
Menello, who succumbed to a heart attack on Friday, co-directed the Beastie Boys' classic "(You Gotta) Fight for Your Right (To Party)" video. He also wrote scripts for movies, including Run-D.M.C.'s 1988 Tougher Than Leather and 2008's Two Lovers, which starred Joaquin Phoenix and Gwyneth Paltrow. Another Menello-written Phoenix vehicle, Lowlife, is set to premiere this year.
Menello once had a part-time job as a desk clerk at Rick Rubin's New York University dorm. That's how he met the Beastie Boys and the producer and Def Jam co-founder. The writer Dan Charnas, who interviewed Menello for his book The Big Payback: The History of the Business of Hip-Hop, told MTV that the late director/screenwriter helped give Rubin a sensibility based on a mix between highbrow and lowbrow.
That was certainly the case with the "Fight" video, which helped turn the Beasties into huge stars. "I often say the style of the video is 'stupidity done in an intelligent way,'" Menello is quoted as telling MTV last year after the death of Beastie Adam Yauch.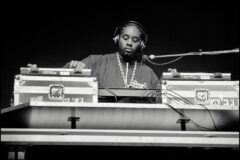 Along with "Fight," Menello and his roommate, Adam Dubin, also co-directed the Beasties' "No Sleep Till Brooklyn" video and LL Cool J's "Going Back to Cali."