With a booking policy neatly balanced between indie heavyweights, alt-rock elders, and experimental outsiders, Barcelona's Primavera Festival has developed into one of Europe's most respected festivals, something like a cross between Coachella (without, hurrah, the superfluous EDM) and ATP (without, alas, the chalets). Its profile has gotten to the point that this year, rumored lineup "leaks"— all of them fake — zipped across social media, weeks in advance of any official announcement.
Primavera, it seems, can afford to tease its fans. A clock on the festival's website has been counting down to today's unveiling of the lineup, and at 7:30 p.m., local time, Internet users were treated to a lengthy press conference complete with Antony Hegarty impersonations and a series of comedy sketches about style mavens in hipster rehab. It was a lot to wade through even if you do speak Spanish (and, for portions of it, Catalan), but the list was worth waiting for.
In addition to Blur, the only act previously announced, My Bloody Valentine, Phoenix, the Postal Service, Wu-Tang Clan, and the Knife are among the big draws. Also on the bill: Nick Cave and the Bad Seeds, James Blake, Fiona Apple, Hot Chip, the Breeders (performing Last Splash), Swans, Band of Horses, Deerhunter, the Jesus and Mary Chain, Dexys, Animal Collective, Grizzly Bear, Crystal Castles, Local Natives, Tinariwen, Rodriguez, Daniel Johnston, Neurosis, Dinosaur Jr., Shellac, Hot Snakes, Bob Mould, John Talabot, Disclosure, Killer Mike, Solange, Jessie Ware, Liars, Dead Can Dance, Fuck Buttons, Neko Case, Kurt Vile and the Violators, Fucked Up, Meat Puppets, Dan Deacon, Four Tet, Foxygen, Simian Mobile Disco, the Vaccines, Thee Oh Sees, Matthew E. White, Apparat, Omar Souleyman, METZ, Daughter, Woods, Christoper Owens, DIIV, How to Dress Well, Goat, King Tuff, Mac DeMarco, Wild Nothing, Mount Eerie, OM, the Bots, Glass Candy, Menomena, Camera Obscura, the Sea and the Cake, Daphni, Guards, Merchandise, Savages, Nick Waterhouse, Poolside, White Fence, and, most exciting of all, a still-in-the-game Death Grips.
There's more, still, found on the full lineup at Primavera Sound's website; in the meantime, check out the video below.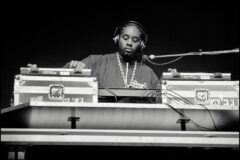 https://youtube.com/watch?v=BDe66O0cUtg%3Fhl%3Den_US