It's a fool's game to predict an artist's longevity off their first album, even if you think that first album is genius and was preceded by a jams-rich catalogue. But it would also be disingenuous not call it like we feel it: Frank Ocean has emerged as one of American music's greats, potentially of all time. Not simply a pop star or a sizzling phenom or a young flash on a stylist's resume, though he still blazed through his first-week Billboard charts with the ferocity of Usher and Chris Brown. Frank Ocean is too real.
Nostalgia, Ultra, 2011's debut full-length, made us a promise and we fell for the album with the passion and faith of converts, enveloping ourselves in his contemplative sweetness, the satin tenor of his voice. This year's channel ORANGE delivered on that promise, showing the extremes of his depth, and exactly how wide open he truly was. It's the album of a man who believes in his own music, flaws and all. He believes in his vision. He even put "Forrest Gump" on there! The song, a wistful ode written from the perspective of Forrest's girl Jenny in the cornball '94 film, boasts a grinning, sing-song simplicity, stretched out bald with cheesy sentiment and no self-consciousness. It's the kind of innocence you wanna ride with.
"Mango, peaches, and lime… Why see the world when you got the beach?" Emotion aside, channel ORANGE is Frank Ocean's version of Philip Roth's American Pastoral in its vivid depictions of cultural turmoil, a sociological diagnostic in the spirit of Joan Didion's White Album. (At a channel ORANGE listening session, I even suggested that he seek out the latter, after feeling the parallels between their incisive, love/hate detail for humanity and California.) In retrospect, I hope he never got that book. His voice is his own and should stay that way, unflappable except for the intermittent apparitions of his heroes — Prince, Sam Cooke, and Stevie Wonder the most obvious, although his yen for channel-flipping sonic experimentation recalls Eno and his disciples too.
channel ORANGE captures a series of moments that converge to become a full panoramic snapshot of the hell going down in nihilistic kidland. "Too many joyrides in Daddy's Jaguar," he sings on "Super Rich Kids," the track (featuring Odd Future's Earl Sweatshirt) about Los Angeles' moneyed and disenfranchised trust-fund class. "Too many white lies and white lines." It's the consequence and cause, too. Put it with the premonitory "Crack Rock," the boom-bap thrum teasing out Ocean's thoughts about that "glass dick," or "Lost," a pop song about a drug don with just a shred of conscience left. Here, his point of view falls into crooked place, via fully formed stories of wayward souls fleshed out by an old one. Yeah, he's said he's got an old soul. Of course, he says that, infusing Buddhist wise-man imagery into his videos and lyrics. But then, what else could he be, sketching out these tracks while walking in every shoe and elevating his sanguine voice to preternatural relatability. This dude's barely 25 years old, a Scorpio, obviously. He captures generations.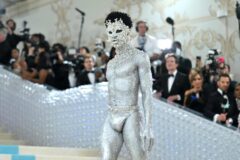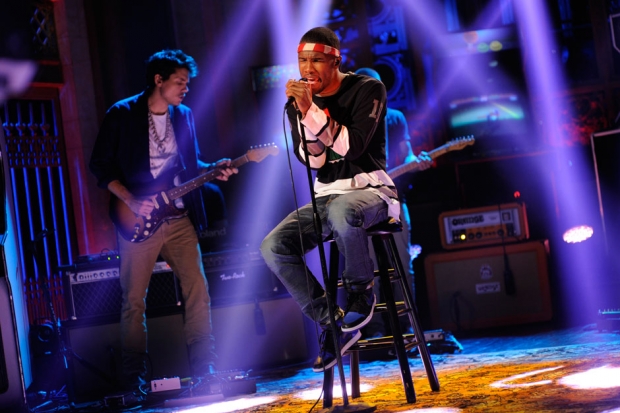 "Pyramids" is an exegesis, its psych-prog movements clocking just under ten minutes, viewed through a gelatin of bass fonk and guitar/synth bombast. It's a 3,000-year-old tale following an Egyptian Cleopatra kidnapped from the throne room who has been reincarnated as a stripper princess "working at the Pyramid tonight." It's not an indictment but an observation — maybe a philosophical look at circularity, too — and the way Ocean speaks about stripping as women's work recalls Kate Bush long before it ever does T-Pain, lord forbid. With a laser eye for the details of his characters' predicament, Ocean's natural empathy translates as spiritual texture. Perhaps it was just journalistic curiosity when the questions started about his use of pronouns — "he" as love interest as opposed to "she" — but it also inherently underestimated his talent, his ability to believably project any point of view, to use the songwriter's prerogative to sing from any perspective. Prince did it!
When Ocean revealed his love for a man just prior to channel ORANGE's release, he claimed no label, ostensibly admitting to fluidity. It's the same fluidity that turns up in everything he does, whether it's the flexibility of his music or the elasticity of his voice. All that water imagery — and harmonies to match! The trippy gush of a drum machine and wobbly background vocals on "Sierra Leone" offers nearly full-body submersion, a Brazilian jazz-alluding sex jam that sounds like the sensuality of gradual climax and makes irresponsible raw-dogging sound like the most romantic thing ever. (Don't do that, though, dudes.)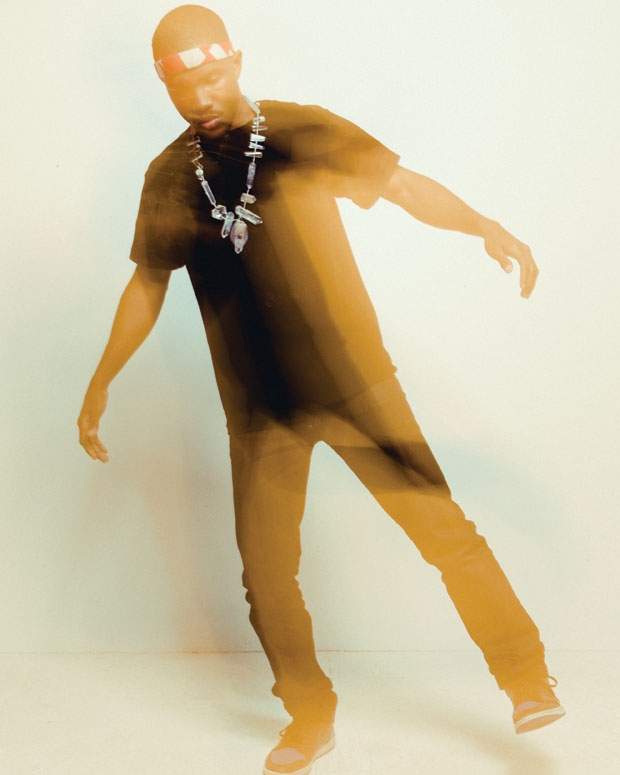 Perhaps the lingering image of Frank Ocean's triumph was from his appearance on Saturday Night Live in mid-September, playing a video game while John Mayer solos wankily behind him, making orgasm faces on the closing whammys of "Pyramids." Ocean, ever so slowly, turned towards the camera to flash a shit-eating grin. He broke the fourth wall to reveal his own outsize swagger, and maybe a tiny bit of disbelief. Because what makes him remarkable beyond his talent is an accompanying pure averageness, wearing t-shirts and open button-downs and that ever-present bandanna.
For his non-glossy, non-Terius Nash'd approach to R&B, he has been compared this year to pompadoured Miguel (an evocative singer with a little ways to go) and with the Weeknd (whose drug tales are far more blunt-object than Ocean would ever conjure). As a lyricist, he is closer in spirit to R&B classicists Bilal or Jaheim, or to the old country-and-western greats, or to channel ORANGE's only guests, Earl Sweatshirt and Andre 3000 — i.e., contemporary storytellers with something singular to say.
Maybe Frank Ocean's next shit is a novel. For now, all we can say with surety is that this is only the beginning.