SPIN's Director of the Year Tom Scharpling on 2012's Buzziest Music Videos
When Tom Scharpling isn't hosting the much-loved, free-form The Best Show on WFMU or interviewing the likes of Fucked Up's Damian Abraham for his Low Times podcast, he's directing charmingly low-key, ingeniously high-concept music videos. If all the former Monk producer-writer did this year was get erstwhile Death Cab for Cutie frontman Ben Gibbard to dress up like a raging reality-show bro — which he did for his "Teardrop Windows" video — then we'd have found a way to bestow a 2012 superlative upon him. But, no, Scharpling also gave Real Estate the most aggressive street team since Bad Boy in the late '90s ("Easy"); dropped Nude Beach into a dark-night-of-the-soul episode of VH1's Pop-Up Video ("Some Kinda Love"); cast Laura Linney as Aimee Mann's "robot double" in the singer-songwriter's "Charmer"; and for Mann's "Labrador," lovingly recreated 'Til Tuesday's "Voices Carry" video.
For all that, Tom Scharpling is SPIN's Music Video Director of the Year. And in honor of that designation, we caught up with Scharpling not far from his Woodbridge, New Jersey, home and asked him to deliver verdicts on some of the year's best, worst, and most baffling music videos.
1.SPIN's Director of the Year Tom Scharpling on 2012's Buzziest Music Videos
1/11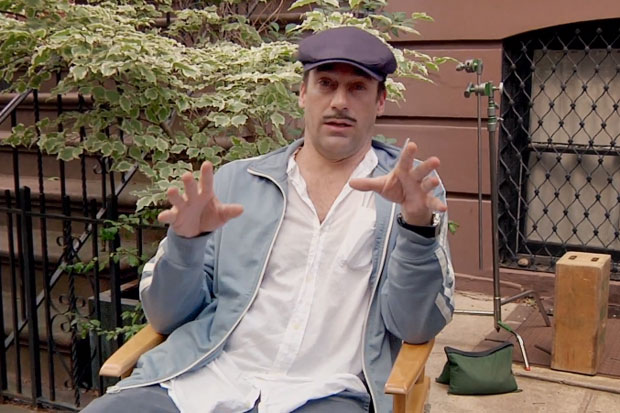 2.Jeff the Brotherhood - "Leave Me Out"
2/11
Directed by Jen Uman & Bucky Fukumoto
Garage-punk duo rock out in front of a green screen, turn public-access cheese into something transcendent.
SCHARPLING: This is my favorite video of the year. [Scharpling asked to discuss this clip.] It captures the spirit of the song perfectly and the spirit of these two guys who make up the band too. There's something about the footage. It's got this low-budget version of scope that I love. At the end, there's the shot of the eyes opening and closing. My favorite thing is when the loop resets. That's just beautiful to me. That whole thing of trying to best represent the song and the artist? This does that for, like, no money at all, and the M.I.A. video [#7, "Bad Girls"] does it with a ton of money, but they stayed true to the song's spirit, too. But that Mumford & Sons [#5, "Lover of the Light"] is true to them because they blow. And I think the Odd Future one [#9, "Rella"] is true to them because I think they are horrible. I don't know. The only two videos I'm really jealous of are this one and the M.I.A. one, and they're on opposite ends of the spectrum.
3.Odd Future - "Rella"
3/11
Directed by Wolf Haley
Everything and nothing happens in this CGI lark from Tyler, Hodgy Beats, Domo Genesis, and the rest.
SCHARPLING: Odd Future get to do what they want and I'm glad when people get to do what they want. I'd rather artists make the decisions than some douche in an office. It's their faces on the thing, they should get to make the decision — but they're just not that funny. Everybody has friends who shot dumb videos. Now, these guys are doing that, but they're putting them out for the world to see. Usually, you're supposed to make those videos, learn what is terrible, and not do it again. As somebody who makes funny stuff for a living, I get that it's surreal and everything. But it's bad Tim & Eric. Tim and Eric should be upset at this. That sucked. That video was fucking horrible.
4.Lana Del Rey - "National Anthem"
4/11
Directed by Anthony Mandler
1960s pop-culture pastiche starring the "gangsta Nancy Sinatra," guest appearance by A$AP Rocky.
SCHARPLING: We can't watch this whole thing. I've watched this already. This video is just replicating images, and there's a JFK and Mad Men fixation, but it doesn't mean anything. It's fine to just have images, but it's frontloaded with the JFK assassination. So you're kind of raising the bar pretty high in terms of the level of seriousness, here. You know the way a Madonna video would be controversial on MTV? Only this is on YouTube and it ends up being a thing where people have to realize they're going to watch an eight-minute video on their computer and it's like, "Oh brother, can you get to the point?" I'm shocked at how expensive these things are, and that this is what they did with the money. That depresses me.
5.M.I.A. - "Bad Girls"
5/11
Directed by Romain Gavras
In sunbaked hi-def, Sheiks take ghostridin' the whip to a whole other level.
SCHARPLING: This video's amazing. It's a video that makes me jealous. The price of every video we've made is the price of this video, and you could buy two of those cars with money left over. You'd get to keep a couple of the cars. But yeah, it's a perfect performance video and it turns the whole concept of the hip-hop video around. I think the thing that everybody responds to is things that are big. This is what people should be doing with a video — unlike the Mumford & Sons video where they made this thing that's just a blob of mayonnaise. This video looks amazing, it's got teeth, it's cool, and it's still a straight performance video. "Lover of the Light" and "Bad Girls" are like how-not-to and how-to examples for making a video.
6.Screaming Females - "It All Means Nothing"
6/11
Directed by Ken Castellano & Screaming Females
Scharpling's fellow Garden Staters murder and dismember their cat-killing lead singer.
SCHARPLING: This is what's good about where videos are at now. The circle is so much smaller when it comes to who you have to please. If the label's happy and the band is happy, then that's your video. It's not like you have to worry about running it past MTV or anything. It just gets to be its own thing. And yeah, this is awesome. Clearly they only had a few thousand dollars and now they have a video. And it's something they could actually tell a story with. And they probably shot it down the street from here.
7.Mumford & Sons - "Lover of the Light"
7/11
Directed by Idris Elba
Stringer Bell sprints through the forest wearing a very nice suit.
SCHARPLING: This is just, like, the worst music I've ever heard. We're watching him make breakfast. Is he going to fight that deer? Is that a deer or an elk? What is that? What's he doing now? He's in the woods. So he's like a modern animal? Maybe this makes sense if you're English, because this is not translating for me. Maybe we can chalk this up to "I am an American and I do not understand it." This is long. You have to meet people halfway if you're going to do this. Nothing happened. I had to watch that guy put a suit on and run. It feels like a big fat waste of everyone's time. Like, man vs. nature? That video actually put me in a bad mood.
8.G.O.O.D. Music - "Mercy"
8/11
Directed by Nabil Elderkin
Kanye and crew celebrate hip-hop dominance in underground parking garage via closed-circuit black and white.
SCHARPLING: So many people liked Kanye as the underdog. I liked him as the underdog, and then the guy won. And now he's completely joyless because he's on the other side of that line. And he comes off like a total dick because he doesn't know what to do. He's hard-wired to fight, and to always have an enemy, but how many more enemies does this guy have left now? He's got to deal with himself at some point. It's ultimately an internal issue with him, but he feels like it's an external issue. This video, I get what they're going for, and there's something awesome about it being like you're watching security-camera footage. The video's fine, but I can't abide by anything Kanye's about anymore.
9.Jack White - "Sixteen Salteens"
9/11
Directed by AG Rojas
Teens, tweens, and little kids get up to big (arty) trouble.
SCHARPLING: This is kind of like a Harmony Korine thing, right? It feels like Gummo. And the VHS stuff's like Trash Humpers. I think that is awesome. I like its energy, and it captures that feeling of having all this energy and not having anywhere to put it. Look, I know I make fun of Harmony Korine on the radio sometimes, but I like those movies and I like the spirit of those movies. And I think this is in line with his stuff. And I like Jack White. He seems to be a guy who is definitely using his position to do something. He starts the label, Third Man, and they do all kinds of shows and put out weird records. He could just be keeping his money, you know? But he's making stuff that might not exist otherwise with it. I love that.
10.Drake featuring Lil Wayne - "HYFR "
10/11
Directed by Director X
Sad-sack superstar invites Young Money to his re-Bar Mitzvah.
SCHARPLING: This is troubling. It's weird to turn something that's part of the spiritual continuum into a cash-out. I don't know, does everything have to be monetized? That panning across the food, like "Can you believe people eat this stuff?" That was weird. They're using people as props. It's almost like, "Isn't the funniest thing to see a Jewish guy dancing?" Like, no. No it isn't. The whole thing feels like everybody's a prop in it. I'm not cool with this. It's like, the next level of rappin' Granny is this now. And I don't know if these rappers would make it out to Drake's re-Bar Mitzvah.
11.PSY - "Gangnam Style"
11/11
Directed by Soo-Hyun Cho
Candy-colored, party rockin' K-Pop clip even your grandmother saw — countless times.
SCHARPLING: "It's awesome to see someone do a video that is kind of nuts where the performer is a star. He's acting big, and it's nice that he has a sense of humor about himself. I'm into it. I think it's also part of Korean Pop getting to this point where it's definitely a little less wholesome. Before, it was always super wholesome, you know? This is not entirely wholesome. It's PG, where a lot of this stuff is literally G-rated. The video's got some scope. There are explosions! It's got crazy costumes. I love the guy in the yellow suit. He's actually a Korean comedian. Which makes it even more awesome. Yeah, I am pro-PSY."