Sometime in 2006, at a rooftop photoshoot with Omarion and Bow Wow, I found myself in a conversation with a music executive who was lamenting the state of the industry. At that point, the writing was already on the wall: Major labels were failing miserably to keep up with the speed and innovation of the internet, and the more their profits declined, the more they sought to prosecute the futurists rather than unite with them. This particular employee was lamenting the olden days (in his case, the '90s), when the money flowed like wine, people took helicopters like towncars, and labels would drop a million on a video shoot, no problema. I'll never forget that conversation, because it symbolized both how grossly careless, and awesomely opulent, the music industry could be. (And also we were on a rooftop in Dumbo shooting Omarion and Bow Wow.)
A few weeks ago, the opportunity arose to attend the 777 Tour, in which Rihanna enlisted 250 journalists and fans to accompany her as she promoted her seventh album Unapologetic with seven concerts in seven countries in seven days. It felt like the old days were back. It was a concept even shiney-suits-and-hovercrafts heyday Puff couldn't conjure, and a concept that couldn't have evolved without the false intimacy of social media — some of Ri's fans proudly say they communicate with her directly via Twitter DM. So with the juice of Def Jam and Roc Nation (along with subtle-but-present sponsors HTC, Budweiser, and Delta), why shouldn't have Rihanna become the captain of her own Almost Famous fantasy, figuratively if not literally steering the ship for what she called in a press release "one of the coolest things I've ever done"? All press junkets are meant to control the news cycle, at least foster goodwill among its denizens — it's why many outlets like the New York Times have a strict policy against them. (For the record, so does SPIN, but this particular opportunity was so outsized and rare the publication made an exception.)
As you may have noticed from the many, many, many reports, the ship veered a bit off course. Though those of us on Rihannaplane who even glanced at the itinerary had an idea that a hellacious hellscape of travel awaited us — uh, Paris, Berlin, and London in something like 36 hours — the promise of Rihanna peeking back in coach or hopping on the intercom was enough to appease. That, of course, barely happened. Her sole personal communiqués with us happening only on the first and final days, even a rumored press conference tossed to the wayside in lieu of 4 a.m. parties and trips to Parisian lingerie shops. But while the Rihanna absence was the main headline, the real story was about the press junket, and the nature of fame in 2012.
I heard at least five planepeople (we are now our own species) make allusions to Almost Famous, the movie, like this was our chance to experience true rock stardom as modern-day Cameron Crowes. Others brought up Fear and Loathing, and neither analogy was right. There will be no more Cameron Crowes. Just Jared got more access than anyone, but the big score for most of us was not about being a gossip blogger with no discernable personality landing a series of backstage selfies with the hostess. We wanted stories. Not "dirt," as Rihanna would later imply (a characterization I found rather insulting, frankly). But a glimpse at the true nature of someone who's released some of the most interesting, complicated pop music of the decade, and who's been accused of being a cypher regardless.
But the death knell began before the plane even left Los Angeles, when Rihanna actually appeared in back, checking out the seats, chatting with the journalists she knew, like 106 & Park host Paigion Walker and VH-1's Janell Snowden. "They let you on?" Rihanna joked to Snowden. "You're gonna expose all my business." She didn't. But Ri could barely walk through the aisles, blocked by voracious mushy camera dudes from various outlets around the world, most from gossipy or celeb outlets, presumably putting the soft-focus on her non-existent pores. Another fan upon first laying eyes upon Ri gushed, "I'm so freaked out." "You're freaked out?" she responded. "I should be freaked out right now." And maybe she should have been — the thirst was palpable, beyond the filming, as the paparazzi played out in real time in the aisles of the Delta 777 plane that would become our home over the next week. Almost Famous cannot exist because journalism barely exists, at least on this level of fame, where everyone, myself included, angled for the best shot of the star, one that would capture her luminescent skin and somehow convey her preternatural gorgeousness.
On that first day, even without knowing that Rihanna would barely emerge into our planezone, there was no hope of getting a glimpse of the star's real personality, or any sort of insight into what kind of person she might be beyond the false intimacy of her Instagrams. We would never be anything but lookie-loos, no matter how hard we tried to craft a story out of a story. When members of her band, including guitar god Nuno Bettencourt, ventured out into the plane, enterprising journalists found their interviews being hijacked by videocameras from other outlets. Cameras begot cameras begot cameras, some shady journalism shit but also some kind of Guy Debord nightmare, everyone filming one another filming one another filming someone remotely related to Rihanna. Even as that plane first made its descent into Mexico City, the 777 passengers barely embryos at that point, the captain couldn't beg people to sit down, everyone drunk at that point on both Ace of Spades and the idea that they might miss something. I used to think FAA regulations were part of the nanny culture until my seatmate, Just Jared's photographer, rummaged through the overhead bin while we were landing and accidentally clocked me smack atop my head with a bottle of Rihanna's Nude perfume, part of the swag bag. It was symbolic both in that it had her face on it, and that it wasn't yet available in stores.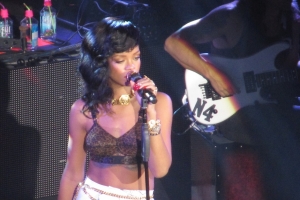 So even hermetically sealed 30,000 feet in the air, an environment controlled by the symbolic distance from coach to super-business-class at the front of the plane where Rihanna sat, we were in a social media snakepit. You could feel the SEO algorithms multiplying in peoples' blood vessels like flesh-eating bacteria. The fact that we did not have access to Wi-Fi on the plane seemed not like a limitation of Delta, but a conscious decision by the trip organizers. Imagine how much more you all would have hated us if we could have clocked every single moment as it happened, 24 hours a day. "Where Have You Been" was on Delta's "Party in the Sky" playlist, though, in between Porter Robinson and Tulisa. The only person I saw watching a movie was the guy in front of me, a beleaguered cameraman for Access Hollywood who passed out before he could choose which episode of Nurse Jackie he wanted to see. Later I overheard him reminiscing about the time (recently) he got to film the band KISS.
Rihannaplane turned out to be an insane construct, as carefully conceived as the flagrant trolling proffered on Unapologetic's Chris Brown duet. More than one sleep-deprived, teetering-on-insanity journalist wondered if we were hamsters in an experiment. I don't imagine Def Jam, RocNation or Rihanna to be that devious or sadistic, but we were in a sort of experiment with the nature of the fame/fan/journo relationship in itself. What I and many of my colleagues wanted to glean from the plane was different from what others seemed to want.
When Rihanna finally emerged on that last day as we awoke from our London redeye to New York, she said she wished she could have been in coach "partying my balls off with y'all," but that she had to rest — she'd never done seven shows in a row like that before. And as she gave her final impromptu interaction with the not-Jareds among us, here were some of the questions lobbed at her: "What does it feel like to be number one?" "Will you play in Ireland?" "Are you tired?" (By the time that last question rolled around, Rihanna was sitting in the seat in front of me to prepare for landing, and 50 cameras aimed at her and by proxy, me. I can only hope one of them captured my barely-awake, diseased side-eye at the woman who asked it.) It seemed fruitless to even lob anything serious at her, though VH-1's Snowden, sitting near me, did try. I wondered if this was the real reason Rihanna never showed her face: not because she was avoiding the Chris Brown questions that probably no one would have asked anyway, but because she is terminally exhausted from answering the most banal and generic questions any human can be expected to endure.
That last day, Nuno Bettencourt, bassist/musical director Adam Blackstone, and DJ Reflex emerged, too, to play covers from Extreme's day — "Fly Away," "Livin on a Prayer." Bettencourt made his own appeal to us, saying he knew there had been tension and frustration about our lack of access, but that the trip "wasn't about becoming her best friend, but about who she is as an artist." Again, though friendly Nuno was the closest thing to an awesome star experience anyone got on that plane, it felt condescending to those of us who frankly didn't give a fuck about being Rihanna's best friend. However, as an artist, it was undeniable: The woman is a great performer, various pre-recorded tracks and all, her slowed-down ballads (sung live) showcasing her profound alto (seriously songwriters, stop making her go above her range, she sounds best rumbling in her natural octave). Some of us wept every night to "Stay," the new ballad off Unapologetic (though surely some tears were wrought by sleeplessness), and even by the seventh day, the explosion of silver confetti and mushroom bursts of fog during "We Found Love" never ceased to be exhilarating.
Rihanna is, first and foremost, beloved because she has great songs. Secondly, because she is beautiful — you never not wanted to stick your camera on the epidermis! — and third because she is young and carefree and a lot complicated. Best friend or no, though, at this level of fame, even seven days breathing the same cabin air she did could not illuminate any truths about her, and never would. You want to know that stuff, you're gonna have to sidle up to Katy Perry. Good luck.
So Rihanna's apology — that she had to get "her rest" and that's why she was not kicking it with us in coach — everyone knew that was ridiculous. She was not partying in coach because 250 people wanted a giant hulking piece of her, and maybe not even an interesting piece. Perhaps we should have just brought in our Instagrams and called it a day.
Whatever. Here's the most important thing: how passionately the crowd danced in each city, on a scale of 1-10….
Mexico City: 1
Toronto: 3
Stockholm: 5
Paris: 7
Berlin: 4 (drunk crowd)
London: 9
New York: 10