Everything about ex-Girls frontman Christopher Owens' solo debut show last Friday night felt special. First there was the ride in what its operator declared was San Francisco's oldest working elevator. Then there was the Lodge, a 300-occupancy wood-paneled Regency Center room that ordinarily hosts weddings. Under the stage's proscenium hung three layered curtains featuring hand-painted forestry. On each seat was the evening's set list, which resembled a classical music program. Owens was to perform Lysandre, his first solo album, due January 15, from front to back, and joining him here were the seven musicians who helped him record it.
Many concertgoers clearly knew each other; several clustered around a woman near the front with features that suggested she might be Owens' mother, a figure regularly referenced in early Girls interviews due to the local bandleader's remarkable backstory: Both he and his mom had been Children of God, members of a religious cult featuring women these evangelicals literally designated as "hookers for Jesus."
Music was Owens' sanctuary from that madness, and his latest project is no exception. As his website explains, Lysandre is a concept album about Girls' first tour, the fears and excitement of a young songwriter facing his growing audience, and the woman he met and fell in love with while in France. You didn't need to know this to get the sense that the album's 11 songs are linked: All were in the same key, and several of them shared musical and lyrical themes. Although he may be disarmingly candid in interviews, Owens is a man of few words in performance; he and his band, including two background singers in long formal skirts, took the stage without a peep. Owens sat in his suit and preppy striped tie, propped his acoustic guitar on a pant leg that rose to reveal a bright white sock, then he and his players tenderly launched into "Lysandre's Theme," which showcased intricate flute work by Vince Meghrouni.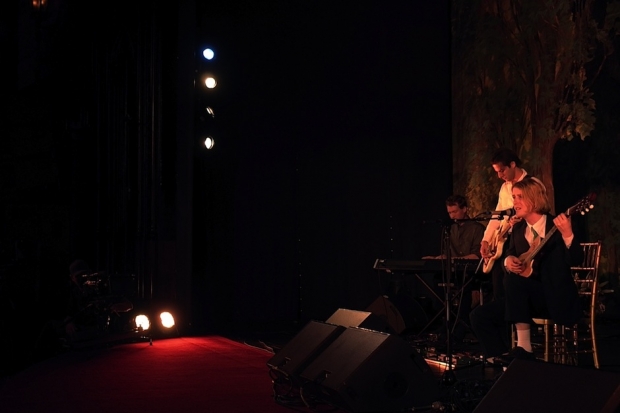 This brief tune segued into "Here We Go," a folky hymn that suggested the somber yet sensual work of Leonard Cohen as Meghrouni switched from flute to harmonica and back again. Again without pausing a moment, a sprightly "New York City" followed with Meghrouni honking fat, jazzy sax blasts like the late Clarence Clemons as guitarist Evan Weiss chopped out jagged chords like Lou Reed. The intimate tone and tender flute of "A Broken Heart" harkened back to the opening number. Here, Owens laments a lover who fell for a girl. Given Lysandre's central love story, it seemed as though Owens was singing about a bisexual woman, but as his website reveals, the song depicts a chance encounter with his own ex-boyfriend.
And so the song cycle continued in short, condensed, yet gentle bursts, evoking the classic works of late '60s/early '70s songwriters, except that the uptempo cuts were considerably faster and more energetic than if they'd been presented by Joni Mitchell or James Taylor. "Here We Go Again" rang with a buzzing fuzz solo as Owens strummed his acoustic guitar, his bleach blonde hair obscuring the left side of his face while his other bangs sat behind his right ear. "Thank you," he said, his first words of the night. This is one sincere guy. "Love Is in the Ear of the Listener" had him wondering aloud, "What if everyone thinks I'm a phony?" and "Maybe I should sing about not controlling what comes out of my mouth." The band hit a final note, followed by an awkward silence, then tentative applause, as if the audience had anticipated another swift segue. Intensely focused on the new material, Owens rarely looked up to clue us in on what would happen next; even after Lysandre's conclusion, he swiftly left the stage without acknowledgment.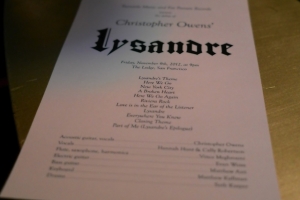 "We have some other songs for you," he said, returning for a second, even shorter set of ballads. These were all cover versions, presumably of material that shaped Lysandre. "Wild World" was the first, rendered even mellower than Cat Stevens. Donovan's "Lalena" adhered closely to the original, as did Owens' rendition of Simon and Garfunkel's "The Boxer." Only when the drummer's snare hit failed to echo the record's reverberating crack did something feel amiss, but even that was soon corrected. "Let It Be Me" truly suited the singer's guileless cry, as it recalled the Everly Brothers' rendition. Bob Dylan's "Don't Think Twice, It's All Right" concluded the performance with silent finger snaps and rhythmic leg twitching from Owens while Meghrouni wailed on his harmonica one final time. The singer quickly got up, waved goodbye, and fled. He needn't have been so nervous; his first post-Girls date could hardly have been lovelier.