Death Cab for Cutie Reissue Early Albums on Vinyl
Band's Barsuk Records output due for January 7 box set
Death Cab for Cutie frontman Benjamin Gibbard may have tried to do away with his "sensitive, nice guy" image in the video for his solo single "Teardrop Windows," but Gibbard and his Death Cab cohorts are embracing their wordy, emotionally wounded past for a robust reissue box set.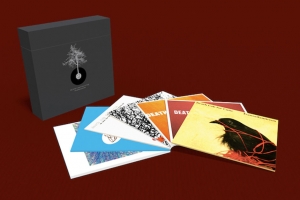 On January 7, Artist in Residence will release a vinyl collection of everything Death Cab put out between 1997 and 2003, back when the indie quartet was on Barsuk Records' roster. For $225, fans can own demo collection You Can Play These Songs With Chords, the Forbidden Love and The Stability EPs, as well as studio albums Something About Airplanes, We Have the Facts and We're Voting Yes, The Photo Album, and Transatlanticism. This marks the first time that You Can Play These Songs With Chords, the Forbidden Love EP, and The Stability EP are available on vinyl.
Everything except for the band's fourth LP, Transatlanticism, has been remastered and each record is "packaged individually in its own jacket with the album's original artwork, and then collected snugly in an individually numbered cloth-bound box and signed by the band." Only 1,500 copies will be made available, and pre-order is open now.
Since Death Cab for Cutie wrapped up a summer tour behind 2011's Codes and Keys, Gibbard re-teamed with Barsuk for his first solo album, Former Lives, released this past October. See below for the singer's one-man show tour dates.
Benjamin Gibbard tour dates:
November 10 – Saxapahaw, NC @ The Haw River Ballroom
November 11 – Atlanta, GA @ Variety Playhouse
November 13 – San Francisco, CA @ Palace of Fine Arts Theatre
November 14 – Los Angeles, CA @ Wilshire Ebell
November 16 – Seattle, WA @ The Showbox
November 17 – Seattle, WA @ Washington Hall
November 18 – Portland, OR @ The Crystal Ballroom
November 29 – Hamburg, Germany @ Kulurkirche Köln
November 30 – Berlin, Germany @ Passionskirche
December 3 – London, United Kingdom @ Union Chapel
December 4 – Brussels, Belgium @ ORANGERIE
December 5 – Paris, France @ Café de la Danse