The times, they are a-changin'. Bob Dylan's Facebook page is hardly new, but the legendary folk-rocker has never typed a personal status update. Until now, that is. Yesterday, as voters were going to the polls, the Minnesota native clarified his views on the American presidential election.
Dylan's FB debut confirmed that on Monday night in Madison, Wisconsin, he had indeed predicted a "landslide" reelection victory for President Barack Obama, who ultimately secured a solid majority of the electoral college vote in a still-divided nation. Here's the whole thing:
Here's pretty close to what I said last night in Madison. I said from the stage that we had to play better than good tonight, that the president was here today and he's a hard act to follow. Also, that we're not fooled by the media and we think it's going to be a landslide. That's pretty much all of it.
– Bob Dylan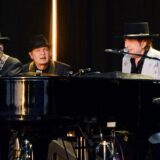 The Madison show took place in a Midwestern state that Republican presidential nominee Mitt Romney's campaign had painted as a close contest, and where his running mate Paul Ryan last night won reelection to Congress. Obama wound up winning the vote in Wisconsin by 50 percent to 48 percent. "We tried to play good tonight since the president was here today," the AP quoted Dylan as saying on Monday night, a reference to Obama's visit with Springsteen that morning. "Don't believe the media. I think it's going to be a landslide."
Then again, Dylan, who released the Essential-stamped new album Tempest earlier this year, is perhaps not entirely unbiased on this one. In May, Obama awarded Dylan and 12 others the Presidential Medal of Freedom, the highest honor the government can bestow on an American civilian. How many medals must a man hang around his neck before he'll post on Facebook praising the guy who hung said medal around his neck?