Sludge-metal pioneers the Melvins are attempting to break a world record: 51 shows in 51 states in 51 days. Join SPIN for their exclusive tour diary of this ridiculous and completely inadvisable endeavor! Catch up here.
October 5, 2012 – Hoboken, NJ @ Maxwell's
October 6, 2012 – Wilmington, DE @ Mojo 13
October 7, 2012 – Baltimore, MD @ Ottobar
October 8, 2012 – Washington, DC @ Black Cat
34 down, 17 to go
The Sun finally came back out after weeks of drab and dreary weather. What a great day to be in New Jersey! Wait, has anyone said that before ever? Tonight we play Maxwell's in Hoboken. We've played here quite a few times over the years. I didn't discover until this time that the intersection the club is on is where Elysian Fields used to be. Home of the first-ever organized baseball game! The bases are marked on each corner, putting the stage in left field. How fitting, our band out in left field! I also learned from Buzz's onstage banter that he "borrowed" the title of our new record, Freak Puke, from the Fugs! One of our favorite Hate Hippy bands from NYC. It all makes sense now.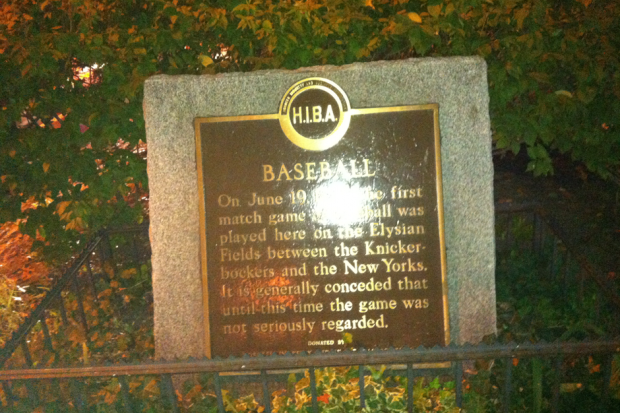 I had the best Cuban sandwich ever today at El Artesano in Union City. I don't know if I can eat a Cuban sandwich anyplace else now. Speaking of Cuba, Trevor and I did an interview with these college girls in Chicago. I told them that we're playing 51 states in 51 days. "Why don't you play 52 states?" one of them said. "And what would be the 52nd state?" I ask. "Cuba?" she says. Cuba?! You could have at least said Puerto Rico! I don't think you girls are taking the right classes." Anyway, those Cubans know how to make a damn good sandwich. Coffee too!
Our first time in NYC was a real treat! We were on tour with the band RKL. We weren't even supposed to be on the tour. We took over for Beyond Possession after their van motor blew up in San Francisco. The guy who booked the tour was a guy from New York named Johnny Stiff. After our Baltimore gig fell through he told us to come to New York and come find him down in St. Marks Place. "Yeah, youse guys just go down dere an asks around for me. Everybody knows Johnny Stiff!" He clearly didn't want us staying with him. We spent all night looking for this fucking guy with no luck. We took turns sleeping in the van. Some guy that looks like Johnny Thunders walks up to us and says, "Why do youse have KISS on the side of youse van?"
"Uh, 'cause we like KISS I guess."
"I's just saws Paul Stanley down da street! Seen him a couple two, tree times down here."
"Cool, do you know Johnny Stiff?"
"Nope, don't knows no Johnny Stiff. Youse guys betteh bees careful down here."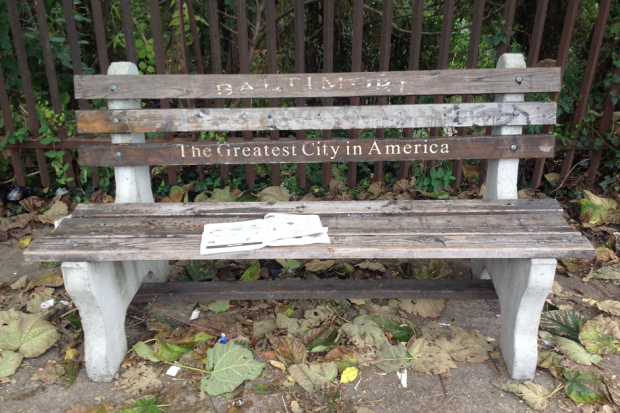 We played Delaware for the very first time ever. The club had a giant evil clown over the door. We wondered if it was maybe a Juggalo hangout for a minute. I felt like I was on the set of a John Waters movie all night. The place definitely had a Mortville vibe to it. We went down the street to get burgers. The guy who took my order was on something pretty heavy. He had a hard time pronouncing "balsamic." The kid flipping burgers looked just like Michael Cera. He steams a good ham!
Baltimore gig at the Ottobar was fun. Baltimore is a weird place. It seems that it never changes at all. Lots of burned-out and boarded-up houses. Now we really are on the set of a John Waters movie! People here are excited that the Orioles finally don't suck and are in the post-season. Baseball rules, despite what Trevor says. I hated all the jerk jocks that played it too, but they're not the reason I like baseball. It's the weirdness of the whole game that I like. I don't really like football or basketball.
We hung out with Bob Bert from Pussy Galore and Mick Collins from Dirtbombs in Hoboken. Also saw Kid Congo Powers who was in the Cramps, Gun Club, and other great bands in Washington, D,C. These three are really nice guys! Rumor has it that they've done a project together. Can't wait to hear it!