Witch Mountain originally formed in 1997, was temporarily shelved half a decade later so two members could raise kids, then sporadically re-formed until going full-time when Plotkin signed on. Her story is equally convoluted: piano from age six, switched to viola at ten, synagogue singing, Annie, classical vocal lessons, "hippie-psych" and "dream-pop" projects, then the tribal-fiddle-Balkan-punk-doom-art combo Aranya. When not on tour, she drives a Portland taxi. Her influences run from Billie Holiday to Cibo Matto, from Dio to "Tina Turner and those kinda badass woman singers." Ever since Wayne's World, she says, "I always loved the concept and image of a wailing woman."
Royal Thunder's Parsonz likewise has journeyed from inconclusive childhood piano classes — in Jersey's southern suburbs — to soul-metal wailing. Tina Turner figures into her equation, as well: Her Spain-born mom learned English from pop records in the '80s, and her first experience singing involved playing piano to Whitney Houston hits. But it was Nirvana that got Parsonz and Weaver (the two have been married for 11 years) really rocking. She eventually reached metal via loud alternative bands like Jane's Addiction, Dinosaur Jr., and Sonic Youth (whose "Expressway to Yr Skull" is subliminally echoed to kick off "Black Water Vision," the last song on Royal Thunder's new CVI). Weaver found metal through goth bands like the Cure and the Sisters of Mercy; he's also played crust punk, black metal, and tech metal. But he says Royal Thunder was first conceived "to find out what we could do besides heavy music."
On CVI, their vibe often brings to mind a rare species of psychedelic boogie that appeared in the early-'70s wake of Big Brother and the Holding Company — the all-woman foursome Birtha, for instance, or Ramatam, fronted by guitar heroine April Lawton. Shorter tracks have an almost funky swing; in the longer ones, there are drum rolls, wind-chiming percussion, medieval backup chants, and strange swirls from organs or delay and phaser pedals. Above it all, Parsonz looms — shaking rafters, casting spells. Toward the end of "Drown," her cackle turns downright spooky.
Which brings us back, inevitably, to the supernatural. CVI opens with a song about a Parsonz family curse and has a numerological title — the number 106, she explains, keeps randomly recurring in band members' lives. Parsonz also tells of bandmates finding a taxidermied antelope while thrift shopping for candles and wine glasses for their live show, then surrounding it with bones to create atmosphere, or burning frankincense and myrrh onstage when local fire regulations allow it. The one song that shows up on both Royal Thunder albums is called "Sleeping Witch."
But as a concept? "I don't know how real the witch thing is for a lot of these bands," Parsonz says with a shrug. "If it's real, go for it; if not, and it's just a performance thing, that's awesome, too. Some of us [in Royal Thunder] are on a spiritual path, some of us are not." But they're no shticky witch band. "I don't want to be lumped into that category," says Weaver, adding that they've decided the antelope doesn't represent them anymore. "That stuff can become kinda campy."
Witch Mountain, meanwhile, have witch in their very name — and Salem and cauldron in album titles. South of Salem, though, was an inside joke. Carson and Plotkin both grew up, ten years apart, in Corvallis, Oregon — south of Salem, Oregon — and that record's artwork mapped out the state's thar-be-dragons style, complete with a haggard green crone and goats representing Carson's childhood goat farm.
Finally, the catchiest hook on Christian Mistress' Possession is about a crystal ball. The video Davis directed for their new record's "Pentagram and Crucifix" has upside-down crosses. "I am death, you are the vulture / Sinew, flesh, and bone at my altar," she recites in "Haunted, Hunted" — stir in eyeball of newt, and you've got a brew recipe. "A manifestation of some deep mental recesses that need to be exorcised," she calls the incantation. "I was raised in a sheltered, closed environment where I couldn't listen to heavy music, and I had to hide everything." Not anymore.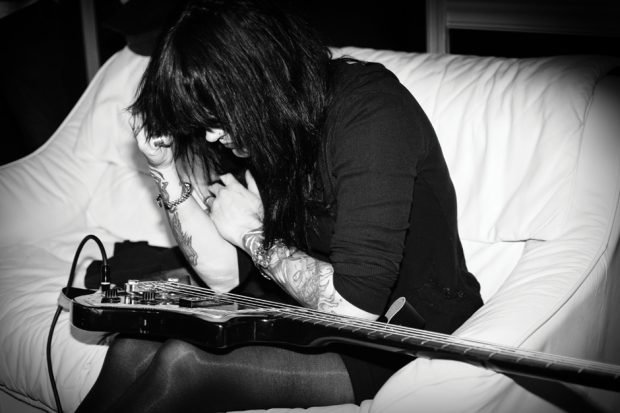 But she's no sorceress, either. "We get asked, 'Are you a cult band?'" she scoffs. "We're not a Christian band, we're not a satanic band." In fact, one of Possession's best songs, "There Is Nowhere," denies the existence of both heaven and hell. "Now that pagan metal is a 'thing,' I don't want to be that," Davis says, apparently speaking for all metal (not metal) witches (not witches). "Besides, I never knew that metal wasn't pagan."
Royal Thunder
CVI
(Relapse)
These Georgians uncover offhand R&B amid heavyweight post-goth psych: The pissed-off "No Good" channels old "You're No Good" classics by both Betty Everett (Van Halen's version, anyway) and ESG without trying, even before bassist-singer Mlny Parsonz hits her Janis/Robert Plant high register. "There are some hilarious outtakes from that one," she confesses. More sprawling tracks like "Blue" and "Drown" open into a trippy sense of space that hints at dub, U2, and the Middle East.
Christian Mistress
Possession
(Relapse)
Steely, speedy, compact, classic-sounding garage-fidelity metal, fronted by Christine Davis with detached self-assurance. The album gallops at a more epic pace as it progresses — the longest songs are at the end — and some of the deadliest sections feel downright pastoral. When she first heard guitarist Oscar Sparbel's riffs for closer "All Abandon," Davis thought, "This is exactly the kind of music I want to make: a slow, beautiful buildup that explodes into insanity."
Witch Mountain
Cauldron of the Wild
(Profound Lore)
Portlanders stretch six chugging, wobbling blooze-sludge workouts across 45 minutes — including almost 12 for "Aurelia," an initially tranquil tale of small-town, inter-familial murder that sometimes verges on damsel-in-distress goth-metal or early PJ Harvey. "That one, I creeped myself out," singer Uta Plotkin remembers. "I don't like horror movies, but a lot of people I hang out with do. Everybody has a dark side — I'm a happy, optimistic person, so it has to come out somehow."