The last thing heavy metal needs is another witch hunt. But there's no doubt that cult and occult values from the era of brown-acid rock are back: Bands like Toronto flute-doom heathens Blood Ceremony have released the medicine woman from her dark corner in the woods. Holland's nightmare-inducing Devil's Blood even claim to channel their black-mass liturgy directly from Lucifer. The Swedish band Witchcraft have been alchemizing sylvan séance-stoner magick for a decade now.
As metal developments go, it's unusually listenable. These bands uncover texts lost to history when the genre became single-mindedly focused on its metalness: turn-of-the-'70s dark-arts ritualists Black Widow and Coven; mud-booted biker-festival boogie; sinister folk songs from the Wicker Man soundtrack; even pre-metal-Grammy Jethro Tull. As a result, they chart forest paths more musical than the muscle-headed sonic ugliness that's possessed the genre for its past black-to-death-to-grindcore-to-deathcore quarter-century. But the fad is also ridiculous by definition. Good rock bands rightly worry about being forgotten once the wind changes and ding-dong the witch thing's dead.
For instance: Royal Thunder, from Atlanta; Witch Mountain, from Portland, Oregon; and Christian Mistress, from Olympia, Washington, all of whom have released exceptional new albums in 2012. Like Blood Ceremony and Devil's Blood, they're fronted by women who sing more than scream — in absolutely full-bodied voices, atop heavy churning that frequently partakes in the blues in ways that most metal has suppressed since thrash took over.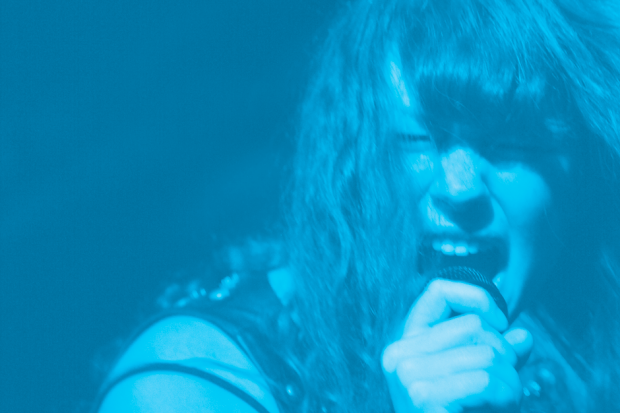 In all three cases, two guitarists concoct riffs first, and the singers carve tormented songs out of the jam. Mlny Parsonz, who became Royal Thunder's belter and bassist by subconsciously conjuring lyrics in another room during rehearsals of her guitarist husband Josh Weaver's then–instrumental trio, heard a "darkness and a heaviness that came from blues" prior to even joining. Witch Mountain's Uta Plotkin, similarly, says "a bluesy swagger and swing" had been in the band's sound even before she took over as lead voice. And Christian Mistress vocalist Christine Davis says guitarist Ryan McClain "is real into Mississippi Delta blues" — hence, the graceful slide guitar and acoustics opening "The Way Beyond" from the band's recent album Possession.
As much as their respective sounds, these groups' audiences increasingly defy easy metal limitations. For one thing, more women are involved. Nate Carson, who drums for Witch Mountain and runs the booking agency Nanotear, started detecting a change at a 2009 Portland gig where his band was opening for Virginia doom fossils Pentagram — the same show, as it happens, where he brought then–Nanotear intern Plotkin out to sing "A Power Greater" from Witch Mountain's 2001 full-length debut, Come the Mountain. In front of 450 people, she nailed it. Before that gig, there was "the sense of, if I go to a metal show, it's going to be a sausage fest," Carson says. "Now couples go, and they're holding hands. We've gone through another generational cycle. Specific styles of underground metal that I like have become respected by the press and popular with kids."
Metal fans themselves, of course, disagree as much as they agree. Christian Mistress and Royal Thunder both record now — happily, they swear — for Pennsylvania-based Relapse Records, which bills itself as "death metal, grindcore, extreme metal," though these bands are none of those things. Christian Mistress often get compared to the denim-clad, low-rent, early-'80s New Wave of British Heavy Metal, partly because their 2010 debut cost only $500 to make and maybe because McClain wears an Angel Witch tank top and the guys look like total hick-town heshers. But Davis chafes at the NWOBHM-throwback pigeonhole: Possession's title track revives a 1986 B-side by obscure Swedish doomsters Faith, and some of Davis' favorite singers — Diamanda Galás, ZZ Top's Billy Gibbons, the Swans' Michael Gira, Shocking Blue's Mariska Veres, and 13th Floor Elevators' Roky Erickson (also cited by Devil's Blood, Witchcraft, and Angie Mead of dusky coed Chicago duo Redgrave) — aren't metal at all.
"We identify ourselves as a metal band, but our songs are more rock," Davis says. Her vocals have more rasp than retch, and the guitarists know how to play clean. Put four long-haired employees of Olympia's Oldschool Pizzeria behind an Evergreen State grad who spends her summers off-grid in remote California mountains mapping out plants as a biological technician, and here's what you get: lots of terrain features, but also mysticism to chug cheap beer to.
Davis had the opportunity, at one point, to sing for Witch Mountain, which toured some with Christian Mistress last year. But Carson says Witch Mountain identifies more with the Ouija-board doom of Blood Ceremony, and with Dartmoor, England's Wounded Kings and Wisconsin's very Wiccan-seeming Jex Thoth. Their name harks back to the orphans-with-ESP sci-fi tale Escape to Witch Mountain (1968 novel, 1975 Disney movie), Carson reveals, but also "the tradition of 'witch' bands such as Witchfinder General and Angel Witch, as well as Leslie West's Mountain." Solo-prone guitarist Rob Wrong is unmistakably "a Hendrix acolyte," as Carson puts it, and the band's tastes are steeped in the '60s: "We love the Beatles, Pink Floyd, Pretty Things, Amon Düül." But also Judas Priest's Sad Wings of Destiny. And lots and lots of Sabbath.
So although they have no problem plodding, sometimes for 12 minutes at a time, their plod has groove. Witch Mountain's Cauldron of the Wild, the first album on which Plotkin has composed her own lyrics, shows dynamics and nuance that were not quite there on last year's South of Salem, which was mostly written before she joined. Plotkin is pushing herself more, too, "trying to optimize the whole range of my vocals," she says, with more pyrotechnics, melody, and growling. Yet opener "The Ballad of Lanky Rae" and closer "Never Know" are as comprehensible as metal songs get anymore. The former concerns a woman who grows to seven feet — a "swaggering badass gunslinger lady," Plotkin laughs — and reunites with her netherworld dad; the latter is a dirge with a graphic overdose.