The Melvins '51 States in 51 Days' Tour Diary, Day 4: Beware of Flying Underpants!
"Speaking of skanks..."
Sludge-metal pioneers the Melvins are attempting to break a world record: 51 shows in 51 states in 51 days. Join SPIN for their exclusive tour diary of this ridiculous and completely inadvisable endeavor! Catch up here.
September 8, 2012 – Boise, ID @ Neurolux
4 down, 47 to go
Winding along the remote Highway 21 en route to Missoula via Boise, Buzz at the helm navigates pouring rain and hairpin turns that seem to never end. People are often surprised that we do the driving ourselves — the three band members and three crew guys. I'm not sure what they think is so difficult about driving. I suppose that if I stayed up all night doing blow and screwing lonely skanks I might have a problem maintaining the wheel. The fine readers at SPIN, however, may be disappointed to know that I was in my pajamas and brushing my teeth two hours after getting off stage. Live slow and die old, I say.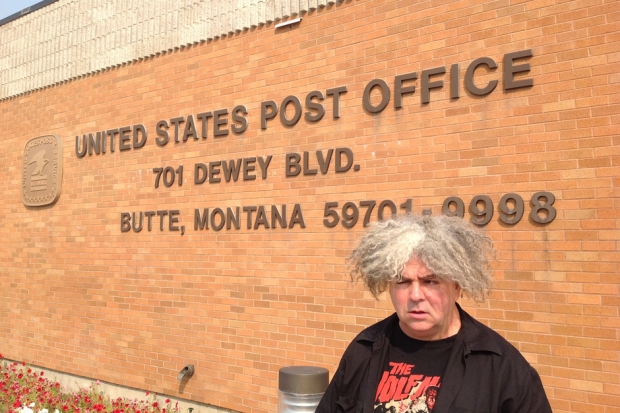 I've been getting an array of interesting questions as we set upon this unprecedented tour. For instance, "Are you ready?" or "Are you insane?" Frankly, I don't see what the big deal is. It's a tour; we are playing music. Sure there are no days off and we may experience bouts of tiredness but, as someone who never takes vacations and sleepwalks half the time anyway, I see no goal unattainable. The thing that George Thorogood didn't understand when he shamefully failed at this world record back in the '80s is that the brain and liver are vital organs that make getting on stage possible. But he also made a career out of playing hackneyed cover songs in a stale bar band, so who am I to judge.
Speaking of skanks, we played in Portland, Oregon, a few nights ago. Portland is well known for its strip clubs and liberal attitude toward sexual frustration. The audience at the show did not disappoint. I was slightly distracted within the first ten minutes of our set by some live soft-core porn in the front row: A young woman in apparent ecstasy grinding her backside recklessly against her boyfriend, or brother-in-law or whoever he was, in rhythmic unison to my raw, uncensored bass lines. Their gyrations irked a guy trying to enjoy the show, sandwiched in next to them, and it seemed that a good ol' battle for territory was about to ensue. A few minutes later a pair of panties were thrown on stage from some other direction. I had to disguise my odium as I kicked them aside, out of the way of my delay pedal. I certainly have nothing against people having a drunken good time and brawling about it, and I'm quite happy that people want to hump and obliterate brain cells to my background noise, but these are the true obstacles of touring. Earthquakes, forest fires and vitamin deficiency I can deal with; high-strung kids letting their collective hair down with that not-afraid-to-die look in their eyes is another thing. I've got intonation, odd meters and quirky forms to think about. It's all I can do to maintain focus and concentrate on what I unapologetically refer to as my job. These aren't the lollipop jingles of Mötley Crüe after all. I decided a long time ago to rust rather than burn out.
Upon closer inspection (not too close) I'm pretty sure it was some dude's underwear.