Last night, Lady Gaga premiered a short film for her fragrance Fame during a masquerade-themed event at the Guggenheim Museum in New York. The five-minute video is below. Ridley Scott produced, David Fincher's go-to director of photography Jeff Cronenweth manned the camera, now-bankrupt 2Pac hologram company Digital Domain handled the effects, and a source for the Hollywood Reporter pegged the budget at "seven-figure-plus." Gaga is a naked, sleeping giant, and she might shoot a guy or something. There's a pitchwoman with an English accent at the end.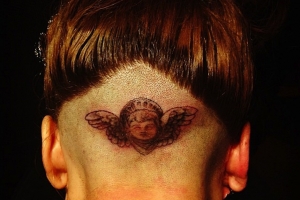 The film wasn't Gaga's only premiere last night. As the New York Daily News reports, Gaga also prepared a performance art piece called "Sleeping With Gaga." ONTD describes it thusly: "Around 8:30 we saw the film. For another hour we watched her sleep while people touched her while she was sleeping … Then she woke up around 9:30 and pissed in a champagne pail, changed, and touched up her makeup. Then she got a tattoo of a cherub on the back of her head."
All the while, Gaga cohort DJ White Shadow was reportedly playing music such as Kanye West-Jay-Z collaborative album Watch the Throne and Kanye West's Cruel Summer comp. He even played something that might've been the backing track to a rumored Gaga-Azealia Banks collaboration believed to be titled "Ratchet." You can hear that below, too.
Did we mention the tattoo looks uncannily like Honey Boo Boo?
https://youtube.com/watch?v=EUFQjQH5LjM%3Ffeature%3Dplayer_detailpage