R.E.M. may be gone, but their music (and ongoing reissue project) carries on. It's 2012, which means September 25 is the perfect time for the 25th anniversary edition of Document, the album that introduced the band to the mainstream. Despite the deeply political lyrics ("Welcome to the Occupation" now seems remarkably prescient for 1987) and a cover of Wire's "Strange," Document became R.E.M.'s breakthrough album, mostly thanks to the MTV-beloved singles "The One I Love" and "Its The End Of The World As We Know It (And I Feel Fine)." Soon after this album went platinum, R.E.M. parted ways with I.R.S. Records and join the major leagues by signing with Warner Bros.
As with past reissues for Murmur, Reckoning, Fables of the Reconstruction and Lifes Rich Pageant, the Document anniversary edition will feature a digitally remastered copy of the original album, plus a second disc of unreleased material. In the case of Document, R.E.M. has dug out of their archives a complete September 1987 concert from Utrecht, Holland, that showcases their then-old and new material while on their Work Tour of Europe. The reissue will also feature new liner notes by journalist David Daley and a set of postcards.
Check out the track lists and a pair of Document music videos below, courtesy of R.E.M. HQ. And don't leave without enjoying our 10 favorite all-time R.E.M. moments.
R.E.M. – Document (25th Anniversary Edition)
CD 1 (digitally remastered original album)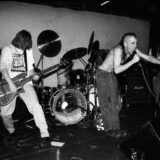 "Finest Worksong"
"Welcome To The Occupation"
"Exhuming McCarthy"
"Disturbance At The Heron House"
"Strange"
"Its The End Of The World As We Know It (And I Feel Fine)"
"The One I Love"
"Fireplace"
"Lightnin' Hopkins"
"King Of Birds"
"Oddfellows Local 151"
CD 2 (previously unreleased Work tour concert, recorded live in Utrecht, Holland – September 14, 1987)
"Finest Worksong
"These Days"
"Lightnin' Hopkins"
"Welcome To The Occupation"
"Driver 8"
"Feeling Gravitys Pull"
"I Believe"
"The One I Love"
"Exhuming McCarthy"
"Wolves, Lower"
"Fall On Me"
"Just A Touch"
"Oddfellows Local 151"
"Little America"
"Its the End Of The World As We Know It (And I Feel Fine)"
"Begin The Begin"
"Disturbance At The Heron House"
"Moral Kiosk"
"Life And How To Live It"
"So. Central Rain"