Leading up to the release of This Is PiL earlier this year, Public Image Ltd. frontman John Lydon had been held under contractual obligations that prevented him from recording new music for about two decades. Simply put, the eight LPs of avant-garde art rock, polemically themed post-punk and chintzy quasi-new wave he had released since he quit the Sex Pistols and ditched the name Johnny Rotten hadn't recouped the costs the label had put into it, and as Lydon claims, labels "invariably love the idea of you in debt."
Other than a house single he did with Leftfield in 1992, an electro-rock record under his own name in '97, a few scattered appearances on albums by the Golden Palominos and some Sex Pistols live recordings, he's had to put his usual didactic post-punk outbursts on hold. Moreover, he says no one at the label would help him break free. "I found I didn't have many friends in the industry," he tells SPIN from his London home, emphasizing the word "in" using his trademark acerbic punk patois. "I'm very pleased to know that now to be a fact. Fuck 'em all." Since repaying his debt, though, Lydon has taken a DIY approach to his career and self-financed This Is PiL, which we liked, as well as the band's tours. Although he had been held back from recording, Lydon stayed true to one of the soaring, bitter lines on the song "Public Image" from the band's 1978 debut: "I will not be treated as property."
"You can't keep good down," he asserts. "You can stifle it for a certain amount of time, and two decades is a long time to have to endure that. It's like a prison sentence. But I've been to jail. I know how to cope."
Public Image Ltd.'s latest self-financed release is a double-A-sided single containing This Is PiL's final two tracks, "Out of the Woods" and "Reggie Song." It's set to come out October 1, a couple of days before they embark on a U.S. tour (see dates below).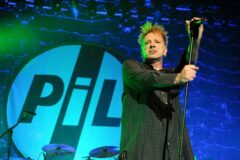 "Out of the Woods" is a near 10-minute "jam" of sorts, with a discoish beat, echoey guitars and even a banjo part. Lydon's lyrics poetically tell the story of the Civil War's Battle of Chancellorsville from the perspective of an African-American soldier who had volunteered to fight for the Confederacy under Stonewall Jackson. As history has it, the Confederates won that battle, which took place in Spotsylvania County, Virginia, in 1863 and left 3,200 Union and Confederate soldiers dead. All of these details fascinate Lydon, who became a Civil War buff when he started living in the United States off and on almost 25 years ago. The singer says that he's even been working on a documentary about the Civil War that he hopes to release someday.
"You have American war heroes on both sides of the Civil War," he says, drolly adding, "After all, they are all American." The idea of writing about a black Confederate came from Lydon meeting a man named Nelson Napoleon Winbush, whose great grandfather volunteered for the South. "I found that a deeply fascinating element to American history that seems to have been ignored for some reason," Lydon says. "I began studying that battle and fell in love with the [Battle of Chancellorsville-related] film Gods and Generals. I loved the humanity in it, even though it was all about the bloodbath of a war." After coughing up a loogie the likes of which were last heard on "Attack," off Public Image's 1978 LP First Issue, he later says, "If [Winbush's great grandfather] volunteered for the South, he must have believed in something, and there were very many [black] volunteers. That's the astounding thing. What do you call a war like that? Was it the 'War for Southern Independence' perchance? I think that's a good title. That will stir up a hornet's nest." He chortles.
The single's other side, "Reggie Song," is an upbeat, kind of dubby six-minute number on which Lydon yelps, "You see Reginald, he is a reasonable man" and he goes on to portray Reggie as a ladies' man, an innocent man and so on. Reggie, it turns out, is an old friend of Lydon's. "He still lives in Finsbury Park, the area I grew up in," the singer says. "He's managed to pull through life going through all the terrible problems we all had to put up with, but he's a survivor and he's trying to raise his kids properly." As for why Lydon wanted to pay tribute to Reggie, he rejoins quickly with the "you just don't get it" tone he's so famous for, "Because he's such a decent fellow."
The other Lydon-related musical release on the horizon is the box-set reissue of >Never Mind the Bollocks, Here's the Sex Pistols, which will come out this fall. The release will contain three CDs, including the album with remastered audio and demo recordings, as well as a live DVD, "God Save the Queen" 7-inch, posters, stickers, reproduction handwritten lyrics and more. Not that Lydon has had anything to do with it. "I've deliberately kept myself out of it," he says. "It's very nice if people want to buy it — because those are my songs, too — but I'm currently living in the present. It's very nice if you like Antiques Roadshow."
He was kind enough, though, to afford us one piece of trivia related to the Bollocks reissue. The original demo recording of "Anarchy in the U.K.," when it was known as "Nookie," led off with Lydon singing, "Words of wisdom…" before going into the song's more familiar intro, "right now." He says the reason for dropping the "words of wisdom" intro was that "the message came clearer this way. Otherwise it would have sounded like anarchy came with an instruction manual, and that wouldn't be right."
But, as Lydon says, that's all for the history books. "I'm in PiL mode now, and Public Image is for the rest of my life," he asserts, phonetically saying "pill" instead of the full band name wherever he can. "I can't afford to go stepping in the past. I've done that. Any idea I have goes straight into PiL." On that note, he expects to release a new Public Image record sometime next year. Until then, he has the group's upcoming U.S. tour to plan for, as well as all of the dirty details that come with being an independent musician. "It's a ferocious amount of work," he says. "But that's all right. At least I know it's our responsibility now and I know that I'm not being cheated."
Public Image Ltd. Tour Dates:
October 3 – Orlando, FL @ Firestone Live
October 5 – Miami, FL @ Grand Central
October 6 – Tampa, FL @ Cuban Club
October 8 – Washington, DC @ 9:30 Club
October 9 – Brooklyn, NY @ Music Hall Of Williamsburg
October 11 – Philadelphia, PA @ Electric Factory
October 12 – Clifton Park, NY @ Upstate Concert Hall
October 13 – New York, NY @ Hammerstein Ballroom
October 15 – Boston, MA @ Royale Nightclub Boston
October 16 – Montreal, QC @ Corona Theatre
October 18 – Toronto, ON @ Opera House Concert Venue
October 19 – Royal Oak, MI @ Royal Oak Music Theatre
October 21 – Chicago, IL @ House Of Blues
October 22 – Minneapolis, MN @ Mill City Nights
October 25 – San Francisco, CA @ The Regency Ballroom
October 28 – Los Angeles, CA @ Club Nokia
October 29 – San Diego, CA @ House Of Blues
October 30 – Tempe, AZ @ The Marquee
November 1 – Dallas, TX @ Granada Theater
November 3 – Austin, TX @ Auditorium Shores for Fun Fun Fun Fest