A fan on Tumblr once asked Frank Ocean to name his favorite song. Ocean, who officially released his album-of-the-year candidate channel ORANGE on Tuesday, chose "When You Were Mine," the often-covered Beatles-gone-new-wave heart-tugger from Prince's 1980 album Dirty Mind. As the Seattle Times reports, Ocean kicked off the tour with the song in Seattle on Friday night. Video of the rendition has hit the Web from last night's show in Los Angeles (where fellow Odd Future member Earl Sweatshirt joined him on the bleak "Super Rich Kids"), as well as from Monday night's gig in San Francisco. Though it's enticingly hard to make out much through all the screams and upheld iPhones, this take is an unadorned, heartfelt version that makes ample use of Ocean's shiver-inducing falsetto. "He was there / Sleeping in between the two of us," the new owner of the nation's No. 2 album this week croons sweetly, over percussive acoustic guitar (hey, that John Mayer guest spot might not be a fluke). "I hope when i meet prince for the first time, he quotes something obscure and releases a dove," Ocean has said, of the man he has also called "the original based god." It's only a matter of time before the Purple One sees this. He should be pleased.
https://youtube.com/watch?v=GbTNO72sL04%3Ffeature%3Dplayer_embedded
https://youtube.com/watch?v=0lMHOb228C0%3Fversion%3D3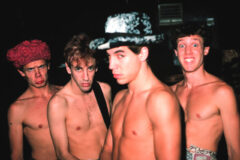 Frank Ocean Has a Cold: Read SPIN's feature on the rising R&B star.