Even among box sets, Blur's 21-disc Blur 21, which arrives July 31 for the British band's 21st birthday, is a behemoth. But then, the London quartet of sophisticated pin-up frontman Damon Albarn, Sonic Youth-enamored guitar saboteur Graham Coxon, fringe-wearing bass idol Alex James, and drummer-animator-pilot-activist Dave Rowntree turned out to be a box set type of band.
The recent winners of a Brit Award for Outstanding Contribution to Music allowed no single style of music to define them. Their biggest U.S. hits, from "Girls and Boys" to "Coffee and TV" by way of "Song 2," each arrived as if by a different band, and each was in different ways unrepresentative of the group's discography as a whole. Their albums, distinct as they tended to be, were usually so consistently brilliant-yet-imperfect that there's no unanimous go-to masterpiece.
As with their precursors the Smiths, as well as their peers Oasis, Radiohead, Pulp, and Suede, Blur also remained believers in the single as a distinct art form. Many of their best songs — "Sing," "Blue Jeans," "Young and Lovely," "He Thought of Cars," "All Your Life" — were deep cuts or B-sides. Listeners who didn't "get" Blur after hearing their better-known might have a better appreciation for them after hunkering down with the full catalog.
All of that said, the care Blur took with even their lesser-known tracks inevitably means the amount of quality material left in the vaults is low. The four discs of mostly unreleased material on Blur 21 consist of tracks Blur already passed over for B-sides, for their Bustin' & Dronin' remix compilation, or for their previous, 10-year-anniversary box set. We're looking at Beatles-Anthology level rarities here, rough and often unfinished-sounding. But that's part of the charm. And for Blur fans, the newly unearthed material offers plenty of intriguing behind-the-scenes glimpses of the band — and of some of their now-classic songs.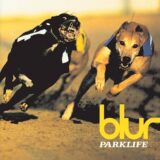 Here are 21 previously unreleased Blur 21 tracks to start with.
1. "High Cool" (7″ Master)
Blur at their baggiest in 1991. A product of the waning days of the Madchester craze, the mix on this eventual Leisure cut foregrounds the E'd out beat and trippy guitar chukka-chukka. Blur as a dance band! David Marchese
2. "3"
A total oddball from a 2000 recording session with the experimentally-minded producer Bill Laswell, this track is more of a sonic goof than a proper song, and as such shows a nicely lighter side of the band. Rubbery bass, major key piano plinks, sonic spew lurking around the edges and an elastic beat — frankly, awesomely, it sounds like a Ween outtake. D.M.
3. "1"
Another Laswell production from the same session as "3," this one features Albarn singing a vaguely Nirvana-ish melody while the rest of the band works a slinky punk-funk groove. A further unexplored avenue for the band. D.M.
4. "Advert" (Demo)
"Song 2" was only the most famous of Blur's thrashy punk songs, a style they usually made room for once or twice an album. "Advert" was the vehicle on 1993's Modern Life Is Rubbish, though it opens with a jingle-worthy keyboard riff. One of the pleasures of the Blur 21 demos is an extra dose of Coxon's buggy guitar drunk-punch, and that's on full display on this early version of the song, which also includes slightly different lyrics. "It's something, so something else." M.H. 5. "Coping" (Andy Partridge Version)
Taken from a 1992 recording session with XTC mainman and mad pop genius Andy Partridge, "Coping" would eventually end up on the following year's Modern Life Is Rubbish. This version though is far quirkier, emphasizing the wriggling keyboard hook and vocals, and casting the guitars and drums in far leaner fashion. Actually, it sounds like prime XTC, which apparently wasn't quite right for Blur back then. D.M.
6. "Caramel" (Ambient)
A gorgeous gem unearthed from the sessions for 1999's 13, "Caramel (Ambient) is a wordless, tense soundscape. As such, it's like the sullen brother to the more conventional "Caramel" that ultimately appeared on the album. On this heretofore unreleased cut, guitarist Graham Coxon spins a web of sinister guitar riffs as synths squall in sympathetic communion. Who needs vocals? D.M.
7. "Fool" (Seymour Four-Track Demo)
13 might be Blur's breakup album, as Albarn could be heard reeling from his split with Elastica's Justine Frischmann on cuts like "Caramel" and "No Distance Left to Run," but the way he dealt with romance on 1991's Leisure has an appealing innocence. Single "She's So High" shares a title with an eventual Tal Bachmann hit; album track "Fool" yearns emo-like, hyper-articulate in its noncomprehension at an apparent breakup. This scrappy demo cranks both the innocence and the emo to 11.M.H.
8. "Kazoo"
Blur go for a Ride. The intensely overdriven guitars and smacking drums on this are hugely reminiscent of Blur's shoegaze-y compatriots Ride. It's a look that suited them, and which they took a step back from when this song surfaced in less chest-beating fashion as "Turn It Up" on 1993's Modern Life Is Rubbish. D.M.
9. "For Tomorrow (Mix 1 – Early Demo)"
One of Blur's defining songs in revealingly undefined form. "For Tomorrow" kicks off Modern Life Is Rubbish with a deeply ambivalent look at London, giddy London — a modern-era Rome — in fin de siècle decline. It was a call to arms for the Britpop era and a song that neatly summed up Blur's at once tender and bitterly sardonic viewpoint. Here, though, the lyrics are far from complete, and a pinched vocal over acoustic guitar suggests a clumsy "Space Oddity" impression. By all means, cherish the "Primrose Hill" remix of this song, included on the Blur: Best Of set, but wonder at where it all began right here. The la-la-la hooks, at least, are sharply in place. M.H.
10. "Bored House Wives"
Another rowdy showcase for Coxon's squealing guitar, in an early version of the dryly British dance-pop character study that would emerge more sleekly on 1996's Great Escape as "Entertain Me." The finished version's headline-friendly chorus is missing here, but the deceptively merry closing chant, happily, isn't. Betty Draper was born too soon, Desperate Housewives born too late. M.H. 11. "Sir Elton John's Cock"
Recorded during the sessions for 2003's experimental Think Tank, this 84-second lark is much prettier than it's name suggests. (Or maybe not. No judgments.) For sheer cheekiness, this "Imagine"-ary ballad, is a high spot. D.M.
12. "She's So High" (Seymour Rehearsal) This is exactly the kind of track that makes box sets indispensable to die-hards and ho-hum to everybody else. Recorded in the late '80s, when the band was still calling itself Seymour, this 11-minute-plus jam would eventually be tightened into the band's debut single. The guitar slips'n'slides, Albarn kind of talk-sings the whole thing, and the rhythm section plows a lovely ditch. A wonderful look at a band still early in the process of becoming. D.M.
13. "Popscene" (1991 Demo)
1992's "Popscene" single holds a special place in Blur lore as an early, under-appreciated Britpop salvo — so under-appreciated the band left it off the British version of 1993's Modern Life Is Rubbish. Lacking the final track's very British horns, this early rendition doesn't yet mark the start of any movement. But the band's urbanely acerbic wit, uncannily melodic hooks, and dervish-like ferocity are on full display. Just another reason this song is legendary among fans. M.H.
14. "Hope You Find Your Suburbs" (Demo)
This swaying, waltz-time ballad adds a proper lead vocal to the nearly instrumental "Eine Kleine Lift Musik," which appeared on a 1995 benefit album. Fully produced, a vocal version of this song could've played a similar role between 1994's Parklife and 1995's The Great Escape to what "Popscene" did between Leisure and Modern Life Is Rubbish, setting out the next album's themes — in this case, bourgeois decadence, observed both caustically and with genuine (albeit MOR) beauty. One of the lyrics, "Wife swapping is your future," even wound up on The Great Escape opener "Stereotypes." M.H.
15. "Rednecks" (Take 1)
Originally the B-side to the 1994 single "End of a Century," this track is a shit-kicker that takes the piss. A rinky-dink keyboard do-se-dos around Graham Coxon, who adopts an over-the-top Redneck accent, and the band breaks into laughter a bunch. "Get free coffee fill-ups at my best favorite Denny's place!" Yee-haw! D.M.
16. "Alex's Song" (Demo)
Another nifty example of the diehard-pleasing, normal-person-bewildering qualities of box sets. This strummy, whistling folk-pop ditty is of a piece with the previously unreleased "Rednecks" takes, and not just because they all wound up in finished form on the "End of a Century" single. If "Rednecks" was a rare, goofy Coxon lead vocal, "Alex's Song" was, yup, the only lead vocal turn for bassist Alex James aside from Parklife's "Far Out." And it was goofy, too: The finished version had James' drowsy vocal pitched to chipmunk levels, rendering it almost unlistenable. On the demo, his voice has changed, and he doesn't say "whoops." Call it a coming of age. M.H. 17. "On Your Own" (Mario Caldato Mix)
The version of "On Your Own" found on 1997's Blur is one of that album's highlights. This is better. Mario Caldato, a frequent Beastie Boys collaborator, made the drums heavier, the guitars louder, and gave everything a kind of muscular sheen. Revelatory. D.M.
18. "Beetlebum" (Demo)
Blur's members were talking up Pavement as an influence around the time of Blur, and this shambling, slightly twangy early take on the sludgily tuneful opener shows it as well as anything on the album proper. Albarn sings alternate lyrics, the signature chugging guitar riff is still in utero, and there's a lot of murky keyboard. A startling left-turn demo track from the Blur album probably best-known to U.S. listeners. M.H. 19. "Avoid the Traffic"
Like "Sir Elton John's Cock," this minute-and-a-half curio is a holdover from 2003's envelope-ripping Think Tank, except "Avoid the Traffic" is every bit as offbeat in content as that other song is in title. Over a watery, Can-hypnotized groove, a heavily processed voice repeats, "Ain't got time to make things rhyme / Wish my life was more sublime / Wish it was wicked / Wicked, wicked, wicked." That traffic's a bitch. M.H.
20. "Wear Me Down" (Demo)
Around the time of 1991's Leisure, Blur were still toying with shoegaze textures, as great B-sides like "Inertia" underscore. The Loveless-leaning gnashing and androgynous vocals on Leisure's wearily disillusioned "Wear Me Down" are another celebration of "the scene that celebrates itself." The fuzz is even thicker on this loose, endearing demo, which has a rave-era sensuality not often replicated in the oeuvre of this often-brainy band. M.H.
21. "Dizzy" (Seymour Rehearsal)
"Dizzy" originally appeared on 1993's "Sunday Sunday" single, which boasts some of the band's tastiest sleeve art ever. Along with similarly beloved B-sides such as "Shimmer" and "Fried," it was credited to Blur, "featuring Seymour." Incredibly, frustratingly, none of those B-sides appear in their original forms on any of Blur 21's 21 discs. This rehearsal version from Blur's Seymour days is some consolation. Unlike Seymour's messy "She's So High," the fledgling group's early take on "Dizzy" is almost identical to the finished thing. After alternating between delicately picked reflections on drug use and spazzy instrumental art-punk freakouts, "Dizzy" explodes in a wall of feedback. It's giddy fun, and an exhilarating look at a young band on the verge. Not recommended for anyone allergic to art-school frippery, though. Or people with motion sickness. M.H.